Show55
<< Foot-Loose Doll | Episodes | Romantic Rogue >>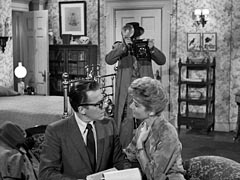 #55: The Case of the
Fraudulent Foto
Original Airdate: 02/07/59
From The Perry Mason TV Show Book
District Attorney Brander Harris of Waring County is the victim of smear tactics. A young woman lures him into being photographed in a compromising embrace with her. Later, Harris is implicated in the death of the manipulator, Marshall Scott.
Perry does a role reversal in this episode. Besides defending the DA, Perry is appointed assistant district attorney so as not to cancel a grand jury.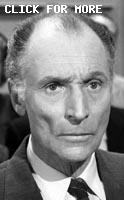 Trailing
Directed by Arthur Marks
Written by Lawrence L. Goldman and Seeleg Lester
Ben Brady | Producer
Produced by CBS Television in association with Paisano Productions
Gail Patrick Jackson | Executive Producer
Sam White | Associate Producer
Raymond Burr as Perry Mason
Barbara Hale as Della Street
William Hopper as Paul Drake
William Talman as Hamilton Burger
Ray Collins as Lt. Tragg
Cast
Hugh Marlowe as Brander Harris
Carole Mathews as Leora Mathews
Wilton Graff as Cleveland Blake
June Clayworth as Eva Scott
Mark Roberts as James Castleton
Bartlett Robinson as Marshall Scott
Carol Nugent as Helen Preston
Peter Brocco as Theophile Duclerc
Kenneth R. MacDonald as Judge
Herbert Anderson as Eugene Milton
Francis De Sales as George Fairbanks
Nancy Millard as Switchboard Operator
Irving Mitchell as Autopsy Surgeon
Arline Hunter as Receptionist
Uncredited Actors
Don Anderson as Restaurant Patron
Crew
Gene Wang | Story Consultant
Seeleg Lester | Associate Story Consultant
Production Supervisor … J. Paul Popkin
Story Editor … Alice Young
Director of Photography … Frank Redman, A.S.C.
Art Direction …
Lyle Wheeler
Lewis Creber
Editorial Supervision … Art Seid, A.C.E.
Assistant Director … Morris Harmell
Casting …
Marvin Schnall
Harvey Clermont
Makeup … Richard Hamilton
Hair Stylist … Annabell, S.C.H.
Wardrobe Supervision … Dick James
Set Decoration … Walter M. Scott, Charles Q. Vassar
Properties … Ray Thompson
Sound Editor … Gene Eliot, M.P.S.E.
Production Sound Mixer … Robert O'Brien
Script Supervision … William E. Orr
Perry Mason
Filmed in Hollywood by TCF Television Productions, Inc.
A CBS Television Network Production
CARS: 1959 Cadillac series 62 convertible, black, black & white interior, white top up (Mason). From The Cars by Greg Cockerill.
Perry's Caddy could use a windshield; none is seen when Perry pulls up to the police station with his client. (Doubtless it had been removed for interior shots of the car, and as that scene was shot in the studio, using rear projection, re-installing the windshield must have been deemed inessential.) Submitted by francis, 2/8/12.
In the third office scene, dictating to Della, Perry says "U.S. Code, Annotated, Section 454, U.S. against Thomas, D.C. Washington, 1943." This is very likely a real case. Submitted by Steve Fox, 10/8/2004.
In that same scene, while Della is taking dictation the phone rings, Perry answers it and puts out his hand to take Della's pencil -- as if he and Della had only one writing implement between them (even though there are two pens in the stand right in front of him). Submitted by MoHansen, 8/4/2012
For this case Perry brings to the task a different briefcase -- made of alligator, rather than his usual light-colored leather model. 21 December 2018 JohnK
There are three district attorneys in this episode: Hamilton Burger, Brander Harris, and Perry Mason. Submitted by PaulDrake 33, 8/3/2008
+ Raymond Burr played DA R. Frank MARLOWE in the 1951 movie "A Place in the Sun" [IMDb] Mike Bedard 6.16.16.
Herbert Anderson makes his only Perry appearance in this episode as Eugene Milton. Of course Herbert Anderson was best known for his role as Henry Mitchell, the father of Dennis The Menace. Submitted by PaulDrake 33, 22 December 2009.
In addition to appearing in six Perry Mason episodes, Hugh Marlowe was one of five actors to portray Ellery Queen in TV series in the 1950s. Marlowe's series, the second of three, was the only one to have only one actor play the part. Both the first and third series had two actors each playing Ellery. The best known Ellery Queen was the fourth series in the 1970s starring Jim Hutton. Submitted by Wiseguy70005, 6/25/12.
Eugene Milton is a county inspector. Theophile Duclerc is a building inspector. Submitted by gracep, 17 August 2010.
Sightings/Uncredited Actors: The Little Old Lady in a Hat sits in the courtroom next to Castleton. There is a very good shot of her when the camera cuts to Paul Drake while Mason is questioning Mathews. The Lady is also more easily seen in a few shots after Castleton takes the stand. Submitted by gracep, 17 August 2010.
+Some dubious sightings among the certain ones in this episode: Do we see Don Anderson and "Miss Carmody" sitting together in the back of the first restaurant scene about eight minutes in? That is certainly Distinguished Gentleman #1 as one of the waiters. In the newspaper office, is that DG#1 again with his back turned at the next desk behind Jimmy Castleton's? In the Grand Jury scene, is that Bert Stevens as the Grand Juror at the top left end? In the courtroom scene, we certainly see LOL#1 as already noted, plus Distinguished Lady #1 and Pencil Mustache Man. Is that DG#1's hairline yet again just behind Pencil Mustache Man next to the courtroom door? In the tag ending, we definitely see DG#1 again as the waiter, and "Miss Carmody" dining at the next table in the closeup shot of Brander Harris. Submitted by alan_sings 16 Oct 2010.
+ Don Anderson is at Marchand's and DG #1 is in the courtroom gallery (not only when Alan saw him but also other times). Neither "Miss Carmody" as Anderson's partner nor DG #1 as the man in the newspaper office are clear enough to determine. Bert Stevens is not a grand juror, although the man in question resembles him in one angle. The rest of the sightings are verifiable. Well done! Submitted by gracenote, 3/28/2011.
++ In this episode and a few others of this vintage, there is a guy in the courtroom who looks sort of like a young Bob Dylan. JohnK, 21 December 2018
Syndicated cuts: Harris sees Mason and Della in the restaurant when leaving and asks to meet the attorney later; scene in Burger's office with Perry; Mason on phone with Paul who tells him Duclerc was the hospital inspector; Blake meeting with Mason in the court hallway. Submitted by Wiseguy70005, 8/13/12.
+ MeTV wisely restored all 4 cuts in Today's airing. Mike Bedard 6.16.16
Phone call: Leora Martin tried to call Marshall Scott at DAkota 6-7054 from the phone booth at the Waring House Hotel. She really dialed that number. (see comments below) Submitted by H. Mason 10/16/14
+ correction: Leora's last name is "Mathews", same as the actress portraying the character. As a matter of fact, the character's first name, Leora, is only one letter short of an anagram of the actress's name, Carole. jfh 11Dec2020.

This is the second of two PM appearances for Carole Mathews, who passed in Murrieta CA in 2014 at the age of 94...MikeM. 9/22/2016
This is the first of six PM appearances for Bartlett Robinson (Marshall Scott), who was the first radio voice of Perry Mason. Robinson later appeared in a single episode of "Ironside". Bartlett Scott passed in 1986 at the age of 73...MikeM. 7/4/2018
Van Nuys: the building at which Perry surrenders Brander Harris is the Valley Municipal Building, aka Van Nuys City Hall; it originally contained a police substation, and apparently still did when this was filmed (or at least was still signed as such). The area may or may not have been familiar to Perry, but it should have been for Raymond Burr: a decade earlier he filmed scenes for a movie only a block away. Notcom 121220.
Another late night in Perry's office. It's almost 10 and they haven't eaten dinner yet and by the ensuing scene it will be even later after they convince the defendant to give himself up to the police. Submitted by HamBurger, 7/6/2021
Comments

Edit
This episode seems to include a higher than usual number of scenes requiring background extras, and thus many opportunities for Sightings of our usual favorites. Writing from memory, I noted the rooming house (twice), restaurant (twice), newspaper office, grand jury proceedings, and the courtroom as scenes requiring background extras. Was it "sweeps week" that week, and thus the lavish casting budget? Submitted by alan_sings, 16 Oct 2010.
The episode may also set a record for the number of additional people facing charges - DuClerc, Milton, Castleton, and Mathews. DOD 07/17/19
And several of those background extras wear dark suits that contrast strikingly with the white profile faces of the principal characters. There is a good deal of striking, high-contrast photography in this episode. The recurring music suggests espionage. Both film style and music seem quite apt as Perry uncovers reckless building construction and public graft as well as solving a murder case. Submitted by 10yearoldfan, 12 May 2012.
Does anyone else think it odd that Lt. Tragg would show up at the scene of the crime, even though the murder apparently takes place in Waring County? Submitted by Ed Zoerner, 2/14/2011.
+ I was wondering the same thing myself. Seems fishy to me. Submitted by gracenote, 3/28/2011.
-The murder took place in Los Angeles County, it is explained in the scene between Burger and Perry that was cut from the syndicated episodes, it is on the DVD. Submitted by Joel, 9/16/2013
++ Tragg is also very sarcastic when Perry asks, "Is that the murder weapon?" Tragg answers, "That's confidential, Counsellor!" jfh 29Jul2020

I love that Little Black Dress Della is wearing in the final scene. At first I thought, "Am I seeing what I think I'm seeing?" Then I realized that the large strategically-placed flower creates an amazing R-rated optical illusion. Submitted by DellaFan, 5-23-2014.
When Perry drops Harris at the police station to report to Tragg, the background shows a very 30's, Deco style building. In other episodes Tragg's office is in a 60's glass and steel structure. The establishing shot of the Waring City courthouse is obviously old stock footage - not a car in sight much later than 1935. DOD 07/17/19
+ It's the Van Nuys substation (see above, Trivia): perhaps Lt. Tragg was on a field trip that night. Notcom 121220.
Why?: The whole phone deception appears to have been unnecessary. The phone in Leora's room had no dial. It seems that any outgoing calls had to be placed by the operator. They didn't have to trick her into using the pay phone. Paul could have gotten the number Loera called when it was dialed at the desk. Submitted by H. Mason 10/16/14
+ Cuz: But Paul wouldn't know that (unless, of course he'd stayed in one of the rooms); nor would the operator be likely to tell him "Oh that's not necessary..." since his only question to her was "How do you make it look like the line is out of order." And without it, we'd be deprived of one of the more clever tricks (and realistic, too, considering how the plan nearly goes awry). Rebutted by Notcom, 061616.
+Missing the last 2 digits of a telephone number does not seem to be such a big problem. There would be only 100 possible numbers. A search through a reverse directory would quickly eliminate most of them. Even if Marshall Scott has an unlisted number, Paul should have no problem discovering that the number could be his. Submitted by vgy7ujm 08/30/17

Blackmail and a blackjack: In the early scene where the Fraudulent Foto is taken, Brander Harris gets whacked over the head, and the conniving secretary seems to get a real kick out of it. Lovely woman. JohnK, 20 December 2018
What's in a (Strange) Name? Taking a cue from ESG's penchant for creating improbable character names, this episode's writers came up with at least three characters who would be right at home with ESG's Hartwell Pitkin (TCOT Cautious Coquette) and Banner Boles (TCOT Lucky Loser). Brander Harris, Cleveland Blake, and Marshall Scott all have easily reversible--and thereby more probable--first and last names. And Theophile Duclerc sounds like he jumped out of the pages of a Golden Age mystery novel. Submitted by BobH, 26 June 2016.
Between the Waring Hotel and the Scott house, the set designers went a little overboard on the Victoriana. Really, some of the most cluttered and unattractive sets in any episode. DOD 07/04/18
+ And 'Marchands', a fussy, overstuffed Salle de Manger, with an upstairs, no less...and props for the props: I thought the "Reception" sign was a nice touch (tho unnecessary: perhaps it was left over from another production?) Seconded by Notcom, 071719.
+ + I loved the all of the great Victorian hotel and home sets in this episode. They were obviously from another production -- very likely a film -- and they were just simply swank! Not only were the furnishings grand, but at the opening of the dining room scene, the music department threw us "I Dreamt I Dwelt in Marble Halls" from "The Bohemian Girl" and at the end we had a live violinist! Honestly it was like a series of sets from the kind of movie where S. Z. Sakall plays a head waiter and half the cast members have European accents. WOW! Submitted by catyron, December 29th, 2020.
Location confusion: Where was the Waring House Hotel? Was it in L.A. or Waring City? After Paul and Perry tricked Leora into making a call from the lobby pay phone they were in the Brent Building. Perry then said he had to make a 45 minute drive to Waring City. Submitted by H. Mason 10/16/14 //
Perry says there was No PREMEDITATION: the Hittites, the "People of 1000 Laws," were the 1st society to consider Premeditation; "The basic principle of Hittite law was one of restitution instead of retribution," observes web.clark.edu...Lecture-HittitesPhoenicians.pdf. Mike Bedard 6.16.16.
<< Foot-Loose Doll | Episodes | Romantic Rogue >>