Show56
<< Fraudulent Foto | Episodes | Jaded Joker >>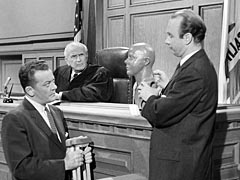 #56: The Case of the
Romantic Rogue
Original Airdate: 02/14/59
From The Perry Mason TV Show Book
Stacey Chandler intends to marry young heiress Helen Harvey (played by Marion Ross, Mrs. Cunningham on Happy Days) for her money. That is, until he goes and falls in love with her. Stacey's old girlfriend, Irene, wants him back, along with a piece of the pie. Irene has the goods on Stacey and tries to put the finger on him. When she is murdered in the process, an innocent Helen Harvey is wrongly accused of the crime.
There is more than one sordid past to investigate as Perry tries to clear a confused Helen.
Watch for a rare look at Burger's office in this episode.
Opening
Starring Raymond Burr
in The Case of THE ROMANTIC ROGUE
Based Upon Characters Created by Erle Stanley Gardner
Barbara Hale as Della Street
William Hopper as Paul Drake
William Talman as Hamilton Burger
Ray Collins as Lt. Tragg

Trailing
Directed by William D. Russell
Written by Gene Wang
Ben Brady | Producer
Produced by CBS Television in association with Paisano Productions
Gail Patrick Jackson | Executive Producer
Sam White | Associate Producer
Raymond Burr as Perry Mason
Barbara Hale as Della Street
William Hopper as Paul Drake
William Talman as Hamilton Burger
Ray Collins as Lt. Tragg
Cast
Marion Ross as Helen Harvey
Albert Linville as Harry West
Sara Haden as Florence Harvey
John Bryant as Stacey Chandler
Peggy Maley as Margo Lawrence
Jean Willes as Irene Wallace
Jack Daly as Pete Daniels
Frederic Worlock as Judge
Pitt Herbert as Autopsy Surgeon
Don Dillaway as Robert Riley
Lee Miller as Sergeant Brice
Robert Bice as Faulkner
Uncredited Actors
Gary Lockwood as Young Police Officer (from IMDb)
Crew
Gene Wang | Story Consultant
Production Supervisor … J. Paul Popkin
Story Editor … Alice Young
Director of Photography … Frank Redman, A.S.C.
Art Direction …
Lyle Wheeler
Lewis Creber
Editorial Supervision … Art Seid, A.C.E.
Film Editor … Otto W. Meyer, A.C.E.
Assistant Director … Robert G. Stone
Casting … Harvey Clermont
Makeup … Richard Hamilton
Hair Stylist … Annabell, S.C.H.
Wardrobe Supervision … Dick James
Set Decoration … Walter M. Scott, Charles Q. Vassar
Properties … Ray Thompson
Sound Editor … Gene Eliot, M.P.S.E.
Production Sound Mixer … Robert O'Brien
Script Supervision … William E. Orr
Perry Mason Filmed in Hollywood by TCF Television Productions, Inc.
A CBS Television Network Production
CARS: 1959 Plymouth Fury 2dr hardtop (roof & interior only), 1958 Ford Thunderbird convertible, black, black & white interior, top down (Drake), 1957-8 Ford F100 Styleside pickup, white, 1959 Plymouth Savoy 4dr sedan, black & white (Police), Cameos: 1958 Edsel 4dr hardtop, medium color w/ white top, 1955 Oldsmobile 2dr hardtop, medium color & white. From The Cars by Greg Cockerill.
Gary Lockwood seems to have appeared (for just a few seconds) in this episode, as a policeman in the final outdoor scene. He has no lines and is not listed in the credits. Submitted by Allan Barnie, 9/20/2001.
+ Maybe not! On close inspection I believe it more likely the actor is Dick Davalos. Submitted by Ted Parker, 9/28/2002.
++ Pictures of all three here. Decide for yourself.
+++ To me it still looks like Gary Lockwood. Look closely at the eyes and eyebrows, and, especially, the mouth. Also, if you do an image search for both actors Davalos looks nothing like Lockwood. Try these, by Arisia 2/16/2018
++++ IMDb lists this uncredited role by Gary Lockwood. He would return to PM in 1962 as Davey Carroll in TCOT Playboy Pugilist...MikeM. 7/5/2018
Hamilton Burger on crutches! He must have slipped at a wild pot party. [Ouch!] Submitted by Patrick Herlihy, 11/8/2005.
Sara Haden (Aunt Millie in the Andy Hardy series) makes her only Perry Mason appearcnce playing a character quite unlike Aunt Millie. In this episode she is mean, petty, and vengeful. Submitted by PaulDrake33, 22 June 2008.
Was John Bryant the original Marlboro Man? What cigarette brand(s) sponsored PM? Submitted by MikeM, 10/29/2012
+ The Marlboro Man was David McLean. Submitted by HamBurger, 05/13/2018
++ After David McLean's death, his widow and son sued Philip Morris, claiming that the cigarettes McLean was required to use caused his lung cancer. But a California court ruled that CA law protected the cigarette company from such a lawsuit...MikeM. 7/5/2018
Location: The hotel where Stacey Chandler is staying is the Culver Hotel. We see an establishing shot of it in the episode. The hotel is at 9400 Culver Blvd., Culver City, CA. You can find a picture and some history here. billp, 2/9/2009.
+ The Culver Hotel was also featured in episode #168, TCOT Prankish Professor. See history there. Submitted by Eric Cooper, 4 January 2011. More about the hotel here.
Sightings: There's a very close shot of Pencil Mustache Man as Stacey Chandler sits down next to him in the courtroom. You can see our nameless extra several times throughout the trial. And right behind him is our beloved Little Old Lady in a Hat, who can also be seen clearly in a shot next to Margo Lawrence. And Distinguished Gentleman #1 is the court reporter! Submitted by gracep, 18 August 2010.
+ "Miss Carmody" also appears among the courtroom spectators. Later, Blue Collar Guy drives a truckload of workers to a vacant lot. Among the crew is Quiet Old Man #2. Both of these men pitch in and help dig up the place. Submitted by alan_sings, 16 Oct 2010.
++ The Distinguished Lady #4 sits behind Miss Carmody on Burger's side. Submitted by BigBill767, 2/4/17.

Syndicated cuts: Paul and Perry driving to West's house; Helen telling Stacey that Irene was murdered; scene with Margo and Burger and Tragg; testimony from the autopsy surgeon; Mason going to West's property with Paul and a digging crew. Submitted by Wiseguy70005, 8/08/12.
+ The surgeon testified & Perry/Paul did go to West's property "to look for Uranium" in Today's MeTV airing. Mike Bedard 6.17.16 viewing.

Incorrect show Summary: Irene was not "Stacey's old girlfriend." Submitted by Duffy, 9-10-2014.
Cold case / old case: Perry also solved the murders of Frank Harvey and Vivian West killed 8 years earlier. Submitted by H. Mason 9/27/14
+ Perry not only solved two eight-year-old murder cases but discovered the murders (previously thought to be simple disappearances) and solved them at the same time. jfh 13Oct2017

This is the only PM appearance for Albert Linville (Harry West)...MikeM. 9/23/2016
This is the second of six PM appearances for John Bryant (Stacey Chandler), who passed in Hollywood in 1989, aged 72...MikeM. 9/23/2016
This is the only PM appearance for Marion Ross (Helen Harvey), whose career has stretched over seven decades. Marion Ross is still working at the age of 89...MikeM. 7/5/2018
Reused Set and Props: The interior of the Harvey house, with that distinctive staircase, was Marchand's restaurant in the previous episode "Fraudulent Foto". DOD 07/31/20
+ Yes, indeed! I recognized the same Victoriana immediately -- same set! The left-over Victorian decor from the previous episode is all that is left of Marchand's -- and also note that the small hotel letter box (wood, with vertical slots, holding letters) that was seen in last week's Waring City Hotel has migrated to the current episode's Esquire Motel! Submitted by catyron, December30th, 2020.
TCOT Substitute Coffee Cups: White awaiting the arrival of Canonical Curious Coffee Set, we are again witness to coffee service in one of several recurring other sets -- this is the one my husband and i call the "bird" set with a fat chickadee or a duck (?) on one side and ill-defined floral or aquatic stuff on the other side. Submitted by catron, December 30th, 2020.
Comments

Edit
IIRC the establishing shot for the Harvey home looks to be the same as used for the Jerry Heywood residence in Haunted Husband. Submitted by billp, 2/9/2009.
This episode is somewhat instructive about mineral rights and land ownership. We are facing some of that here on the East Coast now with the gas companies wanting to drill in the Marcellus Shale against the will of landowners. Seems a little shocking to me how property rights, very revered in this country, can be so discarded in this fashion. While I am glad of course Perry Mason won his case, I am sad that he was able to win it that way. Submitted by gracep, 18 August 2010.
+ Grace, of course that is a natural reaction; however, Perry's gambit was available because of property rights. At one point, someone sold an option for mineral rights on the land. Perry then purchased the option (or he may have leased them, which is more common). It is law that one may sell all of land rights ("fee simple") or any portion of rights to possess or use land as one wishes to sell. This way the original owner can still own his/her land and still allow others the use. When you rent an apartment, you are doing exactly this! cgraul 17 april 12
++ I think the shock comes not so much in the fact of the rights being exercised as the manner: showing up suddenly, unannounced - or nearly so (there's mention of the land company passing on mention) - and just starting to dig; I'm dubious it really works that way, just as a landlord can't barge into your apartment, their ownership notwithstanding. But such is the Perryllel Universe, where everything happens instantaneously. Notcom, 121520.|| +++ And, of course, this wsa during the nutty uranium mine craze er. Submitted by catyron, December 30th, 2020.
In this episode and the next (TCOT Jaded Joker), the killer is revealed in a scene somewhere other than the courtroom. Are there any other instances of consecutive episodes ending outside the courtroom? Submitted by alan_sings, 16 Oct 2010.
+ I don't know about Consecutive instances, but another Example is "Shoplifter's Shoe" (1963) where the Murderer was identified in a hall Outside the courtroom. Mike B. 6.17.16.

Paul mentions how fortunate Harry West is to own two acres of land in Encino. In 1959, a number of celebrities lived, or had lived, in Encino. These included John Wayne, William Bendix, Al Jolson, and Clark Gable. Submitted by MikeM, 10/29/2012.
A Sign of the Times: Florence Harvey hires a private detective to investigate the suspicious Stacey Chandler. Today she could go online and utilize dozens of people search and background search websites for much less money. Submitted by Duffy, 9-10-2014.
A Joke: Now we know what happened to Bob Wallace! (How many of you understand this?) Submitted by H. Mason 10/17/14
+ I get it -Arisia 02/16/18
Several unusual aspects to this episode: a bailiff reminds the judge of a previous commitment (also interesting that the bailiff is African-American); we never see the body; and we have the mode of murder vividly demonstrated in court. Distinguished Gentleman has given up his waiter gig from the previous episode and is back to being court reporter. We never learn how Irene got that necklace. As in the previous episode, the set designers really went overboard with the Victoriana in Florence Harvey's home. At the start we expect Stacey Chandler to be a central figure in the plot - he ends up a peripheral figure, not even being called to the stand. DOD 07/18/19
+ Actually, there is an explanation of how Irene got the necklace. It takes place during Perry's cross-examination of Florence Harvey. Florence admits that she gave the locket to Irene, along with the lighter, to make it more convincing that Irene knows where Mr. Harvey is. Florence found the locket in one of her husband's pockets after he disappeared. He apparently had it repaired for Mrs. West. The reason you could miss this plot point is that in the background during the cross the bailiff steps up on the bench, which is quite distracting. OldDave 8/4/20

Great files: Klein Jewelers kept excellent records in the non-computerized 40s and 50s to be able to identify the purchaser of a necklace from 12 years earlier. Submitted by H. Mason 10/17/14
Real name: A little odd that a con man like Stacey Chandler didn't have any aliases. Submitted by H. Mason 10/17/14

"An Atmospheric Winner." This episode oozes a noirish atmosphere characteristic of the best early PM episodes: the shadow of past misdeeds hanging over the present, murder at a somewhat seedy roadside motel, not one but two tough-talking "dames" (Jean Willes and Peggy Maley), and a con man (John Bryant) trying to stay on the straight and narrow. And, for Golden Age mystery buffs, a courtroom diagram of the motel room murder scene. Submitted by BobH, 6 May 2020.

I agree with BobH about the noirish atmosphere. You get the stock noir loser, West, jerked around by forces he can't control (the wayward wife and rich boyfriend, scheming Irene, vicious Florence, inept cops, and the ever alert Perry who realizes that the guy with two acres in Encino shouldn't be living in a dump and borrowing money to live.) Albert Linville is very effective as West. You also get multiple wild but plausible plot twists. In addition to the ones noted above, how about: (1) someone attempts to frame the actual killer, and (2) West kills when he thinks he is being blackmailed, but all the "blackmailer" thinks she is doing is selling a little information (that she doesn't actually have.) Talk about a misunderstanding! I am really enjoying Season 2! OldDave 8/4/2020
<< Fraudulent Foto | Episodes | Jaded Joker >>