Show30
<< Hesitant Hostess | Episodes | Fiery Fingers >>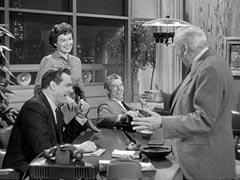 #30: The Case of the
Screaming Woman
Original Airdate: 04/26/58
From The Perry Mason TV Show Book
Columnist and socialite Mary K. Davis gets herself killed. Was it her shrill voice that prompted someone to do her in? Or was it something the columnist said? Maybe her politician-husband didn't appreciate her refusal to give him a divorce. Or perhaps that doctor didn't like it when Mary threatened to expose his illegal baby-selling scheme.
Perry and Della feel it's an important enough issue to tamper with the evidence in defense of Leona Walsh, the nurse on trial for the crime. Burger's out to put Della on the stand and get Perry for tampering.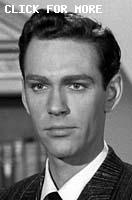 Opening
Starring Raymond Burr
in Erle Stanley Gardner's The Case of Screaming Woman
Barbara Hale, William Hopper, William Talman, Ray Collins
Cast
Ruta Lee as Connie Cooper
Berry Kroeger as Eugene Jarech
Josephine Hutchinson as Leona Walsh
Arthur Shields as Dr. George Barnes
Marian Seldes as Mary K. Davis
Philip Ober as Ralph Davis
Karin Booth as Susan Marshall
Don Gardner as Bob Shroeder
Morris Ankrum as Judge Cameron
Phil Arnold as Apartment Manager
Richard Ryan as Mr. Hill
Jeanne Bates as Miss Clay
Marian Collier as Attendant
Jack Gargan as Court Clerk
Uncredited Actors
Don Anderson as Courtroom Spectator
Tom Kennedy as Courtroom Spectator
CARS: 1955 Chevrolet BelAir 4dr sedan, 2-tone: dark color & white; 1958 Buick Caballero Estate Wagon 4-Door, white; 1958 Cadillac convertible, black, white top up (Mason). From The Cars by Greg Cockerill.
Anomaly: Berry Kroeger, listed as Jarech in the credits, is identified as Jarech in a building directory and by other characters. Submitted by daveb, 12/20/2007.
Location: The same setup shot is used for the "Dr. Barnes Seaside Hospital" as in #54, TCOT Foot-Loose Doll. See here. Submitted by Charles Richmond, 6/2/2004.
+ Dr. Barnes Seaside Hospital is currently the Malibu residence of singer Cher. It has been on and off the market in 2008 for $41 million. Posted by Eric Cooper, 17 November 2009. Some pictures here.
+ Funny in that Ruta Lee is in both episodes at "Dr. Barnes Seaside Hospital" this one and #54, TCOT Foot-Loose Doll. Submitted by HamBurger, 5/31/2021
Mary K. Davis (played by Marian Seldes) was a newspaper columnist and socialite. In real life, Marian Seldes was the daughter of journalist/author/editor Gilbert Seldes and niece of journalist George Seldes. Submitted by Charles Richmond, 10/20/2008.
Anomaly: The doctor in this episode is credited as Dr. George Barnes (played by Arthur Shields). Indeed, in the first part of the episode, Perry refers to him as Dr. George Barnes when talking with Paul. But during the beginning of the first courtroom scene, Mr. Burger refers to him as Dr. Philip Barnes. Submitted by Charles Richmond, 11/20/2008.
+ Dublin-born Arthur has 97 IMDb credits, including 9 episodes of "The Hardy Boys" & "The Quiet Man," one of my Father's favorite films. Mike Bedard 4.30.15
Uncredited Actor: Don Anderson makes his 17th appearance in the first season as a courtroom spectator. Submitted by FredK, 25 Oct 2010.
+ When someone in the gallery stands to be identified, we clearly see former boxer Tom Kennedy in the front row, along with some other familiar faces (see Sightings, below). Submitted by gracenote, 9/2/2011.
Goof: At 31:41, Dr. Barnes places the envelope in the fire; at 31:42, it begins to kindle; at 31:43, we see Mason getting a cup of water in the hall. At 31:56, thirteen seconds later, Mason returns to the office, and the envelope is still just beginning to kindle. Dr. Barnes says "I'm afraid you're a little late" (which isn't quite true), but at 32:02, just six seconds later, the envelope is burned beyond all recognition. Submitted by 10yearoldfan, 7 August 2011.
Goof redux : during her screaming courtroom confession, Ms Cooper says, "She was going to print that story about Bob", but since she's speaking directly to Bob, the word "you" was overdubbed in place of the name. jfh 01Jul2022
Goof part three : During the wrap-up in Perry's office, Perry incorrectly uses the past tense "hung" when he meant "hanged". ibid.

Why didn't Dr. Barnes open the envelope and make sure it contained the correct book before tossing it into the fire? Otto Gervaert, 7/9/21.
Sightings: Among the courtroom spectators are Distinguished Gentleman #1, Distinguished Gentleman #2, and Distinguished Lady #4—all on the prosecutor's side. When someone in the gallery stands up for identification, Little Old Lady #2 is in front of him (as is DG #2). Over on Perry's side sits Little Old Lady #1. What we'd like to know is, who are they? Submitted by gracenote, 9/2/2011.
+ We see the Pencil Mustache Man at the Mud Bar (10:30 DVD). Submitted by BigBill767, Nov 11, 2016
Syndicated cuts: Scene with Connie, Susan, and Ralph; Jarech making a date with Mary K for cocktails; Jarech and Mary K having cocktails; Mary K messing up the envelope, asking the attendant for another and tearing and throwing away the first; Leona at Mary K's apartment and phoning Mason.
Additional Hallmark cuts: Part of Leona and Mary K's conversation that the doctor can't give Mary a baby, Mary says she can give the child everything, who her husband is, that her husband wants a divorce but is not because he thinks Mary K is carrying his child, Leona says she's sorry, Mary K doesn't want sympathy but for the doctor to make the trade; Mary K asking an attendant for pen, ink, stamp and an envelope and looking at Jarech from the ladies' room; part of Leona Walsh's meeting with Perry concerning requirements of adoption agencies, whether old people are less fit to raise children, that she knows many families who would give a child love and affection and Mason asking if Barnes was remedying the situation singlehandedly; Tragg telling Burger that Barnes has not seen Walsh and her fingerprints are in Mary K's apartment; part of Della waiting for the mailman checking her watch twice; long (1:35) scene of Burger calling Della to the stand and the conversation with the judge if it's permissible; the segue between Tragg leaving Mason's office with the dictating machine and entering the court with same is shortened on both scenes. Submitted by Wiseguy70005, 7/25/12.
Changing Credits: The dot on the 'i' in Ray Collins' name becomes a square in this episode finally matching the square dots in the 'William' names (Hopper and Talman). In all previous episodes the dot was round. The dot on the 'i' in episode titles (when there is an i) continues to alternate between round and square dots, the square usually seen on the bolder font used for shorter words/titles but this is not always consistent. Submitted by Wiseguy70005, 2/8/13.
Visible Crew: At approximately 1835, Paul Drake enters Perry's office, and as he starts to close the door, a hand is visible in the doorway, reaching for the door, presumably to grab the outer knob and pull the door all the way shut or keep it shut. I've heard of doormen, but this is rather strange. Submitted by Scarter 12-28-13
+ The same thing happened in episode 12 TCOT Negligent Nymph when Lt. Tragg and Arthur Dorian entered Burger's office. Added by H. Mason 10/7/14
++ See also Episode #74 TCOT Startled Stallion for an almost-identical occurrence. Added by Dan K, 12/27/15.
+++ And yet another example in Episode #4 TCOT Drowning Duck. Added by Dan K, 7/14/16.
Goof: In the opening shot showing the houses and road along the beach, we hear the sound of surf, but the water doesn't move. Submitted by Alan Smithee, 4-16-14.
Della was put on the witness stand for the second time (see episode 8 TCOT Crimson Kiss). This time Perry objects to many of Burger's questions.She would appear on the stand in 5 more episodes (63,160,162,172,187). Submitted by H. Mason 9/25/14
This was the first of six episodes where the three main characters (defendant, victim, killer) are all female. The others are episodes 31,37,143,153,204. Submitted by H. Mason 9/26/14
Phone numbers: When Leona Walsh called Perry's office she only dialed six numbers. Mary K. Davis had the number NOrcross 4211. What happened to the seven digit phone numbers? Submitted by H. Mason 10/7/14
+ Back then numbers were 2L + 5N and 2L + 4N. Some were in fact 3L + 4N. See here. Also, see here. Submitted by HamBurger, 5/31/2021
Della's impersonation: This story had the first of several instances where Miss Street would "pretend" to be another person. She usually would not claim to be that person, only go to a place the other woman was likely to be and let someone assume she was that person. Submitted by H. Mason 10/7/14
+Della's fashion sense is impeccable: her gloves match the blouse she's wearing --- right down to the stripes! jfh 19May2017.
++ still lovin' the striped gloves! jfh 22Nov2021

Renoir's "A Girl with a Watering Can" must have been a popular item during the 60s. If you look closely you will see it again in "The Case of the Golden Oranges". Submitted by pauloh1 18/11/14
Props: At approximately 6:30, note the smashed photograph of Ralph Davis (Philip Ober), which Mary K. Davis has hurled across the room. The identical photograph (then representing Sumner Hodge) gets smashed again in Episode #210 TCOT Tandem Target, although the frame and pattern of the smashed glass are different. Apparently this photograph has taken quite a bit of abuse. Submitted by Dan K, 1/1/16.
According to IMDB, this is the third of seven PM episodes directed by London-born Andrew V. McLaglen...MikeM. 8/18/2016
This is the first of five PM episodes for Quebec-born Ruta Lee. Ruta Lee is a Hollywood HS graduate. She turned 81 last May...MikeM. 8/81/2016
According to IMDB, the teleplay was written by Dick Stenger. It's his only PM credit...MikeM. 8/18/2016
This is the only PM appearance for Karin Booth, who is a notable alumni of John Marshall High School in Los Angeles. Leonardo DiCaprio is also on the John Marshall HS alumni list...MikeM. 5/31/2018
Comments

Edit
This show is unusual in that Della is sworn in and must testify in the trial. Submitted by PaulDrake 33, 6/3/2009.
+ She's on the stand about four minutes but utters only 15 words due to Perry's relentless barrage of objections, all of which are sustained by the judge. I thought Burger was going to blow a gasket. Submitted by 65tosspowertrap, 17 April 2014.
++ Testimony Youjus Fakem Tho opinions will vary (see below) I found the sustaining of Perry's objections to be a stretch, particularly given the Baedeker-style wanderings he is often allowed to engage in. That having been said, one wonders how much damage would actually have been done by allowing Della to testify to "all she knows", since she doesn't really know much: she can't say with certainty that the envelope contained the book, or - beyond a privileged communication - that the book even exists. (Burger would have faced the same problem: only two people can testify of their own knowledge to the existence of the book, one on trial the other able to claim refusal-thru-self-incrimination; all the others know of it only thru pure hearsay.) Notcom, 112321.
While certainly Mary K was written to be rather unlikable, I did not find her wholly unsympathetic as she was acting out of desperation to hold on to her unfaithful husband. And to say that her voice was shrill (as it does in the Summary) seems a little unfair, too. Slapping the secretary was designed to make here unsympathetic, but I would pretty mad, too, if I had found out my employee told a doctor I was unfit to be a mother. Submitted by gracenote, 9/2/2011.
+ Not wholly unsympathetic? A dissenting brief is hereby submitted: If we disregard only her tawdry blackmailing tactics, her despicable treatment of everyone else with whom she interacts in the episode, her lying about her pregnancy, her manic disposition, and her willingness to do anything and everything to get her way (including destroying other peoples' lives), what's not to like about Mary K. Davis? Submitted by BobH, 28 February 2016.
Did anyone else notice the eye chart in the doctor's office? It's all E's, every which way (sideways, upside down, backwards). Submitted by gracenote, 9/2/2011.
+ That chart is sometimes called a "Tumbling E." It's used with small children or adults who don't know their letters. When I was a small child and went to the eye doctor, that's the chart they used. I was instructed to point in the direction of the E. The Landolt C chart is based on the same idea. Submitted by billp, 09/29/2011.
Once again we have an affluent, childless, unhappily-married couple. Submitted by 65tosspowertrap, 4-17-14.
When Paul says at 19:22 "Gunther was her maiden name" the microphone recording the dialogue is not placed correctly. His voice sounds far away unlike his other dialogue. Submitted by Wiseguy70005, 8/01/14.
QUESTION: How was Mary K. Davis killed? Submitted by H. Mason 10/7/14
Mary K was rather old-fashioned (or cheap). Recording cylinders became obsolete ten years before this episode aired. In TCOT Substitute Face we see Della using a somewhat more modern Dictabelt machine. Submitted by vgy7ujm, 29 January 2015.
With respect to "tampering with the mails," Paul says he doesn't want to go to ALCATRAZ: "The History of Alcatraz is surprising to those that only know the Hollywood version. Civil War fortress, infamous federal prison, bird sanctuary, first lighthouse on the West Coast, and the birthplace of the American Indian Red Power movement are a few of the stories of the Rock...Click on Places www.nps.gov/alca/historyculture/places.htm to learn about the military history (1850-1934), the federal penitentiary (1934-1963), and perhaps the most influential event in the island's history - the American Indian occupation (1964 and 1969) - that saved the tribes and maybe the island too," nps.gov chronicles. Mike Bedard 4.30.15
We never learn the cause of death, nor who discovered the body. That screen in the apt window was used just two episodes ago in "Daring Decoy". The legal niceties Perry uses to stymie Burger are both entertaining and perfectly correct. In the summation scene, Perry mentions a murderess who was "hung" for her crime. The proper past tense for "hang" when referring to execution is "hanged".
Philip Ober may be best known for his small but pivotal role as Lester Townsend, assassinated in the United Nations Building in "North by Northwest". DOD 05/30/18
Don Gardner's name in the cast list leads to an IMDB entry for an actor named Don GARNER, who died in 1991. Don GARDNER passed away shortly after filming this episode, aged just 26 years of age. Submitted by Hermit Crab, 2/2/2017.
+ I just checked; the link has been fixed; it now points to the correct actor. OLEF641; 9/7/2017.
++ As was the case with fellow PM alum Judy Tyler, and perhaps unsurprisingly, Gardner was killed in a traffic accident (tho she died even before her episode aired, whereas he died shortly after his). Ironically, given the importance of the audio evidence during the trial, and Connie's over-the-top confession, his obituary listed his work on the show as being a "dialogue coach". Notcom, 090817.
I have the strong suspicion that Tragg's final line, "You know, he (Burger) never should get mad; why he missed me by at least two feet!" was an adlib - the laughter from all the other people in the scene seems truly genuine, not acted. OLEF641 11/7/2020 +We see Tragg deliver the final line in one shot, then we see Perry, Della, and Paul laughing away in the reverse shot. I suspect that Ray Collins probably told a joke or said something different that caused the uproarious laughter, and then at another time delivered the final line. Submitted by Kenmore 6/08/20201.

Goof: When Ruta Lee explains why she killed the victim, Lee's lines are dubbed over, the words don't match her lips. At the end of both sentences the audio says "you" but her lips say "me." Submitted by Craig, 2/20/2010.
+ Also, at 36:39 Mason's line is dubbed when he says "Objected to on the grounds that the question calls for hearsay evidence..." His lips also do not match the words. Submitted by Wiseguy70005, 8/01/14.
Jarech confronts Mason regarding the torn envelope that Drake pulled out of the trash behind the restaurant. Jarech then tells Mason that he went to Gunther's secret apartment... which he could not possibly have known about, having never seen the address on the envelope. Submitted by bobhoveyga, 6/19/2014
+Jarech was Gunther's attorney. She might have told him about it. Submitted by vgy7ujm, 1/14/15
In the novel the screaming woman was an important part of the plot and occurred at the time of the murder (and screamed by a character who doesn't appear in the episode). In the simplified episode, the only screaming is done by Ruta Lee at the end of the episode. Perhaps this is the only reason Connie Cooper went into hysterics, to make the title of the episode make sense. Submitted by Wiseguy70005, 8/01/14.
+Other than having the same title, the episode bears virtually no relationship to the novel. Submitted by BobH, 10 January 2016.
+ While she was alive Mary K. Davis did a lot of screaming, in my opinion. Quite the shrew. Kilo 6/22/2020.
<< Hesitant Hostess | Episodes | Fiery Fingers >>