Show210
<< Drifting Dropout | Episodes | Ugly Duckling >>
#210: The Case of the
Tandem Target
Original Airdate: 05/14/64
From The Perry Mason TV Show Book
Irma Hodge's wealthy stepfather, Sumner Hodge, is withholding her inheritance because he dislikes her boyfriend, "folksinger" Con Bolton. When someone supposedly takes a shot at Sumner, he suggests to Lt. Anderson that Con is to blame, claiming this is the second attempt on his life. But for Sumner, three proves the unlucky charm. His car goes over a cliff with him behind the wheel, and an investigation reveals it had no brakes. Witnesses claim Con was fooling around with those brakes minutes before the smashup. The singer must call on Perry to repair the damage.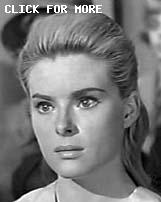 Opening
Starring Raymond Burr
in The Case of THE TANDEM TARGET
Based upon characters created by Erle Stanley Gardner
Barbara Hale, William Hopper, William Talman, Ray Collins
Trailing
Directed by Irving J. Moore
Written by Robert C. Dennis
Arthur Marks \ Art Seid | Producer
Gail Patrick Jackson | Executive Producer
Jackson Gillis | Associate Producer
Samuel Newman | Story Consultant
Raymond Burr as Perry Mason
Barbara Hale as Della Street
William Hopper as Paul Drake
William Talman as Hamilton Burger
Ray Collins as Lt. Tragg
Wesley Lau as Lt. Anderson
Cast
Philip Ober as Sumner Hodge
Ann Rutherford as Mona Hodge
Lonny Chapman as Jack Talley
Paul Carr as Con Bolton
Natalie Trundy as Irma Hodge
Pat Priest as Miss Young
Dan Seymour as Leo Lazaroff
Vince Barnett as Noonan
Tom Fadden as Cooper
Barney Biro as Judge
Uncredited Actors
Philip Ober as Adrian Hodge
Don Anderson as Deputy Sheriff
Crew
"Perry Mason"
Director of Photography … Howard Schwartz, A.S.C.
Art Direction … Lewis Creber
Assistant Director … Robert G. Stone
Film Editor … Richard H. Cahoon, A.C.E
Casting … Harvey Clermont
Makeup … Irving Pringle
Hair Stylist … Annabell
Wardrobe Supervision … Ed McDermott, Evelyn Carruth
Set Decoration … Carl Biddiscombe
Properties … Ray Thompson
Production Sound Mixer … Herman Lewis
Script Supervision … Marshall Schlom
Theme Composed by … Fred Steiner
Automobiles Supplied by … Ford Motor Company
Perry Mason
Produced by the CBS Television Network in association with Paisano Productions
Uncredited Actors: Phillip Ober also appears uncredited as Adrian Hodge, Sumner's brother. Posted by daveb, 7/3/2009.
+ Incidentally, Ober was the third husband of Vivian Vance (Ethel Mertz on I Love Lucy). Submitted by gracenote, 8/19/2011.
Ober had a brief but key role as Lester Townsend, whose assassination in "North by Northwest" triggers Cary Grant's cross country dash. DOD 03/04/21
++ Double Duty: Mentioned above P. Ober also played the part of Adrian Hodge. This was at least the fourth time a credited actor played two completely different people in the same story. See episodes: 50 (Maurice Manson), 130 (Frank Cady) and 171 (Hugh O'Brian). Raymond Burr will get his chance to do the same in episode 267. Submitted by H. Mason 4/2/15
Character actor sighting: Note the character actor Tom Fadden (as Cooper). He helps an angry Sumner Hodge get his car. Fadden appeared in the Christmas movie classic "It's a Wonderful Life," as the bridge tollkeeper. Fadden reacts in amazement as Clarence the angel chats with a disbelieving George Bailey as both dry off from a dunking in the frigid river. Submitted by Traggster 2-22-18
Location: A shot of Malibou Lake appears in this episode. Reported by Charles Richmond, 7/3/2009. Read more about this lake at The Lakes.
+ The hair pin turns that do in Sumner Hodge at the 22-minute mark are on Mulholland Highway just a couple miles away from Malibou Lake as he approached Las Virgines Road. They are pretty tricky even when you do have brake fluid. And at the 35-minute mark Perry scores again with a one-in-a-millon parking spot at 111 N. Hill right in front of the Stanley Mosk Courthouse. Submitted by Eric Cooper, 9 August 2011.
++ Dramatic footage through the windshield of the car as it plummets over the precipice. jfh 19Jan2017.
Phone Numbers: The day of the murder Della Street reports with dismay that Sumner Hodge is unavailable because he is in seclusion at Lake Genado and his housekeeper will not release the phone number; yet a couple hours later Perry tells Della to call the cabin at Lake Genado, and she puts the call right through, without even looking it up. Submitted by cspoleta, 15 April 20116
+ IMHO Della calls the Hodge residence again, apparently successful this time in convincing the maid to divulge the number to the cabin. jfh 19Jan2017.
Pat Priest makes her first of two appearances on Perry here as Miss Young. This same year, Ms. Priest would replace Beverly Owen as Marilyn Munster, her most famous role, on the CBS sitcom The Munsters. Submitted by PaulDrake 33, 29 September 2009.
Sightings: In the back row of the courtroom gallery, Distinguished Gentleman #1 and Little Old Lady #1 sit together. She turns to him as if to whisper during a surprising moment. Pencil Mustache Man, in the front row, appears rather detached from the situation. Quiet Old Man #1 is there, too, but blurry. More here. Submitted by gracenote, 3/22/2011.
+ Earlier, While young Con sings to his love at the Lone Pine Club, the aforementioned Gentleman sits at a table in the background, engrossed in conversation. Submitted by gracenote, 8/18/2011.
Uncredited Actors: Guarding the house by the lake is a deputy sheriff played by Don Anderson. Interestingly, the camera lingers a long time on the deputy as he and Jack Talley (Lonny Chapman) eye each other. Anderson looks like he's going to speak, but doesn't. Later, Talley even barks an order at the deputy!! Submitted by gracenote, 3/22/2011.
That's right, kids! Our singing, guitar-wielding defendant (Paul Carr) also appeared once (and only once) as Lt. Lee Kelso on Star Trek, in the so-called "second pilot" (but third broadcast episode) called "Where No Man Has Gone Before." Submitted by gracenote, 3/22/2011. More Trek Alumni can be found here.
+ The song our man Con sings is "The Riddle Song"—an English folk song. Submitted by gracenote, 8/18/2011.
Called "I Gave My Love", "The Riddle Song" was sung by Disney's Davy Crockett, Fess Parker, and was the "B" side of "The Ballad of Davy Crockett from 1955 during the Davy Crockett craze. Joe B. 11/25/19
++ And at the end, Con sings "This Train," the version written by Peter Yarrow and Paul Stookey and recorded on the first "Peter, Paul, and Mary" album in May 1962.- Submitted by 10yearoldfan, 28 September 2014.
+++ "This Train" was not "written by" Peter Yarrow and Paul Stookey. Their version was a "cover," a 1950s-60s term to indicate a song recorded by White people to render acceptable to White audiences a song that was actually originated by a Black performer. One of Rosetta Tharp's live versions is here
++++Exactly! My personal fave version, from the album Louis Armstrong and the Good Book. https://youtu.be/gzxiroxqzbo Submitted by JazzBaby, 5/8/2019.
+++++If only John Belushi had been around to smash that guy's guitar as he did in "Animal House" to another pretentious folkie singing that same song. Submitted by VladEstragon, 5/13/20.
++++++Lots of hostility toward inauthentic folk singers here, it seems. My beef is not about his misappropriation. He's just a bad singer and a worse guitarist. Submitted by Wick 3/21/2022.
Purloined Pocket: When Perry works his usual magic parking in front of the courthouse his suit coat holds a pocket square (30:15 on the DVD), but by the time of the hearing not only has the pocket square disappeared, but the pocket seems to be gone too. JohnK, 3 November 2015
Props: At approximately 5:00, Mona Hodge grinds her heel into a smashed photograph of Sumner Hodge (Philip Ober). This same photograph (then representing Ralph Davis and in a different frame) was smashed by Mary K. Davis earlier in the series, in Episode #30 TCOT Screaming Woman. Submitted by Dan K, 1/1/16.
This is the second of two PM appearances for Natalie Trundy who, according to Wikipedia, has been married five times...MikeM. 1/19/2017
This is the only PM appearance for prolific character actor Lonny Chapman, who was married to his wife Emma from 1944 until his death in 2007...MikeM. 1/25/2018
This is the fifth of seven PM appearances (all in judging roles) for Barney Biro, who was born Barnet Wolf Biro. In his final two PM appearances, Biro was credited as Frank Biro...MikeM. 5/31/2018
Comments

Edit
Anomaly: Why does the judge say "Jury dismissed" at 47:12? There is no jury in the courtroom. - Submitted by 10yearoldfan, 28 September 2014.
+ The judge said: "Hearing dismissed. Deputy, take this man into custody. Court adjourned." Added by H. Mason 4/3/15
Character Names Miss Young's first name is Sally. jfh 19Jan2017.
+ Why is Irma's last name "Hodge" since Sumner was her step-father? Had she been adopted by Sumner, he would've been her father. jfh 04Mar2021
++ Even after adoption and changing of their surname, most times the non-biological parent is still called "step-" OLEF641 7/17/21
Bad Impression: Maybe Con should change his name. Would you want your daughter to go out with a guy named "Con"? Submitted by H. Mason 4/2/15
That's a very realistic face on the bust in the study, almost like a mask. jfh 25Jan2018.
+ In the close-up of it shattered on the floor, it appears to be a bust of Napoleon Bonaparte, appropriate considering Irma's outburst about Sumner in the previous scene! OLEF641 7/17/21
Double Standard: Trudy didn't consider Sumner to be her father but did recognize his brother as "Uncle Adrian." Submitted by H. Mason 4/2/15
+ I'd say this difference is more about affection than relation. I grew up with a woman who has long called me 'Big Brother' because of the affection between us. She has TWO blood-related brothers (one deceased, but she calls/called them brother, too, no double standard there) and her mother calls me 'Son.' Submitted by MikeReese, 5/30/2016
++ Irma and Adrian explain Adrian's closeness to Irma and her mother predates Sumner's marriage to Mona. jfh 25Jan2018.
The court hearing was held in Los Angeles. The exact location of Lake Ganado was never established, but in a phone conversation Irma said it was a 90 minute drive from L.A. Wouldn't that put the case it in another jurisdiction?
+ Not necessarily: remember the venue is the county, and LA County, in its 4058 sq mi, stretches far into the mountains (a wag might note that w/ traffic as bad as it is these days it might take Perry 90' just to drive from his office to the courthouse!!). Less credible, perhaps is why Andy is on the case, since he's LAPD...but we've seen before that the show has a very elastic definition of police beats. Answered by Notcom, 042817.
That staircase set appears yet again - third time in the last seven episodes. This time, however, what is usually an exterior door leads to Sumner's study. Con tells Perry that he and Irma used his scooter to make their getaway because he found the brakes on the Lincoln a bit mushy. In order to know this, he would have had to drive the car a bit , something that someone surely would have noticed and mentioned to the police. Sorry, but the line about a "part time itinerant folk singer" sounds like something from a Carol Burnett sketch. Ann Rutherford makes her fourth PM appearance. A very busy actress during MGM's heyday, she insisted, against Louie Mayer's wishes, on playing Careen O'Hara in 'Gone With the Wind'. She later declined to audition for the role of Old Rose in 'Titanic'. DOD 1/25/18
Since the killer admitted stealing the formula (presumably from Leo's brother) was Leo Lazaroff entitled to any money? After the case Leo left the courtroom instead of approaching Perry or Mr. Burger to ask if he could make a claim. Submitted by H. Mason 4/2/15
Andy on the Spot this episode has one of the show's more remarkable(-ly absurd) examples of police work: Andy appears in Perry's office demanding to know Con's whereabouts so that he can be questioned in connection with a murder; we later learn that the only reason anyone (even) knows there's been murder is because Andy himself had suggested it. Which means that he either
(1) found out about the crash even before Sumner's family had been notified, or
(2) advanced his concerns to the sheriff's office simultaneously with the crash happening.
Altho these kind of plot holes were sprinkled thruout the show's run - even in the earlier seasons - as the years wore on, and the constant recycling of actors, plots and staircases allowed our attention to wander, they became glaring. Notcom, 070620.
<< Drifting Dropout | Episodes | Ugly Duckling >>