Show211
<< Tandem Target | Episodes | Missing Button >>
#211: The Case of the
Ugly Duckling
Original Airdate: 05/21/64
From The Perry Mason TV Show Book (Revised)
Alice Trilling's deceased father left behind a strange will. His successful toy company would be left to her—but with a catch: She must be married, or close to it, within a year's time. Until then, her wheelchair-bound Uncle Harry and a board of executors would be in charge.
Trouble is, Alice is ugly as sin, and she's the first one to say so. An artist begins some preliminary wooing, but Alice is unimpressed until she sees a portrait he's painted of her. Suddenly, Alice is happy. But love is fleeting. It seems that Uncle Harry is playing matchmaker behind the scenes for reasons of his own. Now a woman scorned, Alice confronts her uncle and pushes his wheelchair, toppling it. She quickly flees the scene, but when Harry is found dead, Alice is arrested. This is a tough one for Perry, because even Alice thinks she's guilty.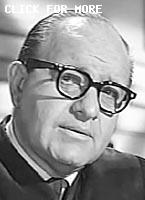 Opening
Starring Raymond Burr
in The Case of THE UGLY DUCKLING
Based upon characters created by Erle Stanley Gardner
Barbara Hale, William Hopper, William Talman, Ray Collins
Trailing
Directed by Arthur Marks
Written by Richard Landau
Arthur Marks \ Art Seid | Producer
Gail Patrick Jackson | Executive Producer
Jackson Gillis | Associate Producer
Samuel Newman | Story Consultant
Raymond Burr as Perry Mason
Barbara Hale as Della Street
William Hopper as Paul Drake
William Talman as Hamilton Burger
Ray Collins as Lt. Tragg
Wesley Lau as Lt. Anderson
Music Composed and Conducted by Van Cleave
Cast
Anne Whitfield as Alice Trilling
Constance Towers as Natalie Graham
Reginald Gardiner as Albert Charity
Adam LaZarre as Anthony Usher
Max Showalter as Talbot Sparr
Ford Rainey as Harry Trilling
S. John Launer as Judge
Jay Adler as Herman
Frances Morris as Landlady
William Boyett as Police Officer
Richard Geary as Scuba Fella
Lee Miller as Sgt. Brice
Uncredited Actors
Med Flory as Artist (from IMDb)
Don Anderson as:
Lounge Patron at Table
Police Officer
Courtroom Spectator
Crew
"Perry Mason"
Director of Photography … Howard Schwartz, A.S.C.
Art Direction … Lewis Creber
Assistant Director … Gordon A. Webb
Film Editor … Al Clark, A.C.E
Casting … Harvey Clermont
Makeup … Irving Pringle
Hair Stylist … Annabell
Wardrobe Supervision … Ed McDermott, Evelyn Carruth
Set Decoration … Carl Biddiscombe
Properties … Ray Thompson
Production Sound Mixer … Herman Lewis
Script Supervision … Marshall Schlom
Theme Composed by … Fred Steiner
Automobiles Supplied by … Ford Motor Company
Perry Mason
Produced by the CBS Television Network in association with Paisano Productions
Anne Whitfield has the star role here as Alice Trilling in her first of three appearances on Perry. Old-time radio fans will remember Anne Whitfield as the radio daughter of Phil Harris and Alice Faye on their radio show from 1946 until 1954. Submitted by PaulDrake 33, 19 August 2009.
Anne Whitfield is also the General's granddaughter in White Christmas.
Alas, Ray Collins receives credit for Lt. Tragg but does not appear. Submitted by gracenote, 3/24/2011.
Uncredited Actors: This episode boasts another two-fer for Don Anderson. Early on, he is a patron, smoking and chatting with a companion, at the lounge frequented by miss Alice. Later, he is a uniformed policeman bending over the breathless scuba diver who has been searching for a body. Submitted by gracenote, 3/24/2011.
+ This one's actually a three-fer for Don. He can also be seen in a few shots in the last row of the courtroom gallery on the defense side. Submitted by FredK, 9 April 2011.
Sightings: A man we call Distinguished Gentleman #1 is visible now and then among the courtroom spectators. Submitted by gracenote, 3/24/2011.
+In court we find Miss Carmody with dark hair sitting next to Lt Anderson. Maybe she is undercover. Submitted by BigBill767, 6/18/2016.
In this episode the faithful but usually taciturn Sgt. Brice (Lee Miller) does most of the talking for the police, informing Perry what they know or have found. Lt. Anderson (Wesley Lau) enters at the very end of the scene on the beach and announces that Alice was arrested at the airport. He then sits dutifully through the trial without saying anything, unless his testimony has been cut from the TV prints. Submitted by FredK, 9 April 2011.
This is the only PM writing credit for Richard Landau, who would later do writing for some episodes of "Ironside"...MikeM....1/20/2017
This is the only PM performance for London-born Reginald Gardiner, who was in a silent film by Hitchcock in 1926 and in an episode of "The Monkees" in 1968...MikeM. 1/26/2018
This is the third of five PM appearances for Constance Towers, who trained at the Juilliard School of Music. In 1974, Constance Towers married her second husband, actor/military officer/diplomat John Gavin, and they remained married until his passing in February 2018. According to IMDb, Constance Towers was still working in 2017...MikeM. 6/1/2018
Usher's house is a redressed set used in episodes 208 and 209. DOD 1/25/18

The marvellous Reginald Gardiner shows up in this, his only Perry episode, as Albert Charity. He co-starred in one of my favorite color films noir, "Black Widow", alongside Ginger Rogers, Van Heflin, Gene Tierney, Peggy Ann Garner, George Raft, and others. jfh 20Jan2020.

Calling All Cars! Where, O where, is Gary Woloski?
Was that a Bentley?
Is that an MGB or a Triumph?
I miss Gary's Cars listings! Is he like Lt. Tragg? Is he gone forever? Submitted by catyron, June 13th, 2018
+ Car 54 Reporting In. You have an elegant taste in cars. The two cars I think you mean are:
(α) Uncle Harry's silver-gray 1963-1964 Rolls-Royce Silver Cloud III. You might be correct with "Bentley" but I think that the radiator shell is "Roman-rectangular" and that the mascot is the R-R "Spirit of Ecstasy" rather than the Bentley winged-B. If it is a Bentley, it would be the S3.
(β) A white 1953-1955 Sunbeam Alpine open two-seater, partially seen from above in opening shot (parked) and later seen from rear while parked at curbside as Alice leaves her local "deli" (tonneau closed in both shots, "rear" image shows ID features). The '50s Sunbeam Alpine in this episode is the forerunner of the '60s Sunbeam Alpine & Tiger seen in a later popular TV series (would you believe . . . ?).
A '63 Silver Cloud III which looked exactly like the one in this episode was the first Rolls owned by Hedda Hopper. A photo of her and her two assistants with the car used to be available on www.mmgarchives.com but the site seems to be discontinued (the photo ran in the Chicago Tribune and might have file# ARD-221-CT). Hedda bequeathed a Silver Cloud in black & blue to her good friend Lucille Ball but I haven't been able to determine whether this was her first Rolls repainted or a later car.
Invitation. I hope to eventually complete the car listings for Season 7 and to work further in the series. However, I do encourage anyone willing to forge ahead with either of Seasons 8 or 9 to do so. I suggest starting at the beginning of either season and working through the episodes in sequence (please don't do it piecemeal). Note: many of the exact same "current model-year" cars used in a Season's 2nd half are used in the 1st half of the following Season. Completion of the partial car listings for Seasons 1 and 2 also remain to be done. Added by Gary Woloski, 6/19/18.
Comments

Edit
Does anyone else think that the pre-makeover Alice, with her tousled braids, was much more attractive than the later conventional, buttoned-down version of her? IncompetentIrrelevantandImmaterial 11Mar2020
+ Shades of Marilyn Munster (The Munsters CBS 1964-1966) with Anne Whitfield as the "Ugly Duckling". jfh 20Jan2017.
Kudos to the writers for this one. Many episodes of Perry Mason are misogynous. But this one stands out as really understanding the predicament young women find themselves in: having to live up to so many expectations and being denied a chance for self-determination, having their self-esteem undermined because they can't fit into rigid expectations of how they should look, dress, act, even think or feel. Perry Mason is wonderful defending poor Alice to her uncle—pointing out the cruelty of expecting a girl to marry—anyone—to prove her maturity and responsibility and keeping a doll on the market that reminds her of every way she failed to meet her father's approval. Very astutely Perry observes how the uncle's real concern is not Alice's happiness but his desire for power. Perry is truly a white knight here. Submitted by gracenote, 3/24/2011.
+ "I'm taking care of the Alice thing, too," says the uncle. The Alice thing? Oh my… Submitted by gracenote, 3/24/2011.
++ Misogyny still abounds: a young woman, willful and secure in her own mind, meets a man who says she's pretty and, right away, the young woman re-styles her hair, begins wearing makeup, and dons a conventional dress and spangly jewelry. Ain't love grand? jfh 20Jan2017.
+++ In the first scene at the dingy bar, I first thought the bartender's mention of Alice working out at the YMCA was a nice touch. But we never learn whether she actually does so, and it was probably meant instead as a slight and criticism of her inattention to 1960s girliness. She'd be right at home spinning or kickboxing in the gym today. JohnK 26 January 2018
++++ Adding to my prior comment above - I think this is one of the handful of episodes where we see women drinking alone in bars. Beer no less. Tsk tsk. JohnK, 22 March 2022
According to Perry, while talking to Harry Trilling (starting around 6:30 of the 2012 Paramount DVD), "There is doubtful wisdom behind the stipulation in his will that says, 'Unless my daughter can prove herself responsible before her next birthday, either by marrying or by otherwise showing that she's settled down...'." Good luck in legally and inexpensively proving whether someone has "settled down". And how much of a paraphrase of the actual will was that? At the least, the will could have "she is" or "she has" rather than "she's". lowercase masonite, 4/4/16.
Anne Whitfield is terrific as the confused young woman. This may be the most consistently touching episode of the entire series.
Recently watched "The Music Man" for the umpteenth time, and only now recognized Max Showalter/Casey Adams as the traveling salesman who starts the opening number "Rock Island Line". DOD 02/20/20
Just why is the scuba diver listed as "Scuba Fella" in the credits? Is this a joke on the part of the writers or producers? Submitted by gracenote, 3/24/2011.
+ There's a scuba diver in the next episode also, also played by Richard Geary, but he's listed as "Scuba Diver." Submitted by 65tosspowertrap, 12/16/2016.
This episode has a nice directorial touch of the type not seen too often in "Perry." At the start of the first courtroom scene, the view pans down slowly from an overhead view. And then at the very end, the camera pans back up to the overhead view. It makes for nice bookends to the trial. Submitted by Ed Zoerner, 12/7/11.
About summary editing: The original plot summary describes Alice as "ugly as sin, and she's the first one to say so." She is not, of course, but the point is that she considers herself ugly. Kelleher and Merrill, the authors of the book, certainly come up short in their episode summaries from time to time, but as they are copyrighted material, they are not ours to change, regardless of the "edit" option supplied, which I believe is an oversight. There is plenty of room down here to note any mistakes or descriptions that you just don't like. Submitted by francis, 10/06/14.
+ The Summary is incorrect stating, "Alice confronts her uncle and pushes his wheelchair, toppling it.". Alice does not push rhe wheelchair, rather, she strikes her uncle. jfh 20Jan2017.
There were no similarities, other than both stories had a talking doll, but this show made me think of The Twilight Zone episode "Living Doll". The TZ episode had its first showing about six months before this story was originally broadcast. Submitted by H. Mason 4/3/15
+ I'm not so sure "there were no similarities": to me, at least, the voices of the two sound identical; well known vocalist June Foray performed the role in TZ, and (though apparently uncredited) it's not unreasonable to think she did here, as well. (If that's the case, then Ms. Foray, who is approaching centenarian status, is also in the running for oldest surviving PM alum) Speculated by Notcom, 050117.
++ I would not bet money on it, but i too thought that that the Angie doll had June Foray's voice. Foray was the voice of Chatty Cathy, Mattel's hugely popular talking doll that inspired both PM's Angie and TZ's Talky Tina, which she also voiced. Submitted by catyron, June 13th, 2018
Clients: In the last scene Anthony Usher said Perry was going to defend him in the perjury case. Perry seemed to have conceded that Usher would be found guilt. He said Usher would be spending time in jail. Could that be because he stole and damaged Alice's car. If that were true then wouldn't it be a conflict of interest for him to represent Usher. Submitted by H. Mason 4/3/15
That Singing Spaceship must be the most annoying toy ever made! I do believe his is our first murder by doll. The idea that a young woman would be thought plain or unattractive when she so obviously is not reminds me of the movie "Marty". Constance Tower's courtroom ensemble looks like something from the Bride of Frankenstein collection. DOD 1/25/18
Usher's first sketch of Alice has a distinct Margaret Keane influence. DOD 1/25/18
+ I agree with that, 100%. Submitted by catyron, June 13th, 2018
What's wrong with being a washing machine salesman? Submitted by Otto Gervaert, 3/5/21.

I cannot get over how people tell poor Alice that she is ugly. I wouldn't even call her plain. And then of course, she shows that she has matured by starting to wear makeup and donning a more chic hairdo. She's a swan now. Oh well, the episode started out daring, but I guess they just couldn't see it through without relying on Hollywood conventions. On the other hand, at least it doesn't end with a wedding and the two living happily ever after (the boy's in jail)! (Not that I don't like happy endings, just not ones.) Submitted by gracenote, 3/24/2011.
I must agree with gracenote. It's odd of Hollywood that they could'nt find some character actress who would be really ugly (yes, I know the old story) but this young lady is nowhere near that - even without 'makeup' (ha), she's cute. I'd chase her! Submitted by MikeReese, 3/21/2014.
I also like this episode because of the angle involving the artist and Alice ... how hard it was to admit that he had feelings for her, at first. Considering how he initially came to meet her, I see the logic - but it's so plain from the time he's introduced in the story, no one could miss it! It reminded me of something in my life as well ... and being told by an acquaintance that it was obvious how I and another person felt about each other! Oh, well... Submitted by MikeReese, 4/28/2017.
I generally liked this episode for its believable situations and characterizations. Then they had to go and spoil it all with "third degree by annoying spaceship toy"! I wanted to scream long before Sparr did! OLEF641 7/20/21
"Alice, please at your lunch." -- From sexual assault at the hands of Mr. Usher to the patronizing parentalism of Perry Mason, poor Alice is continually treated like the walking, talking doll that was named after her. Submitted by catyron, September 12, 2021.
<< Tandem Target | Episodes | Missing Button >>