Show212
<< Ugly Duckling | Episodes | Paper Bullets >>
#212: The Case of the
Missing Button
Original Airdate: 09/24/64
From The Perry Mason TV Show Book (Revised)
Or maybe "The Case of Button, Button, Who's Got The Button?"
Janice and Dirk Blake are divorced. They are presently firing opening rounds in a custody battle over their daughter Button, who has inherited $4 million from her grandfather.
Dirk takes the low road and hides Button aboard a boat owned by Vince Rome. But Perry and Paul manage to locate the girl. The case then goes to court, and the judge awards temporary custody of Button to her cousins, Lois and Roger Gray. But Vince Rome has a plan -— involving no less than theft, blackmail, and hints of illicit sex -— to cut himself in on the $4 million pie. When Dirk learns of this scheme, he goes to the boat and fights with Rome. A gun goes off and Rome is hit. The next day his body is found, but Dirk swears Rome was alive when he left. Perry believes him.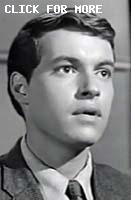 Opening
Starring Raymond Burr
in The Case of THE MISSING BUTTON
Based upon characters created by Erle Stanley Gardner
Barbara Hale, William Hopper, William Talman, Ray Collins
Trailing
Directed by Richard D. Donner
Written by Jonathan Latimer
Arthur Marks \ Art Seid | Producers
Gail Patrick Jackson | Executive Producer
Jackson Gillis | Associate Producer
Samuel Newman | Story Consultant
Raymond Burr as Perry Mason
Barbara Hale as Della Street
William Hopper as Paul Drake
William Talman as Hamilton Burger
Ray Collins as Lt. Tragg
Wesley Lau as Lt. Anderson
Music composed and conducted by Richard Shores
Music Supervision by Herschel Burke Gilbert
Cast
Julie Adams as Janice Blake
Ed Nelson as Dirk Blake
Claire Wilcox as Button Blake
Dee Hartford as Lois Gray
Anthony Eisley as Vince Rome
Otto Kruger as Judge Norris
Alan Baxter as Roger Gray
Lysa D'Anjou as Naomi Sutherland
Mike Mazurki as Cully Barstow
Stanley Adams as Pancho Morado
David Macklin as Mike Sommers
Charles Irving as Judge Blanchard
Ruth Packard as Miss Smithers
Garland Thompson as Lab Expert
Pitt Herbert as Coroner's Physician
Jean MacRae as Woman At Motel
Robert Riordan as Janice's Lawyer
Joe Dominguez as Bartender
Lee Miller as Sgt. Brice
Richard Geary as Scuba Diver
Uncredited Actors
Don Anderson as:
Courtroom Spectator
Bartender
Crew
Director of Photography … Howard Schwartz, A.S.C.
Art Direction … Lewis Creber
Assistant Director … Robert G. Stone
Film Editor … Richard H. Cahoon, A.C.E
Casting … Harvey Clermont
Makeup … Irving Pringle
Hair Stylist … Annabell
Wardrobe Supervision … Ed McDermott, Evelyn Carruth
Set Decoration … Carl Biddiscombe
Properties … Ray Thompson
Production Sound Mixer … Herman Lewis
Script Supervision … Marshall Schlom
Theme Composed by … Fred Steiner
Automobiles Supplied by … Ford Motor Company
Perry Mason
Produced by the CBS Television Network in association with Paisano Productions
Location: The early scene where Perry and Paul walk down a ramp to a dock on their way to the Blue Nymph sailboat was filmed near the Alamitos Bay Marine Bureau building. See here. Submitted by D. A Supernaw, 3/17/2005.
Sightings: In the middle of the courtroom gallery sits Quiet Old Man #1. Submitted by gracenote, 3/25/2011.
+ Distinguished Gentleman #1 peeks in between a blonde lady and Pancho Morado as they make a bet. He moves aside and continues to stand next to her as the two gamblers play. The Gentleman shouts, "He got 'em! Got 'em all!" Then he says, "Come on, pay up, Pancho!" And he laughs with another spectator. This may be the first time we ever hear him speak!!! Submitted by gracenote, 3/25/2011.
++ Actually, no -- we have heard DG1 speak before, and we even know his name, from TCOT Wintry Wife, #112, where he played a sales clerk and got a credit as Rudolph Salinger. (Thanks to Bill767 for this discovery.) There may be another instance, arguably and sort of, where we get a glimpse of someone who looks like DG1 from behind, and is laughing at a joke in a bar during TCOT Melancholy Marksman. JohnK, 26 January 2018
+++ Rudolph "Rudy" Salinger (Distinguished Gentleman #1) is listed at IMdb. He deserves a listing here s "uncredited actor," a step above "sightings." But since he had a speaking part in this episode, he should have received a credit. Submitted by catyron, DG#1's #1 Fan, September 13th, 2021.
Star Trek Alert: Three actors in this episode will appear in Star Trek roles. Stanley Adams was the sketchy, but loveable interplanetary trader, Cyrano Jones, who famously introduced tribbles onto the Enterprise and into our cultural universe. Dick Geary appeared as a red shirt, an Andorian, and a stunt man in three Trek episodes. Garland Thompson appeared in two original series episodes, "The Enemy Within" and "Charlie X." Submitted by MyFavoritePolarBear, 11/23/22.
Uncredited Actors: Don Anderson plays another (silent) double role in this episode. In the final courtroom scene, he is a spectator in the front row of the gallery, and in the last scene at the La Playa Bar & Motel, he is a background bartender. Submitted by gracenote, 3/25/2011.
The new season starts off with Ray Collins in the credits, but his character, Lt. Tragg, is absent again. Submitted by gracenote, 3/25/2011.
Through that remarkable transformation of the time-space continuum known as Daily Syndication we have David Macklin appearing less than two weeks after his last performance (Simple Simon), whereas in reality the appearances were separated by almost six months. Further testing our faith in the illusion of theatre is the fact that - at just eighteen* - he's actually younger than his character is probably intended to be...a novelty for PM (or many shows of the period). Submitted by Notcom, 041916.*IMDB has since upgraded his age to 23 in 1964 (who knows where it will end up, but like General Franco, he's still dead.) edited 072121
David Macklin seems miscast as a lobster trapper with the clean cut looks. Submitted by Perry Baby, 10.17.16
Location: About 19 minutes in there is a quick shot of the historic Hall of Justice on the corner of Temple and Broadway in Downtown Los Angeles. It was badly damaged in the 1994 Northridge Earthquake. Submitted by Eric Cooper, 12 August 2011
+ Closed for repairs after sustaining extensive damage in the earthquake, the Hall of Justice reopened in October 2014 following a $233 million renovation. Check out this story on the renovation, and this one to find out more of the building's history. OLEF641 7/21/21
++ If Harwell Pitkin had been an architect: Among the participating architects were Octavius Morgan, Reginald Johnson, Edwin Bergstrom, David C. Allison, Myron Hunt, Elmer Grey, Sumner Hunt, and Sumner Spaulding. Yes, this building just has ESG's imprint all over it!! Notcom, 072121.
Location: The finale takes place around historic Echo Park. It has been a favorite film location starting with Laurel and Hardy and Our Gang. Chinatown, Kentucky Fried Movie and even Gilligan's Island shot scenes there. Perry and crew drive around the lake in his sweet ride then take the nearby onramp onto the Hollywood Freeway when Della spots the missing girl. Submitted by Eric Cooper, 12 August 2011
+ Pretty lucky that Della has super-sharp eyesight. Submitted by catyron, June 15th, 2018
Names 1: This was the ninth time actor Charles Irving appeared as a judge and called Judge Blanchard. In episode 173 TCOT Golden Oranges he was given the name Judge Stanley. Submitted by H. Mason 4/4/15
+ Charles Irving [Zipperman] Judged 11 Perrys & 3 Bonanzas; he prosecuted Charles Dickens (played by Jonathan Harris) in Bonanza's "A Passion for Justice" [IMDb]. Mike Bedard 4.6.15
Names 2: The Pitt Herbert character was called Dr. Wyler. In episode 79 TCOT Lucky Legs he was named Dr. James Latham. Submitted by H. Mason 4/4/15
Bank: The check Dirk Blake wrote to Vince Rome was from an account at the Pacific National Bank. That bank was mentioned in episode 173 TCOT Golden Oranges. Submitted by H. Mason 4/4/15
Props It appears the model used for the murder reenactment is the Eldon Racing Sloop a popular toy of the period ("Popular", in this case meaning I had - and still have - one.) Brought into court by Notcom, 041916.
This is the only PM appearance for Claire Wilcox who, like Raymond Burr, was born in Canada...MikeM. 1/23/2017 Young Claire Wilcox had a fairly auspicious start as and actress in the Tony Curtis-Suzanne Pleshette movie 40 POUNDS OF TROUBLE in 1961. Unfortunately, her career did not last beyond her mid teens. Steven Blackwood 05/18/2022.
This is the first of three PM directing credits for director/producer Richard Donner, who went on to direct Superman and Superman II, and also Lethal Weapon 1 thru 4. He is married to producer Lauren Shuler and they run The Donners' Company...MikeM. 1/27/2018
Correction Richard Lester, of Help and A Hard Day's Night fame, took over direction of Superman II when Donner fell out with the producers. Donner's footage was later released on DVD as Superman: The Richard Donner Cut. Lester also directed Superman III. Personal note: I met Lester at the DC premiere of Superman II. Submitted by JazzBaby, 05/10/2019.
In "The Perry Mason Book" author Jim Davidson lists 111 North June Street as the filming location of the Blake residence. If you Google search this address, you will find that it's a Los Angeles historic landmark known as the Wolff-Fifield House. It is located about four miles directly west of Echo Park, where Perry and his passengers start their search for the child and the lady who took her...MikeM. 6/4/2018
Both Otto Kruger and Mike Mazurki appeared prominently in the 1944 film noir classic "Murder, My Sweet," starring Dick Powell as Philip Marlowe and arguably the best of the many movie adaptations of Raymond Chandler's Marlowe novels. The first shot of Mazurki, as reflected in Marlowe's dingy office window, is particularly memorable. Submitted by BobH, 7 June 2018
+ I just watched "Murder, My Sweet" (May 2019) and learned from Wikipedia that Mike Mazurki earned a law degree and practiced law, but gave it up to earn ten times more as a professional wrestler. He also played pro football and basketball. JohnK, 14 May 2019
This is the only PM appearance for Stanley Adams, who is quite famous to Star Trek fans as Cyrano Jones from "The Trouble With Tribbles". TriviaSleuth, 8/30/2019
When Perry and company are entering the 101 freeway on-ramp near the end of the episode, I think they are driving on the northbound ramp from Alvarado St. and then look up at the Rosemont Ave. overcrossing. However, when Della gets out of Perry's Lincoln convertible to save Button, I believe they moved the shot down to Bonnie Brae St. which also crosses over the 101 and ends at Bellevue Ave. The large background houses on Bellevue are still there, but largely obscured by trees now. As for the reference by someone to Button's large Tudor style house shown at the beginning and end of the episode of 111 N. June St., I believe that is correct. When I first saw the property, I guessed it was in Hancock Park and indeed it is. It looks much the same today and well maintained. MikeH 03/23/22
Julie Adams and Mike Mazurki also appeared in TCOT Deadly Verdict. Submitted by Steve Fox, 2/5/2023
Mind the Gap Otto Kruger was almost 79 here. While that is not the oldest appearance by a performer, nor even by a male - Francis Bushman and Estelle Winwood were both born in 1883; he would appear in 1964 (81), she in 1966 (83) - I believe it is the widest disparity in age between performers...almost 70 years seperated him from Claire Wilcox (and lest one wonder, Sara Taft was only 69 in TCOT Borrowed Baby). Notcom 081823.
Comments

Edit
I have to wonder…if Distinguished Gentleman #1 got some lines, why didn't he get any credit while "Woman at Motel" did? Submitted by gracenote, 3/25/2011.
+ This fact seems to be hiding in plain sight on this site, but we do indeed know the name of DG#1 -- Rudy Salinger. Somehow he got a credit #112, TCOT Wintry Wife, as "Chemist." John K, 17 October 2016.
++ This is simply a sign of the times. In the 50s & early 60s women were still considered to be '2nd class citizens', so very few tv programs were written for them. Therefore, a male actor might not receive billing in the credits, even if he had lines, but a (younger) female actress was almost ALWAYS listed, even if her role was no more than 'window dressing'. The reasoning was simply that the male viewers wanted to know who the actresses were. However, it was still considered vulgar for a woman to want to know the name of a male actor - unless, of course, he played one of the lead characters. Submitted by Lazarus 4/21/16
Speaking of lines, La Playa Motel & Bar has a remarkably loyal clientele. See the man in coat and tie next to Distinguished Gentleman #1? On a later day after the murder, later in this episode, he is still there and wearing the same coat and tie. And the same-dressed woman (gray top, long white sleeves) is still at the bar. Submitted by masonite, 12/9/12.
And in that scene above at La Playa, what time of day or night are the people there? Per the wall clock behind Pancho, when he is on the phone, the time is about 3:40. But afternoon or early morning? On Vince's yacht at the same time, it looks like night, with the jetty light occasionally shining in the background. Submitted by masonite, 12/9/12.
The Hallmark Movie Channel's showing today of episode 212 has commercials inserted mid-scene, rather than at the original break points. HMC had started doing this recently, then stopped for at least a week. If the commercials return to their normal times again, I'll try to leave a message. Submitted by MikeM, 10/4/2012.
Contrary to the episode Summary above, the dialog and action convince me that the Blakes are only legally separated with an interlocutory judgement. Early on (8:38 on the 2012 Paramount DVD) Dirk Blake states, "Judge Nelson said I could have Button two days a week until the final divorce hearing." Later (27:13) he states about Janice, "She's been going out a lot, living it up since we're separated." Submitted by masonite, 12/9/12. + Right you are. I've revised the plot summary. -Submitted by 10yearoldfan, 12 October 2014.
Germs: When Mrs. Smithers went into the house for a glass of milk watch Button wipe the handlebar where the woman had touched it. Submitted by H. Mason 4/15/15
The ending for this episode seemed a bit far fetched when Perry and company in his Lincoln drove around LA looking for Button. Submitted by Perry Baby 10/17/16.
+ The search at the end is not completely random. The housekeeper mentions that the lady who took Button said something about going to a particular park. When they don't find them at the park, Perry gets on the nearby Hollywood Freeway, and they see the woman and child standing at the railing of the next overpass...MikeM. 1/21/2017
++ Speaking of far-fetched, Perry and Paul travel to and from the sailboat in a dinghy that looks to be about 6 feet long. I'll bet they weighed in at 500 pounds between the two of them - really pushing the design limits of that little craft. JohnK, 29 January 2018
Continuity: In the opening scene Button gets off of her bicycle twice. Kilo 12/17/2017
Character error: When Mr. Blake is in court arguing why he should get to have Button stay with him he lists the various activities that Button is subjected to when staying with his ex. "ballet lessons, ballroom dancing, ... yogi lessons ..." I'm pretty sure he didn't mean baseball lessons from Yogi Berra? Should have said yoga lessons. Kilo 12/17/2017
That staircase set makes its fourth appearance in the last eight episodes. How did our killer get to the boat without being spotted by lobster boy? DOD 1/29/18
Cousins?? Tho it's not consequential to the plot, one has to wonder what the writers were thinking when they decided an actress born in 1928 should be the cousin of one born in 1955 (for 9-year-olds who haven't gotten that far in math that's 27 years difference!): possible? yes; plausible? ehh.... Relatively unbelieving, Notcom 062519.
+ Rare, yes, but in my family there are a couple instances of first cousins with a near 30 year age difference, a combination of large families and some late-in-life births. DOD 03/08/21
++ That assumes that Button and Lois are first cousins. However, from the scene in which the relationship is discussed, my impression is that Dirk and Lois are the first (or possibly second) cousins, so Button would be at best a first cousin once removed -- hence the age difference is entirely expected. TriviaSleuth, 8/31/2019
> Ah, thanks !! As an only child born to two only children, I'm afraid figuring out the intricacies of extended familial relations is still on my bucket list. Gratefully, Notcom 083119.
On the boat, Vince Rome asks Lois Gray if she wants her drink, "over the rocks?" To which she responds, "over the rocks." Over? Not on? Submitted by Otto Gervaert, 3/8/21.
+ Sounds like a simple confusion between "on the rocks" and "over ice" --meaning the same thing relative to a drink OLEF641 7/21/21
Am I the only one who finds it odd that the little girl's name is Button? Was that a normal name at the time? Submitted by Apofisu 02/27/23
<< Ugly Duckling | Episodes | Paper Bullets >>