Show134
<< Injured Innocent | Episodes | Brazen Bequest >>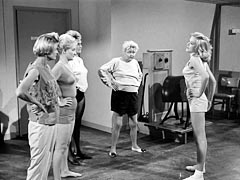 #134: The Case of the
Left-Handed Liar
Original Airdate: 11/25/61
From The Perry Mason TV Show Book (Revised)
Ed Nelson (Doctor Rossi on Peyton Place) plays Ward Nichols, an All-American football player turned health club instructor. He wants to marry his employer's daughter niece, Casey Daniels, but his estranged wife Veronica, who also works at the club, has been pressuring Ward for money for secret reasons.
When Casey's father uncle is found crunched with a dumbbell, Ward is eventually accused, causing Perry to arrive just in time to flex his courtroom muscles. (Corrected by 65tosspowertrap, 10/10/2013)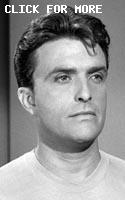 Opening
Starring Raymond Burr
in The Case of THE LEFT-HANDED LIAR
Based upon Characters Created by Erle Stanley Gardner
Barbara Hale, William Hopper, William Talman, Ray Collins
Trailing
Directed by Jerry Hopper
Written by Jonathan Latimer
"Perry Mason"
Arthur Marks | Producer
Gail Patrick Jackson | Executive Producer
Jackson Gillis | Associate Producer
Produced by The CBS Television Network in association with Paisano Productions
Samuel Newman | Story Consultant
Raymond Burr as Perry Mason
Barbara Hale as Della Street
William Hopper as Paul Drake
William Talman as Hamilton Burger
Ray Collins as Lt. Tragg
Cast
Ed Nelson as Ward Nichols
Leslie Parrish as Veronica Temple
Les Tremayne as Bernard Daniels
Maggie Pierce as Casey Daniels
Karl Held as David Gideon
Wesley Lau as Lt. Anderson
Dabbs Greer as Buzz Farrell
Alan Baxter as Eugene Houseman
Joan Banks as Rhonda Houseman
Richard Derr as Dr. Harrison Berry
Amzie Strickland as Miss Clara Prentice
Kenneth MacDonald as Judge
John Harmon as Lab Technician
Claude Stroud as Masters
Barbara Pepper as Fat Woman
Wallace Rooney as Handwriting Expert
Henry Hunter as Mr. Baxter
John Reach as Policeman
Cynthia Patrick as Woman Fencer
Lee Miller as Sgt. Brice
Crew
Director of Photography … Robert G. Hager
Art Direction … Lewis Creber
Assistant Director … Gordon Webb
Film Editor … Richard H. Cahoon, A.C.E.
Casting … Harvey Clermont
Makeup … Irving Pringle
Hair Stylist … Annabell
Wardrobe Supervision … Ed McDermott, Evelyn Carruth
Set Decoration … Charles Q. Vassar
Properties … Ray Thompson
Production Sound Mixer … Herman Lewis
Script Supervision … M.E.M. Gibsone
Titles and Opticals … Pacific Title
Athletic Equipment Supplied by … Vic Tanny Enterprises
Perry Mason \ A Film Presentation
A CBS Television Network Production
Maggie Pierce makes her only appearance on Perry here playing Casey Daniels. Maggie Pierce is best known for playing Barbara Crabtree, the wife of Jerry Van Dyke's character, in the classic comedy My Mother The Car—which might explain her retirement shortly after My Mother The Car was cancelled. As an added footnote, all 30 episodes of My Mother The Car are available for viewing on IMDb. Submitted by PaulDrake 33, 30 October 2009.
This episode marks the third of four appearances of Barbara Pepper, a former Ziegfeld Follies dancer and lifelong friend of Lucille Ball. (She has played a different character each time.) Submitted by gracep, 11/14/2010.
+ TV comedy buffs will remember Ms. Pepper as Doris Ziffel on Green Acres. Submitted by Francis, 10 June 2011.
Speaking of reappearances, Karl Held returns as David Gideon for the sixth time during the series' run. He doesn't really seem to serve any purpose, but he certainly is dapper. In case you can't get enough of him, he'll be back three more times. Submitted by gracep, 12/3/2010.
OTC David is a member of the club, and serves as a liason to introduce Perry to the case...his only "referral", if you will. (Of course Paul had the club as a client, so Perry was going to get involved, one way or another). Notcom 050223.
Character Names: Barbara Pepper's character has a name, Mrs. Dwyer—and her fitness instructor uses it. Why the producers chose to use an insulting designation instead is a mystery. See related comment below. Submitted by gracep, 12/3/2010.

I'm sorry, Grace, but 'Fat Woman' is not necessarily an insulting designation; in fact, I call myself fat all the time; even in other languages.
Also, considering that she was a friend of Lucy, Barbara Pepper probably INSISTED on being called 'Fat Woman'; after all she does a very good job of acting like a goofy fat woman. So, it DOES make it easier to figure out who she is :-D .
Keep in mind that, just because YOU might be offended to be called fat it doesn't mean Barbara Pepper would be, or would have been back in the 60s.
Somehow, from this, and other comments, I get the feeling you should be thanking your lucky stars you didn't live, or grow up in the 60s ;-) . Submitted by Arisia, 04/03/2018
+I beg to disagree, respectfully. I grew up in the 60s, but even if I had not, I know that the cult of thinness for women goes back to at least the 1920s. The magazines in the 60s were packed with ads for diet aids, girdles, etc. Look at this health club, populated by women doing all kinds of passive and active exercise, but not shown playing handball or doing weight training; Veronica Temple (Leslie Parrish) even says to Mrs. Dwyer (Barbara Pepper) and another woman that the machine she is demonstrating is "especially beneficial in slimming the thighs...and the seat, I might add." She casts a snooty glance down at Mrs. Dwyer's lower body as she says it. Barbara Pepper may have been immune to fat shaming, but it is taken as a given in the storytelling. This is not projecting our standards back in time; it's the reality of the era. The credits may have identified her as Fat Woman for ease of audience identification, but I bet it made not a few women viewers of the day uncomfortable. Submitted by JazzBaby, 3/4/2019
+ + And the current outrage amongst the twitter crowd is the husband buying his thin wife an exercise bicycle (Peloton) for Christmas. Oh the humanity! Kilo 1/5/2020.
+ + + Since folks are weighing in with opinions, please allow me to say that i also am offended by the billing of Barbara Pepper as "Fat Woman" rather than her character name, Mrs. Dwyer. It should be possible to be a chubby comedienne and get a proper credit. Dabs Greer was not billed as "Old Drunk," after all. Submitted by catyron April 10, 2021.
We do see two women fencing and another using a weight bench. But the reliance on those useless machines to "massage away" the weight is very much of its time. DOD 11/18/20
I note another inconsistency in credits. They were polite enough to call the bookkeeper Miss Clara Prentice—full name, with title—and the same with the Health House physician, but the office rental agent was simply designated as Masters—no first name, no "Mr." Submitted by gracep, 12/3/2010.
Sightings: During the hearing, we see Distinguished Gentleman #1 in a closeup of Eugene Houseman (Alan Baxter). Submitted by gracep, 12/3/2010.
Other than the short opening shot on the street outside "Health House", there are no outdoor scenes and NO CARS in this episode. Added by Gary Woloski, 2/4/13.
Prop Problems? In two scenes we see enlargements of a total of four bank cheques, all on the account of "HEALTH HOUSE 3909 W Wilshire Boulevard" at "National Bank of Los Angeles (TRUST AND SAVINGS)" and signed "Eugene Houseman" (3909 could be 2909 or 5909):
In Perry's office at DVD 19:02 - cheque NO 340 (could be no 240) for $139.00 payable to "A D Sport Shirt Company" d/"September 21 19__" (last two digits of year are blank). A second cheque is for $2000.00 but otherwise appears the same as cheque no 340.
In court at 40:58 - two cheques payable to "ABC Sporting Goods Company " - NO 407 for $40,000 dated "November 18 19__" and NO 417 for $35,000.00 dated "November 26 19__" (episode air date was 25 Nov 61).
All of the cheques are dot-matrix-perforated from the back with "PAID 9 29 61". That is, all four were paid on the same date, 29 Sep '61, which was prior to the authorized payment date entered on cheques 407 & 417. Read the perforations upside-down & backwards.
At 21:21 Paul says that the A.B.C. SPORTING GOODS office is in the "Wind-Up Building on Hill Street" ("Wind" rhyming with "Find"). When he visits (26:39) we see the office number "409". The Building Manager tells Paul that the lessee is "JP Jones" and that the square footage is 134 but when Paul looks, we see a reasonably sized office. Added by Gary Woloski, 3/23/12.
+ The captions on this story spelled the the building's name "Wyandotte". Added by H. Mason 11/14/14
David's Apartment: in this story we got to see where David Gideon lived. That equals the number of times Della has been shown in her apartment. Submitted by H. Mason 11/14/14
+ Judging by the layout of his living room Dave's apartment is both well furnished and significantly larger than Mason's. But how does he pay for his apartment, and also his "dapper" attire? Compare with Paul Drake's clothes. Submitted by cspoleta 12/30/15.
+ Dapper David: In #122, TCOT Grumbling Grandfather, I think we learned that David is a "rich kid" trying to find his way back to law school. His wardrobe does seem to be more contemporary than that of Drake. I am working on an index to Paul Drake's sportcoats; he seems to have worn the same ones throughout the series. But then, mine are well-worn too. JohnK, 8 January 2016
This is the first of nine PM directing credits for Jerry Hopper...MikeM. 10/5/2016
This is the third of three PM appearances for Leslie Parrish, who studied piano at the Philadelphia Conservatory of Music...MikeM. 1/11/2017
+ My knowledge of Leslie Parrish was of her as Daisy Mae in the film version of the musical "Li'l Abner" (I still have the cast recording album). --yelocab 11NOV18
Classic Dialogue. Having just confessed to murder, the killer is questioned by Perry:
P: "you took [revealing info] and left $75,000?"
K: "Mr. Mason, I'm not a thief."
It appears that Mr. Burger neglected to ascertain the victim's true identity before beginning court proceedings; either name could be the alias.
When Perry takes the call from David in his office, Paul cracks his knuckles on Perry's intercom. Kilo, 12/20/2022.
Doppleganger Redux Add another pairing to our menagerie: Ed Nelson and Dennis Patrick
Comments

Edit
"Fat Woman"? Seriously? They couldn't come up with a better name? Barbara Pepper, a former dance colleague of Lucille Ball, deserves better than that. She had a hard life as a single mom. Submitted by gracep, 11/14/2010.
+ And actually, they did have a name for her. See trivia item above. Submitted by gracep, 12/3/2010.
+ I suspect the producers felt that most viewers wouldn't remember the names of characters that appeared only briefly, so we have "Fat Woman" in the credits instead of "Mrs. Dwyer." Yet the rental agent appeared only briefly (at least in the syndicated version I've seen) but he was listed as "Masters," not "rental agent." So it is still inconsistent. And I agree with you: "Fat Woman" would now be considered unacceptably insulting and insensitive. Just another example of things we occasionly see in Perry Mason that cause us to say "What were they thinking?" Submitted by 65tosspowertrap, 10/10/2013.
+In the credits for Total Recall (1990) actress Priscilla Allen is listed as "Fat Woman". Added by H. Mason 12/11/14
+In the "Everybody Hates Jail" 2006 episode of Everybody Hates Chris, an actress is credited as "Thin Woman." Submitted by DyNama, 2/19/2016.
+I thought the 'fat woman' credit was crummy too but almost oddly appropriate given that none of the other ladies in that 'health' club looked like they needed to lose even an ounce of weight. Added by M.French 11/7/16
The health club in this episode is a trip into the dark ages of fitness. Notice the passive exercise machines, including the belt that supposedly shake-shake-shakes the fat off. And the calisthenics that the instructor has Barbara Pepper and her companions do are *not* a good choice for beginners, for they present a great risk for back strain, etc. The humor is kind of cruel, too — wow, sure is funny watching overweight people trying to improve themselves. Submitted by gracep, 12/3/2010.
+ However, I did enjoy watching Leslie Parrish demonstrate the "Electric Camel." I'm surprised the ladies weren't lining up to take a ride. Submitted by francis, 5/1/12.
+ ... and I certainly enjoyed watching Paul enjoy his ride during the final scene. jfh 23Oct2018.
It was also a bit odd seeing Les Tremayne play a hard-nosed Jack La Lanne type - he seemed to be in shape though! He'd fit right in on those 'Planet Fitness' commercials, yelling at a client! Submitted by MikeReese, 12/6/13.
His handball partner, Alan Baxter, is remarkably fit, too. DOD 11/05/19

Smoking Perry After Perry's clean bill of healthy lungs from Dr. Berry, he lights up a cigarette but never smokes it. jfh 23Oct2018.

While Ward talks to Perry from David's apartment, David holds a cup from the Curious Coffee Set. DOD 11/05/19

Forbidden Word: Veronica Temple was supposed to be expecting a baby. The word "pregnant" was never used. This was common for 1950s and early 1960s television. Submitted by H. Mason 11/14/14

Word of the day, "abstracted". Perry, "And now because $7000 has apparently been abstracted from a Health House checking account...." Joe B. 11/18/2020

Phrase Of The Day: Burger asks Veronica if Ward had any "direct involvement" with her having a baby. jfh 18Nov2020

When Lucy was pregnant with Little Rickie, she was described as 'expectant'. DOD 11/05/19

When pondering the potential fathers, they used the word "responsible". Which seemed an odd wording. --yelocab 11NOV18
The Paltry Part: Once again Dabbs Greer is asked to play an eccentric and flawed character. He may have overacted them, but I hope he got some sort of extra pay for these dopey roles. JohnK, 14 October 2015
Cynthia Patrick listed as one of the women fencers (Blink and you'll miss her) has very few IMDB credits, but was the featured female (Adad) in The Mole People, 1956 starring John Agar (one Perry Mason credit for him). Submitted by WJones 2/18/16
This episode may set a record- Les Tremayne, Dabs Greer, Alan Baxter, Joan Banks, Richard Derr, Barbara Pepper, and Ed Nelson have a combined 33 PM appearances! Plus we get both Lts Tragg and Anderson. And you gotta love a health club with an ice cream vending machine in the hall. Legal question; why can't someone be charged with blackmailing a spouse? DODay 10/10/17

+"Murderers, Inc." And perhaps the best way of "figuring out" who plays the murderer in this episode is to consult this list of guest actors, two of whom portrayed the killer a combined seven times over the course of the series. Submitted by BobH, 18 November 2020.
Les Tremayne has a full PM bingo card, having played victim, killer, suspect, and Deputy DA in various episodes. He also appeared with both William Talman and Ray Collins in the noir film "The Racket". DOD 12/03/21
Say as as I Say (not as I do) Once again Perry, who is a stickler for confidentially when it concerns his client, shows no respect when it comes to others: his effort to glean info about a "confidential report" - what part of that phrase is unclear to him ?? - is downright sleazy. Scolded by Notcom, 031920.

Five letter "F" word Perry repeatedly claims that Houseman "forged" checks, but I don't believe that's correct: he had signature authority and signed his actual name to them - albeit in a way that was designed to look like forgery; and the checks were made out to the party that actually cashed them, altho, of course, they had no legimate business purpose. In short, it would seem "fraud" is the word Perry should be using. Notcom, 050323.
<< Injured Innocent | Episodes | Brazen Bequest >>