Show135
<< Left-Handed Liar | Episodes | Renegade Refugee >>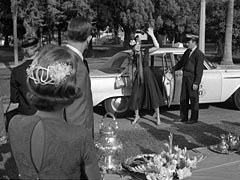 #135: The Case of the
Brazen Bequest
Original Airdate: 12/02/61
From The Perry Mason TV Show Book (Revised)
President-elect of Euclid College, Charles Cromwell, a.k.a. Curly Oliver, contacts Perry when some unpleasantness in his past leads to murder.
Opening
Starring Raymond Burr
in The Case of THE BRAZEN BEQUEST
Based upon Characters Created by Erle Stanley Gardner
Barbara Hale as Della Street
William Hopper as Paul Drake
Ray Collins as Lt. Tragg
Trailing
Directed by Arthur Marks
Written by Robert Leslie Bellem
"Perry Mason"
Art Seid | Producer
Gail Patrick Jackson | Executive Producer
Jackson Gillis | Associate Producer
Produced by The CBS Television Network in association with Paisano Productions
Samuel Newman | Story Consultant
Raymond Burr as Perry Mason
Barbara Hale as Della Street
William Hopper as Paul Drake
Ray Collins as Lt. Tragg
Cast
Phyllis Avery as Mary Cromwell
Alan Hewitt as Dr. Marcus Tate
Karl Weber as Charles Cromwell
Mort Mills as Sgt. Landro
John Wilder as Dick Wilson
Barbara Stuart as Maizie Freitag
Strother Martin as Pete Gibson
Joseph Julian as Deputy D.A. Horner
William Allyn as Robert Haskell
Will Wright as James Vardon
James Millhollin as Prof. Grove
Charles Irving as Judge
Elvia Allman as Julia Slovak
Nelson Olmsted as Dr. Hunterlin
Dick Whittinghill as Jerry
Ernest Sarracino as Rafael Sandoval
Sally Mills as Nurse Talbot
Charles Tannen as Cabby
Frank Behrens as Autopsy Surgeon
Morris Erby as Jonas
Herbert Lytton as Motel Clerk
Richard Geary as Deputy Sheriff
Sandy Shaffer as College Girl
Crew
Director of Photography … Robert G. Hager
Art Direction … Lewis Creber
Assistant Director … Gordon Webb
Film Editor … Richard H. Cahoon, A.C.E.
Casting … Harvey Clermont
Makeup … Irving Pringle
Hair Stylist … Annabell
Wardrobe Supervision … Ed McDermott, Evelyn Carruth
Set Decoration … Charles Q. Vassar
Properties … Ray Thompson
Production Sound Mixer … Herman Lewis
Script Supervision … M.E.M. Gibsone
Sound … Glen Glenn Sound Co.
Automobiles Supplied by … Ford Motor Company
Titles and Opticals … Pacific Title
Perry Mason \ A Film Presentation
A CBS Television Network Production
Location: Some exterior shots were filmed at the University of Redlands and at the somewhat "modernized" old La Posada (aka La Pasada) hotel on State Street (long since torn down) in downtown Redlands, CA (not far from Big Dave's home town). Submitted by Tom Southard, 4/29/2000.
+ Beginning at 16:35: Signage on the hotel exterior includes Hotel - Cafe- Willard's Dining Room - Cafeteria and possibly [Theod]ore Sawyer. The corner is occupied by United States National Bank. In earlier (pre WWII) shots of La Posada, the corner is occupied by a Drugstore. This was a beautiful building, shamefully destroyed in 1975 to make way for a parking lot. People can be so stupid. Submitted by catyron, April 16th, 2021.
++ The "perfectly good faculty garden party" was filmed at The Redlands Bowl in downtown Redlands.
- When Dr. Cromwell burns the poem, he's at the Sylvan Theater (now called Alumni Greek Theater) on the U of R campus; the building briefly visible above it is the Hall of Letters.
- In the very next scene, Perry is talking to Dr. Tate in the middle of the Quad; the building in the background is the University's Memorial Chapel. There's a brief cutaway to Sgt Landro, the building on the hill in the background is the Administration Building. The Chapel is the home of "Cassie", the 1927 Casavant organ. At the time I was a student there, back in the '70's, she was (reputed to be) the second largest organ in the United States west of the Mississippi. The largest? The one in the Tabernacle in Salt Lake City. You can hear a short piece played on Cassie, and see some shots of the interior of the Chapel here.
- In the final scene, Perry comes down the steps of the Ad building (nicknamed "Ad Hill" in my day); as he crosses to where Della and Paul are, the building in the background is Duke Hall. As the three talk, we once again see Memorial Chapel in the background as Gaudeamus igitur plays softly in the background.
OLEF641 6/28/22
Continuity Error: When Maizie stumbles near the sidewalk after getting out of the cab, she lands on her hands and knees, yet she's helped up from a fully prone position, flat on her face. jfh 06Nov2019
Character Names: Charles Cromwell (Karl Weber) is addressed several times as (presumably Ph.D.), but this credential is not reflected in the closing credits, even though Dr. Tate was granted his. Additionally, Ernest Sarracino's character's full name is Sr. Rafael Dominguez y Sandoval. Submitted by gracep, 12/24/2010.
Euclid College: TCOT Brazen Bequest (#135, 5.12) and TCOT Prankish Professor (#168, 6.15) are both set at Euclid College. In fact, the opening sequence, showing the sign that says "Euclid College" and a man (probably a student) walking up the steps into a building behind the sign... is the *same* lead-in sequence used in *both* episodes! Submitted by Charles Richmond, 8/29/2012
Although credited, Lt. Tragg (Ray Collins) does not appear in this episode, one of many times this season. Submitted by gracep, 1/7/2010.
This is one of the episodes in which Raymond Burr did not remove his pinkie ring (worn on his left hand) prior to shooting. Submitted by cgraul, 11/8/2011.
As requested below in the Comments, I can identify the music heard at the very beginning of the episode. It is a very abbreviated quote from a traditional student song, Gaudeamus igitur ("So Let Us Rejoice"). Its use in soundtracks to suggest an academic setting has become a bit stereotypical, but it is still a fine piece of music. Its words in Latin exhort students to live life fully (a sentiment akin to the saying, carpe diem, "sieze the day"). You can hear umpteen versions of it (with varying quality) on YouTube. The version by Mario Lanza from The Student Prince is a good one, though the sound quality is a little old. The tune is also heard during Brahms' Academic Festival Overture at about the eight and a half minute mark. Submitted by alan_sings, 11/10/2011.
+ This same music (no doubt part of the CBS music library) can also be heard at the start of two Twilight Zone episodes with academic settings: "Long Live Walter Jameson" from the first season (3/18/60) and "The Changing of the Guard" from the third (6/01/62). Submitted by Wiseguy70005, 4/06/15.
CARS. (1) A 1961 Ford Fairlane 4-Door Sedan TAXI, light color with rates painted on door, brings Maizie Freitag to the campus.
While Charles questions the Cabby (15:00), some vehicles in the background are:
(a) The Left (driver's) side of the familiar Aerocoach P-372 is a backdrop to much of the scene. This imcdb image shows the same livery (paint scheme) on the bus as filmed for this episode and also for the P-372's previous appearances in Episodes 80, 99 & 117 (Location shoots in Fawnskin, the LA waterfront and San Diego respectively). In greater clarity here's the P-372's Left and Right sides (Right side with "Silverside" panels).
When the camera angle reverses, there's some unusually-styled cars parked across the street:
With this further appearance of the Aerocoach P-372 in Redlands CA, I believe that it's virtually certain that this bus was routinely used to transport Cast & Crew to Location Shoots (as first proposed by DocRushing in Ep#99 Trivia). Added by Gary Woloski, 2/7/13. Perry makes the 3000 mile flight to Panama in a Lockheed Constellation with the distinctive triple tail and dolphin shaped fuselage. Joe B. 01/07/21
Another missing character in this episode. Dr. Crowell and his wife have a daughter who is mentioned twice in the episode. The first time she is mentioned as the person who took the photograph of Dr. Cromwell and his wife, and she is mentioned again in the scene in the lab when Sgt. Landro catches up with Cromwell. But we never see the daughter in the episode. Added by Neil Van Zile, 3/14/2014
At the start of the autopsy surgeon's testimony he is seen wearing glasses. For some reason, while the camera is showing spectators (and the dialogue continues), he removes his glasses and holds them in his hand. Unless a part was cut out before broadcast, he doesn't seem to have read anything before or after removing his glasses, so the reason for his wearing the glasses in the first place or removing them is unclear. Submitted by Wiseguy70005, 4/06/15.
When Perry and Paul approach Mr. Haskell's apartment door Perry (offscreen) calls out to him twice. Unless Raymond Burr can repeat a phrase exactly the same way, the dialogue seems to have been repeated in post-production. Submitted by Wiseguy70005, 4/06/15.
This is the second of two PM appearances for Phyllis Avery, who was married to actor/director Don Taylor...MikeM. 10/6/2016
This is the second of two PM appearances for Barbara Stuart, who passed in 2011 at the age of 81...MikeM. 1/12/2017
This is the first of several appearances by Strother Martin most known for his appearance with Paul Newman in Cool Hand Luke as Captain: "What we've got here is failure to communicate." Submitted by HamBurger, 10/8/2018
+ He also appeared with Paul Newman again in Slapshot. Submitted by HamBurger, 10/8/2018
In the wrap-up scene Perry comes out of a campus building and crosses the street to speak with Della and Paul. In the middle of the street is a large circular graphic with the words SAINTLY SOPHS 1963. Kilo 1/7/2020.
Comments

Edit
An interesting casting choice was made in this episode. According to the story, it's certainly implied, if not directly stated that Charles Cromwell (Kurt Weber) was younger than Maizie Freitag. Yet Barbara Stuart who played Maizie was almost 19 years younger in "real life" than Weber. And as hard as they try with the makeup, Stuart still looks younger than Weber. Submitted by Kenmore, 9/15/2010.
+ It appears that she has more age makeup on in the hospital than when she got out of the taxi earlier. Submitted by Wiseguy70005, 4/06/15.
++ In the hospital her makeup would have been removed, theoretically making her appear less youthful. Also, after a serious heart attack, the victim's skin may appear ashen. [But, yes, I agree the "age makeup" was a bit heavy-handed.] jfh 06Nov2019
The facial difference between the young drunk woman who gets out of the taxi and the old heart attack victim at the hospital is so striking that it caused confusion for me in understanding the story. If you told me they were two different actresses, I could believe it...MikeM. 1/12/2017
Agreed. I recall seeing this episode earlier, so I remembered something strange about the woman in the cab and hospital. And then when I saw her in the hospital I didn't recognize her as the same woman but I knew that was the discrepancy I remembered. —yelocab 18MAR19
The song played during the opening scene is the same melody used for my high school's Alma Mater, but I recall that it's something more famous. If anyone knows it, please post in Trivia! Submitted by gracenote, 7/12/2011.
+ As mentioned above in Trivia, it's Gaudeamus Igitur. OLEF641 4/2/21
Location?: It would be nice to know the distance and direction of some of the cities, towns, etc. in relation to Los Angeles in the Perry Mason Universe. Euclid Heights must be in the same Jurisdiction as Palm View (episode 130) since Sgt. Landro was the police officer in charge and actor Charles Irving was the judge both times. Submitted by H. Mason 11/14/14
We don't see Cromwell discovering the body and it wasn't really mentioned that he had done so. We didn't even see if Haskell was already dead when Cromwell entered. Are we supposed to wonder if Perry's client is really guilty? Submitted by Wiseguy70005, 4/06/15
Rare appearance by a black actor: Morris Erby as the orderly Jonas. Submitted by WJones 2/18/16 Wow, a cast of 23 with many notable actors, some with minor roles. Joe B. 01/07/21
Senioritis John Wilder, who played the love smitten student editor, was 25 here...and looked it. While that is by no means unrealistic - even today, and would have made yet more sense in 1961 when enrollment after military service was common - it seems at odds with his behavior...more suited to a high schooler. Graded by Notcom, 020218.
Economizing or just tasteless? That courtroom set is not only claustrophobically small, it is ugly and looks slapped together from cheap materials. Looks like it could fall apart if one of the actors sneezed! The layout is bizarre, too, with the witness box jutting miles out from the judge's table, and what appears to be a jury stand (box?) with about 3 people in it. The other spectators are crammed together most uncomfortably. Not sure what the producers were thinking! Submitted by JazzBaby, 3/5/2019.
I also noticed that big blank wall behind the 3 people in the jurors box. It seemed strange, when they usually have very good courtroom sets. —yelocab 18MAR19
TCOT Silenced Secretary Now that I'm 12 episodes into Season 5, I am increasingly disappointed by the change in Barbara Hale's role. In the earlier seasons, Della was Perry's sidekick, always seated next to him at his desk during client meetings, out in the field with him investigating, discussing cases with him and contributing ideas. She found a few clues, too! We saw intimate scenes, such as her sleeping on the office couch or making Perry dinner at his apartment. She was a major player and part of the appeal of the show. Now? She's absent from meetings, if not whole episodes; David Gideon gets to yack it up and go in the field instead of her; she's mostly silent when she is present, and Perry no longer engages her in discussions of cases and clues. One wonders what happened. Did she want a lighter workload because of her kids? Was there a change in producers, with someone less amenable to strong women coming on board? Whatever the reason, it reduces the charm of the show significantly for me. Submitted by JazzBaby, 3/5/2019.
When Perry goes to visit Mrs. Cromwell, as she is on the phone, she opens the door, he asks where her husband is, she says she doesn't know, and then Perry just enters the house, uninvited, to continue the conversation. I'm sure it cuts out a few unneccesary seconds by not asking if he can come in, but seems a little bold. -yelocab 18MAR19

Maizie's $2,000 gift was designated to be used as a scholarship for "male students". Yeah, I know, early 1960s, B-girl background, but it seems odd. jfh 19Nov2020
<< Left-Handed Liar | Episodes | Renegade Refugee >>