Show117
<< Difficult Detour | Episodes | Torrid Tapestry >>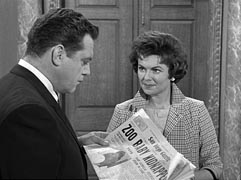 #117: The Case of the
Cowardly Lion
Original Airdate: 04/08/61
From The Perry Mason TV Show Book (Revised)
This case involves nothing less than:
(a) a stolen gorilla named Toto
(b) a shady zoo dentist
(c) a lion charged with murder
(d) a zoo curator charged with murder
(e) [spoiler]*
(f) [spoiler]*
Perry has to defend d when b is murdered. No wonder his rates are so high.
*Items (e) & (f) suppressed as spoilers. To view, use link above.
Opening
Starring Raymond Burr
in The Case of THE COWARDLY LION
Based upon characters created by Erle Stanley Gardner
Barbara Hale as Della Street
William Hopper as Paul Drake
Ray Collins as Lt. Tragg
Trailing
Directed by Arthur Marks
Written by Jonathan Latimer
Art Seid | Producer
Gail Patrick Jackson | Executive Producer
Produced by The CBS Television Network in association with Paisano Productions
Jackson Gillis | Story Consultant
Raymond Burr as Perry Mason
Barbara Hale as Della Street
William Hopper as Paul Drake
Ray Collins as Lt. Tragg
Cast
Carol Rossen as Hilde Fursten
Fred Beir as Tony Osgood
Phyllis Coates as Frieda Crawson
Leslie Bradley as Dr. Walther Braun
Warren Kemmerling as Boris Zelbowski
O. Z. Whitehead as Harry Beacom
Betty Lou Gerson as Trudie Braun
Paul Birch as Sec. Officer Crawford
Paul Langton as Prosecutor Green
Eddie Quillan as Bookkeeper Keller
Mack Williams as Second Judge
Bill Quinn as First Judge
Norman Leavitt as Crime Lab Technician
Art Lewis as Immigration Clerk
Ralph Manza as Dr. Prince
Bert Remsen as Lt. White
Uncredited Actors
Don Anderson as Zoo Security Officer
(spotted by FredK 10/4/2010)
Female gorilla attendant is not credited, even though she has a speaking part.
Crew
Production Supervisor … Dewey Starkey
Director of Photography … Frank Redman, A.S.C.
Art Direction … Lewis Creber
Assistant Director … Robert G. Stone
Film Editor … Richard H. Cahoon, A.C.E.
Casting … Harvey Clermont
Makeup … Irving Pringle
Hair Stylist … Annabell
Wardrobe Supervision … Ed McDermott, Evelyn Carruth
Set Decoration … Charles Q. Vassar
Sound Effects Editor … Gene Eliot, M.P.S.E.
Music Editor … Gene Feldman
Properties … Ray Thompson
Production Sound Mixer … Herman Lewis
Script Supervision … Dorothy Cumming
Sound … Glen Glenn Sound Co.
Titles and Opticals … Pacific Title
Location Sites through courtesy of San Diego Zoo and Kona Kai of San Diego
Perry Mason \ A Film Presentation
A CBS Television Network Production
Anomaly: Paul Langton, listed as Prosecutor Green, is called Mr. Telford twice by Perry in court. He was Deputy D.A. Telford in #101, TCOT Wandering Widow. Submitted by daveb, 12/20/2007.
+ The judge also addresses him as Mr. Telford. Submitted by gracenote, 7/8/2011.
Betty Lou Gerson makes the last of three appearances here on Perry playing Trudie Braun. Betty Lou Gerson was much better known as a radio actress and a voice actress. Ms. Gerson was the star of First Nighter on radio for 15 years and also was the orginal voice of Cruella De Vil in the 1961 Disney production of 101 Dalmations. Submitted by PaulDrake 33, 3 September 2009.
Location: The Courthouse that Perry goes to several times is the San Diego County Administration Center. It is part of the National Registry #88000554. Posted by Eric Cooper, 18 March 2010.
Uncredited Actors: Though Don Anderson rarely appears in episodes set outside of LA, here he plays a security officer at the San Diego Zoo. Submitted by FredK, 4 October 2010.
+ The brunette gorilla attendant is uncredited, although she has a speaking part; perhaps she was a zoo employee. Submitted by catyron, March 16th, 2021.
Sightings: One of our recurring spectators made the field trip to San Diego to watch Perry Mason in action—namely, Distinguished Gentleman #1. Can you spot any other regulars? Submitted by gracep, 11/13/2010.
+ While Perry, Della, and Tony Osgood talk in front of the gorilla exhibit, The Thin Man walks along in the background, apparently looking at other exhibits. Submitted by gracep, 7/8/2011.
+ DG#1 is the actor Rudy Salinger, and he certainly does get around! Submitted by catyron, March 16th, 2021.
Character Names: Bookkeeper Keller's full name is Abner Keller, as we learn when he introduces himself to Mason. Submitted by gracep, 11/13/2010.
+ Sec. Officer Crawford's full name is Frank Crawford, an he is addressed as "frank" by Tony Osgood. Submitted by catyron, March 16th, 2021.
Although Ray Collins (Lt. Tragg) is credited in this episode, he does not actually appear. Submitted by gracep, 11/13/2010.
Location: Almost 24 minutes in, Paul pulls into the Kona Kai Club. It's still in business as the Kona Kai Resort Hotel, 1551 Shelter Island Drive, San Diego, CA 92106. If you Google Kona Kai Resort you can see the dining area where Perry and Della ate in the next scene. Submitted by Eric Cooper, 7 April 2011.
CARS. (1) 1956 Chevrolet 150 Handyman 2-door station wagon, light color with San Diego Zoo markings. This is Tony Osgood's official car, Lic No E 91605 ("E" in octagon, see EXEMPT PLATES).
Background Cars. Amongst the tons of background cars are these few of interest:
The octagonal emblem on the door of the SD Zoo cars is the Seal of the City of San Diego (closeup @ 18:53). On cars (1) & (3) the seal is accompanied by the lettering "SAN DIEGO ZOO - UNDER THE MANAGEMENT OF THE ZOOLOGICAL SOCIETY OF SAN DIEGO ". Added by Gary Woloski, 11/15/12.
Movie Connection: There were a few things in this episode that relate to The Wizard of Oz: (1) The title of the story (2) The signs above Boris in his first appearance - TIGERS, LIONS, BEARS, and Elephants (3) Baby gorilla named Toto (4) victim named Braun (close to Baum). Did anybody see others? Submitted by H. Mason 11/8/14
+That's L. Frank Baum, the author of The Wonderful Wizard of Oz, the 1900 book the Oz movie is based on; (5) Incredibly, there is an actor in this episode named OZ! O.Z. Whitehead makes his only appearance on PM, playing Beacom. CBS had rebroadcast The Wizard of Oz (it's 3rd TV appearance) on December 11, 1960, 4 months before the airing of this episode. Would that be within the time this episode was being written and produced? Submitted by DyNama 11/27/2014
++ (6) Tony Osgood's name is pronounced OZ-good. (7) Betty Lou Gerson was a prolific 1930s-40s radio voice actor, and in the 1930s she starred in the soap opera "Arnold Grimm's Daughter" as DOROTHY, the titular character. Submitted by catyron, March 16th, 2021.
This is the second of three PM appearances for Phyllis Coates, the original Lois Lane on television's Adventures of Superman...MikeM. 9.10/2016
This is the first of two PM appearances for Carol Rossen, who appeared in eight episodes of the television series The Lawless Years...MikeM. 12/19/2016
Writer Jonathan Latimer may have had San Diego connections from his service in the US Navy during World War II. Latimer passed away in San Diego (La Jolla) in 1983...MikeM. 9/18/2017
The script made several cryptic references to World War Two and the years immediately following: (1) The character name Walter Braun is strikingly similar to Werner von Braun, the Nazi scientist who was given a free pass to come to the USA. (2) Braun was said to have been caught in a scheme to sell illegitimately collected "dental gold," and it was well known after the war that the Nazis had financed projects by removing the dental gold of their Jewish victims. (3) The smuggling of antibiotics and selling them for inflated prices, the young woman who may be arrested and forced to return to her native country, and the sinister specter of left-over Nazi schemers all echo the plot of Carol Reed's classic film, "The Third Man," which takes place in post-war Vienna. Submitted by catyron, March 16th, 2021.
Comments

Edit
All of the delightful shots of animals make this a wonderful episode! Submitted by gracep 11/13/2010.

Spoilers?! I'm very surprised the Summary had such blatant spoilers in it... Apparently, someone got overly excited while writing it. I'm also surprised they didn't also spoil Perry's joke while they were at it. Submitted by Arisia, 03/15/18

Perry wears an unusually snappy selection of neckties in this episode. DOD 10/10/19
The Crew Bus? The bus at screen-left at 00:52 of this ep#117 [Car(b)] looks identical to the bus arriving at Fawnskin, CA at 00:54 of Ep#80 TCOT Violent Village. DocRushing ID'd the bus as an "Aerocoach P-372 bearing a Trailways livery (color scheme) but no identifying lettering." DocR subsequently spotted the bus twice in Ep#99 TCOT Singular Double and speculated that the "bus was one which the studio used to shuttle members of the cast or crew or both to and from shoot locations nearby." Surely this further sighting here in ep#117 adds great credence to DocR's proposal that this P-372 was the Paisano Crew's ride to/from location shoots! Added by Gary Woloski, 11/7/12.
+ UPDATE: 2017 Aerocoach photo-article. Gary Woloski, 4/4/17.
When Perry saw Frieda at the zoo with Boris there was no acknowledgement in their greeting. They acted like they were meeting for the first time. They met earlier at Dr. Braun's office. Submitted by H. Mason 11/8/14
Product Placement?? as in: was this episode one big plug for the San Diego Tourism Authority (or whatever agency had that task in 1961)?? Certainly SD is a logical location for a zoo-set episode, but it's hardly a necessary one given that LA has a fine zoo of its own. Combine the rather prominent display of the Kona Kai name with the considerable expense of location shooting at the zoo, and one has to wonder if the road trip had a covert sponsor...or two. Pondered by Notcom, 122016.
+There was a title card thanking both the zoo and the resort at the end. Also, the Hotel del Coronado in San Diego was mentioned but not shown. Submitted by catyron, 12/30/2017.

<< Difficult Detour | Episodes | Torrid Tapestry >>