Show118
<< Cowardly Lion | Episodes | Violent Vest >>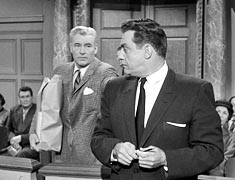 #118: The Case of the
Torrid Tapestry
Original Airdate: 04/22/61
From The Perry Mason TV Show Book
Claude Demay was sent up for six years for starting a fire in a warehouse containing the valuable Nathan Claver art collection. Demay was framed, and devises a plan to expose the real criminal, Leonard Voss. He tediously weaves a perfect imitation of a Panamaker tapestry supposedly lost in the fire.
When he's out of jail, Demay goes to Voss and barters his tapestry for an original Tao Kwan Buddha. This statue will prove that the collection was not destroyed in the fire and expose Voss.
Before the appointment for the trade takes place, Voss is murdered and Demay is sent back to jail for another crime he did not commit.
Old-time film star Conrad Nagel performs in this episode.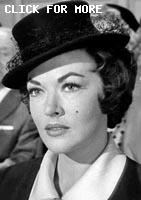 Opening
Starring Raymond Burr
in The Case of THE TORRID TAPESTRY
Based Upon Characters Created by Erle Stanley Gardner
Barbara Hale, William Hopper, William Talman, Ray Collins
Trailing
Directed by John English
Written by Bob Mitchell
Arthur Marks | Producer
Gail Patrick Jackson | Executive Producer
Produced by The CBS Television Network in association with Paisano Productions
Jackson Gillis | Story Consultant
Raymond Burr as Perry Mason
Barbara Hale as Della Street
William Hopper as Paul Drake
William Talman as Hamilton Burger
Ray Collins as Lt. Tragg
Cast
Conrad Nagel as Nathan Claver
Paula Raymond as Brenda Larkin
Robert H. Harris as Claude Demay
Lillian Buyeff as Sarah Demay
John Holland as Leonard Voss
Ray Kellogg as Jim Hazlett
Kenneth R. MacDonald as Judge
Percy Helton as Pawnbroker
Syd Saylor as Watchman
John Graham as Lawrence
Lloyd Nelson as Clerk
Louis Serrano as Officer
Uncredited Actors
Don Anderson as Courtroom Spectator
Robert Wegner as Drake Agency Operative
Crew
Production Supervisor … Dewey Starkey
Director of Photography … Philip Lathrop, A.S.C.
Art Direction … Lewis Creber
Assistant Director … Morris Harmell
Film Editor … John D. Faure
Casting … Harvey Clermont
Makeup … Irving Pringle
Hair Stylist … Annabell
Wardrobe Supervision … Ed McDermott, Evelyn Carruth
Set Decoration … Charles Q. Vassar
Sound Effects Editor … Gene Eliot, M.P.S.E.
Music Editor … Gene Feldman
Properties … Ray Thompson
Production Sound Mixer … Herman Lewis
Script Supervision … M.E.M. Gibsone
Sound … Glen Glenn Sound Co.
Titles and Opticals … Pacific Title
Perry Mason \ A Film Presentation
A CBS Television Network Production
Goof: The card at the pawn shop shows Sarah Demay's apartment number as 204. When we arrive at her place, we find that she's moved to #203. See here. Submitted by daveb, date unknown.
+ Also notice the tapestry was hocked for $110. However, Sara Demay tells Claude that she hocked it for $100. Submitted by Kilo 6/19/2018.
This episode revolves around a Pannemaker arras depicting Theseus and the Minotaur. There actually were a couple famous 16th-century Flemish weavers named Pieter and Willem Pannemaker. The Flemish city of Arras was a great center of tapestry production. Arras's tapestries were so highly regarded that the name Arras became synonymous with tapestry. So when they say "Pannemaker arras" they are saying "Pannemaker tapestry." I imagine an actual Pannemaker tapestry would be quite valuable. While it's certainly possible the Pannemakers could have woven a tapestry on the subject of Theseus and the Minotaur, I am not aware of any. If someone knows of such a tapestry, especially if it resembles the one in this episode, I'd certainly be interested in hearing about it here. Submitted by billp, 13 December 2009.
Some curious things happen to some of the Claver Collection crates seen in this episode. Thanks to some trivia from FredK for #127, TCOT Malicious Mariner, we know what it is. The visual story here. Submitted by daveb, 10/6/2010.
Sightings: The Thin Man appears as Paul's operative who follows Brenda Larkin from the courthouse. Read more about him and other frequently seen people here. Submitted by alan_sings, 9 Oct 2010.
+ Watching events unfold in the coutroom gallery are a few other frequent faces. On the prosecution side sit Distinguished Gentleman #1, Pencil Mustache Man, Quiet Old Man #1, and "Miss Carmody". All by herself on the defense side sits our beloved Little Old Lady in a Hat. Submitted by gracep, 11/14/2010
+Watching from her favorite spot on the back row, we find Distinguished Lady #4. Quiet Old Man #2 makes an appearance on Perry's side. Bill767, 1/6/16.
Uncredited Actors: Don Anderson joins our regulars on the prosecutor's side of the courtroom gallery. Robert Wegner plays another of Drake's operatives, silent and (of course) scowling, following Ms. Demay from the courthouse. Submitted by gracep, 11/14/2010.
Perry interviews Ms. Larkin in his usual suave way over the Curious Coffee Set. Submitted by gracenote, 7/8/2011.
CARS. First car appears at 29:22. The rest appear in a flurry during the last few minutes:
Background Cars. Cars (b) to (d) are parked close to Brenda's apartment and seen about 46:10.
Between the courthouse and Brenda's place, Thin Man had a mishap with Car(3): it was OK at the courthouse, but at Brenda's place the driver's side-view mirror is secured with electrical tape! Added by Gary Woloski, 11/19/12.
+ I wonder if the tape was being used to prevent glare off the back side of the mirror. Sometimes the camera crew uses a matte spray to prevent sun's reflection into the camera but maybe they were out and had to improvise. Submitted by Kilo 6/19/2018.
Closed-Caption Anomaly: @ 34:30, at the end of Mason's cross-examination of Jim Hazlett, the closed-caption reads "(gavel bangs)." In shots of the judge, however, we see that he doesn't even have a gavel, and, as usual, the judge commands attention by tapping a pencil (see @ 45:00). Submitted by Wiseguy70005, 9/29/14.
For the second time in his four appearances (so far) Robert H. Harris played the part of a man who made a copy of a work of art and it led to murder. For the other example see episode 48 TCOT Purple Woman. Submitted by H. Mason 11/8/14
Conrad Nagel was born in Iowa in 1897. His first film credit was in 1918, the year after Raymond Burr was born...MikeM. 9/13/2016
This is the first of two PM directing credits for John English, who was born in England in 1903...MikeM. 12/20/2016
This is the first of four PM writing credits for Bob Mitchell, who had 17 writing credits for the television series "Combat"...MikeM. 9/19/2017
Comments

Edit
When Della gets up from Perry's desk and then walks across the office to let in Claude Demay, we get a really good look at her. Submitted by DellaFan, 9/28/2013.
A minor point, but this is the only episode I recall in which that lamp by Perry's sofa is lit. DOD 10/27/20
The problem I have with this episode is that a few times Perry jumps to some pretty amazing conclusions, and while of course they are correct (as they always are), his arrival at them does not seem plausible. Submitted by gracep, 11/14/2010.
Claver's Caddy. The Fleetwood Seventy-Five could be either the 9-Passenger Sedan ($9533, 699 built) or the Limousine (highest-priced Caddy @ $9748, 926 built). They were the same except the Limo had a more sumptuous interior with a glass chauffeur partition and two auxiliary seats added. When Perry draws Claver to the window at 30:17, examine the Caddy:
it appears that it does have the chauffeur partition; and
looking a bit aft of the Right-Front Wheel, see that the forward-most section of the lower-body chrome trim line has fallen off this Brand-New Caddy ('61 Caddies went on sale 3 Oct 60).
I wonder if anyone at Cadillac noticed their car falling apart. Added by Gary Woloski, 11/19/12.
Suspense Sequence. In general, cars appear early in PM episodes and then we spend the last half-hour in court. In this episode #118, the unusual timing of car appearances late in the story drew my attention to the sequence of shots between the courtroom and the warehouse. From the moment the Judge declares a recess @ 44:33 to Perry's line "Better call Tragg, Paul" @ 47:59, the sequence is backed by an ominous-sounding arrangement of the PM main theme. The main action occurs from 44:56 to 47:04, in which time there are eighteen film edits (cuts and dissolves) and all nine of the cars listed above appear while the Suspects move to cover their posteriors. The apparent anxiety of the characters, the clipped editing and musical backing, even the Thin Man's silence and creepy pointing gesture, all contribute to the suspence.
Although the dominant quality of the sequence is TENSION rather than Action, I regard this two minutes or so as ranking right up there with the Bullitt Car Chase! I think that this was Exceptionally Well Done. Added by Gary Woloski, 11/22/12.
Thin Man Twin. The image used for driver Car(3) above is not of our Perry Mason Thin Man but is actually of look-alike Leo Catozzo, film editor for the 1957 Federico Fellini film Nights of Cabiria. Fellini roped his editor and friend Leo into playing a character, "The Man with the Sack", in one of the sequences of the film. That sequence was not included in the original public release but has been restored to the DVD available now. Leo invented the Catozzo Splicer, for which he was awarded an Oscar for Technical Achievement at the 62nd Academy Awards (1989), demo on youtube (It). The likeness between Leo Catozzo and the PM Thin Man was too striking for me not to bring to your attention. Added by Gary Woloski, 12/20/16.

In a similar vein to first comment… It is not clear to me why Mr. Claver should have confronted Mr. Voss when he discovered the tapestry was a fake. He wasn't going to accuse Voss of producing it? Submitted by gracenote, 7/8/2011.
+ Having just reviewed the episode, here's my take on the action: Claver gets Demay's mysterious invite to the arras auction. None of the invitees knows who it's from. This is concerning to Claver. The only arras that could possibly have been available for auction was his, which was destroyed—or was it? Claver goes to Voss's gallery for an answer. Why? Claver later says he hadn't seen Voss in some time prior to this first visit to the gallery. (Voss probably set up the gallery with his cut of the insurance money. Claver reasonably probably didn't want to seem connected to his partner in crime.) This seems to indicate that Claver had some suspicion about Voss. Had Claver heard rumors about Voss' special offerings (c.f. Hazlett)? Regardless, Claver strongly conveys the impression he thinks Voss has something to do with this mysterious tapestry. The gallery dialogue/interplay between Claver and Voss is marvelous—full of double entendre. Claver leaves the gallery with his suspicions unassuaged if not elevated. Claver and his driver follow Voss to the pawnshop. Claver sees the arras, now materially connected to Voss in Claver's mind, and has his driver steal it. Claver knows it's a fake. So he asks himself, what's Voss's game? Blackmail? Whatever it is, Claver seems to be at the center of it, and he doesn't like it. (Claver got an invite, it's a copy of his arras, Voss is linked with it.) Claver goes to the gallery, probably pretty angry and upset, and, lo, he sees the Voss and the buddha. Claver now knows he's been thoroughly double-crossed by Voss. Claver kills Voss for any number of reasons. Della's post-lude comment about "that's why Claver confronted Voss at the gallery" is accurate, but not particularly informative because in my opinion Claver would have confronted Voss whether the tapestry was real or a copy. Submitted by billp, 10/04/2011.
Is Claude ever cleared of setting the fire in Rio? DOD 10/27/20
One minor nit: when the collection is on fire at the begging, the police show up with Voss. When the policemen talk, the closed captions say: "[Speaking in Spanish]", however Rio is in Brazil, where they speak Portuguese. And I do hear the word "fogo" which is Portuguese for "Fire".
I like this episode, but it does have a timing issue. When "The Thin Man" calls in the position of Brenda Larkin, she is in the warehouse district on foot. When Perry, Paul, and Della arrive, they meet "The Thin Man" who points them to the exact warehouse she is in. As our heroic trio walk towards the warehouse, Brenda Larkin is arguing with the warehouse clerk to give her the key. --- Just how long was she arguing with him? Even if "The Thin Man" had a car phone, it would take Perry, Paul, and Della at least 15/20 minutes minimum and probably a lot more to arrive on the scene. If we assume that Brenda Larkin was walking for most of that time, why did she park so far away? It doesn't make any sense. It would've worked better for Larkin to be in the room having torn it all apart looking for the statue when Perry arrives. Submitted by Kenmore 8/02/2021.
<< Cowardly Lion | Episodes | Violent Vest >>