Show127
<< Missing Melody | Episodes | Crying Comedian >>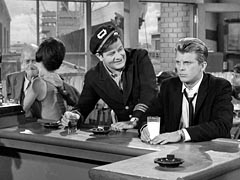 #127: The Case of the
Malicious Mariner
Original Airdate: 10/07/61
From The Perry Mason TV Show Book (Revised)
During a terrible storm, first officer Jerry Griffin does his duty and dumps $1.5 million worth of goods into the sea to lessen the danger of sinking the Janeel Trader, a cargo freighter. Once on shore, Jerry is a little surprised when he is hauled before the Coast Guard maritime court (thanks to his angry businessman brother), which may hold him responsible for the loss of the cargo, since the previous officer claims he could have saved both ship and cargo.
Jerry needs Captain Bancroft's testimony to clear his name, but the old man is murdered before the trial. Now Jerry is falsely accused of that crime too. Perry comes on as Jerry's attorney and investigates what he feels is gross injustice. Paul gets a free trip to the Orient when Perry has him check up on the lost cargo.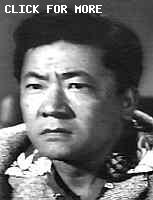 Opening
Starring Raymond Burr
in The Case of THE MALICIOUS MARINER
Based upon Characters Created by Erle Stanley Gardner
Barbara Hale, William Hopper, William Talman, Ray Collins
Trailing
Directed by Christian Nyby
Written by Robert Leslie Bellem
"Perry Mason"
Art Seid | Producer
Gail Patrick Jackson | Executive Producer
Jackson Gillis | Associate Producer
Produced by The CBS Television Network in association with Paisano Productions
Samuel Newman | Story Consultant
Raymond Burr as Perry Mason
Barbara Hale as Della Street
William Hopper as Paul Drake
William Talman as Hamilton Burger
Ray Collins as Lt. Tragg
Cast
Sean McClory as Wenzel
Edward Binns as Charles Griffin
Roy Roberts as Arthur Janeel
Lee Farr as Griffin
Karl Held as David Gideon
Casey Adams as Frank Logan
Wesley Lau as Lt. Anderson
Penny Edwards as Julie Abbott
Robert Armstrong as Capt. Bancroft
Victor Sen Yung as Sheng
Tudor Owen as MacLean
Robert Carson as Capt. Lansing
George Ives as Lt. Gregg
Robert Foulk as Vogel
Kenneth MacDonald as Judge
Pitt Herbert as Autopsy Surgeon
Douglas Evans as Capt. Wilson
George Sawaya as Connor
Roy Jenson as Officer
Rollin Moriyama as Nagata
Gordon Kee as Panjong
Uncredited Actors
Matthew McCue as Old Man in Sailors' Bar (from IMDb)
Bert Stevens as Member of Coast Guard Investigative Board
George E. Stone as Court Clerk
Crew
Director of Photography … Robert G. Hager
Art Direction … Lewis Creber
Assistant Director … Gordon Webb
Film Editor … John D. Faure, A.C.E.
Casting … Harvey Clermont
Makeup … Irving Pringle
Hair Stylist … Annabell
Wardrobe Supervision … Ed McDermott, Evelyn Carruth
Set Decoration … Charles Q. Vassar
Properties … Ray Thompson
Production Sound Mixer … Herman Lewis
Script Supervision … M.E.M. Gibsone
Automobiles Supplied by … Ford Motor Company
Titles and Opticals … Pacific Title
Perry Mason \ A Film Presentation
A CBS Television Network Production
Tudor Owen makes his first of two appearances on Perry here playing MacLean. Tudor Owen starred on radio with Raymond Burr (and also Jack Webb) on the noir action show Pat Novak For Hire. Submitted by PaulDrake 33, 3 September 2009.
One of four appearances by Robert Foulk, all of which have him as a security guard or law officer. Robert Armstrong is best known for playing Carl Denham in 'King Kong' , in which he also spends a lot of time on a rusty old freighter. DOD 10/12/18
Sightings: The ubiquitous Little Old Lady in a Hat is present in the courtroom. You can see her sitting behind actor Edward Binns as Perry finishes with Special Officer Vogel for the first time on the stand. Despite her dour look, she does well enough to afford a string of pearls. Submitted by Kenmore, 9/12/2010.
+ Joining the Lady in the courtroom gallery: Pencil Mustache Man, "Miss Carmody," "Sasha Magaloff," and Quiet Old Man #1. Submitted by gracep, 11/23/2010.
++ "Sasha Magaloff" is now known to be the actor Mitchell Rhein. Submitted by catyron, November 16, 2020.
+++ Lastly, as someone bolts for the courtroom door, a startled Distinguished Gentleman #1 turns to watch. No doubt as you read each name, you wonder, Who Is That? Added by gracenote, 6/10/2011.
Uncredited Actors: Bert Stevens sits on a seat of the board hearing testimony in the Coast Guard maritime court. Submitted by gracep, 11/24/2010.
TCOT Active Art. When Paul Drake goes to Japan to check on salvage operations on the Janeel Trader's cargo, crates with the stamp "Claver Collection — Rio de Janero" can be plainly seen behind the salvage crew. The alleged destruction of this art collection set in motion Episode #118, TCOT Torrid Tapestry. Later, when Drake and the Japanese police trace the stolen cargo to a warehouse in Yokohama, more Claver crates are present. Submitted by FredK, 2 October 2010.
+ I saw only one "Claver" crate, and I don't believe that Paul was in Japan at that time. I think he was on the island seen in the establishing shot just before the scene with the crates. Paul probably flew there "by way of Guam" per earlier dialog. After Paul reports to Perry, he is sent on to Yokohama. I did not see any clearly identifiable "Claver" crates there. Submitted by daveb, 10/4/2010. Some pictures here.
++ Dave is right and it's a lesson to me about relying on memory late at night while posting. The second appearance of the Claver crates is on the dock in Los Angeles when Perry, Della and David Gideon check the watchmen's routine. As David times Perry going to the ship, he and Della stand next to two Claver crates. For the record they are stencilled "Nathan Claver Collection — Rio de Janeiro." My apologies for the inaccuracy. Submitted by FredK, 4 October 2010.
+++ In the scene where Paul is on the phone with Perry, reporting from the island the finding of the jettisoned crates and their surprising contents, one 'Claver' crate is plainly visible; another is just barely peeking out from behind the post, you can just see "..VER, ..N, ..IRO" on that second crate. Both crates have gained some Chinese characters stencilled onto them. In Yokohama, the crate just over Paul's right shoulder has faintly visible on it "..VER, ..N" OLEF641 3/24/21
CARS. Two rare "Professional Cars" [Cars (1) & (5)] are featured in this episode:
More on Professional Cars (1), (5) in Comments sect. Added by Gary Woloski, 1/17/13.
TCOT Fortunate Find Not only does the salvage company have a curious haul in their warehouse, they were also verrrry lucky to have salvaged the Jeneel Trader's jettisoned cargo: the Pacific Ocean has an average depth of >14,000', but apparently the loss occurred right where it could be found easily....how lucky !! Submitted by Notcom, 122215.
+ We learn during the trial that Capt Bancroft purposely chose a shallow reef to purposely scuttle the ship so as to give the crew a chance to get away safely. DOD 10/12/18
Character Names: Mr. Wenzel's (Sean McClory's) first name, as revealed during the Coast Guard hearing, is Fred. The protagonist Griffin (Lee Farr) is Jerry, but curiously that is left out of the credits, too. Submitted by gracenote, 11/24/2010.
Did you notice that Tudor Owen stereotypically follows in the tradition of Scottish engineers set forth in countless movies and TV shows (e.g. Mr. Scott on Star Trek) in remembrance of Scotland's 19th century glory days of shipbuilding? Submitted by daveb, 11/24/2010.
+ I not only noticed, i could not stop laughing! I had to pause the show until i could re-focus my attention. Then i played it again and started laughing again. It took three tries before i could watch it without cracking up. Not the actor's fault -- he was great -- but just my own weird sense of humour kicking in. Submitted by catherine yronwode, 1/26/2018
Karl Held repeats his performance as David Gideon, which he began in #122, TCOT Grumbling Grandfather. Submitted by gracep, 11/30/2010.
Although credited, Ray Collins as Lt. Tragg does not appear in this episode. Submitted by gracep, 1/7/2011.
This episode introduces Lt. Anderson, played by Wesley Lau, who'd portrayed a paint manufacturer just two episodes ago. Submitted by francis, 4/25/12.
+ But that previous episode was filmed at the end of the fourth season. Because of CBS' arbitrary decision to withhold two episodes and show them at the start of the fifth season put the airdates of those two episodes closer together than they normally would have been. Submitted by Wiseguy70005, 2/2/15.
While tying all the loose ends together in the final scene, several of the characters enjoy refreshment from the Curious Coffee Set in Perry's office. Submitted by gracenote, 6/11/2011.
+ Except for young Gideon, who is seen holding a glass of milk (again). Submitted by francis, 4/25/12.
Both this episode and the next one (TCOT Crying Comedian) feature actors who had prominent roles in Marilyn Monroe movies. In this episode it's Casey Adams, who was in Niagara; in the next episode it's Tommy Noonan, who was in Gentleman Prefer Blondes. Submitted by 65tosspowertrap, 10/10/2013.
+ Casey Adams is involved in scuttling a ship in this episode, and prays for a boat to be scuttled in Niagara.
This is the first of five PM writing credits for Robert Leslie Bellem, who was best known for a character he created, Dan Turner, Hollywood Detective...MikeM. 9/24/2016
This is the second of two PM appearances for Victor Sen Yung, who played Hop-Sing on Bonanza...MikeM. 1/2/2017
+ Victor was also Jimmy Chan and later Tommy Chan in the Charlie Chan movies. Submitted by HamBurger, 9/29/2018
TCOT Marvelous Model: At around 01:56 - 01:59 we see a nicely detailed model of the Janeel Trader on the high seas ... only it is clearly marked as the Chinese Star! Not only that, in the middle of that brief scene, a tiny human figurine along the aft port rail falls over the edge and into the ocean! Man overboard!! Submitted by catherine yronwode, 1/26/2018
Entry on (Non-)Gavel Use - During the Coast Guard hearing, due to lack of both gavel and pencil, someone raps for order with his knuckles. OLEF641 /29/22
Comments

Edit
Nautical Note…from 1956 to 1960 Roy Roberts portrayed Captain Huxley on The Gale Storm Show, a.k.a. Oh, Susanna. Another cast member of the that show, Zazu Pitts appeared in episode #146, "TCOT Absent Artist." Submitted by Masonite, June 28, 2011.
I believe the first few seconds of film showing a storm ravaged island were taken from the 1937 film "Hurricane ". Even over 80 years later, that storm sequence is still stunning. DOD 11/24/21
Word of the Day: When introducing David Gideon, Perry characterizes him as "impetuous if not always imprescriptible." That latter word means "not subject to prescription," for those viewers who are not so sesquipedalian. Submitted by francis, 4/25/12.
The 1960 Buick-Flxible Premier Ambulance was built by the Flxible Co. on a stripped 1960 Buick Electra chassis, model 4730. "Premier" was the Flxible model name for its longer-wheelbase cars. See this and other Flxible cars here. Comprehensive article on Flxible Co here. Here are three photos of the other surviving '60 Buick-Flxible Premier Amb mentioned in his forum posting by 60buick. He also mentioned here that, as well as Mad, Mad, World, his own car appeared in Twilight Zone "Nightmare at 20,000 Feet", The Fugitive and "An episode of Perry Mason". I conclude that his car is one-and-the-same as the ambulance appearing in this episode #127. Added by Gary Woloski, 1/18/13.
I'm convinced that the hearse is a converted 1957-1960 International Travelall. Yet I'm unable to find any conventional reference book or internet record that such a vehicle existed. It appears that very few were made and that there are no known survivors. The most likely candidate for a company that may have produced the hearse in this episode is Springfield Equipment Company or its original parent The Champion Company, manufacturers of funeral care products and shipping containers (very much like car bodies or coffins!). Springfield Equipment Co is known to have converted International Travelalls to ambulances, fire/rescue, airport limos and school buses (scoll down), some with raised roofs and extended wheelbases. Their trucks were marketed through International Harvester (IH) dealers; see 1966 ad here. This is just my best guess. Maybe this vehicle or another like it appears elsewhere in TV or the movies, or maybe there is mention of it in Los Angeles-area archival material. Perhaps someone will find something with a CHAMPION logo on it in the desert East of LA. Added by Gary Woloski, 1/19/13.
I recommend this short, interesting article "Movie and Television Ambulances" by Louis C. Farah from the March 2010 Professional Car Collector magazine. Added by Gary Woloski, 1/19/13.
Two vehicles?: Was there one ambulance or two? When the body was put in the vehicle the name on the door was "Snyder". As the vehicle was driving away the sign on the door said "Ambulance". Submitted by H. Mason 11/12/14
+ There was only one ambulance. When this same car appears in ep#131, the "AMBULANCE" lettering is seen to be on a card taped over the "Snyder" lettering. Snyder Ambulance Service, Van Nuys Cal, was a real company. Apparently the inaugural occultation was done in the middle of this ep#127 shoot. GSW 11/12/14.
Into the mouths of babes this is the second time in three episodes that the question is raised as to whether/not David is "old enough"(to be in a bar); and how does he answer the challenge ??? As indicated above, he orders a glass of milk (he does forgo the straw, however). Noted by Notcom, 010317.
+ I think in this case the milk was a deliberate gesture to attract Wenzel's attention and to get Wenzel to underestimate him. OLEF641 3/24/21
Perry says "Theres's a big difference between being innocent and being able to prove it." I can't believe a U.S. attorney would make a statement like that. Kilo 9/11/2023.

When Perry begins his final browbeating of Janeel (Roy Roberts) into confession, he takes a sheet of paper from a file, turns it over to a blank side and pretends to read the chain of events leading to the murder. Can anyone figure why it would be more effective to recite this rather than simply stare him down and state the obvious inferences with the usual Perry glare and tone of voice? Submitted by FredK 5 October 2010.
+ Sure. Perry wanted Janeel to think he was reading a detective's report or some other document suggesting there was a witness to events, thus reducing in Janeel's mind his "plausible deniability." Without any real evidence against Janeel, a bluff is all Perry had. (Of course, it always works.) Submitted by francis, 10/01/14.
++ A friend of mine is an attorney and Mason fan. He told me that once his opponent in the courtroom used this blank page trick, and that the judge became aware of it and dressed the attorney down for such a cheesy move. JohnK 3 January 2017
<< Missing Melody | Episodes | Crying Comedian >>