Show126
<< Impatient Partner | Episodes | Malicious Mariner >>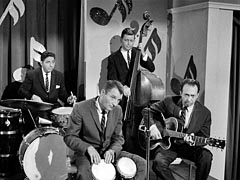 #126: The Case of the
Missing Melody
Original Airdate: 09/30/61
From The Perry Mason TV Show Book (Revised)
Perry and Delta Della are attending the wedding of Polly Courtland to jazz musician Eddy King (played by James Drury of The Virginian). Suddenly the ceremony is halted when, at the altar, Polly starts screaming "No! No!" and then runs from the church.
What happened? Polly had spotted George Sherwin holding an envelope she knows contains incriminating photographs showing her younger sister, Midge, checking into a Las Vegas motel with musician Bongo White. Polly also knows that Sherwin plans on ruining her family's reputation unless she gives up Eddy for him. But Sherwin's plan backfires when someone shoots him to death. When Tragg arrests Eddy, Perry takes over.
Constance Towers sings "The Man I Love" and "The Thrill is Gone." David Gideon, played by Karl Held, makes an appearance as Perry's assistant.
Opening
Starring Raymond Burr
in The Case of THE MISSING MELODY
Based upon Characters Created by Erle Stanley Gardner
Barbara Hale, William Hopper, William Talman, Ray Collins
Trailing
Directed by Bernard L. Kowalski
Written by Jonathan Latimer
"Perry Mason"
Art Seid | Producer
Gail Patrick Jackson | Executive Producer
Jackson Gillis | Associate Producer
Produced by The CBS Television Network in association with Paisano Productions
Samuel Newman | Story Consultant
Raymond Burr as Perry Mason
Barbara Hale as Della Street
William Hopper as Paul Drake
William Talman as Hamilton Burger
Ray Collins as Lt. Tragg
Music Composed and Conducted by Barney Kessel
Cast
Constance Towers as Jonny Baker
James Drury as Eddy King
Bobby Troup as Bongo White
Jo Morrow as Polly Courtland
Karl Held as David Gideon
Andrea King as Enid Markham
Walter Burke as Jack Grabba
Grant Richards as George Sherwin
Lorrie Richards as Midge Courtland
Crahan Denton as Templeton Courtland
Barney Kessel as Barney
Frederic Worlock as Judge
Owen McGiveney as Boyson
Lee Miller as Sgt. Brice
Richard Geary as Detective
Irving Mitchell as Minister
Tony Mafia as Waiter
Jack Williams as First Gambler
Philip Harron as Second Gambler
Crew
Director of Photography … Robert G. Hager
Art Direction … Lewis Creber
Assistant Director … Robert G. Stone
Film Editor … Richard H. Cahoon, A.C.E.
Casting … Harvey Clermont
Makeup … Irving Pringle
Hair Stylist … Annabell
Wardrobe Supervision … Ed McDermott, Evelyn Carruth
Set Decoration … Charles Q. Vassar
Properties … Ray Thompson
Production Sound Mixer … Herman Lewis
Script Supervision … M.E.M. Gibsone
Automobiles Supplied by … Ford Motor Company
Titles and Opticals by … Pacific Title
Perry Mason \ A Film Presentation
A CBS Television Network Production
Except for the opening & closing credits, all the incidental music in the episode is done by a jazz quartet. Submitted by Kenmore, 9/12/2010.
+ How about "A Walk in the Black Forest"? Submitted by 65tosspowertrap, 10/5/2013.
Sightings: The ever-present Distinguished Gentleman #1 got an invitation to the wedding. He strolls in with a lady escort, and he laughs with others in the back pew. Must be a friend of the family! But then he reappears in a blackmail photograph as a hotel clerk. He certainly gets around! Submitted by gracep 11/22/2010.
+ The Pencil Mustache Man also steps outside the usual spectator role to play a waiter at the nightclub where Ms. Baker (Constance Towers) sings. Apparently both of the above gentlemen decided to attend the hearing, as they sit in the back row of the courtroom gallery. Little Old Lady #1 and "Sasha Magaloff" join them as well. Submitted by gracep, 11/23/2010.
++ "Sasha Magaloff" is now known to be the actor Mitchell Rhein. Submitted by catyron, November 16, 2020.
+++ Distinguished Gentleman #1 also reappears in another photograph as a gambler and in the nightclub as a patron in a back table. Lastly, also appearing in the coutroom gallery are Quiet Old Man #1 and Little Old Lady #2. Read more about all these fascinating people on the Who Is That? page. Submitted by gracep, 6/4/2011.
++++ DG1 appears once again at the very end, in the second wedding ceremony. JohnK, 11 October 2015
+++++ Distinguished Gentleman #1 is now known to be the actor Rudolph Salinger. He played characters named "Rudy" twice in the series, but neither were speaking parts. Submitted by catyron, March 27, 2021.
Anomaly: Although listed as " Baker," Constance Towers' character is addressed throughout the episode as . Submitted by gracep, 11/23/2010.
+ Maybe they're saying Joanie but it is definitely "Jonny" as seen on the billboard promoting her and The Eddie King Quintet at 10:00 on the DVD. Submitted by Kilo 6/27/2018.
For the second time, Karl Held plays law student David Gideon. He will continue to play this role seven more times, for a total of nine. Submitted by gracep, 11/30/2010.
+ Also this was the first time an actor that was Perry's client returned as the same character. Added by H. Mason 11/11/14
According to Wikipedia, Constance Towers attended the Julliard music school. So I suppose that she did her own singing for the episode (which I rather like). Ed Zoerner, 5/17/2011.
+ This will be the first of five appearances for this Constance, who is not to be confused with the other Constance (Ford), despite sharing the same name, similar hair styles and - IMHO - appearances. Miss Towers is younger (objectively), better looking (subjectively), and doesn't always play a grump. Submitted by Notcom, 122015.
Music Alert: The music playing in the scene where Perry discovers the tape in Bongo's room is "A Walk in the Black Forest" by Horst Jankowski. It reached #1 on the US easy listening chart, #12 on the US Billboard Hot 100, and #3 on the UK Singles Chart, in 1965! How many times has a major hit song appeared on TV four years before it charted? Mr. Kessel is credited with all the incidental music. Did Horst lift it from Barney, or vice versa? One of the great TV music mysteries of all time, in my humble opinion. Submitted my Masonite, 6/27/2011
->This is indeed very strange. Perhaps this episode should be titled "The Case of the Stolen Melody"! 65tosspowertrap, 8/9/2013
A plausible history of 'Eine Schwarzwaldfahrt' and lawyers: Per forgottenhits60s.blogspot's November 13, 2013 post here, which lists 4 1961-1962 US TV shows that used Horst Jankowski's memorable tune, he had ignorantly sold the rights to his tune (and 3 others) for 125 Deutsch Marks "which seemed OK at the time". Per this page, in 1961 there were about 4 Deutsch Marks to the US dollar. The entire forgottenhits article is worth reading before you sell your next big hit. (It took Jankowski 7 years and lots of money before he got the rights back, and he ultimately earned nothing from his #1 hit.) Submitted by (lowercase, with a comma and period) masonite, 03/09/19.
CARS. (1) 1961 Buick LeSabre Convertible, light color, top down, Eddie King. Seen in the opening shot with "Just Married!" decoration, in front of church. Appears again when Eddie arrives at George Sherwin's apartment building (18:47).
(2) 1961 Mercury Comet 4-Door Sedan, light color, Polly Courtland. Eddie sees Polly get into this car as he's about to enter Sherwin's apartment building (19:18). Also, an identical-looking car, with only driver aboard, drives by Eddie's decorated Buick and the church in the opening shot; it's not meant as Polly's car in this shot, however.
Background Cars. (a) 1961 or 1960 Ford Falcon 4-Door Sedan, light color. Parked in front of Sherwin's apartment building for the location-establishing shot used at 12:20 & 28:17, but it's replaced by Polly's Comet when Eddie arrives at 18:47.
(b) 1960 Chevrolet Impala Sport Coupe 2-door hardtop, white, parked across the street from Sherwin's apartment.
(c) 1956 Thunderbird, white, no top, parked across the street from Sherwin's apartment.
(d) 1959 Buick LeSabre 4-Door HardTop, white roof/med body. Seen as Eddie goes up the steps of Sherwin's building. It might have been scripted as Templeton Courtland's car (Eddy sees Templeton leaving by the front door just as Polly departs; also seen is the street address# "1745").
The views establishing the location as Sherwin's apartment building at 12:20 & 28:17 use exactly the same film footage. The camera is across the street from Sherwin's building pointing across the trunk of Car (b) and the hood of Car (c) towards the front steps and Car (a). When Eddie arrives at 18:47, the Falcon is gone and Polly's Comet is parked in front of the building. Comet and Falcon were made by different Divisions of Ford Motor Co and are mechanically almost the same car but with different bodies. In 1960, their first model-years, they both achieved good sales figures and were changed very little from '60 to '61. Added by Gary Woloski, 1/10/13.
A real-world Automobile Registration form is seen strapped to the steering column of Eddy's Buick as he turns the headlights off at 18:51. The shot is similar to this image. What can be seen is definitely more detailed than the Paisano prop and I bet that the Calafirnia DMV didn't misspell "Convertible". Added by Gary Woloski, 1/10/13.
The final frame of the Closing Credits of this episode has two new features:
A modernized Westrex Recoding System logo appears. Up to ep#125 it consisted of the edgy Westrex script with "Recording System" underneath. The new logo is as shown at the bottom/left of this 1970 ad (note the address - a block from 1040 N Las Palmas!). The "li" motif to the left of "Westrex" is for Litton Industries, which acquired Westrex in 1958.
For the first time in the series, an "Automobiles Supplied by..." credit appears. This credit did not automatically appear in every further episode (examples: Ep#s 129 & 131 have no Fords and no credit). Also, Ford didn't gain exclusive appearance rights; in this and many further episodes, the show gives more effective Product Placement to Ford's competitors!
Also see gracep's "Comment" regarding the new music over the closing credits. These changes support a notion that ep#s 124 & 125 were hold-overs from Season 4's filming and that this ep#126 may have been (one of) the first filmed in the Season 5 shooting-season. Added by Gary Woloski, 1/11/13.
SEASON PREMIČRE. CBS advertised this Episode #126 as the Season Premiere (Season 5) in the THE NEW YORK TIMES issue of Saturday, September 30, 1961, page 51. The ad is three columns wide and runs half the length of the page (the bottom half of the three columns is an ad for CBS's GUNSMOKE, 10:00-11:00 PM, "New Season", "now a full hour"). Below a pen-and-ink portrait of a pensive Perry Mason is the text:
NOW IN FIFTH YEAR
PERRY MASON
Raymond Burr, starring as the celebrated lawyer,
begins a new season tonight with a suspense-filled
story of bookmaking and blackmail. It's set in the
cool world of modern jazz and throbs with the beat
of bongo drums. "The Case of the Missing Melody."
7:30-8:30 PM ON CBS
<CBS eye>2
"2" is WCBS Ch2, New York. The NYT daily program listing, also on page 51, is:
"7:30-8:30 -- Perry Mason: 'The Case of the Missing Melody,' with Raymond Burr (Season's Premičre) - (2)."
As a check, the Toronto GLOBE AND MAIL listing for Saturday, 30 Sep 61 is:
"7:30 4 - Perry Mason (Season debut). Perry investigates a blackmailer's murder."
Channel 4 for Toronto was WBEN TV Buffalo, then a CBS TV affiliate.
I think this leaves little doubt that the two preceding episodes aired in Sep 61 (124 & 125) were "holdbacks" from Season 4 and that this ep#126 was the first-aired of the episodes from the Season 5 production. Added by Gary Woloski, 2/21/13.
+This makes sense since two episodes of the third season were also held back to the following season making the fourth season have only 26 episodes when those 2 episodes are returned to the third season (which only had 26 episodes). Now that two episodes are taken from the 30-episode fifth season, the fourth season has regained 2 episodes and no season has fewer than 28 episodes. Submitted by Wiseguy70005, 3/18/13.
Walter Burke appears in this episode again with Bobby Troup. Previously they were in TCOT Jaded Joker Submitted by HamBurger 10/05/2014
There is a strange line which seems to be cut off. When Templeton Courtland is discussing the previous night with Perry in his office he says "I heard [Polly] accept an invitation to go nightclubbing with Sherwin and ..." It almost sounds as if he said Enid but she wasn't there then. Since he mentions Sherwin and Midge, the only other person with them was David Gideon. Even the closed-captioning doesn't attempt to fill in the blank. Submitted by Wiseguy70005, 1/7/15.
Lorrie Richards' birth year: The current IMDb page for Lorrie Richards (who played 17-year old Midge) gives her birth year as 1921, which would make her about 40 years old at the time of this episode! This would be 18 years before Jo Morrow, who played her older sister, was born. This must be a mistake. Perhaps it should have been 1941. All her acting credits are in 1961-62. Submitted by Wiseguy70005, 1/7/15.
+ Her IMDB page also states that her "stage name" was created by using the first names of her two children, Lorrie and Richard, so I think that 1921 could be correct. Based on that info, it seems like she started her career after raising her two kids. Submitted by mesave31, 01/12/15.
+ You don't have to be 40 to have two kids. Why would they hire a 40-yr old actress to play a part with a specifically-mentioned age of 17? No 20-yr old actresses in Hollywood at the time? Submitted by Wiseguy70005, 1/14/15.
+ According to the current IMDb, this episode was the only PM appearance for both Jo Morrow and Lorrie Richards. According to IMDb, Morrow and Richards were born about a week apart in 1939. Morrow's birthplace is listed as Texas, while Richards' birthplace simply says USA...MikeM. 12/30/2016
+ IMDb update: Jo Morrow was born in Cuerro, Texas; Lorrie Richards in Anaheim, Ca. jfh 19Jan2018.
+ Since IMDb corrected its earlier error, we now know that Lorrie Richards was 22 years old when she played 17 year old Midge. Submitted by catherine yronwode 1/20/2018
Another (minor) Three Stooges connection: In addition to Kenneth MacDonald and Connie Cezon (and a few others) appearing with the Stooges, Jo Morrow acted in the "Doctor Death: Seeker of Souls" movie (1973) which included Moe Howard's final film appearance. Submitted by Wiseguy70005, 1/7/15.
Another phony night scene: The 2:30 am scene outside George Sherwin's apartment building had lots of shadows...from the sun. Submitted by Wiseguy70005, 1/7/15.
This is the only PM appearance for Tony Mafia...MikeM. 9/23/2016
It's also the only appearance for James Drury. A year after this episode, he would begin a (rather Burr-esque) nine-year run as The Virginian. The New York native died just this week. Notcom, 041220.
This is the third of three PM appearances for Grant Richards who, according to Wikipedia, died on 4 July 1963 in Los Angeles, the result of a car accident...MikeM. 12/30/2016
TCOT Curious Coffee Set: Templeton Courtland has possession of the Curious Coffee Set in his mansion at 8:08. Then at 42:20, Della enters Perry's office (from the outer office) with the Space Age metallic carafe, wearing a party dress (!) and serves coffee to everyone from the curious cups. Submitted by catherine yronwode 1/20/2018
TCOT Precarious Pomade: I recognize and respect the many complaints about this episode (in particular the musical ones), but mostly I like it. But in watching for the umpteenth time, I noticed that in the wrap-up, in the chapel after the vows are struck, Perry and David, both loaded with Brylcreem or Vitalis, are standing perilously close to a candelabra trio of flaming candles. I hope the crew was standing by with precautionary CO2. Dutifully reported from New York City, JohnK, 11 May 2022.
Comments

Edit
Love the jazz music in this episode! And how nice of Perry to compare the fictional Eddy King to the real David Brubeck! Submitted by gracep, 11/23/2010.
Also a nice jazzy playing of the Perry Mason theme (@ 29:08) while Jonny is "waltzing around" downstairs in the apartment building. Submitted by Wiseguy70005, 1/7/15.
Eddie King's yearly income of $100,000 is equal to about $840,000 today. Not bad! DOD 10/23/19
Loved the jazz combo, but if I were in that club, when that gal started singing I'd head for the parking lot for what Tragg would call a "tea" break. As I recall, that sort of over-the-top vocalizing was au courant at the time. Submitted by francis, 4/23/12.
+ I agree with you. It is cringe-inducing. Submitted by 65tosspowertrap, 10/5/2013.
++ Ditto. Constance Towers has a "Broadway Belter" voice (and delivery) and the song setting calls for a more subdued intimate style of singing. It's too bad they didn't get Julie London--Bobby Troup's wife and a terrific vocalist--to play the part of Jonny/Joanie. Submitted by BobH, 23 September 2016.
+++ OMG, I thought I was the only one who felt that way. I STILL have problems listening to her "singing". I don't know about "Broadway Belter", but her loud voice, while it has a "vibrato", has absolutely no tone or timber, and isn't even on key.
++++ IMHO her singing is competent, but wholly unsuited to that intimate space and that repertoire. Her training was obviously for huge auditorium spaces. She certainly doesn't need that mike in the club! And, I must admit, I don't particularly care for it either. OLEF641 3/23/21
I'm sorry to have to say this, but, she sounds like a puppy yapping when she ends that song "Luf!", and that last song sounded like she was trying very hard to find the note she was supposed to hit.
+++++ I just watched the Ed Sullivan Show on MeTV. This song was sung by Leslie Uggams. I was wondering where I had heard that song before. When she sang the words "The Man I Love" I immediately recalled this episode. Kilo 10/10/2021.
I really wish they had dubbed over it with someone who COULD sing because it's a shame to listen to that voice for the rest of my life whenever i see this episode. :-D . Submitted by Arisia, 03/20/18
TCOT Screeching Songstress Like the above commenters, I find Towers' singing unbearable. Thank goodness for DVDs! I fast forward through her OTT performances. Even her wiggling as she squeals is annoying. Submitted by JazzBaby, 9/11/2019.
An amplification, if that is an appropriate word: Constance Towers sings the 1924 song "The Man I love", by George and Ira Gershwin. Per Ira's book "Lyrics on Several Occasions", the song was originally for Adele Astaire in "Lady, Be Good!", and it was cut from that musical before it reached Broadway. Constance also sings the 1931 song "The Thrill is Gone", by Lew Brown (lyrics) and Ray Henderson (music), from that year's edition of "George White's Scandals". It was sung by Everett Marshall "Assisted by Rudy Vallee and Ross MacLean" per the playbill. Submitted by (lowercase, with a comma and period) masonite, 03/09/19.
The theme music and titles for the closing credits have changed. There is a shortened version of the theme played showing the director and writer. Then the theme restarts with a title card reading "Perry Mason" (with quotation marks), and it is played a little more slowly than before, definitely re orchestrated a bit. And the "Paisano Productions" card has moved a little, too, and the ident at the end has different music. Submitted by gracep, 11/23/2010.
It is amazing to me that at one time people were required to display their vehicle registration (with their home address) in their vehicle for anyone to see. Privacy? What privacy? Submitted by 65tosspowertrap, 10/5/2013.
Why couldn't the dialog match the picture? Jack Grabba said: "That's me standing behind the doll with the dice." A man was about to throw the dice in the photo. Submitted by H. Mason 11/11/14
+"That's me, standing behind the doll, with the dice." Would it have sounded better to have said, "Standing behind the doll is me with the dice"? jfh 03Oct2016
+ The scene showing the hand holding the picture is called an "insert." It was filmed separately from the scene with the actors to save time. The actors may even have not been looking at the actual pictures at the time. (When Mason places the pictures on a table after Polly shows them to him (after another insert), the pictures are identical.) The scene with Mason and Grabba may even have been filmed before the still pictures were taken. In any event the pictures themselves, the actors discussing the pictures and the scene of the hand holding the pictures could have been shot on different days by different people and by the time the discrepancy was noticed (if it were noticed) it was too late to redo any of the filming (or they just figured no one would notice.) Submitted by Wiseguy70005, 1/06/15.
Amazing that Perry could hear what was on the tape he found since he doesn't seem to either thread the tape to play nor unthread the tape after Paul Drake busts in. Although all we see are his arms he doesn't seem to make enough movements and take enough time to remove the tape that had been playing without rewinding it (on two reels), get an empty take-up reel, thread the new tape and play it. When Bongo tells Perry to erase the tape, it is presumably still on both reels since it had been playing (and needs to be to be erased). After Paul enters, we see Perry's right hand doesn't move at all and the next thing he does is remove the reel already rewound from the recorder. Submitted by Wiseguy70005, 1/06/15.
The "night janitor's" observational powers don't seem to be too great. Despite being positive of his identification, he has confused Jonny with Polly who look nothing alike, even at 2:30 am. Submitted by Wiseguy70005, 1/7/15.
Fourth Hand Smoke Although a rumor that the following cautionary label
Surgeon General's Warning: Viewing of This

Episode May be Hazardous to Your Health
was once required before this show probably isn't true, it sure does have a lot of smoking: practically every character who has more than a few seconds airtime - except Della, of course - indulges, smoking scenes are integral to the plot, and a brand name (albeit fictitious) is mentioned several times...I felt like showering afterward !! Submitted by Notcom, 121915.
Making things easier - you could have cartons of cigarettes delivered by your neighborhood drug store! DOD 10/11/18
+I smoked for 36 years, and I would frequently light up when somebody on tv had a smoke. I've had many cigarets with Paul Drake, Dr. Richard Kimball, and IMF's Barney Collier. Submitted by DyNama, 1/16/2016. (P.S., now I vape.)
Polly's reasons for not marrying was a real slam against jazz musicians. I wonder if that was the common opinion then. Beatnicks were not often not well portrayed either. Submitted by Perry Baby 1/12/16

Correction to The Perry Mason TV Show Book: should read "Perry and Della", not "Perry and Delta". jfh 03Oct2016
+ Another correction: Polly was only about halfway to the altar, if any (she was by the 4th pew, where Sherwin was holding the envelope for her to see) when she shouted "Oh no no no!" and ran out of the church. A marriage ceremony was later performed near the piano, with no altar in sight. Submitted by (lowercase, with a comma and period) masonite, 03/09/19.
Some comments on costumes - Tragg trades in his usual rumpled suit for a rather sharply tailored jacket and slacks. Likewise Paul Drake, who eschews his usual light textured jacket for a similar outfit. Perry's favorite tie, the one with the broad dark diagonal with a small medallion in the middle, makes its appearance in the final courtroom scene. Can't recall ever seeing Della in a hat before, and what is that pattern on the dark dress at the end? Looks like ladies holding shopping bags. DODay 9/29/17
+ Umbrellas. jfh 19Jan2018
At this time, a woman wouldn't dream of going to church without wearing a hat. My mom used to wear a hat just like Della's. When fashions started to change several years later, some spiritual leaders actually had to make statements making it okay for women not to wear hats to church! Submitted by Unilou 4/25/22
The "two negatives" found in Bongo'a apartment weren't negatives at all. They were prints with the images reversed. Submitted by Kilo 6/27/2018.
As some have commented on other episodes, I find this one unbearably artificial and dated. All those "uncool" actors talking stiltedly in slang...the lathering on of jazz as background music in every single scene...and, of course, not one African-American in sight when jazz was one area where, sometimes, the races could cross paths. Our beloved show made some subtle attempts at inclusiveness over the years; this was a great opportunity missed. Grumble, grumble. And--lastly--the complicated plot and its resolution made almost no sense to me. At a minimum, it was emotionally unsatisfying, given the rotten things some of the non murderers had done. Submitted by JazzBaby, 9/11/2019.
<< Impatient Partner | Episodes | Malicious Mariner >>