Show125
<< Jealous Journalist | Episodes | Missing Melody >>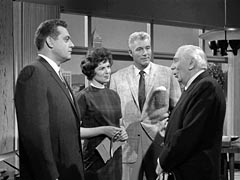 #125: The Case of the
Impatient Partner
Original Airdate: 09/16/61
From The Perry Mason TV Show Book
Wesley Lau, who would later go on to play a starring role as Lt. Anderson in the Mason series, plays Amory Fallon, a paint manufacturer who suspects his partner of embezzling from his company and sleeping with his wife.
When Fallon decides to confront his partner he makes the mistake of drinking too much beforehand. He passes out near the guy's apartment, and when he comes to, his partner is dead. Faced with a murder charge, not to mention a hangover, Fallon retains Perry.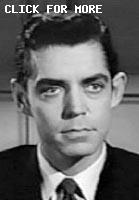 Opening
Starring Raymond Burr
in The Case of THE IMPATIENT PARTNER
Based upon Characters Created by Erle Stanley Gardner
Barbara Hale, William Hopper, William Talman, Ray Collins
Trailing
Directed by Arthur Marks
Written by Adrian Gendot
Art Seid | Producer
Gail Patrick Jackson | Executive Producer
Produced by The CBS Television Network in association with Paisano Productions
Jackson Gillis | Story Consultant
Raymond Burr as Perry Mason
Barbara Hale as Della Street
William Hopper as Paul Drake
William Talman as Hamilton Burger
Ray Collins as Lt. Tragg
Cast
Ben Cooper as Frank Wells
Leslie Parrish as Vivian Ames
Wesley Lau as Amory Fallon
Lucy Prentis as Edith Fallon
Peter Adams as Ned Thompson
Mary Young as Mrs. Murdock
Cheerio Meredith as Mrs. Temple
Jack Betts as Bert Nickols
Dan Seymour as Carlos Silva
Chet Stratton as Charles Grant
Barney Biro as Judge
Charles Stroud as Court Clerk
Paula Courtland as Margo
Uncredited Actors
Lee Miller as Sgt. Brice
Robert Wegner as Police Officer
Crew
Production Supervisor … Dewey Starkey
Director of Photography … Robert G. Hager
Art Direction … Lewis Creber
Assistant Director … Robert G. Stone
Film Editor … Richard H. Cahoon, A.C.E.
Casting … Harvey Clermont
Makeup … Irving Pringle
Hair Stylist … Annabell
Wardrobe Supervision … Ed McDermott, Evelyn Carruth
Set Decoration … Charles Q. Vassar
Sound Effects Editor … Gene Eliot, M.P.S.E.
Music Editor … Gene Feldman
Properties … Ray Thompson
Production Sound Mixer … Herman Lewis
Script Supervision … M.E.M. Gibsone
Sound … Glen Glenn Sound Co.
Titles and Opticals … Pacific Title
Perry Mason \ A Film Presentation
A CBS Television Network Production
Cheerio Meredith makes her only appearance on Perry Mason in this episode playing Mrs. Temple. Cheerio Meredith began serious acting at the age of 65 and is best known for playing Emma Brand on The Andy Griffith Show. Submitted by PaulDrake33, 3/6/2009.
The previous episode, 'Jealous Journalist', featured two other 'Andy Griffith' regulars, Denver Pyle and Parley Baer. DOD 11/05/20
Two UNSEEN characters in this story: Mr. Green, neighbor of Thompson, mentioned by Drake and Claudia Bruce, woman with Nichols in the bar. Submitted by WJones 6/10/16.
Sightings: A trio of regulars makes an appearence in this episode. As Hamilton Burger has Mr. Grant on the stand, we can see the Distinguished Gentleman #1 sitting next to the guard by the main entrance. And a subsequent close-up of Bert Nichols looking on shows both Pencil Mustache Man and Little Old Lady #1 sitting behind him. Submitted by Kenmore, 9/12/2010.
+ Quiet Old Man #2 is also in the gallery on the defendant's side, while "Miss Carmody" and "Sasha Magaloff" are sitting together on the prosecutor's side. The elusive Distinguished Lady #1 also appears on the prosecutor's side in some shots (but not others), along with Little Old Lady #2. Quite a collection of favorites from the Who Is That? page! Submitted by gracep, 11/22/2010.
+ "Sasha Magaloff" is now known to be the actor Mitchell Rhein. Submitted by catyron, November 16, 2020.
+ Distinguished Gentleman #1 makes an even earlier appearance. At then end of the workday, as Bert Nickels comes out of Fallon Paints, the Gentleman, sporting a hat, scurries down the stairs behind him—obviously anxious to get home. Submitted by gracenote, 6/3/2011.
Location: About 4:15 minutes into the episode Paul pulls his convertible around to Fallon Paints. What he is actually doing is driving around the studio where Perry Mason is being shot. In reality, Paul enters the scene from 1000 N. Seward and hangs a right onto 6600 Romaine. If you compare the Google street view to the episode you will see the exact same windows, 4 grooves in cement between the windows. You can even see the exact window pattern on the Seward Street building behind him that has the giveaway "Studio" signage. The square block Hollywood Center Studio still exists, and its history is covered in other episodes on this wonderful website. Lastly, the tarp over the building by the entrance was probably to cover studio signage they couldn't remove. Submitted by Eric Cooper, 20 May 2011.
Character Names: We learn early on that Mrs. Temple's first name is Agnes. Submitted by gracenote, 6/3/2011.
Uncredited Actors: When Ray Collins answers the door at the crime scene, Sgt. Brice (Lee Miller) and a uniformed police officer (Robert Wegner) are busily working and conferring in the background. Submitted by gracenote, 6/3/2011.
CARS. (1) Paul's black 1961 Thunderbird Convertible, top down.
Background Cars: (a) 1957 Dodge Sierra 4-Door Station Wagon, light color w/ roof rack. Parked, seen as Paul arrives at Fallon Paints on his 1st visit (see "Location" entry above).
The appearance of current-year Buicks continues again here in Season 5; PM's use of the latest Buicks started in Ep#70 (1st ep of Season 3, aired 10/03/59). Added by Gary Woloski, 1/4/13.
+ In production terms this episode is still in the fourth season. CBS held it (and the previous episode) over for a September broadcast. Submitted by Wiseguy70005, 11/30/14.
Business for Perry: For the fifth time Paul sent a client to Perry. Submitted by H. Mason 11/11/14
This is the second of three PM writing credits for Adrian Gendot...MikeM. 9/22/2016
According to imdb, this is not just the only PM appearance for Paula Courtland, but it is her only acting credit ever...MikeM. 12/29/2016
This is the second of three PM appearances for Leslie Parrish, who was married to Ric Marlow from 1955-1961. Ric Marlow co-wrote the hit song "A Taste of Honey", which won a Grammy award in 1962...MikeM. 12/29/2016
This is the first of four PM appearances for Jack Betts, who may still be working at the age of 88...MikeM. 9/28/2017
In this episode, at least, he has a startling resemblance to a young Clark Gable. DOD 11/05/20
In the final scene Perry states he believes in what Judge Learned Hand (1872-1961) called the "eventual supremacy of reason." Judge Hand stated, "I believe that the community is already in process of dissolution where each man begins to eye his neighbor as a possible enemy, where non-conformity with the accepted creed, political as well as religious, is a mark of disaffection; where denunciation, without specification or backing, takes the place of evidence, where orthodoxy chokes freedom of dissent; where faith in the eventual supremacy of reason has become so timid that we dare not enter our convictions in the open lists, to win or lose." Submitted by Steve Fox, 4/18/2020
Comments

Edit
Arthur Marks, perhaps to give himself some variety in directing a fairly formulaic show, gave us some nice camerawork here. There is a wide shot of Paul's office (perhaps the most inclusive of the series). Note especially the overhead and moving crane shots in the courtroom. See also the nice closeup on Mason as he makes the final turn to confront the killer. The final reveal is a bit of an overly-dramatic reading for the character, but overall this is a nice show to view. cgraul 7.23.12
+ I think the "reveal" in this show is one of the funniest things in all of Perry Mason. I burst out laughing the first time I saw it. 65tosspowertrap 8-8-13
+This is my favorite overacting reveal also. I always make sure to watch it when it comes around. bob61571 15 Feb 2019
About those glasses: Those eyeglass frames Frank Wells sports are typical of those worn by actors in early TV; there's no glass in them -- the better to avoid glare from the studio lights -- but they're so fake looking they detract from the believability of the character. And in the case of Mr. Wells, their exaggerated size doesn't help. Submitted by francis, 9/29/14.
+ I just noticed that Frank's glasses DO have lenses in the scene where Paul barges in on Amory and Frank in Amory's office. Kilo 9/25/2020.
+ It also doesn't help believability any when actors wear glasses with flat pieces of glass, especially when those studio lights are reflected in them. Submitted by Wiseguy70005, 11/30/14.
Same Mistake: Paul didn't learn anything in episode 75 (Paul Drake's Dilemma). Again he thought he was being played for a sucker and went to confront Amory Fallon. This time there wasn't a murder. Submitted by H. Mason 11/11/14
The Storm Before the Calm country music fans are probably familiar with the current song I Got the Boy, in which is expressed the sentiment "I got the hot head...she got the cool and steady hand": much the same can be said in comparing Wesley Lau's performance here with his later long-running role as "Andy" Andersen (the killer here, meanwhile, manages to demonstrate both calmness and hysteria...maybe all those paint fumes got to them both). Good though he was in the later role - and I don't think much more than one episode of this kind of emotional volatility would have been tolerable - it's nevertheless pleasing to see Lau given a part with a little more range. Submitted by Notcom, 121815.
This episode borders on self-parody. We get some over-the-top histrionics, (sorry, Mr. Lau), Perry deduces an elaborate scenario with virtually no clues, and, wow, is that a dramatic confession! DODay 9/27/17
Actually, this is one of the relatively few episodes that I was able to zero in on the killer well before Perry explained everything right at the end. It's not much of a leap to put together doctored books, a visit to the apartment of the victim told in court, and the presentation of a false alibi several minutes before Perry puts it together for us. There is a nifty red herring bit of putting another witness on the stand, but overall I found the episode to be pretty good. The over-the-top confession was the cherry on the cake. Submitted by Kenmore 09/10/2023
<< Jealous Journalist | Episodes | Missing Melody >>