Show131
<< Pathetic Patient | Episodes | Posthumous Painter >>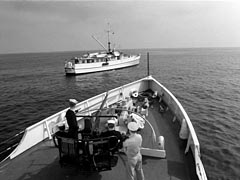 #131: The Case of the
Travelling Treasure
Original Airdate: 11/04/61
From The Perry Mason TV Show Book (Revised)
Perry is all set to go deep-sea fishing with Paul aboard the Viajero II, a fishing boat out of San Diego owned by Perry's friend Scot Cahill. But when Cahill's regular customer has the boat for the weekend, Perry has to charter another boat. Later, Perry gets a ship-to-shore phone call from Scot. The Coast Guard, acting on a tip, boarded the Viajero II looking for gold stolen from the Alchemy Mine. They found some bullion-and a dead man, Karl Magovern. Later, the autopsy reveals the stiff was killed with a fatal dose of digitalis. Worse, the police charge Scot with the murder, thinking he and the murdered man were partners in stealing the gold bullion.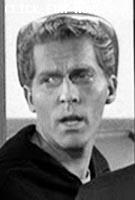 Trailing
Directed by Arthur Marks
Written by Robb White
"Perry Mason"
Art Seid | Producer
Gail Patrick Jackson | Executive Producer
Jackson Gillis | Associate Producer
Produced by The CBS Television Network in association with Paisano Productions
Samuel Newman | Story Consultant
Raymond Burr as Perry Mason
Barbara Hale as Della Street
William Hopper as Paul Drake
William Talman as Hamilton Burger
Ray Collins as Lt. Tragg
Cast
Jeff York as Scot Cahill
Lisa Gaye as Rita Magovern
Arch Johnson as Karl Magovern
H. M. Wynant as Max
Vaughn Taylor as Prof. Sneider
Ron Kennedy as Ben Wylie
Jack Searl as Leon Ulrich
Addison Richards as Smith
Baynes Barron as Charlie Bender
Hardie Albright as Jones
Frank Gerstle as Allen
Richard Adams as Jaygee
Jim Drum as Ambulance Driver
Nacho Galindo as Mexican Bartender
Robert Whiting as Assistant
Gil Frye as Police Officer
Lee Miller as Sgt. Brice
Tony Miller as Second Seaman
Richard Geary as First Seaman
Tom Harkness as Judge
Lionel Dante as Watchman
Uncredited Actors:
Don Anderson as Captain Andrews
Frank Mills as Courtroom Spectator (from IMDb)
Crew
Technical Advisor … Cmdr. Robert C. Cannon, USCGR
Director of Photography … Robert G. Hager
Art Direction … Lewis Creber
Assistant Director … Gordon Webb
Film Editor … Richard H. Cahoon, A.C.E.
Casting … Harvey Clermont
Makeup … Irving Pringle
Hair Stylist … Annabell
Wardrobe Supervision … Ed McDermott, Evelyn Carruth
Set Decoration … Charles Q. Vassar
Properties … Ray Thompson
Production Sound Mixer … Herman Lewis
Script Supervision … M.E.M. Gibsone
Titles and Opticals … Pacific Title
Perry Mason \ A Film Presentation
A CBS Television Network Production
Watch the service ribbons on that Coast Guard lieutenant after he finds the victim on the fishing boat. Submitted by Tom Lewis, 11/17/2004.
Perry mentions that he once served on a minesweeper. That was originally revealed (also, during WWII south Pacific) in episode #120 "Misguided Missile".Joe B. 01/24/2020
+ Just before he enters the room as well. Submitted by Wiseguy70005, 2/15/15.
+ Are those Captain bars on the collar of that Coast Guard officer? Submitted by H. Mason 11/13/14
+ They are Captain's bars on his collar, but only in the Army, Marine Corps, and Air Force. In the Navy and Coast Guard they are Lieutenant's bars. Either way it is still the same rank, pay grade O-3. Crunchy 3 Mar 2020
Nearly positive about this…Perry and Paul are deep-sea fishing off the back of a boat. Perry gets a bite and we see a Marlin jumping and skipping across the water. That clip of the fish is from the Bogart/Bacall movie To Have and Have Not. By odd coincidence, we saw the episode and the movie on the same day! Submitted by email by Mike Fried, 11/8/2007. Posted by daveb 3/3/2008. A video clip and pictures can be found here.
I wonder if that establishing shot of the Mexican village also came from that movie. DOD 11/13/20
Sightings: The Pencil Mustache Man appears in the courtroom sitting in the row behind Perry in the seat nearest the window. Submitted by Kenmore, 9/19/2010.
+ In a couple of cutaways to the coutroom gallery, we catch glimpses of the Little Old Lady in a Hat and of "Sasha Magaloff. Read more about all the favorite frequent faces. Submitted by gracenote, 6/17/2011.
+ "Sasha Magaloff" is now known to be the actor Mitchell Rhein. Submitted by catyron, November 16, 2020.
Uncredited Actors: Don Anderson appears as Captain Andrews, the charter boat skipper recommended by Capt. Cahill when he has to cancel his charter with Perry and Paul. Capt. Andrews calls Mason to the radiophone to take Cahill's call, but the voice was dubbed by another actor. Submitted by FredK, 3 Nov 2010.
PM Movie/TV Crossover: In the role of Smith, one of the bosses at Alchemy Gold Mines, is actor Addison Richards. He also appeared in PM #7, TCOT Angry Mourner, as the attorney of statuesque Marion Keats who gives the episode its name. Here's the point: Years earlier, Richards played the judge in Warner Brothers' 1934 production of TCOT Howling Dog. The film version starred Warren William as Perry Mason, young Mary Astor as defendant Bessie Foley, and lovely Helen Trenholme as Della Street. The movie is worth a look - before the imposition that year of the Hays Code (if you know what I mean). Submitted by JohnK, 19 January 2019
The footage of Perry and Paul fishing off the stern of the boat and Don Anderson calling Perry to the phone [see above item] seems to have been lifted and reused in episode #229, TCOT Telltale Trap. Submitted by FredK, 15 Nov 2010.
Karl Magovern lives at 167 Carillo, a street near the triangle where San Vicente meets Olympic, just south of West Hollywood and Beverly Hills, a street with entertainment and talent agencies. But the addresses there do not include 167. Submitted by cgraul, 11/2/2011.
CARS. (1) 1957 Chevrolet 210 2-Door Sedan, Lic MNR 620, all black, Leon Ulrich. Straight-6 engine (not V8: no large, wide "V" on hood & trunk lid). It's the cheapest model in Chevy's mid-price range @ $2122. Rear licence plate frame seen at 15:21 indicates that the car was bought in Manhattan Beach, Cal. The dealer's name and the annual validation sticker on the rear plate have been taped-over.
There are too many background cars in the dock scenes to list, but three cars do stand out:
(a) At 3:36, in the distance over Ulrich's left shoulder, is a black '61 Thunderbird with a white top. Behind it there's a very long medium-colored older car. The black TBird could be Paul Drake's '61 Convertible (Paul & Perry step onto the dock with their fishing gear seconds later): in Ep#142, we finally get to see that the convertible top of Paul's '61 TBird is, indeed, .
(b) At 4:39, the TBird is gone (so are Paul & Perry, who have gone for breakfast). The very long car now appears to be an early-50's 8-Door Airport Limousine which I can't further identify (of this type but a few years later in style).
(c) The location for Paul's visit to Mexico is established by a village street scene backed with appropriate music (38:50). The car driving into the scene is a mid-30's Buick Sedan with side-mounted spares and "Trunk-back" body. Note the distinctive trunklid badge. My best guess is that the car is a 1936 Buick Model 41 Four-Door Trunkback Touring Sedan. Photos of similar Buicks: i, ii, iii, iv, v.
Perhaps Cars (a) & (b) carried cast & crew to the Location Shoot. Added by Gary Woloski, 1/28/13.
Serrano Street: When Leon Ulrich was looking in the phone directory for Karl Magovern's address the listing above Karl's was for Peter Magorian, 475 North Serrano. In episode 51, TCOT Shattered Dream, Irene Bedford lived at 813 West Serrano, Apt. 5B. Does the street run East-West or North-South. Is it a real street or a fictional street? Submitted by H. Mason 11/13/14
+ Hey Mason! Why don't you get off your butt & do a little research?
+REPLY: What's the answer? I asked a couple of reasonable questions and I got a useless response from somebody who won't even sign their name. Added by H. Mason 11/14/14
- typing the address into the google box takes 15 secs! Your laziness means that you are not allowed to complain.
++ Four years later: Serrano street runs North and South. North is north of the Hollywood Freeway. Submitted by catyron, 2.6.2018.
+++ It quickly became common practice in tv and movie production to use real street names with fictitious numbers or other designations to fictionalize an address. As a native of Los Angeles it was always amusing, when watching a location-heavy show like Emergency, to hear that something had happened at the corner of -- two streets that ran parallel in real life! This also reminded me of another fun bit of trivia: I had a friend who used to live in Burbank. The house they were renting had originally been on NORTH Whatever Street. By the time they lived there it was on EAST Whatever Street (I don't remember the actual street name); in that part of Burbank the streets run pretty much at a 45° angle to north and south, and the city had, at some point, redone the NSEW designations for that part of town. OLEF641 3/27/21
Closed-Captioning Anomalies: At the start of Ben Wylie's testimony (@ 33:17 on the CBS/Paramount set) he states "Macgovern was aboard by 6:00pm so it must have been about five after [6:05] when we tied up at the gas dock." The closed-captioning states "...it must have been about 5:00 when we tied up..." The closed-captioning also spells Cahill's name as "Scott" even though it is spelled "Scot" in the closing credits. Submitted by Wiseguy70005, 2/15/15.
+ The sign at the dock reads "Scott Cahill". jfh 06Jan2017.
++ Closed captioning added to shows like this, produced before cc existed, is usually done by someone listening and writing the dialog down, or by voice-recognition software, so there are going to be occasional anomalies - I'm just surprised there aren't more of them. OLEF641 3/27/21
This is the first of eight PM writing credits for Robb White. White was born in the Philippines in 1909, the son of American missionaries. He graduated from the US Naval Academy and was a Navy pilot during World War II. His Wikipedia page has a lot of interesting information about his life and writings...MikeM. 9/30/2016
This is the third of seven PM appearances for Lisa Gaye, who was the sister of actresses Debra Paget and Teala Loring...MikeM. 1/6/2017
H.M. Wynant joins Walter Burke in having played both a prosecutor and a suspect in various episodes. DODay 10/04/17
In the Magovern apartment we get a brief glimpse of reproductions of Navajo sand art. This was a popular motif at the time. The cocktail lounges on both the SS United States and Santa Fe Super Chief had similar pictures. DOD 11/13/20
The yacht Viajero II started out as the submarine chaser, PC-728. It was commissioned 8 Mar 1943 and reclassified as SC-728 the next month. It was decommissioned 10 Dec 1945. In 1952 it was bought by William Kesling of Long Beach, CA and named Viajero II. The yacht was later sold in 1956 and 1957. While there are no known photos of SC-728, here are some of SC-729. Submitted by Steve Fox, 4/21/2020
The Coast Guard vessel is an Active-class patrol boat, originally built to enforce prohibition laws in the 1920s. Submitted by vgy7ujm on 22 May 2020
It's for you, Mr. Mason: Perry takes a boat-to-boat call when Captain Cahill gets in trouble. submitted by vgy7ujm on 14 June 2020.
Perry Mason for Dummies perhaps not unique - but certainly unusual - this episode makes use of a number of intertitles...presumably to help the audience follow the action; why this was done isn't clear - to my anyway - since the plot isn't particularly complicated. Notcom, 033021.
Comments

Edit
Hallmark Movie Channel is showing another two-hour modern PM today. During the first hour, the FIOS information showed a description of this episode, #131, but during the second hour, the correct two-hour description was shown. I guess this means no original one-hour PMs until who-knows-when. Submitted by MikeM, 1/29/2013.
This episode is part of the Hallmark Movie Channel PM marathon today. Submitted by MikeM, 2/16/2013.
Sadly, I didn't see Della at all in this episode (the butchered syndicated version broadcast on MeTV). However, her absence was nicely compensated by the presence of the astonishing Lisa Gaye. Submitted by DellaFan, 10/10/2013.
+ TT was the 4th of her 11 absences. "During her time on 'Perry Mason,' Ms. Hale was known industry-wide for her screams. 'She has the best shriek in Hollywood,' Raymond Burr once said" [IMDb]. William Shatner was known as the Male "Fay Wray" for similar reasons. Mike Bedard 3.18.15.
+ You got that right, @DellaFan, Lisa Gaye is a fantastic beauty! Lisa was in 7 episodes of PM, and they are all among my favorites! I especially like the "casual" dress Lisa wore around the Carrillo Drive house in this episode. Submitted by DyNama, 12/4/2013
+ She was also in five episodes of Sea Hunt, where you can see her rocking swimsuits and wetsuits. (Since some Perry Mason fans may also be Sea Hunt fans, I want to mention that official studio-licensed Sea Hunt DVD's have been available for almost the last year. I have the entire four-season set and the quality is amazing. See my review here; I am "Flynt.") Submitted by 65tosspowertrap, 12/4/2013.
+ With Lisa Gaye on screen so much in this episode (and so much of her on screen) it's a challenge to look out for the usual trivia. I'm sure DG1 was in there somewhere, but I missed him. JohnK, 13 October 2015 So, why was her husband "Karl" going to leave her? Joe B. 01/27/2023
This episode is a boater's learning experience, especially if you are new to boating. The trick of reversing your propellers to remove weeds/kelp is one I use ALL the time on my boat at the lake. Whenever we do this at the lake my wife tells all aboard that I am using the Perry Mason maneuver. Submitted by HamBurger, 10/13/2014
Where are the women?: Just as in episode 120, TCOT Misguided Missile, there was only one female character with a speaking part. This story did have extras in the courtroom. Submitted by H. Mason 11/13/14
All that glitters is not gold:
In the beginning of the show, the man who steals the gold has 8 or 9 prop gold ingots in the trunk of his car. Each is larger than a house brick, as shown by the difficulty the man has in getting his open hand around one, to move it. But gold weighs more than 10 times as much as an equivalent volume of common brick. He could never have lifted a real gold ingot of that size with one hand, crouched over beneath the car trunk, the full strain of lifting on his right wrist and forearm alone.

Now, according to the Wikipedia article "Good Delivery", standard gold bars are 350-430 troy ounces each, with a "nominal" weight of 400 troy ounces, or around 28 pounds avoirdupois. Real gold ingots the size of the prop ingots (approximately 25% larger in all dimensions than a standard gold bar) would then weigh twice as much, or about 56 pounds each.

Therefore the 8 or so prop ingots smuggled aboard the charter ship in a crate by the diver, if real gold, would have weighed a total of at least 450 pounds, which one man could never have carried.
Submitted by cspoleta 12/27/2015
Throwing not gold, but their weight around ?? a common problem on PM is the extra-jurisdictional appearance of Lt Tragg; here the problem seems to extend to both Tragg and Burger: if the Viajero II operates out of San Diego, then why aren't the SDPD and the San Diego County DA handling the case ?? (Admittedly the ship could have left San Pedro, but it seems implausible a smuggling operation would want to spend the extra 8+ hours in US waters) Submitted by Notcom, 122815.
Ray Collins appears to be in pain at times when playing Tragg on the boat. Submitted by Tony Perodeau 2/26/2019
Leon Ulrich (Jack Searl) who was crucial to the gold heist part of the episode, never speaks a word despite being featured. ' 'Submitted by Kenmore 08/27/2020' '
<< Pathetic Patient | Episodes | Posthumous Painter >>