Show132
<< Travelling Treasure | Episodes | Injured Innocent >>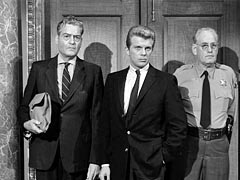 #132: The Case of the
Posthumous Painter
Original Airdate: 11/11/61
From The Perry Mason TV Show Book
Everyone knows that dead artists sell more paintings than live ones do. Jack Culross is an artist who puts that theory to the test. He fakes his own suicide, and sure enough, sales of his paintings go through the roof. Trouble is, he didn't let his wife, Edna, in on the scheme. When she sees a painting of his that she knows he didn't finish, she starts to get wise.
Culross contacts Edna, but they fight and she knocks him down. Later, Culross is found dead for real and at first, Edna's brother is arrested for the murder. Then Edna herself stands accused. Perry takes the case and sets out to determine just who knew the "dead" artist was really alive before he was murdered.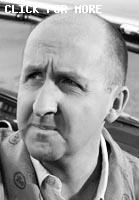 Trailing
Directed by Bernard L. Kowalski
Written by Richard Grey
"Perry Mason"
Arthur Marks | Producer
Gail Patrick Jackson | Executive Producer
Jackson Gillis | Associate Producer
Produced by The CBS Television Network in association with Paisano Productions
Samuel Newman | Story Consultant
Raymond Burr as Perry Mason
Barbara Hale as Della Street
William Hopper as Paul Drake
William Talman as Hamilton Burger
Ray Collins as Lt. Tragg
Cast
Stuart Erwin as Austin Durrant
George Macready as Dr. Vincent Kenyon
Carol Rossen as Linda Burnside
Lori March as Edna Culross
Karl Held as David Gideon
Wesley Lau as Lt. Anderson
Jason Evers as Clint Miller
Britt Lomond as Jack Culross
James Griffith as Walter Hutchings
Nelson Leigh as Judge
John McNamara as Robert Shelby
Vera Marshe as Woman
Don Lynch as Deputy
Paul Barselow as Resident
Chuck Hamilton as Postal Inspector
Uncredited Actors
Bess Flowers as Spectator at Art Exhibit (from IMDb)
Lee Miller as Sgt. Brice (spotted by gracep 12/1/2010)
Crew
Director of Photography … Robert G. Hager
Art Direction … Lewis Creber
Assistant Director … Robert G. Stone
Film Editor … Richard H. Cahoon, A.C.E.
Casting … Harvey Clermont
Makeup … Irving Pringle
Hair Stylist … Annabell
Wardrobe Supervision … Ed McDermott, Evelyn Carruth
Set Decoration … Charles Q. Vassar
Properties … Ray Thompson
Production Sound Mixer … Herman Lewis
Script Supervision … M.E.M. Gibsone
Automobiles Supplied by … Ford Motor Company
Titles and Opticals … Pacific Title
Perry Mason \ A Film Presentation
A CBS Television Network Production
The painting The Three Witches also appears in #187, TCOT Reluctant Model. See appearances here. Submitted by Xanthippe Svanström, 12/24/2003.
Chuck Hamilton, as the Postal Inspector, makes his first of four appearances on Perry in this episode. Even though Mr. Hamilton made four appearances, this is the only one in which his name appears in the credits. Mr. Hamilton was born in 1903, and of this date is yet alive. Mr. Hamilton holds the present record for oldest alumni of the Perry show at 106 years of age. Submitted by PaulDrake 33, 6 August 2009.
+ NOTE: Chuck Hamilton died the day before Christmas, 1978, at age 75. Submitted by cgraul, 11/3/2011.
+ NOTE: According to the IMDb web site Mr. Hamilton appeared uncredited in nine PM episodes. The last one was TCOT Scarlet Scandal in 1966.
Stuart Erwin makes his first of four appearances here playing Austin Durrant. From 1950 until 1955 Mr. Erwin starred in his own sitcom The Stu Erwin Show aka The Trouble With Father. Stuart Erwin was a long time actor who, believe it or not, was nominated in 1937 for an Academy Award in the supporting actor category [The movie for which he was nominated was Pigskin Parade. jfh 19Oct2018]. He lost out to Walter Brennan for Come and Get It. Mr. Brennan was also the star of an early television sitcom The Real McCoys. Submitted by PaulDrake 33, 24 November 2009.
Sightings: Once again, the Little Old Lady in a Hat appears. As Hamilton Burger questions Lt. Anderson, we see her sitting in the back row during a cutaway of David (Gerd Helm) & Austin Durrant (Stuart Erwin) as they watch from the gallery. Submitted by Kenmore 9/13/2010.
+ Distinguished Gentleman #1 is also observing in the courtroom today. Read more about him and other regulars on the Who Is That? page. Submitted by gracep 12/1/2010.
This episode makes the fourth appearance of Karl Held as David Gideon—which he will repeat another five times, for a total of nine. Submitted by gracep, 11/22/2010.
Character Names: Clint Miller's middle name is Robert. Submitted by gracep, 12/1/2010.
Location: Durrant Art Gallery building was at 23732 Malibu Road near the intersection of Webb Way and PCH, which was down the hill just a couple of hundred yards from where Raymond Burr lived at the time. Its currently Pritchett Rapf Reality. Posted by Eric Cooper, 10 April 2010.
When Hutchings slams the door at the end of the scene where Paul and David interview him outside his apartment, the entire wall behind him (look closely) vibrates. Shoddy construction I guess. Submitted by daveb, 4/14/2011.
Location: About 6 minutes in, there is an exterior shot of Malibu Road and then, as the guy enters, "24246" is visible on the gate where Jack Culross is painting. All this makes perfect sense. The house still exists and is just a few houses south of where Raymond Burr lived at the time making the shoot very easy for him to make his call time. Submitted by Eric Cooper, 23 May 2011. Some pictures here.
+ Since Raymond Burr didn't appear in that scene, he didn't have to be there at all. Submitted by Wiseguy70005, 2/23/15.
While Edna tells Perry her story, on the desk sit a cup and saucer from the Curious Coffee Set. Submitted by gracenote, 6/21/2011.
Once again, there is no Lt. Tragg even though Ray Collins receives credit for playing him. Submitted by gracenote, 6/21/2011.
CARS. (1) 1959 Buick Invicta Convertible, medium color w/similar color top, Lic No VBZ 553, Jack & Edna Culross. Seen several times, top up or down, with three different drivers. Invicta badge on fender forward of front wheel can be seen at 24:14. Invicta was the mid-range Buick series from 1959-63. It had a higher trim level and larger engine than LeSabre.
The two Sheriff's Deputies are wearing LA County shoulder badges but yet again have incorrect Cap Badges (#'s 2336 & 6358). They should be wearing the LA County badge that Gordon Jones wore in Ep#113. Another improperly dressed Deputy was in Ep#106. Added by Gary Woloski, 1/30/13.
Magic Hyphen: When Jack started to write his note there was a dash behind the name Edna. When he attached the note to the steering wheel it was gone. When the man (who folded the note) handed it to the police the mark was back. Submitted by H. Mason 11/13/14
+ Actually, three different notes were involved. The two with the hyphen are also different. In the first one, the horizontal lines of the 'E' are not parallel to the top of the page, the letters are taller and the hyphen is shorter and extends from the center of the 'A'; in the note the man hands to the police the letters are shorter, the hyphen is longer and extends from the bottom of the 'A.' Submitted by Wiseguy70005, 2/23/15.
+ More to the point, when he's writing the note, he holds the notepad in landscape orientation and writes in landscape orientation too. When he is clipping the note to the steering wheel, it's in portrait orientation as is the writing. Submitted by Clothears 05-Oct-2021.
Another inaccuracy from "two of [Perry Mason's] greatest fans" in the description of this episode. The book states that Edna "got wise" to the fake suicide from seeing the finished painting. Actually, she thought the painting was a fake, as she later tells Perry Mason in his office. [And don't say the book was written before the episode could have easily been viewed by the writers. VCRs were available (though expensive) during the time the book was written and "two of his greatest fans" certainly should have been familiar with an episode which had been in syndication for the previous 20 years.] Submitted by Wiseguy70005, 2/23/15.
Size Matters: When the search party of Perry, Paul and David are in the gallery parking lot (at about 23:45 on the DVD), Paul notes traces of a small caliber gun having been recently fired. But we've see the gun, at 21:00, and it's anything but small -- a Colt 1911 .45 automatic, if I'm not mistaken. JohnK, 13 October 2015
This is the second of four PM appearances for James Griffith, who was also a musician and screenwriter...MikeM. 10/3/2016
This is the last of six PM writing credits for Richard Grey...MikeM. 10/3/2016
This is the second of five PM appearances for Vera Marshe, who appeared in eleven episodes of The Adventures of Ozzie and Harriet...MikeM. 1/9/2017

This is the second of three PM appearances for Jason Evers, who is probably best known for starring in the 1962 cult classic movie "The Brain That Wouldn't Die" as mad scientist Dr. Bill Corter opposite Virginia Leith. jfh 16Mar2020

"A Scarring Coincidence." Two actors in this episode bear noticeable facial scars on their right cheeks. George Macready, whose scar is one of the most famous (and pronounced) in Hollywood history, got his after a college car accident, and being sewn up by a veterinarian. Britt Lomond got his in battle during World War II. Submitted by BobH, 8 March 2017.
Comments

Edit
Irresponsible Journalism: The L.A. Chronicle ran a story about a death before a body was found. Submitted by H. Mason 11/13/14

When the "slasher" escapes in the gallery crowd and Linda Burnside asks whether she should call the police, she stands behind Mr. Durant with her lips moving as though she's speaking to someone off-camera. Can anyone make out what she's saying?
+ Very interesting and very odd. I had never noticed that before. I can't tell if it was intentional or if she was doing it subconsciously mouthing some words. Kilo 6/19/2021.
FINALLY: This show ended the way most of the shows in the series should have finished. The epilogue (or last act) provided information about the other characters guilty of crimes. Too many of the previous episodes ignored the other people after the murdered was revealed. In those stories we were introduced to people and parts of their lives then left in limbo after the killer was caught. Submitted by H. Mason 11/13/14
+ I don't know whether the credit should go to the writer, director, or actors themselves, but we see the various malefactors squirming convincingly in their chairs during the hearing as these bad deeds are revealed. Well done. JohnK 13 October 2015
++ the unISness of it all one of the resolutions is that Durrant (Irwin) is to be charged with fraud, but is he really guilty of that ?? It's true that he participated in a deception, but did it rise - descend?? - to the acutal level of fraud: after all, as Perry pointed out, people purchased genuine paintings...the deception affects whether/not they will rise in value. But speculative losses usually aren't recoverable (would someone be quilty, for example, if they falsely announced they intend to retire...and then didn't). An interesting question on the fine points of the Law, for modern day Perrys - or Davids - to weight in on. Pondered by Notcom, 013018.
A very interesting point - and as there was no suggestion of insurance fraud or an attempt by Culross to evade debtors or in any way cheat his wife, I'm not sure abetting him in faking his death would be a chargeable offense. No doubt, though, Durrant's career in the art world is over. DOD 10/20/18
+ 1. When Hutchings slashed the painting in the Durrant gallery, Durant says that he's going to call his insurance carrier. If he did, there's Durant's insurance fraud. 2. Perhaps by faking his death, Culross cheated his wife out of her community interest of the value of subsequently sold paintings --- there's Durant's complcity in Culross's fraud. just sayin' jfh 28Sep2023

Any PM episode set in the art world is somewhat embarrassing - the supposed masterpieces are always so obviously, well, crappy. Other than that, this is a better than average show, neatly plotted with none of those ludicrous improbabilities that spoil many other shows. The reveal is fun and, on a personal note, I find Jason Evers one very sexy man. DOD 10/20/18
Noir? During two scenes with James Griffith, the director went for truly bizarre camera angles. First, when Paul is questioning him outside the door of his room. The CUs of Paul are at a dramatic downward angle, while those of Griffith are at a serious upward angle, making it appear he is looking over Paul. Later, in the courtroom, same thing. Burger is shown in a most unusual downward angle, while the camera points up at Griffin again. This is a classic technique for making a character look seriously threatening...but inappropriate in both cases. A peculiar aesthetic detail! Submitted by JazzBaby, 03/04/2019
<< Travelling Treasure | Episodes | Injured Innocent >>