Show113
<< Wintry Wife | Episodes | Blind Man's Bluff >>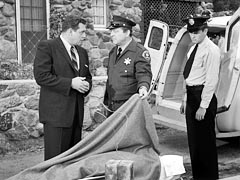 #113: The Case of the
Angry Dead Man
Original Airdate: 02/25/61
From The Perry Mason TV Show Book
Willard Nesbitt is dead and he wants to keep it that way.
He supposedly drowned in a boating accident. But it's almost a moot point—his doctors had told him he only had a short time to live anyway. He wants his delicious young wife Eve to collect on his double-indemnity life insurance policy. But when his crooked business partner illegally cuts Eve out of a $500,000 gold deal, Nesbitt must rise from the dead to warn her. Then someone kills him for good. Eve is naturally a suspect as the police smell insurance fraud. It's up to Perry to set them straight.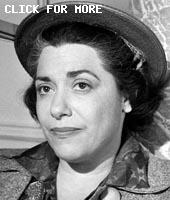 Opening
Starring Raymond Burr
in The Case of THE ANGRY DEAD MAN
Based Upon Characters Created By Erle Stanley Gardner
Barbara Hale, William Hopper, William Talman, Ray Collins
Trailing
Directed by Arthur Marks
Written by Michael Morris
Art Seid | Producer
Gail Patrick Jackson | Executive Producer
Produced by The CBS Television Network in association with Paisano Productions
Jackson Gillis | Story Consultant
Raymond Burr as Perry Mason
Barbara Hale as Della Street
William Hopper as Paul Drake
William Talman as Hamilton Burger
Ray Collins as Lt. Tragg
Cast
Gloria Talbott as Eve Nesbitt
Edward Binns as Lloyd Castle
Les Tremayne as Willard Nesbitt
Gordon Jones as Second Deputy
Carol Ohmart as Jenny Bartlett
James Millhollin as Ben Otis
Frank Ferguson as Prof. Laiken
Naomi Stevens as Fanny Werbler
Karl Held as Bruce Nesbitt
Wally Brown as John Givney
Ray Montgomery as First Deputy
Juney Ellis as Receptionist
Kenneth R. MacDonald as Judge
Phil Chambers as Anderson
Charles Stroud as Court Clerk
Crew
Production Supervisor … Dewey Starkey
Director of Photography … Frank Redman, A.S.C.
Art Direction … Lewis Creber
Assistant Director … Robert G. Stone
Film Editor … John D. Faure
Casting … Harvey Clermont
Makeup … Irving Pringle
Hair Stylist … Annabell
Wardrobe Supervision … Ed McDermott, Evelyn Carruth
Set Decoration … Charles Q. Vassar
Sound Effects Editor … Gene Eliot, M.P.S.E.
Music Editor … Gene Feldman
Properties … Ray Thompson
Production Sound Mixer … Herman Lewis
Script Supervision … M.E.M. Gibsone
Sound … Glen Glenn Sound Co.
Titles and Opticals … Pacific Title
Perry Mason \ A Film Presentation
A CBS Television Network Production
171-124
Goof: Lloyd Castle, on the stand, refers to Jenny Bartlett as Miss Barton. Later, on the stand, Perry correctly calls her Bartlett.
Location: This is another episode shot around Malibou Lake. There are two scenes that show the Clubhouse building. The main differences are the Haven Motel sign and the Coke machine. Submitted by Eric Cooper, 2/12/08, via email. Posted by daveb. A picture of the building and some screen shots can be found here. Read more at The Lakes.
Location: The Nesbitt cabin on the lake should seem familiar to Perry and Della. Perry stayed there in the TCOT Angry Mourner. It was also used again in TCOT Watery Witness. Altogether, we get a pretty good sense of the property. I'm guessing since it was reused so many times, it may have had some connection to the studio/cast/crew. Submitted by billp, 6/9/2011.
Karl Held makes his first appearance on Perry playing Bruce Nesbitt. He will make 9 more appearances in season 5 playing David Gideon, Perry's (and Paul's) assistant each time. Submitted by PaulDrake33, 3/6/2009; updated by gracenote, 7/6/2011.
+ Minor correction: in Karl Held's next Perry appearance, episode 122 The Case Of The Grumbling Grandfather, he does indeed play David Gideon, grandson of the episode's titular character; however, he does not appear as Perry's assistant until episode 126 The Case of the Missing Melody. jfh 02Jan2018.
++ I always thought Karl Held was kind of a stick when he played David Gideon, but as Bruce Nesbitt I think he did a pretty good job. OLEF641 3/4/21
++ Karl Held's acting was better in this one. Too bad his character was such a jerk. But that's acting I suppose. JohnK, 21 November 2022
Sightings: Blue Collar Guy is briefly visible (through the glare on the windshield) as the truck driver who picks up Willard Nesbitt in front of the motel. More about him and other frequently-seen people here. Submitted by alan_sings, 9/26/10.
+ During the hearing, the Little Old Lady in a Hat, Distinguished Lady #3, and "Miss Carmody" sit in the gallery (prosecutor's side) during the hearing. Distinguished Gentleman #1 appears on the defendant's side, and at some point "Miss Carmody" teleported there, because we see her leaving on the defendant's side. Submitted by gracep 11/6/2010.
+The Distinguished Lady #4 joins the courtroom scene in the back row. Bill767, 1/3/16.
+We also get a few quick looks at Mediterranean Woman, in the middle of the gallery on the prosecution side. She seems to have a new more sleek hairdo. JohnK, 21 November 2022
Costume Goof: At 1:48, Willard Nesbit returns to his cabin after swimming ashore and collapsing into the mud; but his shirt seems remarkably clean and dry. The smudges on his cheeks and forehead do not correspond to the severity of his ordeal. Submitted by 10yearoldfan, 20 October 2012.
Continuity Goof: At 6:30, we see Eve and Bruce Nesbitt leaving their cottage, each carrying a suitcase. But when the scene shifts to the driveway, Bruce doesn't seem to have his suitcase any more. We certainly don't hear him put it into the back of the car or close the back window before he gets in and they drive off. Submitted by 10yearoldfan, 20 October 2012.
+ Bruce is still holding the suitcase in his left hand; you can see his left arm held straight down (due to the weight of his suitcase) and you can see a brief flash of the suitcase as Eve is placing her suitcase in the car and then another flash of the light-colored sweater he is holding above the suitcase in his left hand. The director may have told the actor not to make any additional noise by placing the suitcase in the car or closing the door since he knew the back of the car would not be seen when the car drives off. Submitted by Wiseguy70005, 8/06/14.
CARS. (1) 1961 Plymouth Savoy 4-Door Sedan, POLICE B&W, Lic No " E 606". Appears with Second Deputy early & half-way thru show. Same make/model/yr was in ep#s106 & 107.
The first character on the Sheriff's licence plate is actually an "E" inscribed in an octagon, signifying a government-owned, fee-exempt vehicle. Added by Gary Woloski, 10/29/12.
Wrong Word: With Lloyd Castle on the stand, Perry again uses "infer" when "imply" is more fitting. 34:35 on the DVD. JohnK 7 October 2015
> I respectfully disagree: Perry is discussing Nesbitt's spending spree, and says (something to the effect that) "you inferred he was spending it on his wife"; that's exactly what Castle had done (deduce or conclude [information] from evidence and reasoning rather than from explicit statements) Notcom, 031822.
Confounded Contract: At 7:55 on the DVD we see the supposed contract for dissolution of the partnership. But from the small portion shown, it describes an employment contract for a TV script (as it mentions "photoplay"), more so than a mining enterprise. JohnK, 7 October 2015.
This is the first of three PM appearances for James Millhollin...MikeM. 9/6/2016
This is the first of two PM appearances for Edward Binns...MikeM. 9/6/2016
This is the third of eight PM appearances for Les Tremayne, who was born in London in 1913...MikeM. 12/13/2016
Wally Brown was in several PM's including one as the murderer.Joe B. 10/04/2019

This is the only Perry appearance for the lovely Carol Ohmart (Jenny Bartlett). Ms. Ohmart was the star of a Michael Curtiz film noir, The Scarlett Hour. jfh 18Feb2020.
Comments

Edit
The title of this show "Angry Dead Man" brings to mind a cute joke. This man tells his friend he was just forced to shoot a dog. His friend asks him "Was it a mad dog?" He tells his friend "Well the dog sure wasn't too happy about it." Submitted by PaulDrake 33. 10 Nov 2009.

Naomi Stevens is a wonderful actress. She's in at least two other Perry episodes, as well as 108 additional IMDb listings, but I always think of her as the very concerned wife of Dr Dreyfuss in The Apartment. jfh 13Sep2017

Eve Nesbitt states that she's from Georgia, where "it was considered vulgar for a woman to know too much about business matters." I used to live in Georgia, and believe me, it's not true. Oh, those Hollywood myths about the South! Submitted by gracep, 11/6/2010.
+ Actually ... granted, Georgia, and especially Atlanta, has changed tremendously over the last 20 yrs. Really incredible change. However, I remember distinctly visiting Georgian relatives in the 70s and being struck how the women of moderately upper middle class would say how helpless they were, such as not knowing how to cook or clean. "I don't even know how to boil water" I recall an aunt saying. I thought what a bizarre thing to brag about. The implication was they were taken care of in a leasurely lifestyle, made possible by (low-paid) domestic help. When Eve said that line I recalled how my relatives used to talk. But like I said, things have changed tremendously, thankfully. Rick P 12/16/21

Typecasting: Boomers will recognize Gordon Jones, alias Mike the Cop from The Abbott & Costello Show, as a deputy in this episode. Submitted by francis, 4/11/12.
+ And he's got the correct L.A. County Sheriff California Grizzly cap-badge on his hat! Gary Woloski, 3/15/17.
The scene where Mason challenges Fanny Werbler to describe his necktie may have been the motivation for similar scene in The Simpsons. Hack lawyer Lionel Hutz is questioning Kwik-E-Mart owner Apu Nahasapeemapetilon on the witness stand. He turns away from Apu and challenges him to describe his necktie. Apu describes the necktie perfectly. Flabbergasted, Hutz proceeds to remove his necktie, and then turns to Apu and says, "I'm not wearing a tie at all!" Submitted by 65tosspowertrap, 9/30/2013.
The necktie bit is also a plot point in "Guys and Dolls" when Nathan Detroit loses a bet to Sky Masterson when he can't describe his own tie. DOD 10/20/20
(Less than) Total Recall Perry has tried the "what colored tie?" ploy before, but unlike the earlier effort, here he is successful. Still it seems a risky strategy: at best a juror/judge would infer that non-performance on the stand implies a general lack of reliability, but recollection would likely bolster the identification even more...as in the previous case (tho there it ended up being useful for a different reason). Notcom, 030421.
Once again (see "The Angry Mourner," show 7) the closed-captioning (on the CBS/Paramount season set) uses the title Ms. during Burger's examination of Ben Otis when referring to Mrs. Nesbitt. Although the term Ms. had existed for some time it started to be frequently used around 1971. I don't believe it would have been used in a 1961 TV episode. Although it sounds like he says Ms., the actor probably just said Mrs. in an unintelligible way (to the closed-captioner) as both he and Mason later definitely say Mrs. Submitted by Wiseguy70005, 8/06/14.

First of all, most closed captions are created using speech-to-text software, it usually isn't a person creating them. In the 60s it was an awkward situation when you didn't know if a woman was married or not; or more precisely, whether to call her Miss or Mrs.
Quite a few women were actually insulted if you called them the wrong honorific, especially married women who were called 'Miss'. So in a number of situations, guys would kinda half-swallow the term making it difficult to tell if they said Miss or Mrs. This often sounded a lot like Ms, and the software would write that into the closed captions.
If you listen clearly, Ms is just a compromise between the two words to avoid having to chance using the wrong word (Ironically, by the 70s, it was the other way around; married women were flattered when you called them 'Miss' by mistake). Submitted by Arisia, 03/14/18

In keeping with the tradition of alliterative titles, this one should have been called "The Case of the Cranky Corpse". DODay 9/12/17
Stick around for the wrap - it's one of the best! freddy 3/18/22

Help Wanted: Another story where a company lost several employees. (see comments for episodes 81, 84, and 100). The Nesbitt & Castle Mining Properties had one employee killed, one guilty of murder and two others guilty of trying to cheat Mrs. Nesbitt. Did the company survive after that? Submitted by H. Mason 11/6/14
<< Wintry Wife | Episodes | Blind Man's Bluff >>