Show114
<< Angry Dead Man | Episodes | Barefaced Witness >>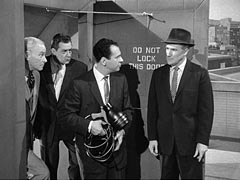 #114: The Case of the
Blind Man's Bluff
Original Airdate: 03/11/61
From The Perry Mason TV Show Book
When a crooked jewelry store salesman learns that he needs an operation that will temporarily blind him, he plans to rob his own store, his sightlessness providing him the perfect alibi. But when someone kills him and steals the already-pinched jewels, a desperate young man is charged with the crime and contacts Perry to see him through.
Opening
Starring Raymond Burr
in The Case of THE BLIND MAN'S BLUFF
Based Upon Characters Created By Erle Stanley Gardner
Barbara Hale, William Hopper, William Talman, Ray Collins
Trailing
Directed by Laslo Benedek
Written by Adrian Gendot and Samuel Newman
Art Seid | Producer
Gail Patrick Jackson | Executive Producer
Produced by The CBS Television Network in association with Paisano Productions
Jackson Gillis | Story Consultant
Raymond Burr as Perry Mason
Barbara Hale as Della Street
William Hopper as Paul Drake
William Talman as Hamilton Burger
Ray Collins as Lt. Tragg
Cast
John Conte as Karl Addison
George Macready as Charles Slade
Jean Allison as Helen Slade
Jack Ging as James Kincannon
Berry Kroeger as Edgar Whitehead
Merry Anders as Adele Bentley
Nelson Leigh as Judge
Benny Rubin as Sassano
Alexander Lockwood as Doctor
Arthur Hanson as Sgt. Ferris
Geraldine Wall as Mrs. Cartwright
Sid Clute as Jack Shaw
Bart Conrad as Charlie
Susan Davis as Miss Padway
George E. Stone as Court Clerk
Uncredited Actors
Lee Miller as Sgt. Brice
Robert Wegner as Plainclothesman
Don Anderson as Uniformed Officer
Crew
Production Supervisor … Dewey Starkey
Director of Photography … Frank Redman, A.S.C.
Art Direction … Lewis Creber
Assistant Director … Gordon A. Webb
Film Editor … Richard H. Cahoon, A.C.E.
Casting … Harvey Clermont
Makeup … Irving Pringle
Hair Stylist … Annabell
Wardrobe Supervision … Edward McDermott, Evelyn Carruth
Set Decoration … Charles Q. Vassar
Sound Effects Editor … Gene Eliot, M.P.S.E.
Music Editor … Gene Feldman
Properties … Ray Thompson
Production Sound Mixer … Herman Lewis
Script Supervision … M.E.M. Gibsone
Sound … Glen Glenn Sound Co.
Titles and Opticals … Pacific Title
Perry Mason \ A Film Presentation
A CBS Television Network Production

Anomaly: Bart Conrad's character, listed as Charlie, is called Eddie by Sgt. Ferris. Posted by daveb, 12/20/2007; ed. by gracenote, 7/7/2011.
Benny Rubin makes his only appearance on Perry here playing Sassano. Benny Rubin was a veteran character actor dating back to 1928, mostly on radio. He was a favorite of Jack Benny, appearing 47 times on television and numerous times on radio. His usual persona was as the Jewish schmuck set upon by life. Submitted by PaulDrake 33, 3 September 2009.
Sightings: Today in the courtroom gallery we see Distinguished Gentleman #1. Read about him and other regulars here. Submitted by gracep, 11/10/2010.
+ If am not mistaken, the aforementioned gentleman is also the security guard in the opening scene. (Not sure because the neck looks a little ropy.) Submitted by gracenote, 7/7/2011.
++ We find four more of our favorites in the courtroom. The Quiet Old Man #1 is in the front row on the right and the Litte Old Lady in the Hat on the far left. Miss Carmody joins her on the left. Distinguished Lady #4 takes her favorite spot in the back row. Bill767, 1/6/16.
+++ If I'm not mistaken, we see Little Old Lady #2, Quiet Old Man #1 and Miss Carmody in the courtroom. Little Old Lady in a Hat may also be there, but the shot isn't very clear. Submitted by JazzBaby, 9/6/2019.
Uncredited Actors: Robert Wegner appears as a curious plainclothesman looking over the shoulder of Sgt. Ferris as he explains how he plans to nab a thief, but he lingers behind when they go on the trail. He turns up, however, at the penthouse apartment; he leans over the coping down at the gruesome sight below. Later, Lee Miller plays yet another unacknowledged Sgt. Brice. Submitted by gracep. 11/11/2010.
+ Don Anderson is the uniformed officer who takes notes and gestures with his pencil during a line-up. Submitted by gracenote, 7/7/2011.
Locations: Beginning at 41:12, we see Perry walking north on S. Cochran Avenue, with Wilshire Blvd. behind him - along with the Miracle Mile location of Harris & Frank Clothing. On Perry's left side is [the former] Lee Tower. He meets Paul Drake at the "Alexander Arms Apartments" (now the Cochran Apartments). Submitted by S. Stuart 11/21/18
The "Black-Ray" that Sgt. Ferris talks about is a brand of ultra-violet lamp with a spot bulb. In fact, the current product looks very much the model used by Ferris. I guess if it isn't broken, don't fix it! Submitted by gracep, 11/11/2010. Some pictures and more here.
+ If you watch closely at the second activation of the "Black-Ray" lamp, you will notice that the footprints thus revealed move along the floor slightly—indicating that they are, in reality, being projected upon the floor. Submitted by daveb, 11/12/2010.
I am watching this show on MyTV 21-2 Harrisburg, PA on 3/11/2011, exactly 50 years from the original broadcast, less about 6 hours. I wonder how often the shows appear on the same day as originally shown? Submitted by geoffs, 3/11/2011.
Just ONE CAR: Paul's black 1960 Thunderbird Convertible, top down. The 1960 model was the first T-Bird with fully-automatic powered top operation (youtube video, 1:14), the engineering of which Ford had already fully developed in the 1957-'59 Skyliner Retractable HardTops. Added by Gary Woloski, 10/29/12.
Closed-Caption Anomaly: On the CBS/Paramount DVD set, at 40:16, when Burger is finishing examining Mr. Slade on the stand, as he says "Thank you, Mr. Slade" the line is attributed to Tragg! Submitted by Wiseguy70005, 8/16/14.
Another Phony Recess: Just after the aforementioned closed-caption anomaly above Burger tells Mason "Your witness" but the judge feels the need to interrupt the proceedings and take a recess until the next morning without even asking Mason if his cross-examination will take much time. This gives Mason some investigating time before cross-examining Mr. Slade. Submitted by Wiseguy70005, 8/16/14.
Tilted Wall?: When Addison climbed the ladder after his practice the wall to the left was about 3.5 bricks deep. When he reached the top the wall was 1 brick deep. Was there another landing before the top? Submitted by H. Mason 11/7/14
In the "tilted wall" scene above Karl Addison's shadow can be seen on the background skyline backdrop. Submitted by Kilo 8/24/2017.
Deceased vs. Decedent: In this episode, Burger refers to the dead person as the "deceased". In previous episodes, the dead have always been referred to as the "decedent". Submitted by KGarrett 02/10/2016
This is the first of three PM appearances for Merry Anders, who was born Mary Anderson. According to Wikipedia, Anders became a junior model while attending Burroughs Middle School in Los Angeles. Others who have attended Burroughs include Tyra Banks and Dustin Hoffman...MikeM. 9/6/2016
This is the only PM appearance for Jean Allison, who appeared in two episodes of Ironside...MikeM. 12/14/2016
At 18:20 on the DVD Adele Bentley is shorting out the alarm connections in the electrical circuit box. She's using a single wire with a clip on each end. She's very careful to use a handkerchief to insulate her hand from the first connection. However, she then grabs the bare clip on the other end with her hand before applying the handkerchief. We can't actually see her make the second connection. The camera switches to Adele's face. However, when we see the electrical box again there are now three clips connected! Submitted by Kilo 8/24/2017.
Comments

Edit
Here's another episode where the defendant's parent is a no-show. James Kincannon's mother owns the missing jewelry and she is mentioned numerous times, but she never appears, not even at the trial. She must not have been a very loving mom. Submitted by Neil Van Zile 2/24/2014
Wrong place - wrong time: Why didn't Karl wait until later in the night or early A.M. to do the job? Was that the only time he was sure to get in and out between the security rounds? Didn't he know the cleaning woman's schedule? He could have waited until she was on another floor. Submitted by H. Mason 11/7/14
Perry really likes that necktie with the broad dark diagonal stripe - seems to appear almost every other episode. Only use I can recall of an enlarging circle transition - seen as we segue to the lineup at police headquarters. Also a rare swipe transition. Another 'distinguished alumni' episode; Geraldine Wall, Berry Kroeger, John Conte, and George Macready have a combined 22 appearances, but this is the only episode any of them share. DODay 9/13/17
Interesting that Mr. Whitehead DOES have a white head ;-). Submitted by HamBurger, 9/9/2018
On either side of the fireplace in Addison's swank bachelor pad are two tall, cylindrical floor lamps. These same lamps were on either side of the fireplace in Loring Lamont's swank bachelor pad in "Waylaid Wolf" just three episodes previously. DOD 11/05/21
Karl Addison's inside jacket pocket must have been unique in order to accommodate the large jewelry box. Otto Gervaert, 11/5/21

What was the purpose of showing Mason turning to deliberately stare at the ultimately-guilty person leaving the courtroom at the recess and the person smiling and nodding back at Mason? To me this half-way showed who was going to be shown to be guilty. Sure enough, he was. Submitted by Wiseguy70005, 8/16/14.
Interesting how Karl Addison kicks the bucket during his blind jaunt and ends up being the one who eventually 'kicks the bucket' as the victim ;-) - Submitted by HamBurger, 09/13/2014
Help Wanted: Three job openings at the C. Slade & Company Jewelers. One former employee killed, one guilty of murder and one arrested as an accomplice. Submitted by H. Mason 11/7/14
<< Angry Dead Man | Episodes | Barefaced Witness >>