Show106
<< Loquacious Liar | Episodes | Larcenous Lady >>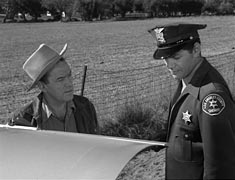 #106: The Case of the
Red Riding Boots
Original Airdate: 12/10/60
From The Perry Mason TV Show Book (Revised)
Ann Farwell is distraught over her parents' divorce. Matters are complicated for Ann when her father starts seeing Rita Conover, a woman not much older than herself.
When Rita is murdered, Ann and her mother each think the other one did it, even though their ranch hand is the accused. They cover for each other during the trial.
Richard Deacon, the long-suffering producer Mel Cooley of The Dick Van Dyke Show, plays Wilmer Beaslee in this episode.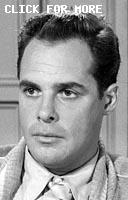 Opening
Starring Raymond Burr
in The Case of THE RED RIDING BOOTS
Based upon characters created by Erle Stanley Gardner
Barbara Hale as Della Street
William Hopper as Paul Drake
Ray Collins as Lt. Tragg
Trailing
Directed by Laslo Bendek
Written by Harold Swanton
Seeleg Lester | Producer
Gail Patrick Jackson | Executive Producer
Arthur Marks | Associate Producer
Produced by The CBS Television Network in association with Paisano Productions
Jackson Gillis | Story Consultant
Raymond Burr as Perry Mason
Barbara Hale as Della Street
William Hopper as Paul Drake
Ray Collins as Lt. Tragg
Cast
Corey Allen as Rennie Foster
H. M. Wynant as Deputy D.A. Sampson
Frank Maxwell as Joe Dixon
Elen Willard as Ann Farwell
Linda Leighton as Jill Farwell
John Archer as Burt Farwell
Shirley Ballard as Rita Conover
Willis B. Bouchey as Judge
Richard Deacon as Wilmer Beaslee
Sara Seegar as Miss Pennock
Reba Waters as Kathy Jergens
Bill Idelson as Autopsy Surgeon
George E. Stone as Court Clerk
Michael Harris as Deputy Sheriff
Uncredited Actors
Don Anderson as:
Lee Miller as Sgt. Brice
Robert Wegner as:
Courtroom Spectator
Bailiff
Crew
Art Seid, A.C.E. | Assistant to the Producer
Production Supervisor … Dewey Starkey
Director of Photography … Frank Redman, A.S.C.
Art Direction … Lewis Creber
Assistant Director … Robert G. Stone
Film Editor … Richard H. Cahoon, A.C.E.
Casting … Harvey Clermont
Makeup … Dave Grayson
Hair Stylist … Annabell, S.C.H.
Wardrobe Supervision … William Zacha, Evelyn Carruth
Set Decoration … Charles Q. Vassar
Sound Effects Editor … Gene Eliot, M.P.S.E.
Music Editor … Gene Feldman
Properties … Ray Thompson
Production Sound Mixer … Herman Lewis
Script Supervision … M.E.M. Gibsone
Sound … Glen Glenn Sound Co.
Titles and Opticals … Pacific Title
Perry Mason \ A Film Presentation
A CBS Television Network Production
Sightings: Distinguished Gentleman #1 and the Little Old Lady in a Hat grace the viewer with their presence in the courtroom gallery, along with the Quiet Old Man (#1) and "Miss Carmody". Read more about them and other regulars on the Who Is That? page, and why we care! Submitted by gracep 10/27/2010.
+ Room for one more! We can see "Sasha Magaloff" when the D.A. and Mason are quarrelling over Rennie's record. Submitted by gracenote 2/14/2011.
+ "Sasha Magaloff" is now known to be the actor Mitchell Rhein. Submitted by catyron, November 16, 2020.
+ Distinguished Gentleman #1 is also one of the surprised bystanders who watch the police take Rennie away. Submitted by gracenote, 7/4/2011.
+We find the Distinguished Lady #4 in the back row next to Quiet Man. Bill767, 1/3/16.
Uncredited Actors: Raymond Burr's stand-in, Lee Miller, appears as Sgt. Brice, walking in with Joe Dixon. Although Lt. Tragg addresses Brice (when he asks for Dixon's statement), he has no lines (ergo no credit). Robert Wegner returns as a courtroom spectator, scowling silently as usual. Continuity: But then in a later part of the hearing he reemerges as a bailiff! Submitted by gracep, 10/28/2010.
+ Gracep is correct in spotting Don Anderson as the bailiff seated near the court clerk. He also escorts Joe Dixon out of court at the recess and sits outside the conference room as Mason and Dixon (hah!) talk. But Don is also one of the two sheriff's deputies who stop Dixon's car and discover the body. His partner gets all the lines. Submitted by FredK, 3 Nov 2010.
+I've watched the episodes a few times each, and still haven't been noticing the background characters too much—except Miss Carmody once in a while. But it's interesting what these early(?) TV shows could get away with. Using the same actor in different roles in the same episode, reusing sets soon after an earlier episode, etc. I imagine they thought the show would be seen once, maybe twice in a rerun, and maybe later a few time in syndication, on smaller TVs than we have these days (I imagine 21" was standard for a 'large' home TV?). —yelocab 17FEB20
Both Bill Idelson (Autopsy Surgeon) and Frank Maxwell (Joe Dixon) appeared in The Twilight Zone episode "A World of Difference" broadcast earlier that year (3/11/60). Other Twilight Zone appearances include H.M. Wynant ("The Howling Man" 11/4/60), Elen Willard ("The Grave" 10/27/61), John Archer ("Will the Real Martian Please Stand Up?" 5/26/61), Richard Deacon ("The Brain Center at Whipple's" 5/15/64), Shirley Ballard ("Person or Persons Unknown" 3/23/62), Willis B. Bouchey ("The Masks" 3/20/64), and George E. Stone ("Once Upon a Time" 12/15/61). Submitted by Wiseguy70005, 6/05/14.
Both Bill Idelson and Richard Deacon played recurring characters on The Dick Van Dyke Show (1961-66), Herman Glimsher and Mel Cooley, respectively. Submitted by Wiseguy70005, 6/05/14.
+ Deacon was also on Leave It to Beaver playing Lumpy Rutherford's father Fred. Submitted by HamBurger - 09/13/2014
Tonight's episode is one of the few in which George E. Stone as the court clerk speaks! Submitted by gracep, 10/28/2010.

Run, Perry, Run Perry runs from the courtroom to catch Ann before she threatens to jump from the window. Submitted by jfh 01Sep2017.

The tattersall vest worn by Wilmer Beaslee (Richard Deacon) appears to be the same one that was worn by a number of actors in various episodes, most notably Erik Rhodes in Ep#119, "TCOT Violent Vest." Submitted by FredK, 3 Nov 2010.
Cars. (1) 1960 Mercury Montclair 4-Door HardTop, medium color, Joe Dixon driving.
Kathy's "TR" tells us that she's from a well-off family and that Fernwood is probably a pretty posh school - a nice example of how the choice of car (or clothes, hair, etc) transmits information to the viewer. TRIUMPH motorcars seem to have become a favourite of the PM crew after their first noted appearance in Ep#27. More on TRs at Trivia Ep#178. Added by Gary Woloski, 9/25/12.
Improperly Dressed? The LA County patrolman's shoulder-patch (screenshot, top of this page) matches this authentic patch. Just prior to the screenshot, the star on the door of the patrol car was shown: The bear inside the star looks somewhat like this: facing the wrong way, with head upturned as if bellowing, and looking much more like a Grizzly (which it's supposed to!). The star on the patrolman's chest looks credible (perhaps one of these) but his capbadge is incorrect (LAPD?). The officer should be wearing the L.A. County badge worn by actor Gordon Jones in ep#113, also see here. Added by Gary Woloski, 9/24/12.
Chronicle Special! The Los Angeles Chronicle - Vol. VI, No. 11 appears at 17:45. Below the "NIGHT EDITION" box you'll see "PRICE SEVEN CENTS". The Chronicle is normally 10 cents. Added by Gary Woloski, 9/26/12.
Bad Accent Dept.: Of note is Richard Deacon's unsubstantial attempt at a Southern accent on the witness stand. The role is minor, but another actor would have been more convincing as a native of Memphis. Submitted by francis, 9/05/14.
Wrong number: Listen to the sound effects when Jill was supposed to be calling Perry's office (MAdison 5-1190). Submitted by H. Mason 11/4/14
The Foam That Made Fresno Famous: A few spent cans of "Quality Brand Beer" grace Joe Dixon's room in the bunkhouse. (Rennie Foster liked it too, apparently.) JohnK, 5 October 2015
This is the third of three PM writing credits for Harold Swanton...MikeM. 8/26/2016
This is the only PM appearance for Reba Waters...MikeM. 8/26/2016
This is the second of four PM appearances for Linda Leighton...MikeM. 8/26/2016
This is the only PM appearance for Elen Willard, who appeared in four episodes of 12 O'Clock High...MikeM. 12/2/2016
"The Case of the Extended Epilogue." Is this the only PM episode in which the epilogue contains two scenes--one with Perry's usual explanation of the crime, and the other with a seemingly happy Ann Farwell resuming her riding activities? Submitted by BobH, 27 December 2016.
Happy 76th birthday to Elen Willard, who might be watching her PM performance on MeTV today...MikeM. 9/1/2017
Bad Barn Manners: After dismounting, Rita is holding the reins in a way that a real rider would not. The reins encircle her hand, which could result in her being noosed and dragged if the horse startled and pulled away suddenly. (This is a frequent error when an equine is used in a PM episode). After Rita hands the reins to Rennie, he tosses the reins over the horses neck and sends the horse toward the barn with a slap on the rump! This would NEVER happen with real horse people. The horse walks over to the barn and stands patiently. This is especially implausible because a horse that is fully tacked up and has just been ridden is likely to be itchy and sweaty, and likely to rub against the building or a post and damage the saddle. In the last scene, Joe gives Ann a leg up, and then slaps the horse on the flank! No experienced horse person would ever do this. Another thing that is not likely for horse/country people, Rita comes back from riding and comes in the house through the sliding glass door. Country people enter the house through a "mud room," and remove their outdoor shoes before marching into the house.....DeeSkeets 10/9/20
H.M. Wynant and John Archer also appeared in TCOT Candy Queen. Submitted by Steve Fox, 9/24/23
Comments

Edit
This episode has one of the series' strangest lines (and to my mind, one of the most amusing) near the beginning of the episode. As the decidedly callipygian Rita Conover, clad in tight pants, is shown walking away, Rennie compares her to a taffy machine! Must have something to do with the push-pull, back-and-forth nature of it all, but it's odd no matter how you interpret it. Submitted by Ed Zoerner, 4/29/10.
Thanks for teaching me a new word. "Callipygian" is a great one. Submitted by Rickapolis 2/8/17
Paul Drake may have coined a phrase in characterizing frequent movie-goer Rennie as "an old popcorn boy." Submitted by francis, 4/2/12.
+ I think the reference is more likely to Rennie having worked at at a theater as a youngster selling popcorn and sneaking out by propping the exit door open, probably for a quick cigarette, when he was supposed to be minding the snack counter. The dialog makes reference to him likely doing that so he could establish his alibi. OLEF641, 2 Dec 2016
Another clever line - in the lawyers' room at the Hall of Justice, Joe Dixon says to Perry: "Blackmail is better than alimony any day." Although I'm not really sure what he meant: PM devotees know that blackmailers don't stop, at least voluntarily, while alimony is tax-deductible. JohnK, 5 October 2015.
+ Ah, but it isn't Joe who is collecting, but Rita, probably getting more for keeping Rennie's secret than she would by conventional means. OLEF641 2/23/21
Must say I was shocked to hear Perry refer to a woman as a 'tramp' - seems out of character.
+ The person Perry calls a tramp is Rennie. OLEF641 2/23/21
I found this one of the most neatly plotted episodes, with none of those head-scratching 'huh?' moments we've come to expect. DOD 09/25/19
Ray Collins: A hint that Ray Collins was not well at the time: he sits through most of his scenes. Submitted by Francis. 10 June 2011.
+Yes, he looks sad and fretful. There are papers and notepads in his scenes too, as if they might be crib-sheets. Submitted by catyron, 12/12/17.
An off day?: Usually impeccably mannered, Perry neglects to rise when the headmistress enters Ann's room. And a bit later he gets snippy with Della. Maybe his arm is bothering him; it's in a cast or something. Perry explains it's "an old service injury." Submitted by francis, 4/3/12.
+ I didn't see a cast (or hear the line) in this episode but did in the previously aired episode "The Loquacious Liar," which was three episodes before this episode in production order. Submitted by Wiseguy70005, 6/05/14.
+Wiseguy: Yikes, I was wrong about that cast. Might have been a day when I was binge-watching! Thanks for correcting the mix-up. Submitted by francis, 9/05/14.
+ I did not see a cast on Burr's arm this time (Wiseguy is correct), but there is still definitely something wrong with his arm. In most of his scenes his right shirt cuff does not show at all (but his left cuff does) and the right suit sleeve looks too long, like it's covering a shortened cast. He holds his am awkwardly throughout the episode. Submitted by catyron, 12/12.17/
There is nothing wrong with his arm in this episode. He uses it as usual and there are no signs of it being held awkwardly. DOD 10/25/21
This is a rare episode where the prosecution seems more knowledgeable and better-prepared than Mason (just a coincidence that Burger wasn't the prosecutor?). Perry seems blindsided by what is revealed during both Wilmer Beaslee's and Rennie Foster's testimony. It's true that his client was holding out on him, but you'd think Paul Drake would have uncovered those things. Submitted by 65tosspowertrap, 9/20/2013.
+ Maybe Paul is worn out from Perry working him so hard. Paul can't go out on a date or play poker with the boys or plan a vacation without Perry interrupting and asking him to do something, including flying to some remote country to find a missionary in the middle of the jungle, or searching the top of a circus tent for bullet holes. Submitted by scarter 8/25/14
++ You usually only find what you are looking for, and these revelations are completely out of left field. OLEF641 2/23/21
> That they're **** ********?!?! That, as Perry might say, cuts to the very heart of the matter and suggests bias. Notcom, 022421.
This is an episode where none of the characters are particularly sympathetic. Except for Jill Farwell, all the other main characters are either cowardly, mean, pathetic, greedy or stupid. So glad that Burt and Jill didn't have a maudlin reconciliation in the last scene. Submitted by Wick 3/9/2022.
You can see the shadow of the boom mike at 25:33 on the DVD. Submitted by scarter 8/25/14
There's a stock shot, used before, of people walking down the courthouse steps at 30:11 on the DVD, and a girl in a white dress is pointing at something as two other people turn to look. I wonder what it was. A mystery that will never be solved. Submitted by scarter 8/25/14
When Kathy enters the room with Mason and Ann with a tray of food a light somewhere appears to become brighter. Watch the shadows of the shelves behind Mason become more pronounced. Submitted by Wiseguy70005, 8/26/14.
+ I don't see the lighting change but when Kathy leaves the room there is a shadow of the boom microphone on the wall at the top of the screen. Kilo 3/5/2019.
<< Loquacious Liar | Episodes | Larcenous Lady >>