Show27
<< Half-Wakened Wife | Episodes | Daring Decoy >>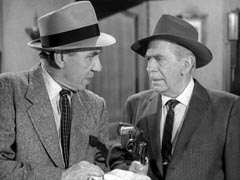 #27: The Case of the
Desperate Daughter
Original Airdate: 03/22/58
From The Perry Mason TV Show Book
Lisa Bannister is ready to kill herself after Stefan Riker (played by Werner Klemperer—Colonel Klink of Hogan's Heroes) arrives in the United States from East Germany. He knows that Lisa is the daughter of the head of the Communist party in that country and has been in the United States illegally. Lisa's stepdaughter Doris vows to help Lisa and takes up a romantic relationship with Riker. Her plan works so well that the police use it as a motive when Riker is murdered.
Perry has to use kid gloves on this case. He not only has to clear Doris, but must keep Lisa's dirty laundry out of the courtroom.
We learn in this episode that Perry's office address is Suite 904 in the Brent Building.
+ It was handwritten by the client & found in her wrecked car by Perry/Paul. Mike Bedard 4.29.15
++ Begging your pardon, but Doris Bannister brings the scrap of paper with Perry's office address scribbled on it with her when she visits Perry initially. The paper from which that scrap was torn is the paper found in the wrecked car. jfh 28May2018.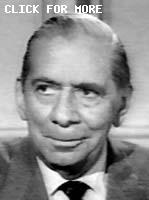 Opening
Starring Raymond Burr
in The Case of Desperate Daughter
Based upon characters created by Erle Stanley Gardner
Barbara Hale, William Hopper, William Talman, Ray Collins
Trailing
Directed by Arthur Hiller
Teleplay by Gene Wang
Story by Donald S. Sanford
Ben Brady | Producer
Produced by CBS Television in association with Paisano Productions
Gail Patrick Jackson | Executive Producer Sam White | Associate Producer
Raymond Burr as Perry Mason
Barbara Hale as Della Street
William Hopper as Paul Drake
William Talman as Hamilton Burger
Ray Collins as Lt. Tragg

Cast
Gigi Perreau as Doris Bannister
Robert F. Simon as Edward Bannister
Osa Massen as Lisa Bannister
Werner Klemperer as Stefan Riker
Don Durant as Gary Marshall
Pierre Watkin as Judge
Wendell Holmes as Dr. Forbes
Robert B. Williams as Det. Quincey
Gere Craft as Helene
Ivan Bonar as Det. Marlowe
Paul Genge as Det. Davis
Patricia Mowry as Waitress
Jack Gargan as Court Clerk
Crew
Gene Wang | Story Editor
Production Supervisor … J. Paul Popkin
Director of Photography … Frank Redman, A.S.C.
Art Direction … Lyle Wheeler, Lewis Creber
Assistant Director … Robert G. Stone
Editorial Supervisor … Art Seid, A.C.E.
Film Editor … Otto W. Meyer, A.C.E.
Makeup … Mel Berns
Hair Stylist … Annabell
Wardrobe Supervision … Dick James
Set Decorations … Walter M. Scott, Charles Q. Vassar
Properties … Ray Thompson
Rerecording Mixer … Robert O'Brien
Script Supervisor … Cosmo Genovese
This has been a CBS Television Network Production
Filmed in Hollywood by TCF Television Productions, Inc.
CARS: 1957 Mercury 4dr hardtop wagon, 2-tone: medium color & white, Late 50s Triumph TR3, white, top down, 1957 Ford 4dr sedan, black & white (Police), 1957 Ford Skyliner retractable, black, top down (Mason), Cameo: 1955 Chevrolet Nomad. From The Cars by Greg Cockerill.
Don Durant makes his first of two appearances on Perry (He would appear in season 2 in "TCOT Jilted Jockey"). Fans of 1950s westerns will recognize Don Durant as the star of Johnny Ringo for 38 episodes during the '59-60 season. Submitted by PaulDrake 33.
Location: About 18 minutes in, there is a quick exterior shot of County USC Hospital. Submitted by Eric Cooper 11 January 11. More info here.
At around 17:30, the building with "The Chateau" sign is the old Writer's Building at the 2oth Century-Fox lot on Pico Bl. submitted by S. Stuart 11/23/18
The Mason team racks up another rare loss in the course of this episode: the Hudson case. Perry and Della first appear dispiritedly preparing a writ to try to keep "Mr. Hudson" out of the gas chamber that Friday. No further mention is made of this; it's good to know Perry never let the occasional execution bother him too much. This scene has not appeared in all formats; it occurs at 11:16 on the DVD. Submitted by Dennis Bell, 2/14/2011.
+ Not a rare loss for Perry. It is just an appeal of a previous court case. Submitted by BigBill767, Nov 12,2016.
++ "A Writ of Coram Nobis is an order by an appeals court to a lower court to consider facts not on the trial record which might have changed the outcome of the lower court case if known at the time of the trial. CORAM NOBIS is a Latin term meaning the 'ERROR BEFORE US,'" uslegal.com explains. Mike Bedard 4.27.15
Syndicated cuts:
* Ed and Gary watching a horse on the track
* Perry and Della preparing a writ late at night [see comment above], hearing a noise, Mason's comment about a char woman
* entire jail scene with Perry, Doris, Lisa and Ed
* Burger's argument that Doris discovered the other woman and killed Riker
* Ed Bannister is sworn in.
Submitted by Wiseguy70005, 7/22/12.
Sightings: A number of favorite frequent faces appear in the courtroom gallery today, including Distinguished Lady #2, the Pencil Mustache Man, and our beloved Little Old Lady in a Hat. Find out more about these favorite frequent faces. Submitted by gracenote, 8/29/2011.
+ (Also Continuity Error:) "Sasha Magaloff" appears in some shots and not in others (and the Little Old Lady wanders a bit, too). Submitted by gracenote, 8/29/2011.
And with her black hat, her wanderings between being behind Perry and behind Burger, depending on the type of camera shot, are quite noticeable. Submitted by Clothears, 22.12.2020.
++ Also notice Distinguished Lady #4 among the courtroom spectators. Submitted by gracenote, 9/6/2011.
+++ We find Distinguished Gentleman #1 in the background when Paul meets Bannister at the parking lot before court. Submitted by BigBill767, Nov 12,2016.
++++ During Hamilton and Perry's questioning of the first witness, Little Old Lady in a Black Hat continuously switches from one side of the room to the other. CdODay 05/28/18,
++++ "Sasha Magaloff" is now known to be the actor Mitchell Rhein. Submitted by catyron, November 16, 2020.
16 TV seasons later Robert F. Simon appeared in the M*A*S*H episode "The Incubator" in the recurring role of General Mitchell. At a press conference (attended by Hawkeye and Trapper) a reporter asks him if the USA is using germ warfare. The general yells out "That's a lie!" sounding very much like Ed Bannister exclaiming the same on the stand. Mr. Simon was also the first of two actors to portray Darrin's father on Bewitched. The other actor was Roy Roberts who also appeared on Perry Mason in episodes such as "The Barefaced Witness" and "The 12th Wildcat." The two actors alternated on Bewitched, appearing with both Darrins, Dick York and Dick Sargent. Robert F. Simon died in 1992, Roy Roberts in 1975. Submitted by Wiseguy70005, 7/22/12.
+ Robert has 199 IMDb credits, including his 2 other M*A*S*Hs ("Officers Only"/"The Trial of Henry Blake") & Perrys ("Slandered Submarine"/"Two-Faced Turn-a-bout"). He appeared in other Crime Dramas: Quincy, M.E.; Streets of San Francisco, Cannon, McCloud, Columbo & Hawaii Five-O. Mike Bedard 4.27.15.
++ According to Wikipedia, Robert F. Simon was an excellent high school basketball player in Ohio...MikeM. 8/15/2016.
The music which is playing when Doris visits Riker is from Frederic Chopin's Impromptu Op. 66 in C sharp minor. Submitted by 65tosspowertrap 13 April 2014.
It's for you, Mr. Mason: Perry's nursing a drink in a well lit cocktail lounge when a waitress summons him to the phone; Paul knew where to find him. Submitted by francis, 6/12/14
Borrowed Bannister: Edward Bannister needs the help of two canes to get around, just like the character Arthur Bannister in Orson Welles's great film noir Lady From Shanghai. In that film, Arthur Bannister, played by Everett Sloane, was a criminal defense attorney with a high slugging percentage. JohnK, 18 October 2015.
+ And in 1962, Everett Sloane would be the prosecutor in "TCOT Poison Pen Pal". DOD 06/22/20
Repeated Riker by one of those small coincidences life affords us from time-to-time, the Twilight Zone Episode that followed this last night also featured a lead character name "Riker". Perhaps one of us with too much time on his/her hands can augment the cross referencing between the two shows to add character names...would "Pitkin" make a showing ?? (and if they really have a surplus they can analyze the program scheduling and predict when they'll coincide.) Offering my almanac, Notcom 111821.
Werner Klemperer was born in 1920 in Cologne, Germany. His family brought him to the United States in 1935. Klemperer served in the US Army during World War II. He was an accomplished violinist and pianist. If Wikipedia is correct, this episode aired on Klemperer's 38th birthday...MikeM. 8/15/2016
+ His father was the world-reknowned orchestral conductor, Otto Klemperer. The Klemperer family had to flee Nazi Germany because they were Jewish. OLEF641; 9/4/2017.
So how does Stefan Riker get into the phone book after being here for only a few months? Submitted by HamBurger, 9/10/2017.
+ Maybe it's brand new? He'd been there a quarter of a year by that time; plenty of time to get into the new phone book. OLEF641 11/6/2020
Osa Massen was born in Copenhagen, Denmark, in 1914...MikeM. 8/15/2016
+ It may just be me, but isn't Osa Massen a dead ringer for Eve Arden? OLEF641 11/6/2020
Last Lines: Della: "After all, every woman is entitled to at least one secret."; Perry: "What's yours?"; Della: "You'll never know."...MikeM. 8/15/2016
This is the first of two PM appearances for Gigi Perreau, who was Meghan Markle's drama teacher in high school. ITN News invited Gigi Perreau to attend Meghan Markle's wedding to Prince Harry. Reportedly, Meghan Markle acknowledged the presence of Gigi Perreau in the crowd...MikeM. 5/28/2018
Gavel Tally - After Doris Bannister jumps up and shouts, "That's a lie! You mustn't believe him!", the judge gavels the court to order. OLEF641 12/18/21
Comments

Edit
This is an very unpleasent episode. It is somehow creepy to see the young beautiful Gigi Perreau lust after a man old enough to be her father (21 years her senior), Werner Klemper. Submitted by PaulDrake33, 12 July 2008.
+ Especially when you consider she may have been below the age of consent. Submitted by 65tosspowertrap, 14 April 2014.
++ There is also an uncomfortable scene early in the episode in which the ranch foreman, Gary Marshall, forces his unwanted attentions on his boss's wife. jfh 16May2017.

When Doris Bannister arrives in Perry's office, she has messed hair, no earrings, and a metallic necklace. Perry takes her to the hospital, and in the next morning's paper a "do you know this girl" picture that must have been taken from the hospital appears with Doris in a glam shot—perfect hair, pearl earrings, and a pearl necklace! Submitted by Ed Zoerner, 5/25/2009.
Something I've noticed about the series is that photos of characters in the story are often "glam shots." To me, these appear to be the sort of photo an agent would shop around to the studio to get an actor consideration for a role. For example, consider "Nimble Nephew": When Adam Thompson gets his picture snapped opening the safe, we are shown a totally unrealistic "glam shot." Curious. Submitted by billp, 29 October 2009.
+ I remember reading a post on this site years ago pointing out that it looks like the actors' headshots are often used in these situations. Seems likely. Submitted by Adam K 07/01/2012
++ Star Trek also used "glam shots" in "Charlie X" ('66): "The color portraits of Yeoman Rand which Charlie produces on the backs of the playing cards are actually PUBLICITY PHOTOS of Grace Lee Whitney," The Star Trek Compendium notes. Mike Bedard 4.27.15
I thought this episode was unpleasant because of background motive of Stephan Riker: the 'romance' between him and the much younger Doris Bannister, if you buy in to his character, was just time killing until he could get to Lisa Bannister .. or he was dumb enough, as some men are, to think a young girl wants a man his age .. oh, I know it happens, but I think the Eagles did a song about the perils of such relationships .. Submitted by MikeReese, 7/10/2013.
Lt. Tragg testifies that the block of plaster is a casting made outside the window, and indeed there is even dirt sticking to the plaster. Burger then proceeds to insert the legs of a ladder into the impressions. But if this was actually a direct casting, the impressions in the ground would create raised bumps in the plaster... so this must actually be a cast of a cast. Submitted by BobHoveyGa, 6/17/2014.
+ Mason mocks Tragg's explanation of the fit of the ladder into the casting, claiming he wants it both ways (and Tragg looks appropriately humbled), but in reality the explanation makes sense: if the ladder fit exactly, then it would mean the placement was stable, if it fit approximately, then the placement shifted...in either case, it's the separation between the indentations and their shape and size that are important. This would have been an excellent opportunity for Burger to clarify on a re-Direct. (Of course his failure to do so reinforces the notion that Perry is always a step ahead of him.) Observed by Notcom, 081616.
++Based on subsequent testimony, it would have been a strategic error for Berger to have put forward this argument.

+++ Cane Coincidence: It bugs me that somehow the width of the feet of the ladder, and how Bannister wields his canes, are within such a close tolerance. Of course, it's all about the impression of the tack in the cane tip, but still. JohnK 6 July 2021
It has surely rained a little too much in the first 27 episodes. (Los Angeles averages 15 inches of rain a year.) But, when it rains, it does so for a reason. Submitted by Magazines Mason, 5/7/15.

"Bannister Farms Budgeting." Through the course of the episode, the "Bannister Farms" logo makes its way from the right side to the left side--and back again--of the Bannister Farms car. Submitted by BobH, 24 April 2020.

For all his creepiness, the Gary Marshall character is pretty superfluous. Other than being Riker's first contact, he plays no part in the story. DOD 06/22/20
+ I found him sufficiently creepy to make a pretty good red herring. Submitted by catyron, November 29, 2020.
<< Half-Wakened Wife | Episodes | Daring Decoy >>