Show28
<< Desperate Daughter | Episodes | Hesitant Hostess >>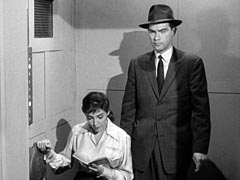 #28: The Case of the
Daring Decoy
Original Airdate: 03/29/58
From The Perry Mason TV Show Book
Perry is attending a bar association dinner when Daniel Conway approaches him to say he's just found his rival's secretary, dead. Conway is sure he is being framed for murder. He's involved in a vicious proxy war with Warner Griffith over Cal-Texas Exploration.
Perry thinks he can solve this one in a jiffy, and tries to corral Griffith into a confession. He's surprised and puzzled to get an ironclad alibi instead. That doesn't stop Perry from finding a unique, if weird, witness who has a photographic memory and can identify people by their shoes.
We see a very dapper Perry in this episode (check out his bow tie). Also, watch the sparks fly between Perry and Della during this case.
Opening
Starring Raymond Burr
in Erle Stanley Gardner's The Case of Daring Decoy
Barbara Hale, William Hopper, William Talman, Ray Collins
Trailing
Directed by Anton M. Leader
Teleplay by Seeleg Lester
Ben Brady | Producer
Produced by CBS Television in association with Paisano Productions
Gail Patrick Jackson | Executive Producer
Sam White | Associate Producer
Raymond Burr as Perry Mason
Barbara Hale as Della Street
William Hopper as Paul Drake
William Talman as Hamilton Burger
Ray Collins as Lt. Tragg

Cast
H. M. Wynant as Daniel Conway
Marie Windsor as Linda Griffith
Jack Weston as Fred Calvert
Jacqueline Scott as Amelia Armitage
John Mack Brown as Warner Griffith
Natalie Norwick as Mavis
Grandon R. Rhodes as Judge
Pamela Duncan as Rose Calvert
Louise Lorimer as Miss Eastman
Donald Foster as H. B. Varnell
Jack Gargan as Court Clerk
Crew
Gene Wang | Story Editor
Production Supervisor … J. Paul Popkin
Director of Photography … Frank Redman, A.S.C.
Art Direction … Lyle Wheeler, Lewis Creber
Assistant Director … Art Marks
Editorial Supervisor … Art Seid, A.C.E.
Film Editor … Richard Cahoon, A.C.E.
Makeup … Mel Berns
Hair Stylist … Annabell
Wardrobe Supervision … Dick James
Set Decorations … Walter M. Scott, Charles Q. Vassar
Properties … Ray Thompson
Production Sound Mixer … Robert O'Brien
Script Supervisor … Cosmo Genovese
This has been a CBS Television Network Production
Filmed in Hollywood by TCF Television Productions, Inc.
CARS: 1958 Cadillac convertible, black, white top up (Mason). From The Cars by Greg Cockerill.
We see Perry wearing a tuxedo in the first half of this show. Paul had worn a tuxedo earlier in TCOT Crooked Candle. Submitted by PaulDrake33, 5 June 2008.
The grandfather clock by the front door of Linda Griffith's apartment is identical to the one that played a prominent role in the 1944 classic noir film, Laura. Submitted by Dan L 6 Nov 2020
Old-time cowboy star Johnny Mack Brown has a prominent role here. This would be the only time after 1934 that he is to act in anything other than a western show. Submitted by PaulDrake33, 5 June 2008.
Prior to becoming a Hollywood Cowboy, Johnny Mack Brown was an All-American Halfback at the University of Alabama and was one of the star players in the 1926 Rose Bowl Game. Submitted by Teejay 6/13/2012
There are several camera angles in the courtroom that normally do not appear in the other shows. One is from behind the judge's right shoulder that shows a wide view of the jury. In most shows the camera angle is from the jury box. Submitted by PaulDrake33, 5 June 2008.
+Another shot that I noticed had Burger and Mason at Burger's desk, and Lt. Tragg sitting on a distant sofa. Lots of depth of field -- artsy! JohnK 7 July 2021
STOCK MUSIC: YouTube presentation of the music edited in this episode, especially featuring Bernard Herrmann. Link immediately below:
Submitted by filmscorerundowns: https://www.youtube.com/user/FilmScoreRundowns
This also appears to be the first episode that has the witness box ahead of the bench so the defense table can see all the witness rather than just the head of the witness at best with the prior courtroom setup. This setup seems to have been what was used for the majority of the run. Submitted by Perry Baby 12/17/14
There is a photograph of Rose Calvert on the mantle of her husband Fred Calvert's home. The next day this same photograph would be on the front page of the Los Angeles Chronicle newspaper. Submitted by PaulDrake33, 21 October 2008.
The picture above the fireplace in Mrs. Griffith's apartment (you can see it when Mavis Jordan is looking at Griffith's shoes) is Girl with a Watering Can by Pierre Auguste Renoir. See here. I think this painting appears in other episodes. The distinctively patterned "window" in Mrs. Griffith's apartment is used in a number of Perry Mason episodes. Submitted by billp, 1/21/2009.
Sightings: The elderly lady in the jury who skittishly handles the gun appears in many Perry Mason episodes, usually as a spectator. billp 1/21/2009.
+ We call her Little Old Lady in a Hat or simply Little Old Lady #1. Read more about her and other favorite frequent faces on the Who Is That? page and see a picture of her with the gun here. Submitted by gracep 8/23/2010, updated 11/21/2010.
+ Is this the Only episode where the Jury handles the exhibits? (The weapon was a .38 caliber Smith/Wesson.) Mike Bedard 4.28.15
+Distinguished Gentelman #1 sits in court on Burger's side. Submitted by BigBill767, Nov 11, 2016.
Location: The establishing shot for the "Hotel Redfern" is the Bryson Apartment Hotel. This same footage is also used in #33, TCOT Long-legged Models. Submitted by billp, 1/21/09.
+ The Bryson was also used in episodes #33 and #62. Submitted by Eric Cooper, 11 January 11.
Sightings: At Empire Drug, Distinguished Gentleman #1 steps out of a phone booth as Conway heads for his. One of the jurors is Distinguished Lady #1, who also magically appears in the gallery during the elevator operator's testimony. Little Old Lady #2 is also in the gallery throughout the trial. More about them here. Submitted by gracenote, 8/31/2011.
+ One of the jurors is played by Distinguished Lady #4. Submitted by gracenote, 9/6/2011.

Uncredited Actors: At the last session of court, Don Anderson appears among the returning spectators on the defense side. As everyone rises for the judge, we can see former heavyweight boxer Tom Kennedy in the gallery as well. Submitted by gracenote, 8/31/2011.
+ This is one of my favorites mostly because of the elevator operator. :-) She's reading an Erle Stanley Gardner book under his pen name A. A. Fair, You Can Die Laughing. I loved that touch. posted by Lara Fabans on Perry Mason Yahoo Group, 11/3/18.
Character Names Mavis' last name is "Jordan". jfh 29May2018

This is the first of two PM appearances for Natalie Norwich. jfh 01Jul2022

This is the first of ten PM episodes for H.M.Wynant. According to imdb, Wynant may still be working at the age of 89...MikeM. 8/16/2016
+ As of 7 Nov 2020, IMDb still has no death date for Mr. Winant (they're usually pretty on top of this) and a credit for him in 2018. OLEF641 11/7/2020
This was the first of three PM episodes for Jacqueline Scott. She also appeared in The New Perry Mason in 1973. She may still be alive. Her last movie credit was in 2009...MikeM. 8/16/2016
+ Alas, Ms. Scott died July 23, 2020 at the age of 89. jfh 04Nov2020
This is the first of four PM appearances for Marie Windsor, who acted on stage, screen, and television for about fifty years. Marie Windsor's first husband was bandleader Ted Steele. In 1946, she married realtor Jack Hupp, and they remained married until Marie's passing in 2000. Jack Hupp, a USC grad and 1936 basketball Olympian, was the son of Canadian screenwriter/actor/director Earle Rodney...MikeM. 5/29/2018
+ Ms. Windsor can be defined in her own right, not only in terms of her relationships to men. Ms Windsor was a wonderful actress who had a great "B-movie" and film noir career, including The Narrow Margin (1952), City That Never Sleeps (1953), and The Killing (1956), then transitioned successfully to TV. jfh 29May2018
This is the first and only PM appearance of Pamela Duncan. She worked steadily with numerous TV appearances and several B movies from 1950 to 1964 with one final appearance in 1970. She is best remembered, especially by MST3K fans, as the star of "The Undead". One of her most noted features, which is on display in this episode, is her quite thin waistline which is accentuated by a belt. Submitted by Kenmore 01/17/2022
The photo of Rose Calvert showing off her legs seems to be from a photo shoot of Pamela Duncan taken months or years before the episode was filmed. Normally, photos are shot during pre production by the company producing the show. However, since other photos of Pamela Duncan showing her in the same attire, hairstyle, and location are available on the web, it seems that the company got permission to use the photo instead of taking one themselves. Submitted by Kenmore 01/17/2022
> I think timing - specifically the (relatively) tight time frame under which weekly shows are shot - has much to do with what photos are used; comment has been made a number of times on these pages about the use of stock photos for newspaper stories - and here placement in a scene - but it should be remembered that scenes aren't filmed in order, and props often have to be prepared even before filming begins; the weeks-, or (even) months-long calendar of a movie likely allows for more careful scheduling, or even reshooting - assuming someone thinks it necessary - but I doubt it would be done much in television (except in obvious cases). Notcom, 011822.
Comments

Edit
The opening shot, presumably the building where Cal-Texas is, is also used in #32, TCOT Substitute Face as the locale of the bank where Carl Houser works. The dictating machine used by Daniel Conway is the Dictaphone Time Master also seen in Substitute Face and elsewhere. Submitted by billp, 1/21/2009.
+ JFK & Erle Stanley Gardner used Dictaphones extensively: "TCO Erle Stanley Gardner Featurette [50th Anniv. DVD]," shows ESG speaking into one. Mike Bedard 4.28.15

When Rose leaves the office, she's empty-handed, yet in the next scene, she's on the phone with the Cal-Texas Confidential Report in her hand. jfh 22Oct2019.

I have read that the 'Mavis Jordan' character was supposed to be played by a Black actress, but the NAACP did not like the way the character was portrayed, as it seemed she'd be there just as a comedic figure. I can't confirm this, but it seemed odd that in her first court scene, she was apparently directed to act as a ditsy character, but when she goes to 'Linda Griffith's' apartment with Perry, she's all business, not ditsy at all. The other thing that I noticed is that when Perry calls her forward to look at 'Fred Calvert's' shoes, she seems to be reading a book in court! Now, that caught my eye, because I had to go to court a few years ago to answer a traffic ticket, and the judge instructed everyone in court, whether they were there for a ticket or not, NOT to be reading ANYTHING while in session...and this stuck in my mind because the judge caught a man trying to sneak read his book, and asked him if he'd like to be held in contempt of court? Well, he put that book away with a quickness.. MikeReese 11.05.2020
> Perhaps you read it here?? (Or maybe my speculation was correct and you read it elsewhere). The issue was really more with her (sic) "menial capacity" as an elevator operator, than her personality, tho I imagine a comedic performance (a la Amos'n Andy) would have made things even worse. Notcom 110520. >Notcom, you are so right. I have been so busy lately that I'd forgotten where I read that!! MikeReese 11.06.2020
How did Perry get to Calvert's house before the police, especially after taking time to visit Mrs Griffith? DOD 06/23/20
Another episode with a non sequitorish title - why not "TCOT Suspicious Shoes"? or "Familiar Footwear"? Any episode that features the divine Marie Windsor is a winner. H.M. Wynant would go on to play the suspect, killer, and prosecutor in future episodes. In Perry's office, Warner Griffith stands before a section of wall with an abstract painting over a console table. I don't recall seeing that part of the office in any other episode. As others have noted, these early shows have sets with a greater individuality and richness than later ones (Marie Windsor's apt., for example.) Later shows would recycle the same sets and props to an almost comic extent. DOD 05/28/18
Given what Fred Calvert says about his separation, the action in this episode seems to take place in winter, shortly before 2/9. The episode was aired 3/29/1958. Submitted by billp, 1/21/2009.
When talking about hotels for Conway, Della suggest ones on "Tracy Boulevard." AFAIK, there is no such street in LA. Submitted by billp, 1/21/2009.
Fred Calvert lives at 163 Vista Lane, Ellendale, California. AFAIK there is no Ellendale. In the show it looks to be about 51 miles from LA. Regardless, does anyone recognize the Fred Calvert house, as it's on a real street? Submitted by billp, 1/21/2009.
Mrs. Griffith tells Conway to go to "Empire Drug" at something and La Brea. The something sounds like Weldon to me, but there is no such street. Was there ever an "Empire Drug" in LA? Submitted by billp, 1/21/09.
+ There is a Weldon Ave. in L.A. near Glendale, but that is no where near La Brea. It sounds to me like Mrs. Griffith says Welton and La Brea. Could not find a Welton In L.A. Submitted by Craig, 2/27/2010.
Burger tells Mason he'd have him "smelling brimstone through a nail hole." This is possibly a bowdlerized version. I've never heard this expression before. Does anyone know the origin of this phrase? billp 1/21/09.
+ There is a use of the phrase "smelling brimstone ect." in the book A Subaltern's Furlough V1 written in 1833. Submitted by Craig, 2/27/2010.
++ Don't quote me on this, but I'm pretty sure this expression refers to someone who is going to Hell. The deceased lies in a coffin getting whiffs of brimstone from Hell through the nail holes in the coffin lid. A particularly nasty curse for Burger to put on Perry, with the imagery of being conscious, although dead, of being en route to eternal damnation. It suggests he is more deeply offended by Perry's tactics and successes than we knew! Submitted by JazzBaby, 7/18/2019.
Perry does seem to be intrigued by the cheesecake photo of Rose Calvert. Maybe he does like girls. Submitted by 65tosspowertrap, 4-17-2014.
+ As Jon Lovitz would say, "Acting!" Submitted by francis, 6/12/14.
++ The picture that Mrs Griffith gives to Perry is not the same one that we see in closeup. Submitted by vgy7ujm 09/05/17
A CLASSIC PERRYism: "I learned a long time ago to look Mr. Burger's GIFT HORSES right in the mouth." Mike Bedard 4.28.15
Our Gal Friday: Perry returned to his office from Ellendale after 1:00 AM. Della was still there, with Paul and Mr. Griffith waiting in Perry's office. Della had prepared a gallon of coffee. When she handed a cup and saucer to Perry she asked, "Who's going to do your dishes?" Perry's glib response: "You will, tomorrow. Have a good night." Hmmm. Is Della hourly or salaried? lowercase masonite, 1/15/16.
A Late News Flash from the Los Angeles Chronicle: Below the banner headline SECRETARY SLAIN IN HOTEL ROOM is a photo of Rose Calvert, not clad only in a flimsy negligee (at 18:40 on the 2006 Paramount DVD). Next to her photo is an article headlined MERCURY NEW X-RAY SOURCE, TWO SCIENTISTS REPORT, the two scientists being Wesley M. Coates and David H. Sloan. Dr. Coates did publish an article about this -- in 1934. See for example http://journals.aps.org/pr/abstract/10.1103/PhysRev.46.542. He died in 1937, electrocuted in x-ray laboratory at medical center, http://spectatorarchive.library.columbia.edu/cgi-bin/columbia?a=d&d=cs19370322-01.2.2. lowercase masonite, 1/15/16.
+ This story is also reported on the front page of the Los Angeles Star-News in the next episode, TCOT Hesitant Hostess. Submitted by Kilo 5/30/2017
++ It turns out this same article appears in newspapers in many future PMs. Submitted by Kilo 6/27/2017.
Not certain, but is that Distinguished Gentleman playing bartender in the closing scene? DOD 08/14/23
Show Trajectory: I haven't seen this one for a while, and was surprised to see Johnny Mack Brown and Marie Windsor in the same episode, and during only the first season. Neither was an Oscar winner, but they were both pretty well known. I wonder if the casting of bigger names reflects a rising share price for the show. JohnK 7 July 2021
+ This is one of my favorite episodes -- the presence of Marie Windsor; the shoe business and Natalie Norwick's performance of the Mavis character; and the evolution of the story at the very last second. JohnK, 22 July 2022

Fred Calvert (played by Jack Weston) was convicted based on a possible identification of the shoes he wore. In real life, Jack Weston was born the son of a shoe repairman. Submitted by Charles Richmond, 10/20/2008.
<< Desperate Daughter | Episodes | Hesitant Hostess >>