Show33
<< Substitute Face | Episodes | Gilded Lily >>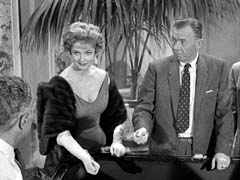 #33: The Case of the
Long-Legged Models
Original Airdate: 05/17/58
From The Perry Mason TV Show Book
Glenn Falkner owned a small motel in Las Vegas but fell prey to the gambling tables. When he wouldn't pay up, bigtime thug George Castle shot him.
Now Falkner's daughter is alone and she must deal with dad's debts and George Castle's designs on her newly inherited land. She has a motive to kill Castle but someone beats her to it. Tragg arrests her on suspicion anyway. Enter Perry for the defense.
Cast
Peggy McCay as Stephanie Falkner
Alix Talton as Eva Elliott
Joe De Santis as George Castle
Lyle Talbot as Michael Garvin Sr.
William Swan as Michael Garvin Jr.
Russell Thorson as Glenn Falkner
Frank Wilcox as Judge
Ann McCrea as Margo Garvin
Ray Walker as Salesman
Jack Harris as Court Clerk
Billy Snyder as Stickman
Joey Ray as Policeman
Carol Anderson as Model
CARS: Cameos, many on used car lot: 1958 Lincoln Continental Mark III Coupe, medium color; 1958 Ford Thunderbird coupe, light color; 1958 Ford Thunderbird convertible, black, white top up; 1958 Ford Skyliner retractable, black, top down, (Mason); 1958 Chevrolet Delray 4dr Sedan Police black & white; 1958 Chevrolet Delray 4dr Sedan, all black (Tragg). From The Cars by Greg Cockerill.
License plate: Perry is driving a new Ford with a new plate number (PCP 947). Don't most people transfer the license from one car to the next one when they buy a new car? Submitted by H. Mason 10/8/14
+ Not in California (unless it's personalized). New car, new plate. OLEF641; 9/12/2017.
Sightings: In the opening scene we find the Pencil Mustache Man gambling and later he shows up at his job as a waiter at Franchi's where Perry, Della, and Tragg show up for lunch. The dealer at his table is Sasha Magaloff. I guess he worked as a dealer before he made it to the big time as a custom tailor. In court, the Distinguished Gentleman assumes his court reporter position while the Distinguished Lady #2 is on duty as the matron. Little Old Lady #2 is in the back of the courtroom and after Lunch, they are joined by Little Old Lady #1 and Distinguished Lady #4 on Perry's side and the Pencil Mustache Man and Distinguished Gentleman #2 on Burger's side. Bringing up the rear, the Blue collar Guy carries the replacement desk into Junior's office. Submitted by BigBill767, 12/9/16.
+ "Sasha Magaloff" is now known to be the actor Mitchell Rhein. Submitted by catyron, November 16, 2020.
Location: At about 4:56 into the episode, we see an exterior of Stephanie Falkner's apartment building. That's really the Bryson Apartment Hotel at 2701 Wilshire. See here. Submitted by billp, 1/19/09
+ Based on Billp's info we can see that the Bryson Apartment Hotel is also used about 6:36 into #62, TCOT Howling Dog. Submitted by Eric Cooper, 5 January 11.
When George Castle shoots Glenn Falkner with an automatic pistol at the beginning of the show, the slide on the pistol does not move. When a real automatic pistol is fired, the slide has to move to the rear to re-load the pistol and re-cock the hammer. Submitted by PaulDrake33.
+ In addition, no shell is ejected. Submitted by Kilo 3/22/2018.
+ Or the slide moved too quickly to see and the shell landed somewhere like a pocket and was simply lost sight of. (I tend to work from the notion that everything is explainable and consistent in Perryworld!). Fred Flintstone, 12/20/2020.
Michael Garvin, Jr. has four automobile salesmen working for him: Murphy, Tribe, Gillson, and Finley. Finley has sold the most cars this month, 5, as evidenced by the chalkboard behind Michael's office desk. Even though Michael does his best to sell Perry the Thunderbird, he is not listed on the board as a salesman. Submitted by PaulDrake33.
When Perry tells Paul to go Las Vegas to check out some people, we see Paul open one of the file drawers in his office. Starting from the back of the drawer and moving toward the front, Paul reads off the file labels. "Las Palmas, Las Tunas, Las Vegas." Which would strongly suggest that Paul's files are in reverse alphabetical order. Submitted by cobolpoet, 11/20/09.
Russell Thorson makes his initial appearance here on Perry as Glenn Falkner. In the oldest surviving radio broadcast of The Tom Mix Show from 1939, Russell Thorson plays the part of Tom Mix. Submitted by PaulDrake 33, 18 December 2009.
+ Father Mulcahy used a Tom Mix pocketknife to perform an emergency tracheotomy in a 1976 M*A*S*H. Mike Bedard 4.30.15
About 17 minutes in you can see a Dick Tracy cartoon behind Paul Drake. See PaulDrake's post on Episode #5. Submitted by Eric Cooper, 12 January 11.
+ Also in #20 Lonely Heiress, in an early scene in Paul Drake's office (with Lacey and then Paul's secretary), you can see a framed drawing of Dick Tracy on his desk. AND a Dick Tracy picture was also reported in #5 Sulky Girl as stated above. Thanks! Submitted by mesave31, 04/16/15.
++ "'Dick Tracy' (originally 'Plainclothes Tracy') [was] created by Chester Gould [and] made its debut on Oct. 4, 1931 in the Detroit Mirror...Gould wrote and drew the strip until 1977," en.wikipedia observes. Mike Bedard 5.4.15
This was the last first-season appearance as a judge for Frank Wilcox. Tall, lanky and handsome, Wilcox began his career as a contract player for Warner Brothers in the 1930s, including several films with Errol Flynn. He appeared in seven Mason episodes (of the 37 in which there was a judge), making his the most-used actor in that role. Unfortunately, he was in only one more episode, # 96 TCOT Treacherous Toupee. Submitted by FredK 21 April 2011.
+ He also appeared as a judge in an episode of The Jack Benny Program, in which Jack is ineptly defended in a murder trial by Perry Mason (played by Raymond Burr). submitted by vgy7ujm 24 January 2015.
There were actually over 200 episodes with judges -- almost all, in fact. John Gallaudet alone was in almost 2 dozen episodes. cgraul 7.2.12
My comment about Wilcox being the most frequent judge was limited to the first season episodes only. A number of actors appeared in more than eight episodes, including Gallaudet, Nelson Leigh, Charles Irving, Richard Gaines, Grandon Rhodes, Morris Ankrum, Willis Bouchey, and the true ironmen among judges, Kenneth MacDonald and S. John Launer. Submitted by FredK, 4 July 2012.
Switching guns: This was the second of three stories where it happened. It was also done in episodes 1 and 87. Submitted by H. Mason 9/27/14
Unsolved mysteries: How did George Castle earn his money before he was murdered? Submitted by H. Mason 10/8/14
License plate: When Perry is about to enter his car to go to Stephanie's there is a Mercury in the background with the license plate MYR 636. That tag number was on the Bannister Farms vehicle in episode 27 TCOT Desperate Daughter. Submitted by H. Mason 10/8/14
Inconsistency: Perry and Michael Garvin, Jr. go to the apartment of Stephanie and Mr. Mason has to talk through the door to let her know he's outside. Soon after they're inside the phone rings (it's not for Perry) and she was informed that Lt. Tragg had arrived and wanted permission to see her. Submitted by H. Mason 10/8/14
The sign above the Las Vegas theatre in the opening shot proclaims "Surprise hit of year 'Pick Up' with Beverly Michaels." Since the movie was released in 1951, one might assume the footage is also from that year. Leonard Maltin calls the movie a "tawdry low-budget melodrama" and gives it one and a half stars. Also on the bill: "Criminal Lawyer" not a 1930's Perry Mason movie but another 1951 movie which starred Pat O'Brien and also gets one and a half stars from Maltin. Submitted by Wiseguy70005, 10/27/14.
Closed-caption anomaly: When Perry states "I'm so clever I put a noose right around Stephanie's neck," the closed-captioning on the CBS/Paramount DVD set states "I'm so clever, I put a new thread around Stephanie's neck." Submitted by Wiseguy70005, 10/27/14.
"Frederick Steiner (1923-2011) was an American composer, conductor, orchestrator, film historian, and arranger for television, radio & film....Steiner wrote the Theme Music for PERRY MASON and The Rocky & Bullwinkle Show. [He] was most active in television in the 1950s and 60s. His numerous composition credits included music for Hogan's Heroes, The Twilight Zone and STAR TREK," en.wikipedia observes. Fred was Not credited at this point in the series; he was End-credited in later seasons. The 2-hour, Color Perry Movies said "Original Perry Mason Theme by Fred Steiner" in the Opening credits. Mike Bedard 5.5.15
Peggy McCay only did two PM episodes, but that left her time to do almost everything else. According to IMDb, Peggy McCay is still working at the age of 88....MIkeM. 8/23/2016
+ Peggy McCay's IMDb credits end in 2017, but she is now 90 years old...MikeM. 6/5/2018
++ And so now, too, doth life: Ms. McKay died Oct 7th; one of a small and steadily dwindling number of PM actors left (certainly, at least, as regards the first season). Notcom 12/31/2018.
+++ Peggy McCay is best known for playing Caroline Brady, matriarch of the Brady family on Days of Our Lives from 1983 until her death. Submitted by Apofisu 3/1/2023
Lyle Talbot only did this one PM episode, but that left him time to do a zillion other shows, including being the Nelson family's neighbor Joe Randolph for a decade....MIkeM. 8/23/2016
+ While this, indeed, is Lyle Talbot's only PM episode, he did star in a PM movie in 1935, playing Dr. Bob Doray, in The Case Of The Lucky Legs in which Warren William starred as Perry and Genevieve Tobin starred as Della. jfh 29Oct2019.
His son Stephen was in "TCOT Wandering Widow", the only father/son PM performers. Stephen Talbot is best known as Beaver Cleaver's friend Gilbert. DOD 07/29/22
When Perry is leaving George Castle's apartment he goes through the motions of buttoning the second button of his overcoat. He clearly failed getting it buttoned. He was more successful on the third button. Submitted by Kilo 3/22/2018.
This is the only PM appearance for Alix Talton, who was Georgia's entry in the 1938 Miss America contest. In 1944, Alix married Air Corps sergeant, and former Hollywood agent, Lou Kerner. The couple had a son, and divorced in 1949. In 1950, Alix married producer/director George Cahan, and they had one daughter. The couple remained married until Cahan passed in 1991. Alix Talton passed in 1992, at the age of 71...MikeM. 6/5/2018
This episode reunites two actors from the movie, "The Deadly Mantis". Both Alix Talton and William Hopper were in that flick which was released the year before this episode aired. Submitted by Kenmore 6/10/21
Expensive Little Cotton Frock - That $200 cotton frock would cost the "smart shopper" Della mentions just shy of two thousand dollars in 2021. OLEF641 12/8/21
Comments

Edit
At about 29:30 into the episode, we see Della fiddling with the Dictaphone Time Master (cf., Substitute Face et al.). You can see the belt-shaped recording medium which was made of acetate. The acetate could be quite colorful, e.g., blood-red. A stylus was used to inscribe the audio. Later models used magnetic media. I wonder if this was an example of product placement? Submitted by billp, 1/19/09.
Odd, but this is the only episode I recall in which we actually see a murder committed. DOD 07/29/22
+In the last season of the show--perhaps in an effort to juice up the action--we saw a murder committed in seven episodes: TCOT Candy Queen (#244), TCOT Silent Six (#252), TCOT Golfer's Gambit (#259), TCOT Scarlet Scandal (#261), TCOT Fanciful Frail (# 265), TCOT Unwelcome Well (# 266), and TCOT Final Fade-Out (#271). A big difference between those later episodes and this early one is that in this one we immediately know who the murderer is. Submitted by BobH, 31 July 2022.
Mr. Garvin, Sr.'s alligator briefcase is identical to Mr Brent's briefcase in the Gilded Lily. Submitted by billp, 1/19/09.
Note how skillfully Mason negotiates with Castle. Mason's initial asking price is $225,000; Castle counters with $150,000. After Perry gets Castle thoroughly tied in knots, he gets Castle to agree to $225,000. Castle's initial offer to Stephanie Falkner was $90,000. Submitted by 65tosspowertrap, 19 April 2014.
I found it odd that such a cool character as Castle should get so flustered dealing with Perry - and we never do find out why the deal was so important to him that he was willing to commit murder. DOD 06/17/19
+Castle had paid $50,000 on some sort of option (?) and he was going to lose that money if he wasn't able to obtain and sell the Faulkner property to the other property developers in the next few days. Faulkner didn't want to sell, so by killing him, he thought he could get his daughter to sell him the property. I think Castle was a bit flustered because he was now dealing with someone who knew what they were doing and couldn't be intimidated. He was desperate to buy but kept seeing his profits disappear as Mason raised the selling price. —yelocab 27NOV19.
+ After this successful negotiation with Castle, Perry is in a phone booth outside Castle's apartment building placing a call to Paul Drake when Stephanie arrives in a taxi. Perry tells Paul to hold a moment and exits the phone booth to get a good look at Stephanie, but makes absolutely no effort to call out to her and then returns to the phone booth as she goes up to Castle's apartment. Given the fact that Castle has just agreed to Perry's terms and is coming to Perry's office in the morning, it seems ridiculous that Perry would not have called out to Stephanie to stop her from going up to meet Castle on her own. Added by Dan K, 24 May 2019.

Move To Strike As Being Incompetent And Unresponsive: As Perry is driving Stephanie away from Castle's apartment and Tragg intercepts them, Perry asks Tragg, "What are you doing in this neck of the woods?", to which Tragg replies, "We work around the clock, you know that." jfh 17Jun2019.

Professional COURTESY: I like the scene where Lt. Tragg apologizes for interrupting Perry/Della's lunch & does the "Favor" of telling Perry his client wants to see him. Despite their different perspectives, the two adversaries RESPECT each other. Mike Bedard 5.5.15
In the background of that scene is some type of office building. I suspect we are on the studio grounds.
Apparently Stephanie was allowed to keep her purse while in custody.
Another title with a very tenuous connection to the story. How about "TCOT Three Gun Monte"? DOD 06/30/20
\\So tenuous the MeTV summary says two long legged models ended up on slab in the Morgue. Very inventive. Wick
And RUDENESS I found this episode to be rather unpleasant: the characters spend a great deal of time berating each other (Perry accuses Stephanie of hiding something after having earlier suggested to her father that he was doing the same, Junior while on the stand accuses Perry of duplicity, and in return Perry suggests his wife may be the killer) and the "happily ever after" ending (see below) I found to be more creepy than endearing. Critiqued by Notcom, 082416.

I've been listening to the old X Minus One radio shows, and Joe De Santis plays a number of roles in several episodes .. and that distinctive voice is quite versatile. They're well worth a listen just to hear him! Submitted by MikeReese 7/22/13

Della's file cabinets (you know, the ones with a separate drawer for each letter) sure do get around - they show up in the offices of both Garvin senior and junior. DOD 06/17/19

Target Practice: About Perry shooting the gun in the office - does any of us know how they might have accomplished that? Actually shooting a gun, even with a reduced charge, that would make that sort of mark on a desk, with a couple of actors and no doubt several crew nearby, seems pretty dangerous. JohnK, 14 Juillet 2021

Joe De Santis was both a murderer and a victim. Submitted by daveb, date unknown.
+ That was stated in the Summary. Submitted by 65tosspowertrap, 4-23-2014.
Joe De Santis has the unique distinction of getting murdered twice, here in this episode and in Episode #54 TCOT Borrowed Brunette, in the same motel (the same exterior shot of the motel was used in both episodes). Submitted by Kenmore 2/02/11

The Tale of the Guns: THIS IS STILL SPOILER TEXT! (Killer named below.) Are you confused about who has what gun when? Here's a summary:
Holster Gun, customarily carried by Michael Garvin, Sr. ("Senior") in his shoulder holster. For a while, he loans it to Stephanie, then he retrieves it to his holster, leaving the Vault gun at Stephanie's in its place. This gun is not fired during the course of the story, nor does it appear in court.
Vault Gun, normally kept in Senior's office safe. Eva borrows it from the safe, kills Castle, and returns it to the safe. Senior then carries it to Stephanie's apartment in place of the Holster gun. Next day, Stephanie places the Vault gun on the table when she hides the Junior gun. The police confiscate the Vault gun off of the table, and it becomes Exhibit A in court, proven ballistically to be the murder weapon.
Junior Gun, normally carried by Michael Garvin, Jr. ("Junior"). Mason fires this gun across Junior's desk, then he and Junior leave it on Stephanie's table. (The Vault gun is still out of sight somewhere in Stephanie's apartment as Mason and Junior leave.) Afraid to implicate Junior, Stephanie hides the Junior gun and puts the Vault gun in its place on the table, just before letting the police in. In spite of this precaution, the police find and confiscate the Junior gun as well, and it becomes Exhibit B in court, identified by means of Junior's initials scratched on it.
Submitted by alan_sings, 11/27/2014.
Ending: Happy or Creepy? Stephanie ends up marrying Senior, thus becoming the stepmother of her former boyfriend; although obviously there is no technical wrongdoing, the resultant relationships seem almost incestuous. Sermonized by Notcom, 082416.
You think that's a bit creepy - read up on Gloria Grahame. DOD 06/30/20
And, following Notcom above, more Stephanie creepiness: Poor Mike Sr, he was set up to take the fall by the woman he loved: Stephanie, in leaving the vault gun out for the police to find, though she thought that Mike Sr had used it in the murder. And Stephanie added insult to injury by instead hiding the initialed 'junior' gun that Mike Jr (and Perry) had given her! As Della and Perry tell us in the wrap, the police in that first search found only the vault gun. (Of course, the initialed junior gun does finally turn up and is introduced as evidence by Burger). Then, with expert dexterity, Stephanie turns around and marries Mike Sr --- a strong move financially. Perry was right about Stephanie leading everyone up the garden path. Fred Flintstone 12/20/2020
That ricochet bullet must have hit Mike Jr on the head, in the wrap-up he cannot remember having been shown in court the gun (which had his initials on it) that he (and Perry) had given Stephanie. Nice of Della and Perry to humor him and play along (smirking emoji) Fred Flintstone 12/20/2020

<< Substitute Face | Episodes | Gilded Lily >>