Show62
<< Bedeviled Doctor | Episodes | Calendar Girl >>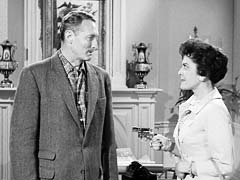 #62: The Case of the
Howling Dog
Original Airdate: 04/11/59
From The Perry Mason TV Show Book (Revised)
This episode involves four victims: three humans and one canine.
Paul finds a missing woman at the request of her brother. Her name is Evelyn Forbes and she's just escaped from an insane asylum. Later she's wanted for murder.
Perry wants to clear the disturbed damsel, but he has to go up against Tragg to do it. Tragg does his best to hide evidence from Perry, but Perry wins in the end.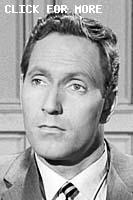 Opening
Starring Perry Mason
in Erle Stanley Gardner's The Case of THE HOWLING DOG
Barbara Hale as Della Street
William Hopper as Paul Drake
William Talman as Hamilton Burger
Ray Collins as Lt. Tragg
Trailing
Directed by William D. Russell
Teleplay by Seeleg Lester
Ben Brady | Producer
Produced by CBS Television in association with Paisano Productions
Gail Patrick Jackson | Executive Producer
Sam White | Associate Producer
Raymond Burr as Perry Mason
Barbara Hale as Della Street
William Hopper as Paul Drake
William Talman as Hamilton Burger
Ray Collins as Lt. Tragg
Cast
Ann Rutherford as Evelyn Forbes
Fintan Meyler as Thelma Brent
Robert Ellenstein as Arthur Cartright
Elaine Edwards as Polly Forbes
Gregory Walcott as Bill Johnson
John Holland as Clinton Forbes
Tom Greenway as Rod Andrews
Grace Raynor as Marilyn Storm
Ed Prentiss as Dr. Bayliss
S. John Launer as Judge
Vito Scotti as D'Amato
Pitt Herbert as Coroner
George E. Stone as Court Clerk
Marcia Drake as Nurse
Frank Hagney as Watchman
Lee Miller as Sgt. Brice
Uncredited Actors
Don Anderson as Courtroom Spectator (sighted by gracep, 8/27/10)
Crew
Gene Wang | Story Consultant
Production Supervisor … J. Paul Popkin
Story Editor … Alice Young
Director of Photography … Frank Redman, A.S.C.
Art Direction …
Lyle Wheeler
Lewis Creber
Editorial Supervision … Art Seid, A.C.E.
Film Editor … Otto W. Meyer, A.C.E.
Assistant Director … Robert G. Stone
Casting … Harvey Clermont
Makeup … Richard Hamilton
Hair Stylist… Annabell, S.C.H.
Wardrobe Supervision … Dick James
Set Decoration … Walter M. Scott, Charles Q. Vassar
Properties … Ray Thompson
Sound Editor … Gene Eliot, M.P.S.E.
Production Sound Mixer … Roy Meadows
Script Supervision … William E. Orr
Perry Mason
Filmed in Hollywood by TCF Television Productions, Inc.
A CBS Television Network Production
CARS: 1958 Ford Thunderbird convertible, black, top down (Drake), 1958 Edsel 4dr hardtop, medium color w/ white top, 1959 Lincoln Continental MkIV, 4dr hardtop, white, 1959 Ford Custom 300 4dr sedan, light color (taxi), 1959 Ford Skyliner retractable, black, medium interior, top down (Mason), 1959 Ford Custom 300 4dr sedan, black & white (Police), Late 50s Sunbeam Rapier convertible, light color, Late 40s Packard ambulance, white. From The Cars by Greg Cockerill.
It seems to me that the house seen in this episode is the same house seen in #37, TCOT Black-eyed Blonde. Submitted by Charles Richmond, 10/23/07. Posted by daveb. Some pictures here.
Ann Rutherford (Andy Hardy's favorite girl Polly Benedict) makes her first of four appearances in this show. Submitted by PaulDrake33, 6/21/2008.
Though she is best remembered as Scarlett O'Hara's sister, Careen, in "Gone With the Wind". DOD 07/26/19
The house that Polly Forbes has purchased for Clinton Forbes was the exact house that Charles Burroughs owns in episode #59, TCOT Stuttering Bishop. You can identify it by the distinctive sunburst over the front double doors. Submitted by PaulDrake 33, 7/20/2008.
The interior sets are also the same as in "Stuttering Bishop"; in fact, the murders in both shows take place in the same room. Paul's operative says Evelyn Forbes drove a Sunbeam convertible. This is the only instance I recall of a car being described by a particular make. DOD 07/26/19
This show has an establishing shot of New York City in the 1950s, a much simpler city. It then cuts to Los Angeles and uses the establishing shot of the Los Angeles freeway that was also used in episodes #33 and #68. Submitted by PaulDrake 33, 7/20/2008.
The driver of Evelyn's Skyline cab seen at the house doesn't look much like Mr. D'Amato to me. For one thing, no mustache. Submitted by daveb, 8/12/2009.
Barbara Hale blows her lines in this episode. When Mason is looking over Cartrights will, Hale starts to say her line "That's quite a" and then forgets the rest of her lines, with Burr finishing the line for her "change of heart," she then shakes her head at the slip. Quick work on Burr's part. Hale has alot of trouble with this scene, twice she starts to say something and stops herself from talking over Burr's lines. Submitted by Craig, 4/4/2010.
Having reviewed that scene a few times, I submit that Hale didn't forget her line, that the script had Burr finishing that sentence. They just didn't do it very smoothly. Most uncharacteristic. I agree, however, that Hale has trouble with that scene. She seems discomposed, almost distracted. Bathroom break? Submitted by francis, 2/16/12.
In this same scene, when Perry is reading aloud Arthur Cartright's will (at approximately 14:30 on the CBS DVD), the DVD captioning is, "He leaves all his property to his sister, E. Evelyn Cartright." However, I think Perry is actually saying "née Evelyn Cartright" (i.e., her maiden name). Submitted by Dan K, 28 November 2018.
Sightings / Uncredited Actors: In one brief shot during the hearing, you can see Distinguished Gentleman #1—wearing glasses this time and almost completely obscured by Tragg's head. Then behind our Gentleman sits Don Anderson, frowning. Also in that shot on the far right is a placid Little Old Lady in a Hat. Submitted by gracep, 8/27/2010.
+ Blue Collar Guy drives the first cab that brings Evelyn Forbes to Clinton Forbes' house. Also in the courtroom are "Miss Carmody" and Quiet Old Man #2. Submitted by alan_sings, 16 Oct 2010.
+ After lunch, the aforenamed Little Old Lady sits behind the aforesaid Quiet Old Man in the gallery. Distinguished Gentleman #2 is nearby. Submitted by gracenote, 5/16/2011.
+We find the Distinguished Lady #4 on Burger's side during the hearing. Submitted by BigBill767, 2/4/2017.
++ Was that Jacqueline Lee, who played Nurse Watson in TCOT Caretaker's Cat, pushing the wheelchair in the opening scene at the sanitarium? jfh 07Sep2023

Unidentifed "modern" machine Tycoon Cartwright sets down at his desk in front of a credenza with a large radio type machine that at first glance seems to have a screen and keyboard. What is it?
The screen is too irregular to be standard cloth over a speaker. Some radios had a panel with an indicator which moved proportional to the frequency with station ids marked, but this panel seems to have 3d buttons.
OTOH, this would be too Super Hi Tech for even a mogol to track stocks.
+ It's an AM/Shortwave radio. Probably 1940's vintage. The top part is the speaker and the bottom is the band/frequency indicator. There are knobs on either side for tuning and volume control. Kilo 1/6/2022.
Location: The hotel 6:36 into this episode is the Bryson Apartment Hotel, 2701 Wilshire, and was also used in episode #33, TCOT Long Legged Models, and episode #28 as identified by Billp. Submitted by Eric Cooper, 5 January 2011.
Name of the "Howling Dog": Sammy. Submitted by H. Mason 9/29/14
Movie: This story was made into a movie released in 1934 with Warren William as Perry Mason and Helen Trenholme as Della Street. It is available on DVD. Submitted by H. Mason 10/18/14
+ The 1934 movie version is much more faithful to the original ESG novel than is the TV adaptation. The TV adaptation changes the identity of the guilty party, thereby completely disposing of the novel's surprise ending. Submitted by BobH, 13 January 2016.
++ IMHO John Holland (Clinton Forbes) looks a lot like Warren William. jfh 26Jul2019.

Prop: For the first time the picture of the boats are hung on the wall in Perry's office beside the private door. That picture was on the wall in the office of Mr. Brent in episode 34 TCOT Gilded Lily. Submitted by H. Mason 10/20/14
New business: In this story, for the first of several times, Paul refers one of his clients to Perry. Submitted by H. Mason 10/20/14
License Plate: The plate number on Perry's Ford changed to RTS 277. Submitted by H. Mason 10/20/14
This is the first of two PM appearances for Fintan Meyler (Thelma Brent), who was born in Ireland...MikeM. 10/3/2016
+ in this episode, sans her lovely Irish accent jfh 07Jan2023

Ann Rutherford (Evelyn Forbes) and Raymond Burr were each born in British Columbia in 1917...MikeM. 7/3/2017
This is the only PM appearance for Gregory Walcott (Bill Johnson), who starred in the 1959 cult classic, "Plan 9 from Outer Space"...MikeM. 10/23/2017
Oh, Bloody Hell This is, seemingly, the most violent of all the PM's: it begins with a brutal assault, and by the end we have three deaths (four if you count the dog). Notcom, 102417.
This is the second of three PM appearances for Robert Ellenstein (Arthur Cartright), who would later appear in four episodes of "Ironside". Besides his numerous film and television roles, Ellenstein was a veteran stage actor and director. Arthur Ellenstein passed in Los Angeles in 2010 at the age of 87. He was survived by his wife, daughter, and two sons...MikeM. 7/13/2018
Comments

Edit
Dr. Bayliss informs Arthur Cartwright that his sister has escaped from the sanitarium. Arthur tells Dr. Bayliss not to call the police, he will handle the matter. Dr. Bayliss agrees. Evelyn Forbes has just brutally assaulted the night nurs, stolen her clothes, and broken out of the sanitarium. After all of this, Dr. Bayliss agrees not to call the police. Things would be handled much differently today. Submitted by PaulDrake 33, 7/20/2008.

I don't remember even hearing anything about how badly hurt the nurse was. After all, that WAS a pretty heavy vase she was clobbered with, and Mrs. Forbes used quite a bit of force when she hit her, too. I think Mrs. Forbes was lucky she didn't accidentally kill the nurse. But, in late 50s, most businesses didn't file any charges if a woman got injured, or killed; the prevailing attitude back then was that a woman was lucky to even HAVE a job. That's also why office wolves acted with impunity - no court would ever prosecute them. Submitted by Arisia, 02/18/18

Dr. Bayliss is probably eager to hush things up for the sake of his business, and willing to pressure his staff to do the same. However, he was entirely negligent in not getting written and signed confirmation of Cartwright's promise to take full responsibility. Submitted by GCL 06/10/18
Maybe I just missed him, but did anyone see Pitt Herbert as the Coroner? He's in the credits. Submitted by daveb, 8/12/2009.
+ Not on the DVD. Kilo 4/21/2018.
Paul Drake can certainly sprint with the best of them as he shows in this episode. Early on he enters the house across the street from the Forbes residence and in less than 6 seconds is opening the 2nd-floor window. You can even see Paul begin his sprint as his associate Andrews enters the door. Submitted by Kenmore, 7/05/2010.
+ Just before Paul enters the residence he pauses and holds up the key. If you look quick (or pause) you can see that he has a bandaid on his finger tip. It's also noticeable in other scenes such as when he's playing with the "killer" German Shepherd in the epilogue. Submitted by Kilo 4/21/2018.
The dog which Paul brings to Perry's office really loves the PI's hair. Was Brylcreem a PM sponsor? Submitted by MikeM, 11/02/2012
+ Sammy the dog seems to be one of those pale, heavyset German Shepherds from the Frank Barnes kennel who played the modern television Rin-Tin-Tin. I never liked those dogs. The original Rin-Tin-Tin (1918-1932), the silent film star, was a sable-coated dog with very long dark ears and a thrifty form. His highly agile movements could not be matched by Barnes's tubby Flame Jr. and his equally pale and tubby kennel-mates. Submitted by catyron, January 5th, 2021.
It seems odd that the police cars have no writing on the doors. Submitted by scarter, 8/4/14
Burger and Bill Johnson wear identical neckties, DOD 07/26/19
Clinton Forbes asks Perry if a will is valid if the maker of the will is executed for murder, and then he tells Perry he wants to make a will. It seems odd Perry doesn't ask him about this. "Mr. Forbes, are you planning a murder?" Forbes assures him he isn't, but he volunteers that information on his own, as he's leaving Perry's office. submitted by scarter, 8/4/14 //
+ It was actually Arthur Cartwright, Evelyn Forbes' brother, who asks about the will. Submitted by Kilo 6/30/2017.
++ And Perry said, "Do you have something in mind, Mr. Cartwright?", NOT "are you planning a murder". Submitted by Arisia, 02/18/18
Classic Perry: "If my client's interests are in jeopardy, I will do whatever is necessary," he tells Paul. Mike Bedard 6.27.16 MeTV airing.

We actually see Perry smoking a cigarette in this episode, then in the epilogue, Perry has a coughing spasm as he chuckles at Paul characterizing Sammy as "a killer". jfh 26Jul2019.



Not the first--but likely the most dramatic--example in Perry Mason:
"Heaven has no rage like love to hatred turned,
Nor hell a fury like a woman scorned."
And notice that neither Perry nor Della comment on the motivations of a secretary who kills her boss because he won't marry her !! Submitted by Notcom,10-04-2016.
In addition to violence and jealousy, this episode features another staple of PM - an intricate plot - and as is many times the case, the sequence of events that Perry deduces doesn't seem to quite match up with what we've actually seen develop.
When Arthur Cartwright first visits Perry, he relates that he's been kept up two nights by a howling dog; tho it (seems to have) meant little at the time, what we later learn tells us it meant that Polly is already dead...for two days, at least (clearly she and Arthur were neither murdered nor buried at the same time, tho the dialogue during the trial might suggest otherwise).
+ Perry later receives a letter - ostensibly from Arthur - changing his beneficiary from Polly to Evelyn, asking Perry to defend the latter and leaving a cryptic message; taken together, they mean that he knows Polly is dead, and he seems to suspect Evelyn killed her...so right church, wrong pew. But if that's the case why was he murdered ?? Did he tell Thelma and/or Clinton of his suspicions, and they realized he knew too much?? or did he actually suspect they had killed Polly and confronted them?? if so, then why ask Evelyn be defended ?? More to the point, why not report his theory to the police...or at least Perry??
++ The answer of course makes great deal of sense dramatically (but has little logic to it): just as with the no-one-is-looking "surprise" discoveries, it's to fool the audience. Notcom, 122320.
<< Bedeviled Doctor | Episodes | Calendar Girl >>