Show63
<< Howling Dog | Episodes | Petulant Partner >>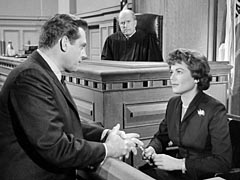 #63: The Case of the
Calendar Girl
Original Airdate: 04/18/59
From The Perry Mason TV Show Book
George Andrews needs Perry's help. Andrews has just been in a car accident after visiting political fix-it man Wilfred Borden.
The next day, Wilfred Borden's murder is announced on the radio and the police bring in Andrews as the prime suspect, since he saw Borden just before his death.
Perry suspects a setup and must find Dawn Manning, the girl Andrews swears was in the car accident with him. When Andrews mentions that Dawn's a bathing suit model, Perry gets an idea. He poses as a photographer and advertises for subjects.
This episode, which originally aired at 7:30pm on Barbara Hale's 37th Birthday (a Saturday), is unusual in that Perry calls Della Street to the witness stand to provide an alibi for the defendant. --Submitted by 10yearoldfan, 9 June 2012.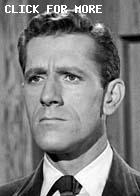 Opening
Starring Raymond Burr
in Erle Stanley Gardner's
The Case of THE CALENDAR GIRL
Barbara Hale as Della Street
William Hopper as Paul Drake
William Talman as Hamilton Burger
Ray Collins as Lt. Tragg
Trailing
Directed by Arthur Marks
Teleplay by Seeleg Lester
Ben Brady || Producer
Produced by CBS Television in association with Paisano Productions
Gail Patrick || Jackson Executive Producer
Sam White || Associate Producer
Raymond Burr as Perry Mason
Barbara Hale as Della Street
William Hopper as Paul Drake
William Talman as Hamilton Burger
Ray Collins as Lt. Tragg
Cast
Dolores Donlon as Dawn Manning
John Anderson as George Andrews
Kasey Rogers as Loretta Harper
Dean Harens as Frank Fettridge
George Neise as Wilfred Borden
Charles Tannen as Jasper Horn
Evelyn Scott as Beatrice Cornell
Ralph Moody as Dennison
Richard Gaines as Judge
Jon Lormer as Autopsy Surgeon
George E. Stone as Court Clerk
Thom Conroy as Head Waiter
Diana Crawford as Patti Drew
Doug Marland as Bob
Crew
Gene Wang || Story Consultant
Production Supervisor … J. Paul Popkin
Story Editor … Alice Young
Director of Photography … Frank Redman, A.S.C.
Art Direction …
Lyle Wheeler
Lewis Creber
Editorial Supervision … Art Seid, A.C.E.
Assistant Director … Morris Harmell
Casting … Harvey Clermont
Makeup … Richard Hamilton
Hair Stylist … Annabell, S.C.H.
Wardrobe Supervision … Dick James
Set Decoration … Walter M. Scott, Charles Q. Vassar
Properties … Ray Thompson
Sound Editor … Gene Eliot, M.P.S.E.
Production Sound Mixer … Roy Meadows
Script Supervision … William E. Orr
Perry Mason
Filmed in Hollywood by TCF Television Productions, Inc.
A CBS Television Network Production
CARS: 1957 Ford Ranch Wagon 2dr, medium & white color, 1957 Plymouth Savoy V8 2dr hardtop, dark color w/ white top, 1959 Ford Custom 300 4dr sedan, light color (Taxi), 1958 Cadillac convertible, black, white top up (Mason)*, 1959 Cadillac series 62 convertible, black, white top up (Mason), Cameos: 1957 Ford Fairlane 2dr sedan, dark & white color, 1957 Buick convertible, dark color, white top up, *reuse of footage from an earlier episode. From The Cars by Greg Cockerill.
+ My family used to own exactly such a "1957 Ford Ranch Wagon 2dr, medium & white color." It was a very classy turquoise and white. We bought it used around 1960 and had it for about two years, until it was smashed up on the driver's side when some fool tried to change lanes on the Golden Gate Bridge going North. My step-father was not hurt, but he didn't like the way it crumpled so easily compared to our previous car, a tank of a 1951 Hudson Hornet, so he junked the Ford and bought the first brand-new car we ever had, a horrendously ugly 1963 GMC Suburban, all white. Submitted by catyron, January 7th, 2021.
Loretta Harper has the same barometer in her apartment that hangs on the wall of Wilfred Borden's living room. Submitted by PaulDrake33, 7/29/2008.
+ This is the "Banjo Barometer," and from now on it becomes a favoured wall-hung prop in one home after another. Submitted by catyron, January 7th, 2021.
Sightings: During the first part of the hearing Little Old Lady in A Hat sits behind Perry Mason and appears in many shots. Distinguished Gentleman #1, and Quiet Old Man #1 are on the prosecutor's side. Submitted by gracenote, 5/23/2011.
+ We can see the all three clustered together among the courtroom audience after the hearing reconvenes. DG#1 is wearing glasses, and at one point the Lady whispers with him. More about them on this page. Originally submitted by gracenote, 8/28/2010; updated 5/23/2011.
+ "Miss Carmody" is seated just behind Perry next to the aisle. Submitted by alan_sings, 9 Oct 2010.
Little Old Lady #2 is visible during the first part of the hearing, in the front row. During the second part, she is in the back row next to Little Old Lady #1, who has magically teleported from the other side of the courtroom (see above). Submitted by gracenote, 5/23/2011.
Locations: Early in the episode, we see Loretta Harper going into the "Dorman Apartments on Rossmore". The building is actually the old Executive Building at 20th-Century Fox Studios in Beverly Hills. Submitted by S. Stuart 11/21/18
Goof: While Dennison (the hardware store owner from which the gun was stolen a year ago) is testifying, he is also seated behind Frank Fettridge in a closeup of the courtroom gallery. Only the corner of his glasses is visible in this shot, but his seating location is confirmed in other gallery views later on. Submitted by alan_sings, 9 Oct 2010.
The only time I recall hearing the voices on the other end of the line when Della calls Perry at his apartment. Joe B. 12/15/20.
Della is on the witness stand for the third time. (earlier in episodes 8,30). This time she is questioned by Perry. Burger had no questions. (she would later be put on the stand in episodes 160,162,172,187). Submitted by H. Mason 9/25/14
This is the only PM appearance for Dolores Donlon (Dawn Manning). She was Playboy's Playmate of the Month in August 1957...MikeM. 10.4/2016
+ A chorus of voices all claim Ms. Donlon was born in 1920, which would have made her Playboy appearance at age 37 (and her age here almost 40!) A more plausible date is 1926...methinks she still had a youthful appearance. Notcom, 122420.
This is the first of two PM appearances for Kasey Rogers (Loretta Harper), who had recurring roles in "Peyton Place" and "Bewitched"...MikeM. 10/24/2017
This is the first of three PM appearances for John Anderson (George Andrews) who was memorable as Capt. 'Skipper' Farver in the 1961 Twilight Zone episode, "The Odyssey of Flight 33". John Anderson passed in 1992 at the age of 69...MikeM. 7/16/2018
Comments

Edit
BARBARA HALE PASSES AT THE AGE OF 94. The news is reporting that Barbara Hale passed on 1/26/2017*, at her home in Sherman Oaks CA. Thank you, Barbara, for all the wonderful work you have left behind for us...MikeM. 1/27/2017
(*Which would have been William Hopper's 102d Birthday. Noted by Notcom 012817).
Dean Harens who plays Frank Fettridge make the first of four appearances on Perry Mason. Mr. Harens is without a doubt the smarmiest character to appear on Perry. Every time he comes on screen, I have this terrific urge to run up and begin to choke him. Submitted by PaulDrake 33, 29 July 2008.
+ He has 85 IMDb credits; the 3 other Perrys were "Paul Drake's Dilemma," "Wandering Widow" & "Fatal Fortune." Mike Bedard 6.27.16.
Seems to me that when Fettridge testifies someone called out from Borden's studio, true or not, Perry's case is made. That someone could just as well have been our killer. DOD 08/11/20
The episode description above is seemingly incorrect. Andrews does not maintain that Dawn Manning was in his car at the time. He claims the girl he took home claimed to be a Beatrice Cornell but was actually Loretta Harper. I also don't believe he ever said anything to Perry about Dawn Manning being a photo model. Submitted by Wick 1/05/2022
What is up with the picture posted on this episode? It is a picture of Perry in Mexico from Episode #68, "TCOT Dubious Bridegroom." Submitted by PaulDrake 33. [Fixed! 3s and 8s look alike at my age. daveb]
It's interesting to note that Perry episodes get less racy as the years go on. For example, in this 1959 episode, Dawn Manning's bikini is quite skimpy. But in 1964's TCOT Blonde Bonanza, Diane Adler's bikini is comparatively modest. It's as though the sexual revolution works backwards on this show! Submitted by Ed Zoerner, 3/6/2011.
The shield-and-axe decoration over Borden's mantle is exactly like one that hung on the wall of my grandmother's den. I have no idea what it is or where it comes from, but I wonder if it wasn't uncommon in the 1950s? Does anyone know anything about it? Queried by gracenote, 5/23/2011.
+ It shows up again in "...Spanish Cross" in Runyon's home; only the lower half is in frame, at about 10 minutes in, just as Della tries to call him. OLEF641 12/30/2020
Forgotten man: Did any of the characters know John Milton Carson? Did the police talk to him about his stolen (and damaged) car? They should have, it was on the property of a murdered man. Submitted by H. Mason 10/20/14
At times during her testimony, Loretta Harper's voice, mannerisms, and looks (especially the eyes) have an uncanny resemblance to Janet Leigh. DOD 07/14/18
When Fettridge takes the stand the second time, there is a brief shot from above and behind him. I don't recall such a shot in any other episode. DOD 09/26/23
It seems that a lot of these estates started with a B such as Borden, Baxter, Balfour... Submitted by Perry Baby 2/26/15.
Glove Compartment SWITCH: Usually a pistol is TAKEN; in this case, the weapon is put IN. Mike Bedard 6.28.16 MeTV airing.
<< Howling Dog | Episodes | Petulant Partner >>