Show64
<< Calendar Girl | Episodes | Dangerous Dowager >>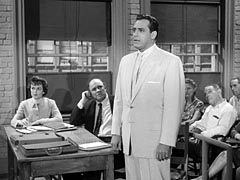 #64: The Case of the
Petulant Partner
Original Airdate: 04/25/59
From The Perry Mason TV Show Book
Harry Bright and Chuck Clark were great friends and business partners until Chuck married Margaret. Harry didn't approve of the union since Margaret was only half Chuck's age and very much after his money.
When Margaret is shot to death, Harry is sent to jail as a suspect. Perry wants to prove that Harry couldn't hurt a fly, let alone resort to murder. He has to untangle a web of lies told by almost everyone for a variety of reasons.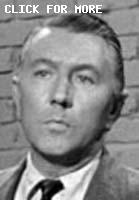 Opening
Starring Raymond Burr
in The Case of THE PETULANT PARTNER
Based upon characters created by Erle Stanley Gardner
Barbara Hale as Della Street
William Hopper as Paul Drake
William Talman as Hamilton Burger
Ray Collins as Lt. Tragg
Trailing
Directed by William D. Russell
Story by Milton Krims
Teleplay by Milton Krims and Gene Wang
Ben Brady || Producer
Produced by CBS Television in association with Paisano Productions
Gail Patrick Jackson || Executive Producer
Sam White || Associate Producer
Raymond Burr as Perry Mason
Barbara Hale as Della Street
William Hopper as Paul Drake
William Talman as Hamilton Burger
Ray Collins as Lt. Tragg
Cast
R. G. Armstrong as Harry Bright
William H. Wright as Chuck Clark
Francis J. McDonald as Salty Sims
Geraldine Wall as Nell Gridley
Nan Leslie as Margaret Clark
Myron Healey as Howard Roper
William Swan as Bill Shayne
Russell Thorson as Mel Topham
Lynne Allen as Louise Dayton
Jamie Forster as Judge
Russ Bender as Sgt. Givens
Stafford Repp as Philip Morgan
Sid Cassel as Waiter
Steve Stevens as Bellboy
Tony Regan as Kellogg
Crew
Gene Wang || Story Consultant
Production Supervisor … J. Paul Popkin
Story Editor … Alice Young
Director of Photography … Frank Redman, A.S.C.
Art Direction …
Lyle Wheeler
Lewis Creber
Editorial Supervision … Art Seid, A.C.E.
Film Editor … Richard W. Farrell
Assistant Director … Robert G. Stone
Casting … Marvin Schnall, Harvey Clermont
Makeup … Richard Hamilton
Hair Stylist … Annabell, S.C.H.
Wardrobe Supervision … Dick James
Set Decoration … Walter M. Scott, Charles Q. Vassar
Properties … Ray Thompson
Sound Editor … Gene Eliot, M.P.S.E.
Production Sound Mixer … Roy Meadows
Script Supervision … William E. Orr
Perry Mason
Filmed in Hollywood by TCF Television Productions, Inc.
A CBS Television Network Production
CARS: 1959 Ford Country Sedan wagon, medium & white color, 1958 Ford Thunderbird coupe, white, 1959 Lincoln Continental MkIV, 4dr hardtop, white, 1959 Cadillac series 62 convertible, black, black & white interior, top down (Mason), 1959 Ford Custom 300 4dr sedan, black & white (Police), Cameo: 1955 Oldsmobile 2dr hardtop, medium color & white. From The Cars by Greg Cockerill.
I believe this is the only episode Perry drives this model Cadillac. DOD 09/27/23
Character Names: Salty Sims's real first name was Walter, as mentioned in the episode. Submitted by gracep, 8/31/2010.
Sightings: Both Distinguished Gentleman #1 and Quiet Old Man #1 appear among the courtoom audience. More about them and other regulars here. Submitted by gracep, 9/1/2010.
+ The Thin Man appears as an Assistant District Attorney seated at the prosecution table. "Miss Carmody" is seated behind Nell Gridley and Chuck Clark in courtroom closeups.
++ On page 162 of "The Case of the Alliterative Attorney," Bill Sullivan and Ed Robertson write that the actor who plays the assistant DA here is named Luis Delgado. So I guess Luis Delgado is the Thin Man--all the more fitting, since "delgado" means "thin" in Spanish! Mr. Delgado's IMDB page does list a couple of uncredited Perry Mason appearances. I think the book is probably correct. Submitted by Ed Zoerner, 1/8/21
+++ Distinguished Lady #3 is behind Howard Roper near the door. Submitted by alan_sings, 9 Oct 2010.
++++ Little Old Lady #2 is seen taking shorthand as Court Reporter, and Distinguished Gentleman #2 is in the the courtroom audience. Submitted by daveb, 3/26/2011.
+++++ I'm pretty sure that Distinguished Lady #4 is sitting in the front row of the gallery next to nephew Bill Shayne. Submitted by JazzBaby, 8/17/2019.
Neither Ray Collins (as Lt. Tragg) nor William Talman (as Hamilton Burger) appear despite onscreen credit. Submitted by gracenote, 6/20/2011.
+ Credit is based on the actor's contract, Usually, a regular on a series will have his name on the credits regardless of whether he is actually in the episode. Perry Mason is no exception. There are exceptions to the rule when a contract specifically states the name only appears when the actor appears. This happened after William Talman's firing and rehiring. The continuous mentioning (here and many other series sites such as TV.com) that an actor doesn't appear "despite being credited" is irrelevant. Only the fact that a regular doesn't appear is noteworthy. The actor will be credited regardless. Submitted by Wiseguy70005, 8/22/12.
I have also read that Burr and producer Gail Patrick kept Ray Collins's on screen credit when he was too ill to work because they knew he would be watching and thought it would please him. DOD 07/30/19
Syndication cuts: Nell driving into the gas station and being told by Salty that Chuck is back; Mason driving to Clark's; Roper testifying about telling where a bullet enters the ground, Mason's test with decomposed granite and whether or not the bullet was a blank [usually a syndicated cut is evidenced by a fade out and fade in; in this case a single wipe across the screen was used]. Submitted by Wiseguy70005, 8/22/12.
+ The Nell, Testimony & Test scenes were shown in MeTV's 6.29.16 airing. Mike Bedard.
It's for you, Mr.Mason: This episode has a double header. Perry and Della are just sitting down to breakfast at the White Sun Guest Ranch when the waiter hands him the phone. It's Chuck Clark calling, and he says it's very important. Later, Perry has just returned to the ranch when the White Sun bellhop schleps a phone over to him. It's Paul Drake on the horn. Submitted by francis, 7/19/14.
Recycled newspaper trick: The paper Perry purchased before he tried to eat at the White Sun Guest Ranch had a headline from episode 60 TCOT Lost Last Act but the photo was from the paper in episode 54 TCOT Footloose Doll. Submitted by H. Mason 10/20/14
+ Recycled Presidential Portraits: The set of 5 from "Perjured Parrot" were hanging in the Desert courtroom. Mike B.
The White Sun guest ranch was in Rancho Mirage, California. Submitted by vgy7ujm, 14 February 2015.
Stafford Repp appeared in 3 other Perrys before his iconic Chief O'Hara role in "Batman" [136 IMDb credits]. Mike Bedard 6.29.16.
This is the first of three PM appearances for William Wright (Chuck Clark), who was born in San Francisco in 1894. He passed in Los Angeles in 1962 at the age of 68...MikeM. 19/5/2016
+ [a brief two years after this PM appearance. jfh 30Jul2019].
This is the only PM appearance for prolific actor Myron Healey (Howard Roper), who served in the Air Corps during World War II...MikeM. 7/5/2017
This is the second of three PM appearances for Francis McDonald (Salty Sims), whose first wife was actress Mae Busch. Busch's affair with Mack Sennett led to Sennett's breakup with Mabel Normand, who was Busch's friend...MikeM. 10/25/2017
Equipment Visible: As Perry walks away from the gas pump toward Harry's house the shadow of a boom mic can be seen moving across his back. Submitted by Kilo 4/23/2018.
This is the second of three PM appearances for R.G. Armstrong (Harry Bright), who was born in Alabama in 1917. Armstrong had a recurring role as Captain McAllister in the single season television series "T.H.E. Cat". R.G. Armstrong passed away in Studio City CA in 2012 at the age of 95...MikeM. 7/17/2018
Chuck Clark's ultra-moderne sunken living room set, with its four wide steps down from the plate glass windows, will be seen again in just two episodes, in "TCOT Deadly Toy." Submitted by catyron, January 10th, 2021.
Gavel Tally - After 14 episodes with not a gavel bang to report, we have one, when the judge adjourns court after Sims' testimony. OLEF641 1/17/22
Comments

Edit
The courthouse used in an establishing shot is clearly something filmed from an earlier era (or it's a period piece). The cars are too old, and one can barely make out that the fashions as certainly pre-1950s. Submitted by gracep, 8/31/2010. Picture here.
The courtroom (brick style with vintage pictures) setup and the judge (Jamie Forster) are a reuse from prior episodes when they had a country trial. Submitted by Perry Baby 3/1/15.
Nell gives Perry a business card with her info typed on it. Important as a clue, but a bit ridiculous in real life. Business cards are normally printed - and if she did need to give additional info, it would have been far easier to hand print it rather than trying to run a business card size paper through a typewriter. DOD 07/15/18
Just after Ms. Gridley gives Mason her business card, the establishing shot of the town shows several cars driving by—but they are all from the 1930s or '40s as well! Submitted by gracenote, 6/19/2011.
Speaking of cars, when Perry pulls his massive Caddy into Salty's gas station, he asks him to "fill it up for me." Unfortunately Salty had no hi-test gas, as he'd told Nell Gridley when she pulled up in her station wagon and asked for it. (In such a small town, wouldn't she have known that anyway?) Submitted by francis, 2/18/12.
+ Nell should be more careful about whom she asks to drive her station wagon. Pulling away from the gas pump in haste, Harry Bright almost knocks it down. Submitted by francis, 7/19/14.
If you want the pump while filling up Harry Bright's car, the level goes down in the reservoir! I believe these pumps worked by manually pumping gas up into the clear bowl and then drains into the car. Submitted by Perry Baby 3/1/15.
So we are asked to believe that Salty Sims was able to wait six weeks before telling Harry Bright, his neighbor across the road, that Chuck Clark was back in the neighborhood? Submitted by 10yearoldfan, 10 June 2012.
+ I was thinking the same thing. Kilo 10/28/2019.
The set decorators Walter Scott and Charles Vassar placed a nude female statue near Chuck Clark's front door. She is holding up a dish. Perhaps she symbolizes the young wife, begging for money. Submitted by 10yearoldfan, 10 June 2012.
+ Those statues must have been on sale. The same statue is next to the bar when Perry exits via the sliding glass doors. Submitted by Kilo 7/2/2017.
At 33:15 we see establishing shots of the county courthouse, the same courthouse used in Episode #45, The Case of the Buried Clock (but with different, also decades-old, cars out front). Note the Civil War era cannon in the park out front. Submitted by 10yearoldfan, 10 June 2012.
Goof: At 43:13, Perry shows Salty Sims the letter Salty had typed to Philip Morgan, supposedly proving that Salty had lied when he said he had never borrowed Nell Gridley's typewriter. But this letter shows a clean letter "n" unlike the dark ones in the phone number that Nell typed on the back of her business card and in the word "not" that Salty inserted into Morgan's letter. Perhaps the prop folks overlooked the word "investigating" that has the only "n" in the letter. Submitted by 10yearoldfan, 10 June 2012.
+ Being old enough to not only know what a typewriter is, but to actually have used several, I can attest to how it is next to impossible for a non-professional typist to reinsert and align a document to add a word to an existing line, even when using the same machine as the original, and not have it be readily apparent to even an untrained eye. Submitted by TerryS, 12/14/2018
Nell and Harry don't pay for their gas. Submitted by scarter, 8/10/14
Harry isn't too Bright. He's cleaning a loaded gun. Submitted by scarter, 8/10/14
Perry shows up in a rare light colored suit and tie during the second day of the trial. Submitted by Perry Baby 3/1/15.
+ And looks mighty fine in it, along with his tone-on-tone shirt and necktie! jfh 30Jul2019
A few continuity errors in the scene where Howard karate chops Harry from behind. First, it looks like this scene had multiple takes because Harry's pant legs are already dirty before falling down from the blow. When Harry fires the revolver at Howard's feet Howard takes several steps back. But the closeup showing where the bullet hit the ground shows it right next to Howard's foot. Lastly, up until Harry hits the ground he doesn't have a gun in his waist band. (DVD slo-mo catches this). Kilo 10/28/2019.
<< Calendar Girl | Episodes | Dangerous Dowager >>