Show65
<< Petulant Partner | Episodes | Deadly Toy >>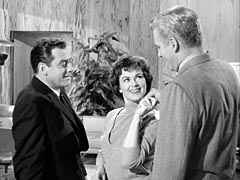 #65: The Case of the
Dangerous Dowager
Original Airdate: 05/09/59
From The Perry Mason TV Show Book
Only the rich could have the problems that trouble the Benson family. Daddy is dead, and Matilda Benson rules her children with an iron fist and the promises in her will. Imagine the shock Matilda suffers when her little brood gets involved in a potential gambling scandal and later the unspeakable—murder!
Matilda hires Perry and he finds this a tough case. Watch for Ellen Corby (Granma on The Waltons) as a gambler.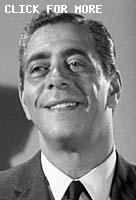 Opening
Starring Raymond Burr
In Erle Stanley Gardner's
The Case of THE DANGEROUS DOWAGER
Barbara Hale as Della Street
William Hopper as Paul Drake
William Talman as Hamilton Burger
Ray Collins as Lt. Tragg
Trailing
Directed by Buzz Kulik
Teleplay by Milton Krims
Ben Brady || Producer
Produced by CBS Television in association with Paisano Productions
Gail Patrick Jackson || Executive Producer
Sam White || Associate Producer
Raymond Burr as Perry Mason
Barbara Hale as Della Street
William Hopper as Paul Drake
William Talman as Hamilton Burger
Ray Collins as Lt. Tragg
Cast
Robert Strauss as Danny Barker
Patricia Cutts as Sylvia Oxman
Kathryn Givney as Matilda Benson
Barry Atwater as Robert Benson
Michael Dante as Arthur Manning
Gene Blakely as Frank Oxman
Leo Gordon as Charles Duncan
Ellen Corby as Old Lady
King Calder as Dr. Ralph Caldwell
Frederic Worlock as Judge
Joey Faye as Walter Cobb
George E. Stone as Court Clerk
Perry Cook as Old Man
Barry Brooks as Policeman
Shirley Monticue as Maid
Crew
Gene Wang || Story Consultant
Production Supervisor … J. Paul Popkin
Story Editor … Alice Young
Director of Photography … Frank Redman, A.S.C.
Art Direction …
Lyle Wheeler
Lewis Creber
Editorial Supervision … Art Seid, A.C.E.
Film Editor … Richard Cahoon, A.C.E.
Assistant Director … Morris Harmell
Casting … Harvey Clermont
Makeup … Richard Hamilton
Hair Stylist … Annabell, S.C.H.
Wardrobe Supervision … Dick James
Set Decoration … Walter M. Scott, Charles Q. Vassar
Properties … Ray Thompson
Sound Editor … Gene Eliot, M.P.S.E.
Production Sound Mixer … Roy Meadows
Script Supervision … William E. Orr
Perry Mason
Filmed in Hollywood by TCF Television Productions, Inc.
A CBS Television Network Production
CARS: 1959 Ford Sunliner convertible, medium & white color, top down, 1958 Ford Thunderbird convertible, black, white top up (Drake), 1959 Ford Skyliner retractable, black, top down (Mason), Cameo: 1959 Plymouth 4dr hardtop, medium color & white top. From The Cars by Greg Cockerill.
The words "nineteen-fifty-nine Ford convertible" are said in the courtroom at least three times. Submitted by MikeM, 11/06/2012.
Anomaly: Michael Dante is listed as Arthur Manning but is called Bill Manning by a witness on the stand. At other times, he is called Manning or Mr. Manning. Confirmed by BobH, 12/21/2007.
Robert Strauss makes his first of two appearances on Perry Mason. He would also appear in the 1965 episode #227, TCOT Thermal Thief. Robert Strauss was nominated for an Academy Award in 1953 for his role as Stanislas Kasava in Stalag 17. He would lose out to Frank Sinatra playing Maggio in From Here to Eternity. Submitted by PaulDrake 33, 7/29/2008.
+ Robert Strauss also played Mr. Kruhulik (who went out with the woman "with the big fat poodle") in 1955 in The Seven Year Itch alongside Marilyn Monroe, Tom Ewell, and Evelyn Keyes. jfh 13Aug2020

Barry Atwater had 5 other Perry roles, including Psychiatrist, Professor & Chancellor [114 IMDb credits]. Mike Bedard 6.29.16.
A familiar face to Sherlock Holmes fans is that of Frederic Worlock, who portrays the judge in several PM episodes, including this one. He was a featured player in the Universal Studios series of Holmes films and possessed a wide acting range. Submitted by francis, 7/20/14.
Ellen Corby, the poker player who demands to see Paul's hand, is best known as Grandma Walton. She also had a brief but memorable role as the mysterious hotel manager in "Vertigo". DOD 08/13/20
Sightings: Distinguished Gentleman #1 sits in the back row of the court gallery, on the prosecutor's side. He's visible in a shot with Burger. More about him and other recurring courtroom observers here. Submitted by gracep, 9/2/2010
+ When Sylvia Oxman first enters the Clover Club, "Sasha Magaloff" is in a visor is dealing at the foreground poker table. Later, sans visor, he walks by in the background when the Old Lady (Ellen Corby) demands to see Paul's cards. Submitted by alan_sings, 9 Oct 2010.
++ "Sasha Magaloff" is now known to be the actor Mitchell Rhein. Submitted by catyron, November 16, 2020.
+++"Miss Carmody" is seated next to Charles Duncan and in front of Dr. Caldwell in courtroom closeups. Submitted by alan_sings, 9 Oct 2010.
++++ "Distinguished Lady #4" is sitting in the front row of the gallery on the defense side. Submitted by JazzBaby, 8/17/2019.

During the pentutimate scene, Robert Benson (Barry Atwater) wears the titular tattersal vest from Ep 119 "TCOT Violent Vest". jfh 12Dec2019

Neighbors: Frank Oxman lived at the Ogden Apartments in #209. In episode 63 TCOT Calendar Girl Loretta Harper lived there in apartment 7E which was on an upper floor. Submitted by H. Mason 10/21/14
Checks: Paul opened a checking account at the City Trust & Savings Bank. John Addison had his account at a branch of the same bank in episode 9 TCOT Vagabond Vixen. The bank will appear in several future episodes. Can we assume the first check Paul wrote was to the Clover Club? It was number 203. Submitted by H. Mason 10/21/14
+I doubt Perry's check ruse would be possible today...if it was, even then: ID is required to open an account, so the only name that could appear on them would be Paul's own. Notcom, 121319.
This is the second of two PM directing credits for Buzz Kulik, who directed nine episodes of The Twilight Zone...MikeM. 10/6/2016
In January 1959, Patricia Cutts (Sylvia Oxman) had to hire a lawyer in real life to get charges dismissed of leaving the scene of a 1958 accident in Los Angeles. Cutts said she talked to the lady driving the other car. The lady said she didn't recall Cutts talking to her. Submitted by MikeM, 11/06/2012
+ Patricia Cutts was born in London, England, and died there at the age of 48. An inquest ruled her death a suicide by barbiturate poisoning...MikeM. 7/6/2017
++ How to justify Sylvia Oxman's British accent? She was American. Joe B. 03/30/2020
+++ It was awkward indeed to use a British actress with an accent that she either would not or could disguise to play the granddaughter of an American dowager. Perhaps Sylvia Oxman was supposed to have been raised in England before her mother ran off with the Neapolitan fisherman. In any case, Patricia Cutts trying to sound "American" reminded me of Kathryn Hepburn trying to play an aristocrat. ("The Calla Lilies are in bloom...") Also, i wondered if we were going to have an old case / cold case revelation and learn that the Sylvia's mother had NOT run off with a Neapolitan fisherman, but had been murdered by her mother and her body had been buried in a shallow grave in Gardena. Submitted by catyron, January 9th, 2021.
++++ I think the premise is that Sylvia displays affected mannerisms (personally I found her speech to be reminiscent of some of the roles Grace Kelly played). Much the same problem dogged fellow PM alum - and fellow Brit - Sarah Marshall, tho her appearance made her background less of a plot point. Notcom, 011122.
This is the first of three PM appearances for Kathryn Givney (Matilda Benson), who was born in 1896 as Kathryn Givney Connolly in Rhinelander, Wisconsin. In the 1949 film "My Friend Irma", Givney played a character named Mrs. Rhinelander. Kathryn Givney passed in 1978 at the age of 81...MikeM. 7/18/2018
Comments

Edit
When Perry is told that Sylvia Oxman has been gambling in Gardena, Perry mentions that gambling is legal there. This is true; Gardena was issued the first legal card club license in the State of California, in 1936. Casinos provide the principal employment in Gardena to this day. Submitted by Fifty Niner on 2/23/2011.
Manning testifies that any patrons parking in the club's lot must leave their car keys inside their car. Was this ever a rule at an actual gambling joint? Submitted by vgy7ujm on 7 May 2020
Note that this episode takes place in the future. The check Paul writes as Frank Oxman is dated June 1, 1959, but the original air date was May 9, 1959. Submitted by 10yearoldfan, 11 June 2012.
How did the police almost immediately determine the fatal bullet came from Sylvia's gun with neither the gun nor time to test it? DOD 07/31/19
Perry is a good calculator. According to Mr. Duncan, The Clover Club charges between $0.50 and $2.00 per half-hour per chair, there are 35 tables, and they are open for 19 hours a day. There were 7 people playing at the table including Paul and Perry. Assuming an average take of $2.50 per hour per table and that the Clover Club was fully booked all day long, they took in $2.50 x 35 x 19 x 7 = $11,637.50 per day. Perry's "conservative" estimate of $10,000 is very close. Submitted by 10yearoldfan, 11 June 2012.
Visible equipment: Boom mike shadow appears as Robert rises from the couch at about 1540 on DVD. submitted by scarter, 8/10/14
Ten episodes back (TCOT Fraudulent Foto) there was some question about where the murder took place (in LA county, but what city ??) Here there is no doubt: it's in another city which had it's own Police Dept at the time. So what is Tragg doing there ?? Were they contracting out the investigatory duties...was he moonlighting...any ideas ?? Submitted by Notcom 092915
In this episode we learn that Mason and Tragg enjoy a friendly game of poker from time to time. Submitted by CCullinC 8/23/18
+ IMHO Perry is speaking figuratively about "playing poker" with Tragg jfh 09Jan2023

Leo Gordon (as Charles Duncan here) looks a bit like Clark Gable, even affecting similar mannerisms. jfh 09Jan2023

Tragg has a great line in this episode. When Perry states that the suspect's brother and husband can provide an alibi for her, Tragg replies that he has half a dozen witnesses who can refute her alibi, none of whom are related to Burger. Submitted by vgy7ujm 10/15/20
<< Petulant Partner | Episodes | Deadly Toy >>