Show37
<< Prodigal Parent | Episodes | Terrified Typist >>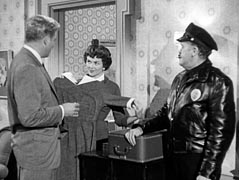 #37: The Case of the
Black-eyed Blonde
Original Airdate: 06/14/58
From The Perry Mason TV Show Book (Revised)
When Perry is visited by Diana Reynolds, a pretty blonde displaying a black eye and wearing an overcoat covering a bathrobe, the lawyer suspects he's in for an unusual case.
He is….
Opening
Starring Raymond Burr
In Erle Stanley Gardner's The Case of Black-eyed Blonde
Della Street, William Hopper, William Talman, Ray Collins
Trailing
Directed by Roger Kay
Written by Gene Wang
Ben Brady | Producer
Produced by CBS Television in association with Paisano Productions
Gail Patrick Jackson | Executive Producer
Sam White | Associate Producer
Raymond Burr as Perry Mason
Barbara Hale as Della Street
William Hopper as Paul Drake
William Talman as Hamilton Burger
Ray Collins as Lt. Tragg
Cast
Whitney Blake as Diana Reynolds
Irene Hervey as Helen Bartlett
R. G. Armstrong as Matthew Bartlett
Ludwig Stossel as Otto Kessler
Jan Merlin as Tony Davis
Phyllis Coates as Norma Carter
Judith Ames as Marian Shaw
Grandon Rhodes as Judge
Francis De Sales as Dr. Rose
Jack Lomas as Sgt. Brewster
Frank Sully as Cop
Joe Dominguez as Carlos Figueroa
Casey Peters as Bobby Carter
Uncredited Actors
Lee Miller as Sgt. Brice
Don Anderson as the late Robert Bartlett (photo only)
Crew
Gene Wang | Story Editor
Production Supervisor … J. Paul Popkin
Director of Photography … Frank Redman, A.S.C.
Art Direction … Lyle Wheeler, Lewis Creber
Assistant Director … Robert G. Stone
Editorial Supervision … Art Seid, A.C.E.
Film Editor … Paul Weatherwax, A.C.E.
Makeup … Mel Berns
Hair Stylist … Annabell, S.C.H.
Wardrobe Supervision … Dick James
Set Decoration … Walter M. Scott, Charles Q. Vassar
Properties … Ray Thompson
Production Sound Mixer … Eugene Irvine
Script Supervisor … Cosmo Genovese
This has been a CBS Television Network Production
Filmed in Hollywood by TCF Television Productions, Inc.
CARS: light color 1948 Oldsmobile 66 Special Club Coupe; 1956 Chevrolet 150 4dr Sedan Taxi; 1958 Pontiac Bonneville convertible, white, white top up; 1958 Cadillac convertible, black, all-white interior, top down (Mason). Cameos: 1958 Ford 4dr wagon, 2-tone: dark & medium colors; 1955 Chevrolet Nomad, dark color w/ white top. From The Cars by Greg Cockerill.
Location: It seems to me that the house seen near the beginning is the same house seen in #62, TCOT Howling Dog. Submitted by Charles Richmond, 10/23/07. Posted by daveb. Some pictures here.
+ The house that Charles Richmond has pictured from #37, TCOT Black-eyed Blonde, is the same house used in #5, TCOT Sulky Girl. You can see the tree that Judge Purley parks by on the circle driveway, and you can see the windows that Graves looked through. Submitted by PaulDrake 33, 06/17/08. Pictures from both episodes here.
This is the first of three appearances on Perry by Phyllis Coates, playing Norma Carter. I know all baby boomers remember Phyllis Coates as the original television Lois Lane in the initial season of Superman (1952-1953). Phyllis, whose birth name was Gypsie, is yet living at the age of 82 and in 2008 appeared at a nostalgia event. Submitted by PaulDrake 33, 6/25/2009.
Phyllis Coates is the last surviving cast member of the 1950's Superman television show...MikeM. 8/29/2016
+ According to Wikipedia, Phyllis Coates is now 91 years old...MikeM. 6/11/2018
++ Still going strong at 95. Submitted by Rickapolis 08/04/22
Sightings: In the back of the courtroom gallery is a Pencil Mustache Man who likes to call attention to himself by fidgeting and pretend-whispering. Behind Mason is Sasha Magaloff and his distinctive ears. On the second day of the hearing, we see the Little Old Lady #1 (and Sasha returns). Read more about these and other spectators here. Submitted by gracep, 9/27/2010.
+ "Sasha Magaloff" is now known to be the actor Mitchell Rhein. Submitted by catyron, November 16, 2020.
++ Next to Sasha is Little Old Lady #2, who on the second day sits behind him. Way in the back row is Distinguished Lady #4. Submitted by gracenote, 10/18/2011.
+++ As court adjourns, we see the Distinguished Gentleman #2. Submitted by BigBill767, 12/9/16.

Uncredited Actors: Burr's stand-in, Lee Miller, makes one of many appearances as the unobtrusive but dutiful Sgt. Brice. Submitted by gracep, 9/27/2010.
+ Don Anderson makes a very unusual appearance in this episode. He plays Robert Bartlett, late son of Matthew Bartlett (R. G. Armstrong) and supposed father of Bobby Carter. Since at the time of the story his character has been dead for four years, Anderson (wearing an Army uniform) appears only in a photograph in his widow's (Phyllis Coates') living room. Submitted by FredK, 6 October 2010.
Goof: This is one of many episodes in which Lt. Tragg (or his successors) arrest Perry's client in the office. In this case, Tragg and Sgt. Brice enter and Tragg announces that he has a warrant for the arrest of Diana Reynolds (Whitney Blake). However, the piece of paper he holds in his hand is clearly marked as a subpoena not a warrant. Submitted by FredK, 6 October 2010.
+ Perhaps it's a Subpoena Yujus Takem ?? Quipped by Notcom 110519.
Error & Note: Perry asks Diana (Whitney Blake) if she has a tailored suit which she assures Perry she has, and he then sends Della and Paul to her apartment, as pictured above on this page, to find one he thinks will be suitable in court. In the next scene however Diana is seen wearing a turtleneck long sleeved blouse with a vest. Hardly a tailored suit.
Asking Diana if she had "a tailored suit", and then saying that the blue one selected by the matron was unacceptable, was merely a ruse used by Mr. Mason to gain access to her apartment and have the opportunity to search for her roommate's diary. jfh 29Aug2016.
Also this is Whitney's second and final appearance on the show. The first was in the episode TCOT Restless Redhead, the very first Perry Mason episode. Guess she specialized in hair color parts....submitted by PerryDixon 4/24/14
+ As with Episode One, she's also accused - falsely, we assume - of having stolen jewelry...tho at least she isn't tried for it here. Notcom 091917.
++ Redhead, blonde, the magic of black and white TV. Perhaps she was strawberry blonde all along! Submitted by HamBurger, 7/6/2020
This is the third of six episodes where the three main characters (defendant, victim, killer) are female. The first two were episodes 30 & 31. The last three are episodes 143,153,204. Submitted by H. Mason 9/26/14
This is the first of three PM director credits for Roger Kay. Roger Kay was born (1921) in Cairo, Egypt. He passed in Paris, France, at the age of 79...MikeM. 8/29.2016
This is the first of three PM appearances for Robert Golden "Bob" Armstrong Jr. He passed in Studio City, CA, in 2012 at the age of 95...MikeM. 8/29/2016
Whitney Blake's daughter is the actress Meredith Baxter...MikeM. 8/29/2016
This is the only PM appearance for Judith Ames, better known as Rachel Ames. Rachel Ames has appeared on the soap opera General Hospital since 1964...MikeM. 8/29/2016 + IMDb says that Rachel Ames run on "General Hospital" ended in 2015. Wikipedia says Rachel Ames is now 88 years old...MikeM. 6/11/2018
This is the first of five PM appearances for veteran character actor Francis De Sales, who appeared on Broadway before transitioning to television and films in 1950. Francis De Sales passed in Van Nuys CA in 1988...MikeM. 6/11/2018
Irene Hervey and Jan Merlin also appeared in TCOT Jealous Journalist. Submitted by Steve Fox, 2/5/2023
Comments

Edit
One of the few times we see a death bed confession by the murderer. Submitted by PaulDrake33, 6/26/2008.
Second episode in a row featuring a character who turns out to have surprising parents. Submitted by 65tosspowertrap, 4-28-2014. //
TIME TUNNEL: B-eB aired on Flag Day 1958; viewers may have heard the #1 song: "The Purple People Eater" by Sheb Wooley. Mike Bedard 5/19/16. //
Della asks Paul "How'd you like to take me to dinner?" Oh, the look on Paul's face when she says in a seductive voice "Of course we'll have to make a detour on the way." Then his popped-balloon look when she tells him "I have to pick up a dress for Diana Reynolds." I got a chuckle out of that scene. Kilo 10/1/2019.

The scene with the murderess attempting to flee in the jeep is odd. The back of the jeep is covered with what appears to be a blanket so we can't see what's behind the jeep. If the jeep were moving, I'm afraid this blanket would be blowing all over the place, but it doesn't. My only explanation for this rather odd device is that there was some reason they couldn't do rear-screen projection. Submitted by billp, 29 October 2009.
+ Upon further viewing, it appears that the blanket is attached to back of a square frame not only at the top, but at the sides as well when we see it leave the farm as the police gives chase. This would account for it not flapping around in the wind, but its purpose is rather mysterious save for the obvious explaination that they didn't shoot a "plate" for the background, saving a bit of time and money. Submitted by Kenmore, 11/2/2011.
Although this episode has a feel-good ending, it seems to me that Matthew Bartlett deserved to know the truth about Bobby. Submitted by 65tosspowertrap, 4-28-2014.
Feel good, true, but I think that there would be no way even then to keep the truth about Bobby from Matthew Bartlett. The law would have insisted on it. Submitted by MikeReese, 8/16/2014.
All in all, one of the tidiest plots in the series, but I, too, question Perry's decision about Bobby. Bobby, for practical purpose, was orphaned. Seems the wiser resolution would be to give Bartlett the chance to adopt him. DOD 07/06/20
<< Prodigal Parent | Episodes | Terrified Typist >>