Show36
<< Lazy Lover | Episodes | Black-eyed Blonde >>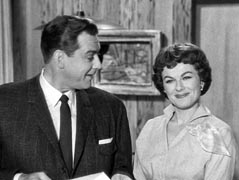 #36: The Case of the
Prodigal Parent
Original Airdate: 06/07/58
From The Perry Mason TV Show Book (Revised)
Philip Larkin is found shot to death. His stepfather, Joseph Harrison, is the chief suspect. The two men quarreled over business and over a girl. In fact, a home movie shows the men fighting. Perry is called on to defend Harrison and delve into the family's strange lineage.
Fay Wray, the woman who drove the big ape crazy in the 1933 monster classic King Kong, plays the defendant's wife in this episode. Nancy Kulp, Miss Jane of The Beverly Hillbillies, also appears.
Actress Virginia Field's "French/Italian" accent in several scenes is marvelously done and adds a great deal to this episode and shows her linguistic gifts.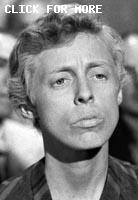 Opening
Starring Raymond Burr
in The Case of Prodigal Parent
Based Upon Characters Created by Erle Stanley Gardner
Barbara Hale, William Hopper, William Talman, Ray Collins
Trailing
Directed by Arthur Marks
Written by Seeleg Lester and Gene Wang
Ben Brady | Producer
Produced by CBS Television in association with Paisano Productions
Gail Patrick Jackson | Executive Producer
Sam White | Associate Producer
Raymond Burr as Perry Mason
Barbara Hale as Della Street
William Hopper as Paul Drake
William Talman as Hamilton Burger
Ray Collins as Lt. Tragg
Cast
Virginia Field as Irene Collaro
Herbert Rudley as George Durell
Fay Wray as Ethel Harrison
Andra Martin as Lorraine Stevens
Ann Doran as Claire Durell
John Hoyt as Joseph Harrison
Terry Becker as Philip Larkin
Morris Ankrum as Judge
Nancy Kulp as Sarah Winslow
Chet Stratton as Mr. Alcorn
Michael Fox as Dr. Samuel Anders
Richard Bull as Court Reporter
Dean Casey as Det. Sanchez
Leo Needham as Officer Norton
Uncredited Actors
Don Anderson as Police Officer
Fred Aldrich as Courtroom Spectator (from IMDb)
Charles Perry as Courtroom Spectator (from IMDb)
George E. Stone as Court Clerk
Crew
Gene Wang | Story Editor
Production Supervisor … J. Paul Popkin
Director of Photography … Frank Redman, A.S.C.
Art Direction … Lyle Wheeler, Lewis Creber
Assistant Director … Robert G. Stone
Editorial Supervision … Art Seid, A.C.E.
Makeup … Mel Berns
Hair Stylist … Annabell
Wardrobe Supervision … Dick James
Set Decoration … Walter M. Scott, Charles Q. Vassar
Properties … Ray Thompson
Production Sound Mixer … Robert O'Brien
Script Supervision … Lew Jarrard
This has been a CBS Television Network Production
Filmed in Hollywood by TCF Television Productions, Inc.
CARS: 1958 Chevrolet Delray 4dr sedan, black & white (Police). 1958 Chevrolet Delray 2dr sedan, black (Police), 1958 Pontiac Starchief 4dr hardtop, 2-tone: medium color & white. From The Cars by Greg Cockerill.
Anomaly: Michael Fox is listed as Dr. Samuel Anders but is, as he often is, Dr. Hoxie. Reported by Allan Asherman and posted by daveb, 5/2/2007.
+ The closed captions used in syndication print broadcast in my area spell it "Hocksey." Submitted by gracenote, 9/5/2011.
Goof: Dr. Hoxie (Michael Fox) testifies that death was "caused by the passage of the bullet through the rib cage, the peritoneum and left ventricle of the heart." Oops! He should know that it's the pleura in the chest cavity. The peritoneum lines the abdominal cavity. Submitted by Thomas Grossman, 3/9/2004.
Uncredited Actors: George E. Stone appears mutely throughout the hearing, uncredited, as the court clerk. Submitted by gracenote, 7/14/2011.
Sightings: Several familiar faces appear The Pencil Mustache Man is in the second row of the gallery on the defense's side, on the first day of the hearing. Diagonally behind him sits the Little Old Lady in Hat. On the second day, we can see Distinguished Gentleman #1 and our mustachioed friend in the same back row. Submitted by gracep, 23 August 2010.
+ "Sasha Magaloff" sits behind Sarah Winslow on the prosecution side, second row aisle seat. Submitted by alan_sings, 16 Oct 2010.
++ "Sasha Magaloff" is now known to be the actor Mitchell Rhein. Submitted by catyron, November 16, 2020.
+++ And right next to Sasha is Distinguished Gentleman #2, who later appears on the defense side near the Pencil Mustache Man. Barely visible, but also on the prosecution side (at least at first), is Distinguished Lady #4 Submitted by gracenote, 9/5/2011.
Sighting: Richard Bull appears here hardly recognizable as the Court Reporter who late in the trial reads back some very important testimony from Virginia Bruce, who was a leading lady in Hollywood in the 1930s and would appear in several episodes. Bull, who passed away only two months ago, would go on to play Nels Oleson, the harassed and henpecked storekeeper for the entire 10 run of Little House on the Prairie. **Submitted by PerryDixon 4/23/14
+ RB played a Dr. on the submarine Seaview & Terry Becker was Chief Sharkey in Voyage To The Bottom Of The Sea [IMDb]. Mike Bedard 3.12.15.
This is the first of four PM appearances by Herbert Rudley. Herbert Rudley passed in 2006 at the age of 96...MikeM. 8/26/2016
+ Among Mr. Rudley's many film an television credits is a 1946 low budget noir film Decoy, the unusual premise of which involves gangsters reviving an executed fellow gangster in order to discover the location of hidden loot!. jfh 09Sept2020

This is the first of five PM appearances for John Hoyt. John Hoyt attended Yale University. In his career he did both standup comedy and Shakespeare....MikeM. 8/26/2016
Nancy Kulp had a journalism degree. She was a newspaper writer before becoming a naval reserve officer in World War II...MikeM. 8/26/2016
+ . . . and LTJG (Ret) Kulp, playing Sarah Winslow, has one of the funniest lines in the Series when, entering Burger's office and looking all around, she says "I thought that nice Lieutenant Tragg was here." Added by Gary Woloski, 6/13/18.
This is the first of six appearances for Virginia Field. Virginia Field was born in England in 1917. Her first husband was actor Paul Douglas. Virginia Field passed in Palm Desert CA at the age of 74...MikeM. 8/26/2016
This is the first of three PM appearances for prolific actress Ann Doran (Claire Durell), whose 375 IMDb credits stretch from 1922 (when she was eleven years old) to 1988. IMDb says that Ann Doran may have hundreds more silent film appearances starting when she was four years old. Ann Doran portrayed the mother of James Dean in "Rebel Without a Cause". Ann Doran passed in 2000 at the age of 89...MikeM. 6/8/2018
Pinky Rings...Perry, Paul, Della, Lorraine Stevens...MikeM. 6/8/2018
The Return of the Conical Tea Cups: The far out art deco tea cup seen in a couple of early episodes are back -- four stripes on the saucer, handles shaped like the bumber 7, and very swank. We have yet o see the canonical curious coffee set... and the couple of episodes with the floral or bird ornamented tea cups proved to be a passing fad. I sure wonder what these are. Submitted by catyron, December 9, 2020

Comments

Edit
Interesting interplay of words at end of the episode. Della asks, "Which one of you handsome gentlemen will take me to lunch?" Perry responds, "I will." To which Paul asks, "What about me?" Perry jokingly responds, "You're not my type." …Or was he? Submitted by Eric Cooper, 13 January 2011.
+ Not everyone is attracted to everyone else, regardless of sexual orientation.
++ Yes, can we please keep the snarky innuendo out of these pages? Certainly, in the Perry-Masonverse, Paul was definitely not Perry's type. OLEF641; 9/15/2017. Raymond Burr was known for his wicked sense of humor. I bet he loved delivering that line knowing that someday a lot more people would get it.
This show actually has many interesting discussions between characters. We see two between Tragg and Burger, one nice one (shorter) with Della, Perry and Paul. Clearly, the writers were able to distill the clues, which left them more space to develop relationships (such as they are). cgraul 7.6.12
That elaborate staircase makes one of its last appearances in its original configuration, with a slight curve at the bottom. The newel and balusters would later be reconfigured into a straight run staircase that will be become the most used sets in the series.
I think Irene's apartment is Perry's apartment redressed. The layout, fireplace, and andirons are the same. DOD 07/03/20
If Ethel Harrison was in hiding, why did she put her return address on the letter she sent? Otto Gervaert, 7/19/21
When this show story occured, LA was a blanket of smog and humidity in August (when it took place -- note Lorraine worked 10 months, since November). Yet all the men retained their suit jackets even inside (where AC was not nearly as prevalent as it is today). cgraul 7.6.12
+ Sharp-dressed men, then and now, have suits with a heavy fabric for winter and a light fabric for summer. Submitted by vgy7ujm 08/30/17
This is the episode that got me hooked on Perry Mason when I first saw it about a year ago. It is unusually dark and intense, both because the murder occurs so early and because of the family secret no one wants to talk about. Irene Collaro's testimony--where that secret is finally revealed--is riveting. When Lorraine Stevens gets emotional in court, so do I. This is one of my favorite episodes. I think it is one of the best. Submitted by 65tosspowertrap, 4-28-2014.
+ It was a very Moving scene & I also felt empathy for both mother & daughter. Mike Bedard 5.20.16 MeTV airing.
This episode does indeed feature some of the finest performances by women of any show. And the fairly straightforward story is a nice change from the almost ludicrous previous show, 'Lazy Lover'. DOD 06/20/19
Knowing Nancy Kulp only from The Beverly Hillbillies, I am impressed with her acting in this episode -- in particular her nervous minutes on the witness stand, bobbing and weaving in her chair. Or maybe that was the product of superior direction by Arthur Marks. JohnK, 6 December 2015
John Hoyt would join PM stalwarts Merry Anders, Dennis Patrick, Berry Kroeger, and Steve Franken in the 1964 sci fi flick "The Time Travelers". DOD 05/06/19
Questions: What was in the envelope Phil Larkin had? Did he have papers showing Lorraine was illegitimate? What happened to the envelope? Did the killer take it after shooting Philip? Submitted by H. Mason 10/9/14
+It would make sense that it was regarding her illegitimacy. He threatened to tell her 'secret' to [Some Guy] III, so maybe she had a society boyfriend who would probably not marry an woman with her background (even though she had no control around the circumstances of her birth.)—yelocab 03DEC19
Having just watched this again, the 'secret envelope' doesn't make sense. Lorraine did not know her background, so would be ignorant of any possible scandal. Just what did she think Phil had on her? DOD 07/03/20
+ And did we ever learn how Joseph Harrison's fingerprints got onto the freshly-polished gun case? JohnK, 24 November 2018
That part didn't make sense to me. Why would he have handled the gun case? You see a dead body, check it, then get the heck out! —yelocab 03DEC19
+There seem to be some strings handing from the courtroom ceiling. Over the defendant's table towards the end.—yelocab 03DEC19
I think they are the cords for the window blinds. DOD 07/03/20
The Case of the Repeated Surname: Secret-Daughter Lorraine STEVENS appears in Episode 36; Secret-Daughter Rikki STEVENS appears in Episode 43/"Sardonic Sergeant" (different seasons). Mike Bedard 5.20.16
When the police officer takes Harrison's fingerprints, he seems to do it very clumsily. —-yelocab 03DEC19
I wondered what the man and his crazy wife had to do with the story. She just kept popping up for no apparent reason. Perhaps more scenes with Mr. Durell were cut from the syndicated version I watched, and their presence fit in better to the whole story? —yelocab 03DEC19
Mrs Durell thought her husband was fooling around with Lorraine, which conceivably could give him a motive for killing the man harassing her. This line wasn't really developed much. DOD 07/03/20
It's a nice touch that Perry addresses Mrs. Winslow formally when she is on the stand, but Burger just calls her Sarah, as if she were a child. Submitted by vgy7ujm 2 April 2020
<< Lazy Lover | Episodes | Black-eyed Blonde >>