Show35
<< Gilded Lily | Episodes | Prodigal Parent >>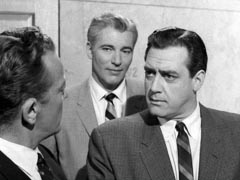 #35: The Case of the
Lazy Lover
Original Airdate: 05/31/58
From The Perry Mason TV Show Book (Revised)
When a man named Bertrand Allred is found dead in a car at the bottom of a cliff, the evidence points to his wife Lucille…sort of. There is also Allred's business associate, Bob Fleetwood, Fleetwood's girlfriend, even the old buck who lived near the murder scene—all of them suspicious.
Fans of the Batman TV show will note that the murdered man, Bertrand Allred, is played by Neil Hamilton, who went on to star as Commissioner Gordon on the caped crusader's show. Coincidentally, Yvonne Craig, who plays Allred's daughter in this episode, would later play Gordon's daughter (a.k.a Batgirl) on the same series.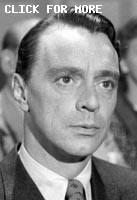 Opening
Starring Raymond Burr
in Erle Stanley Gardner's The Case of Lazy Lover
Barbara Hale, William Hopper, William Talman, Ray Collins
Trailing
Directed by William D. Russell
Teleplay by | Francis Cockrell
Ben Brady | Producer
Produced by CBS Television in association with Paisano Productions
Gail Patrick Jackson | Executive Producer
Sam White | Associate Producer
Raymond Burr as Perry Mason
Barbara Hale as Della Street
William Hopper as Paul Drake
William Talman as Hamilton Burger
Ray Collins as Lt. Tragg
Cast
Harry Townes as Bob Fleetwood
Frances Helm as Bernice Archer
James Bell as P. E. Overbrook
Yvonne Craig as Patricia Faxon
Neil Hamilton as Bertrand Allred
Ann Lee as Lucille Allred
Kenneth R. MacDonald as Judge
Len Hendry as Officer

Uncredited Actors
Lee Miller as Courtroom spectator
Crew
Gene Wang | Story Editor
Production Supervisor … J. Paul Popkin
Director of Photography … Frank Redman, A.S.C.
Art Direction … Lyle Wheeler, Lewis Creber
Assistant Director … Art Marks
Editorial Supervisor … Art Seid, A.C.E.
Film Editor … Richard Cahoon, A.C.E.
Makeup … Mel Burns
Hairstylist … Annabell
Wardrobe Supervision … Dick James
Set Decorations … Walter M. Scott, Charles Q. Vassar
Properties … Ray Thompson
Production Sound Mixer … Eugene Irvine
Script Supervisor … Cosmo Genovese
This has been a CBS Television Network Production
Filmed in Hollywood by TCF Television Productions, Inc.
CARS: 1958 Pontiac Bonneville 2dr hardtop, 2-tone: medium color & white, 1958 Buick convertible, white, top down, 1958 Cadillac convertible, black, all-white interior, top down (Mason). From The Cars by Greg Cockerill.
In this episode, Bertrand Allred (played by Neil Hamilton) is the stepfather of Patricia Faxon (played by Yvonne Craig). In the Batman TV series of the 60s, Neil Hamilton (as Commissioner Gordon) again portrayed the father of Yvonne Craig (playing Barbara Gordon, alias Batgirl). Submitted by Charles Richmond, 12/10/2008.
+ Neil was in Batman: The Movie, the Batgirl TV short & 120 Batmans; Yvonne was in the Batgirl TV short & 26 Batman episodes [IMDb]. Mike Bedard 5.7.15
Francis Cockrell, the screenwriter, also was a regular writer for "Batman." cgraul 7.5.12
Len Hendry who plays a police officer in this episode also appeared with Raymond Burr in Rear Window, where he played a policeman. Hendry appears in six Perry Mason episodes, always portraying a police official. Besides the instant case, Hendry appeared in "Lucky Loser," "Treacherous Toupee," "Capering Camera," and "Blonde Bonanza." Submitted by billp, 15 November 2009.
+ It doesn't seem that Len Hendry actually appears in this episode. The end credit appears to be in error, or else his appearance was omitted from even the DVD version. The whispering detective mis-identifed as Len Hendry in this cast list is clearly not Hendry, as can be seen when compared with Hendry's other PM roles, such as the Carmel plainclothes detective in TCOT Treacherous Toupee, and the police photographer seen in the dark room scene of TCOT Capering Camera. Added by alan_sings, 11/28/2014.
With 8 actors, this episode has the smallest credited cast of any in the series. And, Len Hendry's role appears to be only a whisper unless I missed him somewhere. Submitted by daveb, 3/7/2011.
+ Not even a whisper. (See updated comment above.) Without Hendry, that brings the cast size down to seven. alan_sings 11/28/2014.
++ They sure saved a lot of money by not having the sheriff, Bernice's sister, the Mountain View Motel clerk and Stanley Jerome appear in the story. Also, Mrs. Allred's car was involved in the murder but never seen or described. Added by H. Mason 10/9/14
Frequently Used Props: When Mason visits Bernice Archer in her apartment, we see above the mantel a copy of Renoir's Girl with a Watering Can. We've seen this picture before in another episode, yes? Submitted by 10yearoldfan, 8 August 2011.
+ That picture and the corner etagere by the door are two of the most used props in the series, each appearing in a score or so of episodes over the years. DOD 06/07/18
++ Add to Renoir's Girl with a Watering Can and the corner etagere the large banjo-shaped barometer, the large floor-standing world globe (perhaps the kind that held a concealed bar), and the paired sconce lights with shades. Submitted by catyron, December 8th, 2020.
Sightings: Sitting on the defense side of the courtroom are some familiar faces, Pencil Mustache Man and Distinguished Lady #4 (in a feathered hat). The court stenographer is Distinguished Gentleman #1. When court reconvenes, Little Old Lady #2 is visible in the corner of the gallery. Submitted by graccnote, 9/6/2011.
Syndicated cuts: Opening scene of Patricia driving and hitting a hedge and she and Lucille complaining about Bertrand's parking; Della telling Perry that Lucille's check is good, Allred telling Mason his wife ran off with Bob Fleetwood, Perry telling Della to get Paul to find Lucille; Paul and Perry arriving at the motel; Burger's opening statement; Bernice smiling at Perry.
Additional Hallmark cuts: Bernice asking Perry why should she be upset and Mason responding that she must have known from the papers Fleetwood ran away with another woman whose husband was murdered and was in a hospital with amnesia and asking again if she was upset; Tragg and Mason's conversation in the hospital hallway; the judge asking Mason for an opening statement and Perry responding the defense will at the presentation of its case, Fleetwood being called to the stand; the judge telling Overbrook to step down, Burger resting his case, Mason asking for dismissal, Burger objecting, the judge agreeing with Burger [In the Hallmark version the judge's words "We have reached the noon hour and court will adjourn" are dubbed over the scene of Overbrook leaving the stand followed by a close-up of the judge with the rest of his lines after the cuts]; the judge's speech to Burger and Mason about the Supreme Court's ruling of order of witnesses and that technicalities should not defeat justice. Submitted by Wiseguy70005, 8/03/12.
Double Switch: Although it's Perry and Paul who are supposed to be driving to the Mountain View Motel, a closer look reveals that it's Lee Miller behind the wheel of the Eldorado, with Don Anderson in the passenger seat. Submitted by francis, 6/20/14.
Della's Impersonation: This time Miss Street claims to be Mabel Fleetwood. Usually she wouldn't say anything and let somebody believe she was another woman. Submitted by H. Mason 10/9/14
Who said that?: Paul did not say "coming and going". Perry said it. Submitted by H. Mason 10/11/14
Novel Differences: Although the "lover," Bob Fleetwood, was described as lazy several times in the novel due to pretending to have amnesia, this wasn't really mentioned in the episode possibly leading viewers wondering what the title meant. Also, while Gertie is mentioned, she doesn't appear in the episode. In the novel it was Gertie, not Della, who pretends to be Bob Fleetwood's wife, although Della did go along for the ride to Overbrook's place. Submitted by Wiseguy70005, 3/22/15.
Closed-Caption anomaly: At 8:09, Perry says "I don't know what she wants, Della." In the closed-captioning on the CBS/Paramount season set it reads "I don't know what she wants, Stella." Submitted by Wiseguy70005, 3/22/15.
Frances Helm who played Bernice Archer in this one, was first married to Brian Keith. They subsequently divorced after 6 1/2 years and on the same day they divorced (06/23/1954), Brian Keith married his 2nd wife Judith Landon. WOW! Submitted by mesave31, 05/07/15.
Noted Character Actor Used as Extra:
Phillips Tead or Phil Tead appears in this story as essentially a seat filler. He is seen with an older woman seated in the court room next to the two lead characters Harry Townes and Frances Helm.
+ Why?, who can say. Perhaps he had a free afternoon. But in any case he was all over TV at the time in billed roles on such shows as The Lone Ranger, the Adventures of Superman, I Love Lucy, The Burns and Allen Show, Cheyenne and Broken Arrow to name but some. And before that Tead had a long career in feature movies, going back as far as silent films. He had even appeared with Barbara Hale only a few years earlier in the major motion picture, A Lion Is in the Streets. Submitted by PerryDixon 5/7/15
This is the second of four PM appearances by James Bell. James Bell was born in Virginia in 1891. He passed in Virginia in 1973...MikeM. 8/25/2016
Yvonne Craig's first marriage was to Jimmy Boyd, who had a hit Christmas song, "I Saw Mommy Kissing Santa Claus."...MikeM. 8/25/2016
This is the first of five PM appearances for Harry Townes, who was ordained as an Episcopal priest in 1974...MikeM. 9/14/2017
This is the only PM appearance for Ann Lee (Lucille Allred), who was born in Texas in 1918. Ann Lee worked on Broadway before beginning work in Hollywood in 1948. Ann Lee's last television appearance was in 1962. Ann Lee passed in Arizona in 2003 at the age of 85...MikeM. 6/7/2018
Gavel Tally - Once, to adjourn court for lunch. OLEF641 12/23/21
Comments

Edit
It's a bit unfair for Patricia and her mother to blame Bertie for parking too close to the driveway. Although he did, Patricia, a.k.a. "Batgirl," could have negotiated it easily if she weren't driving a bit like a "bat out of hell." Submitted by billp, 1/18/2009.
+ Bertie parked in a NO STOPPING zone. See the signage on the curb. Kilo 6/27/2020.
+ Patricia claims she missed Bertie's car but if you look close the car actually rocks as she zooms around it as if it had been sideswiped. Submitted by Kilo 6/5/2017.
++ And if you look close it's a man (Lee Miller?) driving and not Patricia. Submitted by Kilo 3/25/2018.
After the murder, when Lt. Tragg is at the Faxon-Allred home to arrest Mrs. Allred, there's a knock at the door. Tragg tries to open it by pulling it towards him. This is wrong; the door opens the other way. He recovers nicely, though. Submited by billp, 1/18/2009.
Tragg has borrowed Della's file cabinets - the ones with a single drawer for each letter. That hairpin turn with the hotel sign has been the seen of many a near miss. DOD 08/02/22
There's a fair amount of humor in this episode. Some of it seems to poke fun at the Mason "formula." When Patricia Faxon tells Perry that after retaining him she thinks it is foolish to (1) not fully inform him, (2) not do what he says, and (3) not go to the police if he advises it, Perry says she's "a singular person." And so she is since almost all Perry's clients violate at least one of the above causing quite a bit of unnecessary difficulty. I also like the scene in Tragg's office where Perry tells the lieutenant he'd like his cooperation noted. Tragg then asks him how he'd like it noted: carved in stone or etched in bronze. Perry replies "whichever is more expensive." The whole "wife" scene with Della is hysterical, too. Submitted by billp, 1/18/2009.
+ Lucky Bob Fleetwood gets smothered in hugs and kisses from the lovely Della. Submitted by DellaFan, 23 April 2014.
++ I liked Tragg's line speaking to Perry: "Are you Mrs. Allred's attorney, Mason, or are you just acting as an emcee?". Submitted by Kilo 3/25/2018.
Perry wore his spiffy raincoat again, but, alas, we get no glance at his checked lining. Submitted by gracenote, 9/6/2011.

Della's Shoes: Della wears, and actually runs and on soft ground, in her high-heeled mules in this episode --- and she does it quite well. jfh 19Jun2019.

Another appearance as judge by Kenneth R. MacDonald, who may have been trying to live down his roles in various Three Stooges shorts such as con man Ichabod Slipp. Doubtless there was talk of old times on the set with Connie Cezon, another Stooges veteran. Submitted by francis 1/20/12.
This episode is unusual in that the identity of the murderer is never definitively determined. We have only Perry's assertion about who the murderer is (although I guess you could say that that's good enough!). Submitted by 65tosspowertrap, 24 April 2014.
+ Actually, Burger makes the assertion, Perry facetiously denies it, but, as soon as Burger is beyond earshot, concurs. Another humorous touch in this episode. jfh 07Jun2018
"Fan Dancer's Horse" is the only other episode I recall in which the killer is not definitely determined, just hypothesized. DOD 06/19/
Question: Bob was rushed off to the motel (about a one hour drive from L.A.) on a Saturday night. How did Mrs. Allred get a check to Perry's office early Monday morning? When did she send the telegram? Submitted by H. Mason 10/9/14
No problem - as we've seen in other episodes, there were 24 hour messenger and delivery services in Los Angeles, and telegrams could be ordered over the phone. DOD72/20

Della Dialogue Etymology: She refers to the check for 2500 "Clams": "'Clam' is short for 'Clamshells' another Slang term for a Buck, Simoleon or Dollar. Clamshells, in the form of many small ones strung together, were a currency used by NATIVE AMERICANS, mostly in California" [GoogleAnswers.com]. Mike Bedard 5.19.16 MeTV airing.
Mollusk Moolah: "Clams" were also the currency underlying the economy of Bedrock in "The Flintstones." JohnK, 7 June 2018
How does Mason know Overbrook's dog's name is Prince? His name is never mentioned while he and Della are at Overbrook's place looking for Fleetwood. Submitted by Kilo 3/25/2018.
+ When Overbrook opens his door to let in Della and Perry, Prince growls at them. Overbrook then says, "It's okay, Prince. They're all right." See and listen to the 2006 Paramount DVD at about 19:52 of the episode. Submitted by (lowercase, with a comma and period) masonite, 06/02/18.
Bernice Archer closes Paul's ID twice when she hands it back to him. Submitted by Kilo 3/25/2018.

A most unresolved ending, and not just because it lacks the classic confession. Fleetwood and his [repulsive] girlfriend framed Mrs. Allred for the murder, even though Fleetwood didn't do it. Was their motive just to protect him or were they indeed, as Perry charged, scheming to defraud someone? Were they charged for their crimes? We often see peripheral crimes unresolved in the episodes but what they did was crucial to the case. I wanted to see them collared and charged! Submitted by JazzBaby, 7/25/2019.
+Bernice Repulsive? She's ridiculously catty, but I found her somehow seductive. wick 11/30/2021
Fleetwood's explanation of events makes no sense. He is attacked by Bertie, who then pulls him into the house and saves him. He claims Bertie wanted to kill him, yet takes no advantage of many opportunities to expose him or get away. All in all, a gimmicky and unsatisfying episode. DOD 07/02/20. +Yes, Bob F. told several different stories but maybe his actions make sense if he was lying to profit from the initial attack by Bertie and to cover being an accomplice to the murder. What do people think about this idea: Bertie did hit Bob in surprise at the discovery of mine fraud and yet balked at cold-blooded murder -- hence, he temporized with the motel plan to think things over. (My guess is that Bertie would eventually decide to try to buy off Bob with mining profits). As Perry said in court, Bob not running away strongly implies that Bob soon saw a chance to profit from the attack by taking over the mining scam. Maybe after a while Bertie decided he had to kill Bertie (he could have been trying to pin it on Lucille somehow, I suppose, by having her stay at the motel; certainly, she was not coercing Bob). But more likely I think instead Bob simply got the drop on Bertie when Bertie was coming back to the motel (Lucille was at the motel but saw nothing of this). We can be sure Bertie did not have a gun because neither Bob nor Overbrook produced it as evidence of self-defense against Bertie. Bob may have had his own gun, or he just knocked out Bertie. Bob then took Bertie to Overbrook's farm, claiming to Perry and Tragg he knew Overbrook had threatened to kill Bertie (a nice knife in Overbrook's back, but this statement would not be likely to be mentioned in court [hearsay, etc] so Overbrook would not find out about it and strike back at Bob. Both had the goods on the other!). Overbrook did kill Allred (we have Perry's word on that, and evidence of car and tracks suggests Bob did indeed bring Allred to Overbrook's farm). Overbrook acted from hate, or maybe also for a cut of the fraud profits. In any case, Overbrook and Bob at some point became accomplices in fact because until Perry put the screws to Overbrook, he and Bob were not telling the whole story about what each knew about the other and the events at Overbrook's farm. This helps explain Bob's genuine outrage in court when Overbrook turned on him, even though he had previously turned on Overbrook to Perry and Tragg. Nice. With visions of mining fraud dancing in her head, Bernice showed herself a worthy partner for Bob by improvising the trunk story to implicate Lucille, but that was added after the murder, according to Perry's accusation and Bernice's non-denial. Sorry for the long posting, but does this seem plausible, at least? --- Fred Flintstone, 12/22/2020.
<< Gilded Lily | Episodes | Prodigal Parent >>