Show38
<< Black-eyed Blonde | Episodes | Rolling Bones >>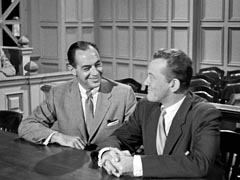 #38: The Case of the
Terrified Typist
Original Airdate: 06/21/58
From The Perry Mason TV Show Book
The office of a South African diamond company located in the same building as Perry's office is robbed and the suspect matches the description of a typist who spent some time working in Perry's office. This is just the beginning of a series of strange events that leads Perry into the courtroom defending Duane Jefferson for murder.
When the jury brings in a verdict of guilty, Burger believes he finally has a victory over Mason. It looks that way until we realize that the defendant is an imposter.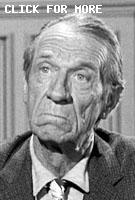 Opening
Starring Raymond Burr
in Erle Stanley Gardner's
The Case of Terrified Typist
Barbara Hale, William Hopper, William Talman, Ray Collins
Trailing
Directed by Andrew McLaglen
Teleplay by Robert C. Dennis, Phillip Macdonald, Ben Brady
Ben Brady | Producer
Produced by CBS Television in association with Paisano Productions
Gail Patrick Jackson | Executive Producer
Sam White | Associate Producer
Raymond Burr as Perry Mason
Barbara Hale as Della Street
William Hopper as Paul Drake
William Talman as Hamilton Burger
Ray Collins as Lt. Tragg
Cast
Alan Marshall as James Kincaid alias Duane Jefferson
Joanna Moore as Patricia Taylor
Joan Elan as Mrs. Lumis
Ben Wright as Walter Lumis
Connie Cezon as Gertie
Jack Raine as George Baxter
Kenneth R. MacDonald as Judge
Harald Dyrenforth as Henrich
Hank Patterson as Jack Gilly
Jack Gargan as Court Clerk
James Stone as Jury Foreman
Frankie Darro as Elevator Operator
Red Morgan as Muscleman
Steve Carruthers as Duane Jefferson
Crew
Gene Wang | Story Editor
Production Supervisor … J. Paul Popkin
Director of Photography … Frank Redman, A.S.C.
Art Direction … Lyle Wheeler, Lewis Creber
Assistant Director … Robert G. Stone
Editorial Supervisor … Art Seid, A.C.E.
Film Editor … Otto W. Meyer, A.C.E.
Makeup … Mel Berns
Hair Stylist … Annabell
Wardrobe Supervision … Dick James
Set Decoration … Walter M. Scott, Charles Q. Vassar
Properties … Ray Thompson
Sound Editor … Gene Eliot, M.P.S.E.
Production Sound Mixer … Robert O'Brien
Script Supervision … Lew Jarrard
This has been a CBS Television Network Production
Filmed in Hollywood by TCF Television Productions, Inc.
CARS: 1956 Buick Century 4dr hardtop, 3-tone: dark color, white, black top, 1958 Cadillac convertible, black, white top up (Mason), 1958 Pontiac Bonneville convertible, white, white top up. From The Cars by Greg Cockerill.
The shot of the police arriving in the cul-de-sac appears to be a clip from five or more years before the rest of this episode was filmed, as none of the cars look newer than early 1950s. Submitted by Tony, 4/5/2019.
Sightings: At least one of the individuals in the lineup with looks like one of the courtroom spectators (behind Burger and Tragg) in the "Style P" opening credits used in episodes 40-69. Perhaps he was a crew member or a regular extra. Submitted by Alex Blackwell, 4/25/08. Posted by daveb.
+ He turns up again in the courtroom gallery, behind Burger. Submitted by gracep, 10/3/2010.
++ Now that he is included among our favorite frequent faces as Distinguished Gentleman #2, read more about him and other regulars here. See also additional sightings below. Submitted by gracep, 11/5/2010.
+++ Distinguished Lady #4 and Little Old Lady #2 join the courtroom scene on Perry's side. Submitted by BigBill767, 12/9/16.
Patrica Taylor, a.k.a. "The Terrified Typist," is played by Joanna Moore, wife of Ryan O'Neal and mother of Tatum O'Neal. Posted by PaulDrake33.
Hank Patterson, who 7 years later would appear as Mr. Ziffel on "Green Acres", makes a short appearance as Jack Gilly, the man in the boat. Patterson had 190 film credits, a huge amount considering I don't remember anything but "Green Acres"! submitted by 7539 May 2017
+ I was kind of hoping Arnold would confess from the gallery in the last scene. OldDave, submitted 7/8/2020
One of the few episodes where Perry's client actually takes the witness stand. As you may know, the District Attorney is prohibited from calling the defendant to testify, so in order to testify, the defendant must be called by his own attorney. In this episode, Perry does not reveal the name of the murderer until Burger has rested his case and Perry has began to present his side of the case. Submitted by PaulDrake 33, 6/18/2009.
5th Amendment: "No person...Shall Be Compelled In Any Criminal Case To Be A Witness Against Himself." Mike Bedard 5.19.16.
Goof: After questioning a prosecution witness, Burger turns to Perry and says "Your re-direct." Re-direct is something the prosecutor does. Perry would cross examine. Submitted by Ben B, posted by daveb, 12/18/10.
+ Jefferson/Kincaid was called as a witness by Mason, so his first examination is the direct, Burger's is the cross-examination, and any further questions by Mason are re-direct. I believe that Burger's remark is correct. Submitted by FredK 12 July 2012.
++ Burger says it after his cross-examination of Patricia Taylor not Duane Jefferson. Submitted by Wiseguy70005, 2/15/14.
+++ Wiseguy is correct, Mrs. Taylor was the witness following Kincaid on the stand. But since she was also Mason's witness, Burger is still correct. Submitted by FredK 28 April 2014.
Sightings: You can see the man first spotted by PaulDrake33 in #48, TCOT Purple Woman, in this episode—a dark-complected man with a pencil-thin mustache who resembles Leo Carrillo. There is a really close shot of this Pencil Mustache Man in a cut to Patricia Taylor sitting in the courtroom gallery. "Miss Carmody" sits in the back row during the hearing for a motion for a new trial. Submitted by gracep, 10/3/2010.
+ She certainly looks similar, but I believe this is a different lady. alan_sings, 16 Oct 2010.
++ I agree with alan_sings. This was not Miss Carmody. Freeze frame plus zooming in showed her to be very similar, however. Submitted by Clothears, 17-Jan-2021.
Location: Just short of 10 minutes in we see an exterior shot of Parker Center at night. There are many daytime shots but this is the only nighttime one I've seen. Submitted by Eric Cooper, 13 January 2011.
Location: Almost 15 minutes into the episode Paul and Perry drive to Senator Taylor's estate which in reality is what is known as Greenacres. It is the lavish estate comedian Harold Lloyd built. It was known for its 15 acres of amazing gardens. It remained intact until 1975. It remains on 5 or so acres and is owned by supermarket magnate Ron Burkle. Submitted by Eric Cooper, 13 January 2011.
+ Small World see Trivia comment above by 7539 May 2017 re Hank Patterson, a.k.a., Fred Ziffel. jfh 24Jun2019.
The elevator operator, played by Frankie Darro, is named "Barney." IMdB has incorrectly identified him a "Brian." The first automatic elevator (which made Barney unemployed) is still functioning in the Hard Rock Hotel in the Carbon and Carbide Building on Chicago's Michigan Avenue. cgraul 7.10.12
Another TV lawyer appeared 3 years later with the name George Baxter on the series Hazel played by Don DeFore. In the Terrified Typist novel the character's name is "Munroe Baxter." Submitted by Wiseguy70005, 2/15/14.
+ Munroe Baxter becomes George Baxter. The Pitkin Principle (See Episode 18) at work again. Submitted by BobH, 12 April 2016.
++ And the actress who played George Baxter's wife on Hazel appeared in the episode previous to this one. Submitted by 65tosspowertrap, 4-28-2014.
Scenes of screen tests of Raymond Burr (and William Hopper!) as Perry Mason from the novel The Case of the Terrified Typist are included in the Perry Mason 50th Anniversary Edition DVD set. These scenes, however, are with a character (Yvonne Manco) that wasn't written into the TV version so one can't compare the two screen tests with the final version. Submitted by Wiseguy70005, 2/15/14.
Brent Building: In this story we learn of two more businesses in the Brent Building: South African Diamond Co and Crawford Jewelry. We already knew about Perry Mason Attorney At Law, Paul Drake Detective Agency, and Clay's Grille. Mr. Brent also has offices in his building. More Brent Building tenants are revealed in episodes 68, 97, 149, 238 and 264. Submitted by H. Mason 10/10/14
This is the only PM appearance for Joan Elan, who was born in Ceylon in 1929. She passed at the age of 51...MikeM. 8/30/2016
Alan Marshall/Marshal was born in Sydney, Australia in 1909. He passed in Chicago, aged 52, of a heart attack...MikeM. 8/30/2016
Harald Dyrenforth was born in Breslau, Germany (now Wroclaw, Poland) in 1913. He was the son of a famous Swiss/German mountaineer. He served with US forces in World War II. After the war, he worked for the Voice of America....MikeM. 8/30/2016
This is a shared writing credit for renowned British author Philip MacDonald. He passed in Woodland Hills CA in 1980...MikeM. 8/30/2016
This is the second of ten PM appearances for Steve Carruthers and the only one where he has a character name and a credit...MikeM. 5/14/2018
This is the last of about a dozen season-one appearances for Connie Cezon (Gertie). Connie would have limited appearances for the remainder of the PM series. IMDb says that after season one, 1957-1958, she would only appear once in 1959, once in 1961, and four times in 1964. Connie Cezon passed away in Glendale CA in 2004 at the age of 78. She is interred at Forest Lawn Glendale, resting place for many prominent individuals...MikeM. 6/12/2018
Thirty-two time PM judge Kenneth MacDonald appeared uncredited in the 1946 romantic comedy "Lady Luck" which starred Barbara Hale and Robert Young. "Lady Luck" was broadcast 6/11/2018 on Turner Classic Movies...MikeM. 6/12/2018
Gavel Tally - Three times, one is a spoiler and listed below the banner. The first occasion is when the judge orders Jefferson to be seated after he protests the calling of Patricia Taylor. The second is to adjourn court after the guilty verdict.
This episode marks the first use by the judge of a pencil to rap his desk; he does it twice. I won't report future uses individually, but will report totals at the end of each season.

Audio Dubbing: In the trailer the real Duane Jefferson says "I want to get out of here." but his lips are saying something else. Submitted by Kilo 6/8/2017
Third Use of Gavel - At the hearing for a motion for a new trial, the judge gavels to adjourn to his chambers with both lawyers to discuss the ramifications of two Mr. Jeffersons. OLEF641 12/23/21
Comments

Edit
When Patricia Taylor is in Mason's office she picks up the phone and calls Hamilton Burger, dialing his number from memory. How would she know the DA's phone #, and have it memorized? Submitted by Craig 3/5/10
+ The District Attorney is evidently a friend of the Senator and his wife. Maybe they are political cronies. Added by alan_sings, 11/29/2014.
++ This happens a lot. Characters will often pick up the phone and dial from memory numbers they have no reason to know by heart. I've noticed that Della in particular seems to have a phone directory in her head, although I have seen her use the phone directory on occasion. OLEF641 11/18/2020
The door to the diamond company has a deadbolt, but there is no corresponding slot on the jamb. DOD 08/05/22
By today's standards of Due Process, Tragg contaminated the line-up by informing the witness that one of the men was a suspect, fit the witness' description, and owned a car as described by the witness. This is known as a subtle "force." cgraul 7.10.12
And how did they find Jefferson so quickly with nothing to go on? DOD 07/07/20
+ And the id -- "he's the one on the end" -- is unclear. Which end: the right or the left? Mike Bedard 5.24.16 MeTV viewing.
Perry needs to improve his office security. Patricia Taylor strolls in and is put to work typing documents without being asked to show any ID or proof that she was actually sent from the agency. And why would Perry allow an outsider to see possibly sensitive documents? There will be an even worse security breach in the next episode. Submitted by 65tosspowertrap, 4-29-14.
The diamond company borrowed Della's file cabinets - the ones with a single drawer for each of the first twelve letters of the alphabet. DOD 07/07/20
+ They also borrowed that strange fan-shapped binder-holder on top of a cabinet It has appeared in many and many an office -- and no one ever uses it or touches it. Submitted by catyron, December 11th, 2020.
One of the few cases where we learn about Perry's fee. $5000 in 1958 is like $42,000 now. Submitted by vgy7ujm, 01/16/2015.

This may be the only Perry episode where the murderer sits at the defense table with Perry and Della. Submitted by PaulDrake 33.
Alan Marshall was both a defendant and a murderer. Submitted by daveb, date unknown.
The description of this episode from The Perry Mason TV Show Book contains a spoiler (Jefferson/Kincaid) that should not have been included at the top of this episode's page. In addition, mention of this subplot should only be written in this section warning of spoilers. Submitted by Wiseguy70005, 2/15/14.
+ I agreem and i boldly remvoed a mention of the Kincaid/Jefferson names in a mention of the lineup in the Trivia section. I hate the fact that SPOILER PLOT SYNOPSES are permitted in this wiki. I cannot read the synopses for fear of spoiling the episode! Grumpily submitted by catryon, December 11th, 2020.
When the body of Mr. Baxter is pushed into the ocean it is clear a stunt double was used. Jack Raine played Mr. Baxter and was bald on top; but the stunt double clearly had a full head of hair and is wearing a very obvious bald scalp piece. See the Paramount DVD at 9:25. Added by Exquisite Decay, 9/11/14.
Until Perry's questioning of Jefferson, Burger is apparently unaware of a relationship between him and Mrs Taylor. So how does it happen he has his letters to her? And how did she end up being pen pals with him in the first place? Mrs Taylor's hat looks like one of the UFOs from " Earth VS the Flying Saucers". DOD 07/07/20.
+ Mrs. Taylor called Hamilton Burger from Perry's office. (As noted by alan_sings above, the Rich and/or Famous all know each other and have each other's phone numbers memorized!) Hamilton was probably briefed by her on her dealings with Jefferson; accordingly he asked for the letters. He was aware that Mason was likely to use Mrs. Taylor as an alibi, and Burger needed to demonstrate she had no reason for a lengthy visit with Jefferson. Jefferson was a blackmailer, not a paramour! So here's a question: who the heck took the pictures at the club? Why? How did Jefferson get them? Old Dave, 7/8/20
++ As for the question, "How did she end up being pen pals with him in the first place?" Mrs. Taylor explained that she was writing letters to South African prisoners of war during the Korean conflict. As for the question, "Who the heck took the pictures at the club? Why?" they were probably taken by one of those roving nightclub photographers who snapped shots of patrons and then hoped to sell them prints. When they were offered to Mr. Kinkaid/Jefferson, he purchased them -- but as to the question, "Why did he buy them?" i have no theory. Submitted by catyron, December 11th, 2020.
+++ I just wonder if the flying saucer hat was one of the launching points in the frisbee fad. Submitted by HamBurger, 6/13/2021
Questions: What made Paul and Perry follow Walter Loomis to the trailer? After freeing the real Jefferson why didn't they take him to the police? Since (real) Jefferson's existence was a surprise to Burger what happened to Lumis, his wife and the guard? If they had been arrested that night surely Burger would have been notified. Submitted by H. Mason 10/9/14
+ Maybe they got tied up in the handy trailer in the woods! BTW, nice stunt fighting by Paul. OldDave 7/8/2020
+ There are so many unanswered questions and holes in this story. Also, a defense attorney can't just request a retrial after a verdict has been rendered based on "new evidence." (Otherwise retrials would never end.) If there was malfeasance or error of some sort the defense can take it to appeals court, and they can nullify the trial. (Rarely, they will reverse the guilty verdict.) I like this episode, but it is very odd. And really, what was with the Lomises? Maybe the ESG book explains better. Rich P 10/28/21
Cullinan Connection one of Kimberly's foremost producers - perhaps the source of the gems in this episode ?? - it's an open-pit mine 400mx1000m; I mention the size because it seems to be about as big a hole as the one(s) in this plot. Some have been mentioned (see above), but let's look at some more:
- When were the diamonds stolen?? If Baxter had them with him - and since he ran screaming from the office that it had been robbed, he must have - then they must have been taken there...but by whom?? Did Mrs. Taylor take them?? Why?? and what would she have done with them?? Did Lumis and Kincaid return - and it would have to be almost immediately since it's apparent Mrs. Taylor had no opportunity to flee the building - find him unconscious, and take them ?? If so, why would it be necessary to kill him ?? (And if they didn't then why would he claim he was robbed??)
- When did Kincaid begin his impersonation, and - more importantly - how did he find out about the letters. He obviously knew enough to meet with Mrs. Taylor, but when - and how - did he learn it ??
- Why didn't Mrs. Lumis tell her fake alibi immediately?? I believe at the end Perry makes mention that they hoped Kincaid would be acquitted without it, but are we to believe that people would linger for the days, or weeks, of a trial - with an imprisoned person in their back yard - rather than come forward ?!?! Indeed the whole point of Kincaid having the photos was to validate it.
Notcom 120321.
LOST CASE #1 of 4? By my reckoning, this is one of (at least) four known lost cases in the Perry Mason series, the others being:
The murder trial of Janice Barton in Ep. 185, TCOT Deadly Verdict, in which her innocence is only proven after the fact.
A civil case that Perry lost in front of Judge Daniel Redmond at the beginning of Ep. 181, TCOT Witless Witness.
Another civil case near the beginning of Ep. 267, TCOT Dead Ringer in which Perry was framed by an impostor for trying to bribe a witness.
(Though these last two were not the featured cases of these episodes, they were still cases that Mason lost). I know that Perry is usually given a pass on the Duane Jefferson case because of the impersonation. But still, he earnestly tried to defend the man sitting next to him, and he lost. The fact that the man will be tried again later under his own name and with untainted evidence still doesn't alter the fact that Perry lost the first trial. If anyone knows of additional lost cases, please add them here. Submitted by alan_sings, 11/29/2014.
+ Perry can only successfully defend with the truth. He cannot successfully defend dishonesty. jfh 08May2017.
++ There was an earlier lost case referred to at the opening of an episode earlier in this season when Perry is dictating to Della the basis of an appeal on behalf of a client. Sorry i can't recall which episode. Submitted by catyron, December 11th, 2020.
<< Black-eyed Blonde | Episodes | Rolling Bones >>