Show39
<< Terrified Typist | Episodes | Corresponding Corpse >>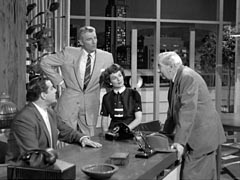 #39: The Case of the
Rolling Bones
Original Airdate: 06/28/58
From The Perry Mason TV Show Book
Perry defends Daniel Reed on a murder charge and against his nephew, who wants to put the old man away in an insane asylum.
It's shades of Perrygate, when the lawyer thinks Burger has bugged his office. How else could it be that every time Perry mentions something either in his office or over the phone, Burger has the information almost immediately?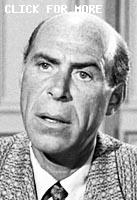 Opening
Starring Raymond Burr
in Erle Stanley Gardner's The Case of Rolling Bones
Barbara Hale, William Hopper, William Talman, Ray Collins
Trailing
Directed by Roger Kay
Written by Gene Wang
Ben Brady | Producer
Produced by CBS Television in association with Paisano Productions
Gail Patrick Jackson | Executive Producer
Sam White | Associate Producer
Raymond Burr as Perry Mason
Barbara Hale as Della Street
William Hopper as Paul Drake
William Talman as Hamilton Burger
Ray Collins as Lt. Tragg
Cast
Joan Camden as Donna Knox
Mary Anderson as Arlene Scott
Edgar Stehli as Daniel Reed
Arthur Space as Willard Scott
King Calder as Maury Lewis
Kitty Kelly as Millie Foster
Simon Scott as George Metcalf
Richard Gaines as Judge Treadwell
Sid Tomack as Victor Kowalski
Morris Ankrum as Judge Morrisey
Richard Aherne as Dr. Norris
Alan Lee as Dave Kemp
William Remick as Herbert Walker
James Nolan as Attendant
Ted Stanhope as Court Clerk
Olan Soulé as Teller
Lee Miller as State Trooper
Uncredited Actors
Don Anderson as Metcalf's Assistant
Crew
Gene Wang | Story Editor
Production Supervisor … J. Paul Popkin
Director of Photography … Frank Redman, A.S.C.
Art Direction … Lyle Wheeler, Lewis Creber
Assistant Director … Art Marks
Editorial Supervisor … Art Seid, A.C.E.
Film Editor … Richard Cahoon, A.C.E.
Makeup … Mel Berns
Hair Stylist … Annabell
Wardrobe Supervision … Dick James
Set Decoration … Walter M. Scott, Charles Q. Vassar
Properties … Ray Thompson
Sound Editor … Gene Eliot, M.P.S.E.
Production Sound Mixer … Robert O'Brien
Script Supervision … Lew Jarrard
This has been a CBS Television Production
Filmed in Hollywood by TCF Television Productions, Inc.
CARS: 1956 Buick Century 4dr hardtop, 3-tone: dark color, white, black top, Cameo: 1958 Chevrolet 4dr wagon, 2-tone: medium color & white. From The Cars by Greg Cockerill.
+ I don't know anything about the makes or models of cars, but at 03:32 there is a street scene with two parked cars on display and the one at left is all banged and crashed up and missing its gas cap. I do recall a few car crashes in the series, and a couple of over-the-cliff smash-ups, but i cannot remember any other PM in which a damaged car is parked on a city street. Submitted by catyron, December 12th, 2020.
+ IMO, the beat up car outside the hotel is used to suggest a shady clientele. jfh 16Jun2023

Mary Anderson, who was probably best known for her role of Alice MacKenzie in Alfred Hitchcock's classic Lifeboat, makes her only Perry Mason appearance. She plays the wife of Arthur Space even though she is 12 years his junior, and looks more like 20 years his junior. Submitted by PaulDrake33, 7/22/2008.
+ Age disparity seems to have been an unofficial theme of this episode: the actors playing the two lovebirds really were 20 years apart - or more precisely 18 - but happily for the episode it isn't readily apparent. Notcom, 092117.
In this episode we see Perry and Della walking into the courtroom before the trial starts. This is one of the few times we see this, as usually they are walking out of the courtroom. Submitted by PaulDrake33, 7/22/2008.
Alan Lee (Dave Kemp) was the newlyweds' landlord in Rear Window, a classic Hitchcock film that Raymond Burr played in. Submitted by billp, 15 November 2009.
+ He reminds me of "Jake Blues" (John Belushi) in The Blues Brothers. Submitted by 65tosspowertrap, 29 April 2014.
Location: About 35 minutes in, Paul and Perry arrive at the airport from Reno Nevada. This is Burbank Airport, now Bob Hope Airport, in Burbank. The tower has been modernized but the basic shape and horseshoe layout around the parking area is still the same. Burbank Airport also appears in Episodes #39, #99, #165, #220, and #258. Posted by Eric Cooper, 31 December 2009. Some pictures here.
Airliner: And the plane carrying them is a Douglas DC-4; it first saw service during WWII as the C-54 Skymaster and later was widely used by civilian carriers, as originally intended. This one is operated by American Airlines. (submitted by francis, 1/24/12)
+ "The Douglas C-54...was the first four-engine transport to enter USAAF service...[one] became the first 'official' presidential transport...in 1944 for use by President Roosevelt... During the Berlin Airlift, in 1948, every C-54 the USAF had was pressed into service... Many were later converted into litter-carrying planes...during the Korean Conflict, returning 66,000 patients to the U.S." StrategicAirCommand.com observes. Mike Bedard 5.19.16.
++ But the plane that then landed at Reno looked more like a 707. Submitted by Clothears, 17-Jan-2021.
Sightings: A man known as Distinguished Gentleman #1 serves as the court reporter during the habeas corpus hearing. Distinguished Lady #1 sits in the second row during the hearing regarding Lewis's murder. When the hearing reconvenes, we can see the man with a pencil mustache in the front row, prosecutor's side, whispering now and then. Can you spot them? Read more about recurring but inconspicuous and anonymous actors here. Submitted by gracep, 10/2/2010.
+ At the 31min mark when Perry is on the phone, we see the Distinguished Lady #4 and Distinguished Gentleman #1 playing slots in the background. They both turn up in court with their winnings. Submitted by BigBill767, 12/9/16.
Uncredited Actors: Additionally, the ever-uncredited Don Anderson wears a white suit as Mr. Metcalf's assistant during the habeas corpus hearing. Submitted by gracep, 10/3/2010.
+ By my count, Anderson appeared in 23 of the 39 episodes in the epic first season of Perry Mason. Of course, in several episodes he had more than one role. Submitted by FredK, 15 Nov 2010.
Now we know where Sgt. Brice started his career: as a Nevada state trooper! Submitted by francis, 1/24/2012.
This episode--the last of the first season--is the first of two consecutive episodes featuring Joan Camden. She is also in the first episode of the second season--TCOT Corresponding Corpse. Her characters were unlucky--in both episodes, her boyfriend is the murder victim. Submitted by 65tosspowertrap, 5-3-2014.
Della's initial pendant appears in both these episodes as well. DOD 07/08/20
Telephone number: Millie's phone number was Holly 2-6231. In episode 9 TCOT Vagabond Vixen the number for John Addison at Fidelity Studios was Hollywood 2-6231. Submitted by H. Mason 10/10/14
Purse: The purse Donna used to carry money out of the bank came from episode 29 TCOT Hesitant Hostess. Submitted by H. Mason 10/10/14
This is the only PM episode for Edgar Stehli, who was born in Lyon, France, in 1884. He passed in New Jersey in 1973...MikeM. 8/31/2016
This is the first of four PM episodes for King Calder. He was born in Baltimore in 1897 and passed in Los Angeles in 1964...MikeM. 8/31/2016
This is the only PM episode for Mary Anderson. She passed in 2014 in Burbank CA, aged 96...MikeM. 8/31/2016
This is the first of four PM episodes for Kitty Kelly. She was a member of the Ziegfeld Follies. She passed in 1968 in Hollywood, aged 66...MikeM. 8/31/2016
This is the first of three PM appearances for veteran character actor Sid Tomack (Victor Kowalski), who appeared in 22 of the 26 episodes of the 1949-1950 version of "The Life of Riley" which starred Jackie Gleason...MikeM. 6/12/2018
A Clever Title - "TCOT Rolling Bones" might be the cleverest of ESG's book titles. In the novel, the title has a double meaning: the more obvious relates to the tossing of dice, the more subtle--a substantial clue to the identity of the murderer--to the "disposal of the remains." Submitted by BobH, 4 March 2019.
Left in Something unusual happens in this episode - Perry is the one bringing action - and it leads to something which I believe is unique in the series*: he's seated to the judge's left. (Is the seating of the defense on the right as standardized in real life as it was on the show?) Notcom 112020.*Patience, patience: had I waited a day - or simply had a better memory - I could have noted that Perry does indeed sit left again...it's in the very next episode! 112120.
In most courtrooms, the party with the burden of proof sits closest to the jury (or the jury box if there's no jury.) that's why Burger sits where he does in most episodes and why Mason sits where he does during the habeus corpus hearing. — submitted by judgebob1, 112420
I don't think the Willard Scott in this episode was ever a weatherman on one of the main networks. They don't look alike ;-). Submitted by HamBurger, 6/13/2021
Gavel Statistics For Season One: Gavel: 16/39 episodes (41%), No Court: 2 episodes, Pencil: 1 episode -- OLEF641 12/23/21
No Knocks: At about 18 minutes, Paul comes into Perry's office, but announces himself with just three knocks, rather than his usual jaunty 'shave and a haircut' riff. JohnK, 8 August, 2022
Comments

Edit
Thus ends the first season of one of the greatest shows in television history. Thirty-nine hour-long shows in 41 weeks. Raymond Burr appeared in every show, carrying the action each time. Could you imagine the movie stars of today working such grueling hours? I have read that Perry felt he owed it to the others in the cast to work this hard. Submitted by PaulDrake 33, 5/14/2009.
This feels like one of the more film-noir episodes: lots of tough-talking men and women, including Kitty Kelly, with scads of 30s and 40s slang, such as when Kemp threatens Mason. Submitted by gracenote, 10/2/2010. Also Donna Knox in her "drinking to forget" and "I want to drop the (cyanide) pellets" scene.Joe B. 10/01/2022
One of the best shots in the series comes during the final questioning of Willard, with him in the foreground, Perry center, and his wife looking on from the background. Very clever and effective camera angle. DOD 07/08/20
Credit the prolific Gene Wang, who had written for many Noir - ish shows prior to PM, and who wrote almost half of the Mason episodes during his 3-year tenure. Later writers then were forced to attempt to emulate Wang's style. cgraul 7.11.12
Distinguished Gentleman acts as stenographer during the habeas corpus hearing, then is later seen in the gallery during the trial. The book on which this episode is based is very complex and has a subplot involving crooked dice - hence the title, bones being slang for dice. I prefer this TV version, with its streamlined and far more believable plot, but a title change would have made sense. DOD 06/12/18
I love it when Perry eviscerates a pompous, stuffy "expert" on the witness stand, as he does here to Dr. Norris, with an assist from the terse, dour, skeptical Judge Treadwell, wonderfully played by Richard Gaines. Also, this is yet another episode featuring an unhappy marriage. Submitted by 65tosspowertrap, 2 May 2014.
+ I like His Honor's use of the term SHANGHAIED [Naut. to obtain a sailor for the crew by unscrupulous means, as by force or the use of liquor: Web. Enc. Unab. Dict.]. Mike Bedard 5.25.16 MeTV airing.
++ This is my wife and I's favorite scene when Perry mentions that the judge may have arcus senilis. Submitted by HamBurger, 9/30/2017
+Dementia praecox is now known as schizophrenia. Submitted by vgy7ujm, 10 August 2019
Although I'm not sure, I think the shot we get of the murder victim in this episode--although brief--may be the most graphic of the first season. The knife sticking out of his back is plainly visible, and there's even a hint of blood. TV shows in the '50's and '60's were very squeamish about showing blood. That would all change with MASH. And today's "crime and punishment" shows seem to go out of their way to gross out the viewer with blood and gore. Submitted by Alan Smithee, 5-4-2014.
Egregious Enunciation: The patrician accent coming out of Arlene Scott is hard to take. Someone at CBS must have had a thing for (or against) fancy speech -- what with Miss Jane and Mr. Drysdale on The Beverly Hillbillies, and the Howells on Gilligan's Island. John K, 7 December 2015
+ "And the Southern girls with the way they talk, they knock me out when I'm down there." In #37 TCOT Black-Eyed Blonde Texan Phyllis Coates does sound to me like she's from Wichita Falls. Maybe that's because she's just a young farm-woman in that episode, but I love the sound of her voice. lowercase masonite, 2/1/16.
How well do Donna Knox and bank teller Olan Soulé know and trust each other? In the beginning of the episode Soulé unemotionally hands over to Miss Knox stacks of bills totaling $20,000 -- $166,000 in 2016 dollars -- without either person counting it out in front of the other before Miss Knox quickly picks up the money and leaves the bank. lowercase masonite, 2/1/16.
Dialog error? When crooked detective Kemp is telling the Scotts about uncle Reid getting taken he says "you people ought to know the score before Maury Lewis and his girl can take your uncle for every dime they have." I think he was supposed to say "... every dime he has". Kilo 12/28/2018.

Perry had a security breach in the previous episode, and he has a more serious one in this episode when someone breaks into his office and plants a bug. Perry needs to seriously beef up his office security. And you'd think that Paul--a private detective--would know that the first place to look would be the phone. Sometimes I wonder about Paul... Submitted by 65tosspowertrap 4-29-14.
If the killer's motive, "...to get away from her!" sounds familiar, it was also the motive in Ep. 1, TCOT Restless Redhead. On balance, I think the actor in Ep. 1 delivers it more effectively than does the actor here. Submitted by alan_sings 11/29/2014.
+ I think it has more to do with the personalities of the characters: Ep.1 was bitter - one might even say slightly crazy - whereas here he seems resigned and indifferent...maybe he should be tested for dementia praecox ! Submitted by Notcom, 092117.
After finding out what happened in Alaska 30 years previously, I idly wondered about the statute of limitations for attempted murder. Perhaps the victim was more concerned about losing face for reporting the attempt than about walking out on a pile of money? lowercase masonite, 2/1/16.
+ Alaska became our 49th State in 1959; it was still a Territory on 06/28/58. Mike B. 5.25.16.
++ In most states there is no Statute of Limitations for Murder, and probably not for attempted murder, since these are capital offences. But state law governs. Ed Mahl 9/22/17
clarification: In most states, attempted murder is felony, but not a capital offense. jfh 18Oct2018

Query: Why was the ex-private detective conferring with the wife of the murderer at the time of the murder? It's not clear what business they could have had together. Ed Mahl 9/22/17
<< Terrified Typist | Episodes | Corresponding Corpse >>