Show5
<< Drowning Duck | Episodes | Silent Partner >>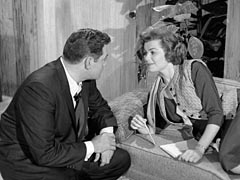 #5: The Case of the
Sulky Girl
Original Airdate: 10/19/57
From The Perry Mason TV Show Book
Rod Gleason and Frances Celane have been secretly married for five years and are expecting a child. Frances doesn't want this to be known until she secures her million-dollar trust fund from Uncle Norton. Norton is holding out until the girl is twenty-five.
When Norton is murdered, and Gleason accused, the question Perry must answer is: Who had a greater motive to kill Uncle Norton than his client Rod Gleason? Watch for a rare appearance of Perry's receptionist, Gertie, in this episode.
Opening
Starring Raymond Burr
in Erle Stanley Gardner's The Case of Sulky Girl
Barbara Hale, William Hopper, William Talman, Ray Collins
Trailing
Directed by Christian Nyby
Teleplay by Harold Swanton
Ben Brady | Producer
Produced by CBS Television in association with Paisano Productions
Gail Patrick Jackson | Executive Producer
Sam White | Associate Producer
Raymond Burr as Perry Mason
Barbara Hale as Della Street
William Hopper as Paul Drake
William Talman as Hamilton Burger
Ray Collins as Lt. Tragg
Cast
Olive Sturgis as Fran Celane
William Schallert as Graves
Lillian Bronson as Clara
Robert Griffin as Crinston
Connie Cezon as Gertie
Brian Hutton as Rod Gleason
Raymond Greenleaf as Norton
Howard Wendell as Judge Purley
Paul Bryar as Sgt. Wilbur
Frank Wilcox as Judge Markham
Bob Kline as Officer Delaney
Larry Thor as Police Surgeon
Jack Gargan as Court Clerk
Dick Winslow as Reporter

Uncredited Actors
Don Anderson as baliff
Lee Miller as Court spectator

Crew
Gene Wang | Story Editor
Production Supervisor … J. Paul Popkin
Director of Photography … Lloyd Ahern, A.S.C.
Art Direction … Lyle Wheeler, Lewis Creber
Assistant Director … Wilbur McGaugh
Editorial Supervisor … Art Seid, A.C.E.
Film Editor … Richard Cahoon, A.C.E.
Makeup … Mel Berns
Hair Stylist … Annabell, S.C.H.
Wardrobe Supervision … Dick James
Set Decorations … Walter M. Scott, Charles Q. Vassar
Properties … Ray Thompson
Recorded by … Bernard Freericks
Rerecording Mixer … Harry M. Leonard
Script Supervisor … Elizabeth Fancher
This has been a CBS Television Network Production
Filmed in Hollywood by TCF Television Productions, Inc.
CARS: 1957 Ford Skyliner retractable, black (Mason), 1957 Thunderbird, black, top down (Drake), 1957 Mercury 4dr hardtop, 2-tone (Burger)*, 1957 Imperial convertible, white, top down, 1957 Lincoln, 4dr sedan, black. From The Cars by Greg Cockerill.
+ Check out the long fender skirts on that 4 door hardtop Turnpike Cruiser with the Breezeway power rear window and the twin jet air intakes! This episode also featured two 1957 Lincoln Premiere 4 door sedans, one driven by Judge Purley and one used in Burger's "exact conditions" test. Submitted by oldgray on 2/27/2014.
++ Is this the ONLY Perry in which we see BURGER's Car? "The fullsize Mercury was redesigned for 1957 and grew considerably larger as well, riding on an exclusive 122 in wheelbase. A new frame design allowed a lower floor which made the car look lower & longer. Interior features included a front seat track stop (to keep the front seat from breaking loose), a new design for the safety steering wheel, a new radio & memory power front seats" observes en.wikipedia.org/wiki/Mercury_Monterey. Mike Bedard 8.11.2017
+ We also see BURGER's Car in ep#83 TCOT Prudent Prosecutor (a '59 Buick LeSabre 2dr Sedan). You can get a partial list of episodes in which Burger (or Della) are seen driving a car by entering "burger drives" into the Wiki Search box in the Left SideBar (or same for Della, with the quotes but not case sensitive). This trick is dependent on the author of the item remembering to write it using those exact words. For another rarely-seen happening try "Perry walks" (it doesn't work quite as well as Burger or Della driving). Added by Gary Woloski, 8/11/17.
Perry's car is back to the Skyliner in this episode enforcing the fact others on this site mention that these beginning episodes were filmed in a different order than shown chronologically. Submitted by HamBurger, 9/13/2020
Perry's hat: When Perry leaves the Norton house, he's handed his hat; he doesn't put it on, he simply carries it in his hand. IMHO his hair is too attractive to obscure with a hat. jfh 20Apr2017.
In the scene where Crinston and Judge Purley pull up to Norton's house at 11:06 PM, it seems to be daylight. In fact several of the trees are casting shadows. Submitted by PaulDrake33, 6/17/2008.
+ A lot of programs frequently shot "day for night," using a filter to darken a daylight scene rather than spending the extra money on the lighting and crew overtime needed for a night shoot. The shadows are a giveaway, though. Submitted by VladimirEstragon, 9 Sept 2020.
We see Paul's office. On the desk there is a framed caricature of Dick Tracy. Written on the caricature are the words "Paul Drake — With our best wishes" The caricature is signed by Chester Gould, the creator of Dick Tracy. A much better shot of the caricature can be viewed in episode #62, "TCOT Howling Dog." Submitted by PaulDrake33, 6/17/2008.
+ The Dick Tracy caricature can also be seen 17 minutes in Episode #33. Submitted by Eric Cooper, 12 January 2011.
++ Also in #20 Lonely Heiress, in an early scene in Paul Drake's office (with Lacey and then Paul's secretary), you can see a framed drawing of Dick Tracy on his desk. Submitted by mesave31, 04/16/15.
Location: PaulDrake33 notes that the house seen in #37, "TCOT Black Eyed Blonde," is the same house used in this episode. Posted by daveb, 6/17/2008. Pictures here.
Location: There's a nice establishing shot of Parker Center, the LAPD headquarters. Picture here.
+ There is no way a police headquarters--or any government building--would be built like that today. What a tempting target for a truck bomber. Submitted by 65tosspowertrap, 3-11-2014.
The (shooting?) script for this episode was dated 16 May 1957. At least 6 other scripts were dated earlier. This episode was probably no earlier than the 7th filmed. There was about a 5-month lag between filming and broadcast. Submitted by billp, 3 November 2009.
+ One clue of this is stated in the "CARS" section above that I made with regard to Perry's car bouncing between the Skyliner and the Cadillac. Submitted by HamBurger, 9/13/2020
Sightings: Blue Collar Guy appears as the gardener. More about him and other frequently-seen people here. Submitted by alan_sings, 9/26/2010.
+ Seen exiting the courtroom are both Distinguished Lady #2 and Distinguished Gentleman #1. They are later both seen sitting in the courtroom. Submitted by evelyn1, 2/5/2011.
++ (Also Continuity Error:) What's more, the aforementioned Gentleman preforms an amazing feat of magic. On the very first shot of the courtroom, we see the back of his head the jury box. Then, hey presto, he's in the gallery. Two cuts later, back in the jury box. Submitted by gracenote, 8/24/2011.
Uncredited Actors: Don Anderson makes his fourth Mason appearance as the bailiff at the door of the courtroom, another frequent role. Submitted by FredK, 30 September 2010.
+ Lee Miller shows up as a courtroom spectator, sitting right behind Crinston. Submitted by gracenote, 8/24/2011.
Character Names: Norton's first name is Edward. Submitted by gracenote, 8/24/2011.
The license plate on Paul Drake's car was KGF 760. Lt. Tragg said it was LTZ 413. Submitted by H. Mason 9/24/14
Viewers will remember William Schallert as "Patty Duke's" dad on The Patty Duke Show. - Submitted by HamBurger 09/26/2014
+ William has 369 Actor credits (!), including FDR advisor Harry Hopkins in "War & Remembrance"; IMDB describes his father Edwin as "Drama Editor of the LA Times & Dean of the West Coast critics." Mike Bedard 3.25.15
++My wife and I always enjoy seeing Schallert in one of his myriad roles, but we always call out, "Patty Duke's dad", no matter what it is. It's become a running joke between us. Submitted by Rickapolis 06/21/22
Lilian Bronson appeared in 4 Perrys: TCOT Sulky Girl ('57, Non-Judge) + Corresponding Corpse ('58), Shattered Dream ('59) & Clumsy Clown ('60) as Judges [IMDb]. Mike Bedard 3.7.15.
Brent Building: The first use of an establishing shot for the structure. Where are the balconies? Submitted by H. Mason 9/30/14
Fifth Time Lucky It took awhile - if you're counting on your hand you're up to the thumb by now - but we finally have an episode whose plot doesn't involve an unhappily married couple. And for those who are wondering: no, this disharmony doesn't reflect ESG's personal experience....his marriage lasted 56 years (happily, one assumes). Submitted by Notcom, Le Quatorze Juillet, Deux Mille Seize
+ Sadly, not so. ESG and his wife separated in the early 1930s, perhaps due to his interest in Jean Bethell, who became his secretary in 1930, and whom he married the same year his wife died, 1968. Presumably, someone in the triangle did not believe in divorce, but it explains his fascination with fictional divorces when it was not common in real life. Submitted by JazzBaby, 7/1/2019.
++ Interesting! One wonders if this didn't - perhaps subconsciously - shape his characterization of Della: a perfect (more than) secretary which he could never have; of course there was nothing, other than a sense of professionalism, preventing Perry and Della from becoming attached, but here art seemed to imitate life. Replied by Notcom, 070119.
ESG: "The Case of the Sulky Girl" is Perry Mason novel # 2, published in 1933. Submitted by catyron 11/4/2017
This is the only PM appearance for Olive Sturgis who, like Raymond Burr, was born in British Columbia, Canada. In every other role listed on Olive's IMDb Filmography, she was billed by her birth name of Olive STURGESS...MikeM. 4/26/2018
This is the 1st of 8 PM Judge appearances for Frank Wilcox. You most likely remember him from "The Beverly Hillbillies" as Mr. John Brewster, of Tulsa Oklahoma's OK Oil Company. Brewster's OK Oil purchased Jed Clampett's oil rights. Per Wikipedia, Wilcox was the best man for actor George Reeves(of Superman fame). They had known each other since they were struggling actors at the Pasadena Community Playhouse. ... Bob61571, 26 April 2018
There are a couple of factual howlers in the "Report on Edward Norton" shown about a quarter of the way in. The height of the Associated Oil Building is given as "fifteen stories". The height restriction effective in Downtown Los Angeles (to effectively 13 stories, due to concerns about earthquakes) had only been lifted the year this episode was made, so unless the building was brand new, this is a mistake, albeit a rather minor one. The bigger howler is the address given: 8977 Broadway. This is hardly in "the downtown business area of Los Angeles"; that address is nearly ten miles south of downtown. OLEF641 6/21/21
The $67,585 value of the securities sold for Edward Norton by Mr. Crinston would be over $650,000 in 2021 money. OLEF641 11/9/21
Comments

Edit
Sure is a lot of smoking in this one (Perry and Paul). Submitted by daveb, 11/17/2008.
+ Perry accepts a light for his cigarette from Frances Celane when they first meet in his office, but stubs it out before taking another drag. jfh 26Apr2018.
++ Seems this fact even irked Perry at one point. When Paul was puffing away in the courtroom hallway, Mason threw his own smoke to the floor in frustration before he'd even lit it! MFrench, 11/19/16
Our first appearance of that staircase set that would see so much use, although here it has been configured with a curve instead of a landing. Overall, these early shows have a greater variety and richness in the sets and props. Later shows recycle sets and props to an almost comical extent. During Perry's questioning of Clara there is a brief shot of the spectators behind his desk. I thought I spotted Bess Flowers, but when Perry sits down, the chair she was in is empty. The murder happens after 11pm? My, that moon is bright! And why, with such a huge car, does Crinston squeeze into the front seat? DOD 04/24/18
Wasn't it Graves doing the squeezing? Which he has to in order to have an excuse to take Crinston's briefcase, turn around to put it on the rear seat, and thus "see" someone bumping off Frances Celane. Submitted by Clothears 7th Nov 2020.
+It was Edward Norton who got bumped off. Frances lived happily ever after. Submitted by wick 4/5/2022.
The $67,585 that Crinston stole would be worth something like $497,804.94 in 2007 dollars. Submitted by billp, 12/26/2008.
Larry Thor makes his first of two appearances on Perry in this show. Larry Thor was a big name in old-time radio, playing the lead in Broadway Is My Beat from 1949 until 1954. Submitted by PaulDrake33, 1/28/2009.
+ Larry Thor was also the announcer on the CBS radio series "The Adventures of Rocky Jordan" in the same years that he played the lead role of Danny Clover in "Broadway Is My Beat." In my opinion he was a terrible announcer, but a truly outstanding radio actor. "Broadway Is My Beat" was among the best of the best of old-time radio because the of the writing, production quality, and the outstanding acting. Too bad he got only two lines in this episode of Perry Mason. Submitted by oldgray, 2/27/2014.
Sad Syndication Cut: The photo at the top of this page shows the shapely Ms. Street seductively lounging on what appears to be a sofa in Perry's office. Sadly, this scene was cut from the syndicated version shown on MeTV. Submitted by DellaFan, 3/14/14.
+ MeTV restored this scene in the version shown tonight...MikeM. 7/15/2016
Odd that the episode carried the character names "Edward Norton" and "Gleason" over from the 1933 novel. The Honeymooners skits had just finished its run on CBS a few months before and most of the audience would have been familiar with the names. TV viewers not familiar with the novel may have thought the names were an injoke directed at the other series. Submitted by Wiseguy70005, 11/17/14.
Smiling Paul cites Walter Winchell. Not his rival, Hedda Hopper? Submitted by Little Blue Bicycle, 3/26/15.
As the series progresses, it seems the writers incorporate many inside jokes of which only longtime fans are aware. Imagine Paul Drake citing Hedda Hopper's gossip column (actor William Hopper citing his real life mother) and how much fun that might have been for viewers "in the know"! Writers of the early episodes may have hesitated to make connections between the real and fictional Perry Mason worlds so common (and enjoyable) in later episodes. Submitted by CCullinC on 9/10/2019.
Paul Drake makes a reference to [Francis] "Two Gun Crowley": "an American murderer & career criminal. His crime spree lasted nearly 3 months, ending in a 2-hour shootout with the NYC PD in May 1931...He was executed by the Electric Chair in Sing Sing Prison in 1932 [wikipedia]." Mike Bedard 3.26.15
Is this the tick-tockiest episode of them all? The judge checking his watch & setting it by the time announced on the car radio, Della checking her watch at midnight, the myriad of shots of desk and wall clocks before, during and after the crime. MFrench 11/19/16
Re-reading the plot description, I wondered how a man with the money and apparent power the uncle had didn't know his niece had been married secretly for FIVE YEARS. Hmmm ... oh, well! Submitted by MikeReese, 8/14/17
Is this the first episode where Perry gets loud and angry in court? I refer to the scene where he asks William Schallert (Graves) to read the index cards. "Louder, Mr. Graves" "I can't hear you".
"The Case of the Nimble Judge." Just as Judge Purley completes his testimony on the witness stand, we get a quick shot of Hamilton Burger reacting to another defeat at PM's hands. Sitting in the gallery immediately behind Burger is . . . Judge Purley. Submitted by BobH, 2 April 2020.
Blue Collar Guy has some pretty good hearing. With the lawnmower running, he can still hear the argument happening in the house. Submitted by Kenmore 6/16/2021
<< Drowning Duck | Episodes | Silent Partner >>