Show6
<< Sulky Girl | Episodes | Angry Mourner >>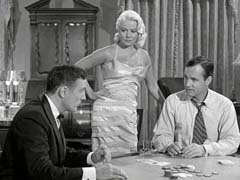 #6: The Case of the
Silent Partner
Original Airdate: 10/26/57
From The Perry Mason TV Show Book
Mildred Kimber gets mixed up with some "bad seeds" who try to con her weak-willed husband out of her rare orchid business via a fixed poker game. When a couple of these jokers are poisoned, Mil is sent to the slammer.
Although Hamilton Burger threatens to charge Perry with everything from unethical conduct to manslaughter, it doesn't keep Perry from making bold moves. As usual, he and Paul Drake are at the scene of the crime before the police are, wearing out their hankies handling evidence without leaving their fingerprints.
+ Who writes these things? Almost nothing in this description has anything to do with the actual plot of this episode. No jokers are poisoned, Perry is not charged with manslaughter. Drake is not at the scene of the crime. Etc. Submitted by Wick 6/22/2022.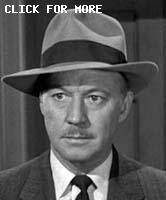 Opening
Starring Raymond Burr
in Erle Stanley Gardner's
The Case of Silent Partner
Barbara Hale, William Hopper, William Talman, Ray Collins
Trailing
Directed by Christian Nyby
Teleplay by Donald S. Sanford
Ben Brady | Producer
Produced by CBS Television in association with Paisano Productions
Gail Patrick Jackson | Executive Producer
Sam White | Associate Producer
Raymond Burr as Perry Mason
Barbara Hale as Della Street
William Hopper as Paul Drake
William Talman as Hamilton Burger
Ray Collins as Lt. Tragg
Cast
Peggy Maley as Lola Florey
Dan Seymour as Harry Marlow
Anne Barton as Mildred Kimber
Mark Roberts as Bob Kimber
Cyril Delevanti as Tulloch
Michael Emmet as Sam Lynk
Joe Abdullah as Mack Fried
Henry Hunter as Dr. Rubin
Dawn Richard as Ginger Kay
Jimmy McCallion as Veteran Reporter
Janet Stewart as Girl Reporter
Dan Sheridan as Welsh
Ed Stevlingson as Mr. Henry
Jann Darlyn as Miss Carling
Charles Franc as Mr. Curtis
Joe Quinn as Fire Chief
Don Anderson as Policeman
Richard Geary as Intern

Uncredited Actors
Don Anderson as Policeman

Crew
Gene Wang | Story Editor
Production Supervisor … J. Paul Popkin
Director of Photography … Frank Redman, A.S.C.
Art Direction … Lyle Wheeler, Lewis Creber
Assistant Director … Art Marks
Editorial Supervisor … Art Seid, A.C.E.
Film Editor … Otto W. Meyer, A.C.E.
Makeup … Mel Berns
Wardrobe Supervision … Dick James
Set Decorations … Walter M. Scott, Charles Q. Vassar
Properties … Ray Thompson
Recorded by Alfred Bruzlin
Rerecording Mixer … Harry M. Leonard
Script Supervisor … Cosmo Genovese
CARS: 1957 Cadillac convertible, black w/ black & white int., white top up (Mason); 1957 Buick Caballero station wagon, 2-tone; 1957 Pontiac 2dr hardtop, medium color; 1957 Buick Roadmaster convertible, black, wire wheels & continental kit* (Police) *later becomes black Special 4dr sedan. From The Cars by Greg Cockerill.
+ As Marlow arrives in the 1957 Pontiac Star Chief, Tulloch's 1941 Ford Woody wagon can be seen. It appears later in closeup, but only the long shot reveals it as a '41. In the parking lot of the Eldorado club one partially sees a '57 Lincoln Premiere Convertible, and the attendant drives up in a 1957 Buick Special 4 door hardtop. The '57 Buick Roadmaster with the Continental Kit (that mysteriously changes into a Buick Special) was a model 76R 2 door hardtop with a three piece rear window (rather than a convertible as stated above), and appears to have a custom grill, or at least is missing the front grill badge. Nice! Submitted by oldgray, 2/3/2014.
Gotta love it when Paul calls Harry Marlow the "Petunia King". Submitted by HamBurger, 7/28/2017
+ Like when Lt. Steve Drumm called the White Snow Princess "Miss Snow Plow" in episode #120 TCOT Misguided Model. Kilo 2/21/2021.
Dan Seymour (Harry Marlow), in the first of seven PM appearances, greatly resembles George Dzundza in his Law & Order days around 1990. Submitted by Tony Perodeau, 8/8/2019.
The (shooting?) script for this episode is dated 12 July 1957. At least 11 other episodes have scripts dated earlier. It seems reasonable to assume this episode was filmed no earlier than 12th. It was, however, the 6th broadcast. There was a little more than a 3-month delay between filming and broadcast. Submitted by billp, 3 November 2009.
+ And the Cadillac is back as Perry's car...Submitted by HamBurger, 9/13/2020
This episode of Perry Mason (TCOT Silent Partner) is based on an Erle Stanley Gardner novel of the same name. The season nine episode titled TCOT Candy Queen (#244, 9.3) is also based on this same ESG novel. So this ninth season episode is often considered to be a "re-make" of TCOT Silent Partner. See here. Submitted by Charles Richmond, 25 April 2013.
Location: About 31 minutes in, a car goes by the Standard Federal Savings and Loan in downtown Los Angeles. According to www.you-are-here.com, an architecture site this building was the first glass skyscraper in downtown and was located at 611 Wilshire and Grand. Submitted by Eric Cooper, 28 October 2010.
Cyril Delevanti played Tulloch in this episode, "TCOT Silent Partner." The only other Perry Mason episode in which he appeared is "TCOT Silent Six." In 1957 "TCOT Silent Partner" was broadcast as the episode of the series. And both the episode titles had the word "" in them. Submitted by Charles Richmond, 31 January 2011.
Uncredited Actors: Don Anderson appears here as a policeman that responds to the house fire. Submitted by BigBill767, Nov 11, 2016.
Sighting: A "Who is That?" bonanza—no courtroom scenes, but watch as Perry and Burger thrash it out! Distinguished Gentleman #1 is behind the counter and Pencil Mustache Man is the photographer. Later on, Distinguised Lady #2 is a nurse. Submitted by evelyne, 2/6/2011.
Syndication cuts: Mr. Curtis entering the club; Tulloch is asked about the stock but won't help Bob Kimber, Mason and Della discussing the six missing candy cups and Tulloch overhearing and leaving; Lola arriving home watched by the detective as Tulloch hides and Lola undresses. Additional Hallmark cuts: Part of Mildred's conversation with Mason concerning hysterical women Mason has met and her not being well; Mason ringing the doorbell at Lynk's place and looking in the window seeing the Siamese cat; Burger says he'll charge Mason with malfeasance and Mason's conversation with the reporters; at the hospital, Mason telling Della they need to see the D.A. Submitted by Wiseguy70005, 7/08/12.
The murder weapon is a .32 Colt Pocket Positive with a four inch barrel. When Mildred negligently fires it and hits a lamp,the curtains fly back violently, indicating the effects person had fitted a full charge explosive squib in the lamp; in reality this wouldn't happen. When Tragg and his partner hear this, they both pull Colt .38 Police Positives, also with 4 inch barrels, one of the few times Tragg pulls anything but a warrant... by SteveP Feb22,2013
+ Another time was "Moth-Eaten Mink" in Perry's office at the end. Mike Bedard 7.15.16.//
Show Summary Errors: There are several errors in the show summary. First, only one person is poisoned. Second, Mildred is arrested for killing someone with a gun, not by poisoning. Third, it's Mason who threatens to charge Burger with manslaughter. Fourth, we never see Paul at the murder scene. Submitted by 65tosspowertrap, 3-15-2014.
+ Perry Bluster. At the risk of playing D.A. (which is what I think Perry is doing) and not really knowing CA law from the 1950's, when "Mason" threatens to charge "Burger" with manslaughter should his client die from the stress and harassment and all, that seems totally ridiculous. Perry can't make that decision.
++ If she were to die and the police or the DA had reason to believe that manslaughter or some other crime had occurred an arrest could only be made based on probable cause or if the DA went to a judge or Grand Jury seeking charges and an arrest warrant. Phil A 7-19-2018
One of the few episodes where there's no court scene. Submitted by 65tosspowertrap, 3-16-14.
+ The "Judges Frequency List" reports that there are 21 episodes with No credited Judges (Statistics Page). Mike Bedard 3.26.15
The license plate changed on Perry's Cadillac. In episode 4 TCOT Drowning Duck the letters are hard to see when he follows the police car into the drive at the Waters Farm, but the numbers 268 are visible. In this story the plate is NCV 440. Submitted by H. Mason 9/25/14
Anne Barton, who played Mildred Kimber in this one, also played the mother of the annoying "Eddie Haskell" character for two episodes on the "Leave It to Beaver" series in 1963. Submitted by mesave31, 03/27/15.
+ Sidelight: Ken Osmond, who famously played "Eddie Haskell", died 18May2020 at the age of 76. jfh 22May2020
Director Christian Nyby passed away in Temecula CA in 1993. Erle Stanley Gardner passed away in Temecula CA in 1970. Both Nyby and Gardner were aged 80 at the time of their passing....MikeM. 7/15/2016
Tough Guy Two-bagger: We're treated to a twofer of LAPD brawn in this episode: the cops have to crash through one door to rescue Lola Florey early on, and later to confront Mildred Kimber's gunshot. JohnK, 3 Sept 2016
ESG: "The Case of the Silent Partner" is Perry Mason novel #17, published in 1940. Submitted by catyron 11/4/2017
Tragg's squad car was driving through town siren blaring. The odd thing is the car has no police lights or visible siren or any other indication that it's even a police car. Submitted by Kilo 2/24/2018.
This is the only PM appearance for Dawn Richard, who was Playboy magazine's Playmate of the Month in May 1957. In 1958, Dawn Richard gave up her acting career to marry famed producer David L. Wolper. The couple had three children before divorcing in 1974...MikeM. 4/27/2018
Coffee Cups But No Carafe: This is the second appearance for the fabulous conical art deco coffee cups with the "seven handles" (handles shaped like the number 7). No close=ups, but these are the same with the bands of gilding on an ivory or white ground seen before. Last time they were awkwardly filled from paper cups (the weirdest thing i have ever seen) -- but now they are just "magically" filled when the shot opens, and there is no carafe in sight. Della will soon get things together and the well-loved Curious Coffee Cups will be introduced, along with a long line a Changing Carafes. And then, eventually, as the series fades away, paper cups will again be seen. Submitted by catyron 9/11/20
Perry calls "Veteran Reporter" above Smitty. Submitted by HamBurger, 9/13/2020
+ Smitty gets a camera flash right in the face. Kilo 2/21/2021.
Lola's Luggage: When Lola leaves the hospital, she's carrying both a stylish little purse and a small alligator suitcase. Maybe I missed it, but I don't remember the ambulance attendants taking those when they wheeled Lola out as her life was hanging by a thread. Or maybe our thoughtful Della packed them for her. JohnK, 7 June 2021
Comments

Edit
Bob Kimber lost $37,000 in the card game. That's $272,527.67 in 2007 dollars. And a sick wife, too. What a jerk of a character! Submitted by billp, 12/27/2008.
Note the old analog (phone off-hook) signal at Lynk's home (Perry finding the body). Very sine wave: aahAAHaahAAHaah. (Those were the days!) Compare that to our digital: dit dit dit dit. Submitted by billp, 12/27/2008.
In the scene where Hamilton Burger talks to the reporters about charging Perry with obstructing justice, check out the old-fashioned fedoras on Burger and Tragg. Submitted by PaulDrake 33, 19 August 2009.
+ Near the close of this scene, the newspaper photographer snaps a picture, exploding a flash right in the face of the male reporter who questioned Perry about the parafin test. jfh 03Sep2018.

Distinguished Gentleman can be seen in the background of this scene at some sort of reception desk. DOD 07/07/23

About 14 minutes in on the DVD Lola Florey stops Mildred in the parking lot. Mildred sits in Lola's driver's seat while Lola leans in from the parking lot. Shots of Lola should show the exterior of the parking lot behind her. Instead they look like she is talking to Mildred from inside a small room. I think the problem was they couldn't fit the camera equiptment inside the front seat to shoot Lola's reactions so they decided to shoot it elsewhere. Submitted by Eric Cooper, 28 October 2010.

When Perry calls Tragg to report the poisoning, the lieutenant is holding what appears to be a bag of groceries, with a loaf of Wonder Bread poking out the top.

Whose car is it? If it's Lola's why does Mildred act like she's going to drive off in it?
At 18:44 in the episode, it looks like Tragg has a loaf of Wonder Bread (with the trademark color balloons) hanging out of his grocery bag. Submitted by Eric Cooper, 28 October 2010.
Given the prominence of candy in this episode, an alternate title could be "TCOT Chocolate Chicanery." Submitted by gracenote, 8/25/2011.
That staircase in the nightclub appeared just last week in "Sulky Girl". DOD 07/07/23
When Perry enters the home of the deceased he finds a bottle of pills on the floor, and a camera close up reveals that it belongs to his client and has been prescribed by Doctor Marvin Rubin whose phone number is CR5-1515. (Remember those old exchanges with names instead of numbers)
Perry then goes to the apartment of that client, Mildred Kimber, and is present when Tragg arrives to arrest her. At that time she faints, due to the shock and heart problems and as Mason cradles her in his arms, he tells Tragg to dial Dr. Rubin at Crestview 4, and is interrupted by Tragg before he can finish. Tragg then starts to dial, saying that yes he knows the doctor's phone number. One hopes so for Mildred Kimber's sake, because Perry certainly doesn't. He should have said Crestview 5..... Submitted by PerryDixon 3/12/14
+How often do you get awakened by the doorbell and find yourself sprawled on the bed fully dressed and wearing a mink coat and then you go to answer the door and a gun falls out. Must have been a rough night... Submitted by HamBurger, 7/28/2017
A Sign of the Times: Note that Bob and Mildred Kimber--husband and wife--sleep in twin beds. This, of course, was typical of 1950's television. Heaven forbid if viewers got the impression that married couples actually slept together and had sex. I suppose that Wally and "the Beaver" were delivered to the Cleaver house via stork. Submitted by 65tosspowertrap, 3/15/14.
+About one-quarter of couples today use twin beds, particularly if one of them moves about a lot during the night. A few even use separate bedrooms. They can temporarily share one when necessary. Added by vgy7ujm 10/03/14
+ Evidently all 1950's TV married couples "moved about" while sleeping. 65tosspowertrap, 11-29-2014.
"In 1933 the original Dermal Nitrate [PARAFIN] Test was demonstrated before a number of police depts. by Teodoro Gonzales of the Criminal Identification Laboratory, Police Hqs, Mexico City. Gonzales reported that during...two years, 70 [tests] were positive and 51 negative...The first reported case concerning the admissibility of the test is Commonwealth v. Westwood, decided in 1936, in which the accused was charged with the murder of his wife by gunfire...In sustaining defendant's conviction, the Supreme Court of Pennsylvania upheld the right of the state, as well as...the defendant, to introduce EXPERT TESTIMONY as to the results of the Dermal Nitrate Test," scholarship.law.marquette.edu ("Evidentiary Implications of Dermal Nitrate Test for Gunpowder Residue") observes. Mike Bedard 3.28.15

Who let Harry Marlow into Perry's private office? and when he says he wants to speak to Perry privately, why did Della leave? jfh 03Sep2018

Tulloch is seen lurking in Lola's place when she returns home from the hospital. His presence is never explained. Perry offers Lola a seat in her burned out house - wouldn't it have been soaking wet? DOD 04/25/18
> It was explained in the epilogue (and perhaps edited out in some prints) that he was looking for the stock certificates. Notcom, 100720.
Perry is working on a Railroad merger: Abe Lincoln did considerable RR lawyering; Are All the Cats in Perry episodes Siamese ("Silent Partner," "Caretaker's Cat" & "Careless Kitten")? Mike Bedard Non-Siamese Catowner 7.15.16 MeTV viewing.
+I found myself wondering whether that Siamese cat belonged to a cast or crew member. It's appearance here had no relevance to the plot, just a nice touch. I hope it was treated well! Submitted by JazzBaby, 7/1/2019.
+ I know Raymond Burr owned a Siamese cat and others have said that his cat was used in some episodes. Not sure if this was one of them. Submitted by HamBurger, 9/13/2020

For the first--but certainly not the last--time in Perry Mason:
"Heaven has no rage like love to hatred turned,
Nor hell a fury like a woman scorned."
Continuity Error: When Lola burns down her house, she runs outside and Perry grabs her. He shakes her telling her to snap out of it and her hair is straight. In the next scene, she's inside being questioned by Perry; her hair is curled and fixed up. Submitted by darlene m, 7/17/2009.
Submitted by 65tosspowertrap,3-15-2014.
--- Is there a quote apropos the men who murder in jealousy or anger or rage?
—-"She was asking for it." —- I trust everyone knows that is a joke, but not really. Sadly, it still happens way too often. Submitted by Rickapolis 05/09/19
I was left with a lot of questions at the end of this one: Did Lola testify against Marlow, thereby negating his right to possess the shares of the nursery? Did Mildred Kimber survive? Did she divorce Bob Kimber? What, if any, crime was he finally punished for? And, on a behind-the-scenes note, could this episode have inspired Raymond Burr's passion for raising orchids? Back to the show...despite the loose ends, no doubt due to the difficulty of compressing a novel into an hour, this is a fabulous episode, rich in action and clues, with Perry and Paul at their active legwork best and Della included all the way. Lots of interaction with the irresistible Lt. Tragg and the contentious Burger. Ah, the first few seasons! Submitted by JazzBaby, 7/1/2019.
+JazzBaby's comment about Raymond Burr's being an orchid fancier raised in my mind a fascinating question: What if the girthy, more sedentary Burr had assayed the role of Nero Wolfe, Rex Stout's famous detective/orchid fancier? The Maury Chaykin/Timothy Hutton TV series of the early 2000s probably gave us the definitive Wolfe/Archie Goodwin TV pairing, but Burr would certainly have been an interesting (earlier) choice for the part of Wolfe. Submitted by BobH, 10 July 2019.
I agree, this is a superior episode, mainly because of the fine performances by our female leads. Lola is one of my favorite characters in the series. I love the idea of Burr as Nero Wolfe, but my 'dream team' would have been Sydney Greenstreet as Wolfe and Dana Andrews as Goodwin. DOD 05/22/20
+Sydney Greenstreet played Wolfe on radio, but for me the "ideal" Wolfe would have been Thomas Gomez. Check out Gomez's comic performance as "Caligula Foxe" in the Burke's Law episode entitled "Who Killed Supersleuth?". And Robert Montgomery might have made a good Archie Goodwin. In "Lady in the Lake" (1946), Montgomery acts more like Archie than like Philip Marlowe. Submitted by BobH, 25 November 2020.
<< Sulky Girl | Episodes | Angry Mourner >>