Show4
<< Nervous Accomplice | Episodes | Sulky Girl >>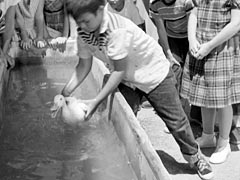 #4: The Case of the
Drowning Duck
Original Airdate: 10/12/57
From The Perry Mason TV Show Book
Chem student Marv Adams is popular for his drowning-duck trick. He can make a duck sink in water with a special chemical solution. Marv is about to go to court for a new trick: poisoning Donald Briggs. Perry believes that Adams is innocent but he must bust two cases in one to prove it. The key evidence lies in finding out the truth about the murder case that sent Adams's father to the gas chamber eighteen years before.
Opening
Starring Raymond Burr
in Erle Stanley Gardner's The Case of Drowning Duck
Barbara Hale, William Hopper, William Talman, Ray Collins
Trailing
Directed by William D. Russell
Teleplay by Al C. Ward
Ben Brady | Producer
Produced by CBS Television in association with Paisano Productions
Gail Patrick Jackson | Executive Producer
Sam White | Associate Producer
Raymond Burr as Perry Mason
Barbara Hale as Della Street
William Hopper as Paul Drake
William Talman as Hamilton Burger
Ray Collins as Lt. Tragg
Cast
Carol Kelly as Lois Reed
Noland Leary as Judge Meeham
Victor Sutherland as Clyde Waters
Carolyn Craig as Helen Waters
Don Beddoe as George Norris
Paula Winslow as Martha Norris
Gary Vinson as Marv Adams
Harry Landers as Donald Briggs
Olive Blakeney as Mrs. Adams
Rusty Lane as Chief Glass
Tom London as Cabbie
Phillip Tonge as Cortland
Joseph Forte as Dr. Creel
Helen Hatch as Secretary
Clifford Botelho as Pedro
Crew
Gene Wang | Story Editor
Production Supervisor … J. Paul Popkin
Director of Photography … Frank Redman, A.S.C.
Art Direction … Lyle Wheeler, Lewis Creber
Assistant Director … Maxwell Henry
Editorial Supervisor … Art Seid, A.C.E.
Film Editor … Richard Cahoon, A.C.E.
Makeup … Mel Berns
Wardrobe Supervision … Dick James
Set Decorations … Walter M. Scott, Charles Q. Vassar
Properties … Ray Thompson
Recorded by … Alfred Bruzlin
Rerecording Mixer … Harry M. Leonard
Script Supervisor … Cosmo Genovese
This has been a CBS Television Network Production
Filmed in Hollywood by TCF Television Productions, Inc.
CARS: 1957 Cadillac convertible, black w/ black & white int., top down (Mason). From The Cars by Greg Cockerill.
+Perry's car was a 1957 Cadillac Series 62 convertible. The taxi in the opening scene was a 1947 Cadillac Fleetwood Series 75. Were Cadillac taxis common? Submitted by oldgray, 2/27/2014.
+ Hmmm, Perry upgraded to a Cadillac in the fourth episode. Must be from that comment about getting a lawyer in the previous episodes about "getting a lawyer where money is no object". He must have made a boatload to upgrade to the Cadillac from the Ford Skyliner. ;-) Submitted by HamBurger, 9/12/2020
BUS: At the beginning we see a 1947 ACF-Brill IC-41 which delivers Lois Reed to Logan City. Submitted by Tony, 5/31/2019.
Goof: In the scene where Paul and Della drive out to find Marv's mother, you can see Mason's convertible with Della in the passenger side and someone with dark hair driving coming down the road towards the camera, but when the car pulls up to the house it is still Mason's convertible but it has Della and Paul driving.
+ I'm not sure it might not have simply been two stand-ins. Men in both shots had white shirts. I doubt they'd risk getting the stars all grimy driving down that dusty desert dirt road with the top down just for a long shot establishing the location. M French 11/18/16
Paula Winslowe makes the first of two appearances on Perry, (the other was as a judge in "TCOT Unsuitable Uncle"). Paula Winslowe is best known as Peg Riley, Chester Riley's wife in the long running radio show, The Life of Riley. Submitted by PaulDrake33, 6/23/2008.
+ The Perry Mason TV Show Book incorrectly lists Paula Winslow(e) as George Norris. Submitted by HamBurger, 07/23/2017
Continuity Error: Watch the scene where Marv Adams is carrying the duck and the bottle of chemicals to the water trough. When Marv begins his journey the bottle has a cap on top, but when he get ready to do the trick the cap has disappeared. Submitted by PaulDrake 33, 8/26/2008.
It has to be that way; in the first shot he's holding the duck under his left arm and has the bottle in his right hand, but he's moving the children around by waving his right hand. Must have a lid then otherwise his "magic fluid" would spray everywhere. Second shot he's got to be able to pour the fluid and has no third hand to remove the bottle top. Submitted by Clothears, 4th Nov 2020.
The (shooting?) script for this episode was dated 16 July 1957. There were at least 12 episodes with scripts dated earlier. It seems possible, if not probable, that this episode was no earlier than the 13th filmed. If so, there was a little less than a 3-month lag between filming and broadcast. Submitted by billp, 3 November 2009.
+ Here is the first episode with the Cadillac convertible. Submitted by HamBurger, 9/20/2020
Harry Landers (Donald Briggs) played "Man with Miss Lonelyheart" in Rear Window. Submitted by billp, 15 November 2009.
Marv Adams (played by Gary Vinson) and Helen Waters (played by Carolyn Craig) are the two young lovers in this episode. They have something in common with Romeo and Juliet: both actors Craig and Vinson ended their lives by committing suicide, she in 1970 and he in 1984. Submitted by Charles Richmond, 8 March 2011.
Sightings: Distinguished Gentleman #1 turns up among the spectators at the Logan City Courthouse. Submitted by gracenote, 8/19/2011.
A few rows behind Perry is a woman who looks remarkably like Dorothy Kilgallen. DOD 05/20/20
This was the first story to feature a newspaper headline. Submitted by H. Mason 9/24/14
+ And the 1st to feature Poison; Pokers were the other "P" weapon used. Could we add a "Weapons Frequency List" to the Statistics Page? Mike Bedard 3.25.15
++ We find the Pencil Mustache Man standing against the back courtroom wall and the Distinguished Lady #4 moves to the front to become the court reporter. Submitted by BigBill767, Nov 11, 2016.
In Other News... The Logan City Sentinel notes that Perry has taken on Marvin's case, but also reports "Building Code Under Fire" and "Court Seeks Adjournment." We will see this newspaper "insert" many times, in PM as well as movies produced by Columbia, such as the 1960 "Ocean's Eleven," and films by other studios too I believe. JohnK, 6 October 2018.
Cold case / old case: Perry also solved the murder of David Latwell killed 18 years earlier. There will be 17 more episodes where this happens. Submitted by H. Mason 9/27/14
George Nolan Leary Judged TCOT Golden Oranges & appeared in the Jilted Jockey [IMDb]. Mike Bedard 3.24.15
Visible Crew: At approximately 8:25, after Paul enters Perry's office through the side door, a crew member's hand and arm are visible through the closing doorway, reaching for the outer door knob to pull the door closed. This also happens in several other episodes in the series, including Episode #30 TCOT Screaming Woman and Episode #74 TCOT Startled Stallion. Submitted by Dan K, 7/14/16.
+ After watching the entire series in 2017 and starting over again in 2020, I just have to say that this remains my husband's and my favourite goof of all time -- in any television or movie series anywhere. We reran it twice and just kept on laughing.
Wardrobe: Judge Meeham can be seen wearing sleeve garters when he is in his office. These bands encircle the arm and help adjust the sleeve length of shirts with very long sleeves, preventing the cuffs of the shirt from slipping down over the hands. Don't see them very often nowadays. Submitted by Dan K, 7/14/16.
Behind the Gray Door This will be the first instance of Perry and Paul finding the victim; there will be many more in the next 267 episodes. Notcom 080317.
ESG: "The Case of the Drowning Duck" is Perry Mason novel # 20, published in 1942. Submitted by catyron 11/3/2017
+ The book, co-incidentally enough, features a character named "Roland Burr" ;) jfh 27Jul2018.
This is the only PM appearance for Carol Kelly, who was married to actor Joe Maross from 1958 to 1962. Joe Maross made three PM appearances...MikeM. 4/25/2018
Gas in Logan City is 32 cents a gallon in 1957. Seems expensive to me. Kilo 2/18/2021
Unhappily ever after altho, as noted around the page, this episodes contains a lot of "firsts" - first headline, -poisoning, -murderess, -out of town trial, etc. - there's one thing it definitely doesn't introduce: this is no less than the fourth episode in a row - as in all of them , so far - in which divorce forms a prominent part of the story. For someone who "doesn't handle divorce cases", Perry sure doesn't have trouble running across them. Notcom 101621.
Somewhere along in this wiki, a question was raised as to how often an actual gavel was used by a judge -- pencil tapping became the norm at some point. Despite having just watched the entire series on MeTV, I will slog through again and do my best to get a count. I'll note each episode with gavel-tapping and the first instance of pencil-tapping. Since gavels are rare, I will add a Trivia note to each episode where an actual gavel is used at least once. This episode contains the first use of a gavel. Stay tuned for further developments! OLEF641 11/9/21
Comments

Edit
Does anyone know where "Logan City" is located? Or, is that just the back lot at the studio? What about the other locations? Any look familiar? Submitted by daveb, 11/11/2008.
+ Logan City (in the Perry Mason universe) was supposed to be in the desert east of L.A. near the Nevada border. Added by H. Mason 9/30/14
+ Logan City is used here for the first time along with TCOT Demure Defendant and TCOT Perjured Parrot
+ In the book, the town - which is called "El Templo" rather than Logan City - is in the Coachella Valley (although it is fictionalized as the Red River Valley). In the episode, the clues of its whereabouts are less clear, but as it is described, both implicitly and explicitly, as an agricultural area that is remarkably hot, it would seem to be in roughly the same place. Paul Draked by Notcom 083118. +In the opening scenes, the bus first drives along the highway between Yucca Valley and Joshua tree -- a location and a specific bus trip scene often used in the series -- and then arrives in a more agricultural area with deciduous trees, perhaps in the Coachella Valley or the San Fernando Valley. Later, when Perry goes back the other way, the background shots (rather murkily filmed) again show the road between Joshua Tree and Yucca Valley, but when the car stops, there are the deciduous trees again, and then a foreground Joshua tree, probably a prop tree, and more background film of Joshua trees, It's natural history and ecosystem chaos. -- catyron, September 7th, 2020.
That $5000 that Briggs attempts to extort from Mrs. Adams would be $36,828.06 in 2007 dollars. My impression is that such a sum was well beyond her reach. As good a prescription for murder as any—blackmailers take note. Submitted by billp, 12/26/2008.
I don't remember this episode, but somebody please tell me that no ducks actually drown. Submitted by gracep 12/11/2010.
+ The duck suffers a few indignities but does not drown. It is rescued by a kid in the audience. Submitted by daveb, 12/11/2010.
+ The duck is obviously in distress when it's being held upside-down and having the secret duck-drown concoction poured over it, and then the little boy who rescues it roughly throws it to the ground. The scene made me uneasy (how many takes were there?), but I understand that country folk are not sentimental about animals. Submitted by 65tosspowertrap, 3-11-2014.
+ Actually the (perceived) cruelty of the trick becomes major point of contention in the trial (although the trial, of course, takes place in town rather than the country).
The duck plays a much more important part in the original story, as it is actually found at the crime scene. Submitted by Notcom, 080317 (083118).
The Case of the Unnecessary Apostrophe...the sign on the highway for the Waters Farm reads "Water's Dairy Farm." Fortunately for Mr. Waters, the sign on the barn later in the episode correctly reads "Waters Dairy Farm." English teachers may relax. Submitted by CCullinC on 9/10/2019.
Steamy Product Placement. Other than for cars, I think the Perry/Lois motel-room scene has the first Product Placement of the series. Sights and sounds of beer are pervasive in the 3 minute, 13 second scene in which Perry makes his solo after-dark visit to Lois Reed's lonely room at the Sands Motel. The sultry, melancholy and tipsy Lois, holding a can of beer, greets Perry at the door saying "Hello Lawyer . . . Like a beer? Dance a little?" (DVD 35:40). There is more sensual display of beer in this scene than in any mere beer commercial I've ever seen:
Lois drinks straight from the can, holding it in view with its Pabst Blue Ribbon label prominent for 108 of the scene's 193 seconds!
Listen & watch for added detail as Lois swings the fridge door shut. Someone had to "produce" those empties on top of the fridge and place them and the microphone perfectly. The director & crew must have had a lot of fun doing this scene!
There are plenty of empties seen and heard clunking around. There's a loud "PPhhhT!" when Lois opens a new can which sprays towards her face. Lois is having fun!
Later, there's foam on the top of the can and Lois's expression of enjoyment as she takes a long series of gulps.
The scene's sexuality is enhanced by Lois' diaphanous blouse and her silky undergarments hanging to dry on the line strung across the kitchenette.
I'm astonished by this assault on the boundaries of the era's conservative sensibilities. This was only Episode #4 and the 1957 audience couldn't have known 'TV Perry Mason' well enough to be certain that he behaved as an impeccably honourable gentleman at all times. This scene must have captured the rapt attention of both genders viewing at home. I wonder what their reaction was but have not been able to find records of it.
As for the product placement, Pabst sales were sagging in the mid-50s and this episode aired during their 1957 "Pabst makes it perfect" campaign. Assuming that Pabst instigated its appearance in this episode, was the brewer satisfied with its exposure in this scene? I also wonder if CBS was aware of the content of the scene before it aired. Is it wishful thinking on my part that perhaps PBR was simply the favourite beverage of someone in Paisano Productions? In any case, I think that the scene gave Carol Kelly a marvellous acting opportunity which she carried off perfectly! Submitted by Gary Woloski, 5/11/12.
+ I commend GW for his insightful analysis of this scene. 65tosspowertrap, 3-11-14.
Although the Pabst badge is obvious, the name itself is blacked out.

Near-vice Another instance where Perry has a cigarette in hand but never puffs. jfh 25Apr2018
If Logan City really did exist, after viewing this episode I suspect there would be a sign at the city limits reading, "Welcome, Out-of-Towners. Hope you brought a handkerchief". M French 11/19/16
>>>>>>>
Oh, Della! Could that second dress that Della wears in court be any tighter? (I think it's monogrammed "DS" although my recording of the MeTV broadcast is a little murky.) Note the men in the gallery following her with their eyes as she scurries out of the courtroom (can you blame them?). Maybe she wore it to distract the judge and prosecutor. She certainly had me distracted. I love how women dressed back then. They weren't showing a lot of skin (unlike today's vulgar displays) but the clothes were tight and left little to the imagination. Submitted by DellaFan, 3-12-14.
It's for you, Mr. Mason: Perry has just witnessed a duck near-drowning when Martha Norris finds him in the street. It's Paul calling, from Logan City. Submitted by francis, 5/25/14.

Judge Meeham did Not wear a Judicial robe in any of the court sessions. Mike Bedard 7.13.16 MeTV viewing.

Philip Tonge (prosecutor Cortland) is best known for his role as head of Macy's toy dept. in "Miracle on 34th Street". Paul and Perry charge right into Briggs' motel room as if they knew the door was unlocked. The newspaper photo of the crowd at the auction is obviously a collage. Twice Perry gets tracked down to take a phone call. While waiting for a check from Waters, Briggs attempts to cool off in front of an air conditioner that is either remarkably quiet even by today's standards, or not even on. This is one of the better shows, tightly scripted and plotted and featuring wonderful performances by our two female leads. DOD 04/23/18
Drop, drop: Who's there ?? Tho I have few complaints with this episode - indeed, I think it's one of the best of the first season...maybe even the series - one thing that doesn't sit quite right is the poisoning: how exactly was it effected ?? It was cyanide gas - perhaps mimicking the means of execution? - but how was Briggs made to inhale it ?? It's hard to imagine the killer dropped in the tablets, walked out and expected him to remain to suffocate; had he been rendered unconscious (?) If so, there was no mention of it (tho admittedly it was never explicitly denied either). Also, the "peculiar smell" Paul notices - presumably the telltale bitter almond - is so distinctive it's hard to imagine they would calmly stick around. Notcom, 100520.

Justice? Early on, PM tells the Logan City judge that justice is what both of them should be interested in. For gosh sakes, it is subsequently revealed an innocent man was executed, and there is virtually no reaction from anyone. Perry tells the son to not dwell on the past! Shocking how cavalierly this massive injustice is treated. Nowadays such a travesty would not be so easily dismissed. Rick P 9/1/21
<< Nervous Accomplice | Episodes | Sulky Girl >>