Show3
<< Sleepwalker's Niece | Episodes | Drowning Duck >>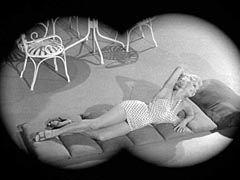 #3: The Case of the
Nervous Accomplice
Original Airdate: 10/05/57
From The Perry Mason TV Show Book (revised)
In this episode, Sybil Granger hires Perry to help her buy stock in her husband's oil company on the sly. Sybil wants some control of the company's action with hopes of forcing hubby's latest squeeze, Roxy Howard, out of the company and the picture altogether.
Sybil spies on Roxy and gets caught by George Lutts, another investor in her husband's company. When Lutts is shot, Sybil ends up on trial for his murder. Perry has to turn to his bag of courtroom tricks to get her off the hook.
Opening
Starring Raymond Burr
in Erle Stanley Gardner's The Case of Nervous Accomplice
Barbara Hale, William Hopper, William Talman, Ray Collins
Trailing
Directed by William D. Russell
Teleplay by Stirling Silliphant
Ben Brady | Producer
Produced by CBS Television in association with Paisano Productions
Gail Patrick Jackson | Executive Producer
Sam White | Associate Producer
Raymond Burr as Perry Mason
Barbara Hale as Della Street
William Hopper as Paul Drake
William Talman as Hamilton Burger
Ray Collins as Lt. Tragg
Cast
Maggie Hayes as Sybil Granger
Greta Thyssen as Roxy Howard
William Roerick as Bruce Granger
Robert Cornthwaite as Herbert Dean
Richard Hale as George Lutts
James Gavin as Jerome Keddie
Jean Howell as Vinnie Dean
Claudia Bryar as Ruth Marvel
Morris Ankrum as Judge Hoyt
Tyler McVey as Sam Elkins
Robert Bice as Hurley
Norman Leavitt as Alexander Redfield
George Eldredge as Fenton Thompson
Gail Bonney as Harriet
Sam Flint as Mr. Rector
Jack Harris as Court Clerk
Uncredited Actors
Don Anderson as Courtroom Spectator
Crew
Gene Wang | Story Editor
Production Supervisor … J. Paul Popkin
Director of Photography … Frank Redman, A.S.C.
Art Direction:
Lyle Wheeler
Lewis Creber
Assistant Director … Maxwell Henry
Editorial Supervisor … Art Seid, A.C.E.
Film Editor … Otto W. Meyer, A.C.E.
Makeup … Mel Berns
Hair Stylist … Annabell, S.C.H.
Wardrobe Supervision … Dick James
Set Decorations … Walter M. Scott, Charles Q. Vassar
Properties … Ray Thompson
Recorded by … Alfred Bruzlin
Rerecording Mixer … Harry M. Leonard
Script Supervisor … Cosmo Genovese
This has been a CBS Television Network Production
Filmed in Hollywood by TCF Television Productions, Inc.
CARS: 1957 Ford Skyliner retractable, black (Mason), 1957 Plymouth convertible. From The Cars by Greg Cockerill.
+ The Plymouth is Sybil Granger's 1957 Plymouth Belvedere Convertible with V8 engine (denoted by wide "V" on fender forward of front wheel). Screenshot at 12:09 of the episode is here. Sybil's car was produced after mid-Jan 57: a close look at 12:17 shows that it had six pairs of narrow vertical slots in the underpan behind the licence plate, like this. Cars produced before mid-Jan 57 had six wide slots, which apparently let in too many gophers to plug up the radiator. The 57 Plymouth had very good handling thanks to its new "Torsion-Aire Ride" which included torsion bar Front Suspension. Read about the car here. See Comments section for "1957 Headlight Oddities". & At 16:10 we see the Drake Detective Agency radio car manned by two of Paul's agents. It's a black 1957 Lincoln Premiere 4-Door Sedan. Another photo here. Added by Gary Woloski, 5/17/12.
Anomaly: Robert Bice is listed as Hurley in the closing credits but is identified as Frank Faulkner by Paul Drake.
In this show George Lutts complains to his daughter and son-in-law because steak costs $1.34 a pound. Can you imagine what he would have to say about today's prices? Submitted by PaulDrake33, 6/25/2008.
+ Steak was actually pretty expensive in 1957, if that price is representative. Using the general CPI, $1.34 at that time equates to $11.32 in 2015 prices. However, the USDA reports the price of sirloin steak at $8.72 per pound for November 2015, and that's even after some large increases in recent years. So in relative terms steak is cheaper now, and was more expensive then. JohnK, 24 December 2015
++ The way Herbert is sawing at that steak it might as well be $.34/lb! Kilo 5/25/2020.
+++ Update on the steak question - according to usinflationcalculator.com, $1.34 in 1957 would be $12.73 in 2021. A quick check of steak prices at a local mainstream supermarket, Vons (a local marque of Safeway), reveals (regular) price per pound for these three fairly common steak types: boneless sirloin-$11.99, bone-in New York-$14.99, boneless ribeye-$16.99. So, it looks like, to me at least, she probably was serving sirloin, which can be a bit difficult to cut if you don't have a steak knife. OLEF641 6/7/21
The (shooting?) script for this episode is dated 10 June 1957. At least 7 episodes have scripts dated earlier. So while it was the 3rd episode broadcast, it was probably no earlier than the 8th filmed. Submitted by billp, 3 November 2009.
Follow Perry's car change between the Ford Skyliner and the Cadillac convertible in several of these early episodes as evidence. Submitted by HamBurger, 9/20/2020
Here is the putative route of the "second" taxi trip Mrs. Granger took. The actual route described is a plausible one. The taxi is followed south on Roxbury Dr. It turns east onto Santa Monica Blvd. and goes past Hillcrest Dr. While on Santa Monica, it picks up Drake's man. It then goes north on Doheny Dr., heading towards Sunset Blvd. While on Doheny it presumeably drops off Drake's man and picks up Mrs. Granger and company. They tell it to go west on Sunset. It then probably goes south on Whittier. Mrs. Granger and friend exit at Whittier and Wilshire. This is somewhat southwest of where we, the viewer, initially picked up the trail. The route followed by the taxi is circular in nature. Frankly, it seems possible, given this description, that Mrs. Granger could have been with Drake's men when this road trip began and ended. Interesting. I guess if you wanted to do a Perry Mason "re-enactment," you could trace out this route and check out the scenery. Submitted by billp. 26 November 2009. [Here's the route on Google Maps. Use Street View to check out the scenery. daveb]
Uncredited Actors: Don Anderson makes his third Mason appearance here (unless you count episode 2 twice, since he was in two places in the courtroom). He's a courtroom spectator seated directly behind Herbert Dean played by Robert Cornthwaite. (See Uncredited Actors). Submitted by FredK 29 September 2010.
+ In an initial long shot of the courtroom, he appears in the back row, but then in a closer cut to Burger, he disappears. Submitted by gracenote, 8/23/2011.
Sightings: Blue Collar Guy can be seen with his arm on the back of an attractive young brunette among the spectators exiting from the first aborted hearing, while Tragg is stalling Mason in the foreground. (See Who Is That?) Submitted by alan_sings 30 September 2010.
+ (Also Continuity Error:) In the courtroom gallery during the first hearing, we find Distinguished Genetleman #1 in the back row, Distinguished Gentleman #2 in the front row, on the prosecutor's side. In the second hearing the two gentlemen sit together in the back row on the other side of the courtroom—that is until DG #1 shows up again on Burger's side when he calls a witness. Submitted by gracenote, 8/23/2011.
+We find Distinguished Lady #4 in her favorite spot in the back row on Perry's side of court. Submitted by BigBill767, Nov 11, 2016.
Star Trek Alert: Gail Bonney (who plays Harriet) has the distinction of being the first Perry alum to appear in the original series Star Trek. She would be the first in a long line of Perry actors to enter the Star Trek universe, including of course Leonard Nimoy, George Takei, and DeForest Kelley (Shatner, alas, never had a role in Perry - what a loss!). In its heyday, it wasn't unusual for a Perry episode to include two, three, or four actors who would go on to join the crew of The Enterprise (or appear as an alien). Indeed, the Star Trek pilot had no fewer than five former Perry actors, including the guy who wore the gorilla suit in TCOT Grinning Gorilla, arguably the worst Perry episode. Bonney was credited as "the second witch" in the Original Series second season episode "Catspaw", wearing lots and lots of makeup. She appeared in two Perry episodes: this one, and TCOT Flighty Father, as the maid. Submitted by MyFavoritePolarBear, 1/14/23.
Syndication cuts: Opening scene with Harriet, Bruce and Roxy; Sybil leaving her car and catching a cab; after checking her car for the gun, Sybil grabs her sweater from the seat and the binoculars fall out; conversation between Tragg, Mason and Sybil where Tragg takes Sybil to the D.A.; Della commenting that Burger left a vapor trail, Mason saying he didn't fool Burger, Mason accusing Sybil of lying about the distance of the shot and Tragg issuing another warrant against Sybil; Mason and Drake driving up to the shack; scene with Burger and Tragg and the binoculars, where Burger calls Tragg a peeping Tom and Tragg informs Burger about Lutts' and Sybil's fingerprints on the binoculars.
Additional Hallmark cuts: Part of the dinner conversation when Lutts asks Herbert about Sybil "Did you see her there or didn't you?" and Vinnie says "every day last week"; Burger complaining about endless and purposeless cross examinations; Mason questions Sybil about the distance of the shot; cabbie being sworn in; cabbie saying he took Sybil to Brent building; Bruce asking Mason if he can help and Mason saying he's a little late; conversation between Vinnie and Herbert after Perry, Della and Paul leave; Burger's first objection to Mason's shooting-the-blank demonstration; Mason's telling Sybil to keep a poker face and Ruth being sworn in; Ruth saying she's Sybil's friend and Burger asking if the relationship goes farther. Submitted by Wiseguy70005, 7/04/12.
+ In the syndicated version I recorded on 7 Mar 2014 on MeTV, it went from Sybil and Ruth getting in the cab to four minutes twenty seconds of commercials, then to the start of the trial. We never do learn why Burger considered Sybil to be a suspect. Submitted by Alan Smithee, 3-10-2014.
Gun: The murder weapon was a Colt Official Police. Submitted by oldgray, 2/27/2014.
In the novel the murder was committed on June 3rd. In the episode the date was May 3rd. In both the novel and episode Roxy returned the gun to Sybil's husband on May 30th. So in the novel she returned the gun four days before the murder and in the episode almost a month afterward. Submitted by Wiseguy70005, 1/20/15.
IMDb credits Annabell on 247 episodes. What does the "S.C.H." after her name stand for? Mike Bedard 3.26.15
+ Good question. I guess it's for Society of Cinema Hairstylists, Inc., see for example here, incorporated in California, on April 7, 1955, and now dissolved. However, I didn't see Annabell's name listed in the episode's credits on the 2006 Paramount DVD, only Mel Berns, so I wonder how her name got listed here as an accomplice. lowercase masonite, 2/2/16.
++ Annabell has 247 PM "Makeup Dept." credits, including "Nervous Accomplice," her 2nd IMDb citation. You're right: she's Not listed in the Closing credits: I must have found her on the IMDb list. Mike Bedard 7.12.16.
Greta Thyssen was Miss Denmark of 1952. She might still be around and may have watched this episode tonight on MeTV....MikeM. 7/13/2016
+ Greta Thyssen passed in New York City on 6 January 2018 at the age of 90...MikeM. 4/24/2018
Teleplay writer Stirling Silliphant would later win an Academy Award for the screenplay of the 1967 film In the Heat of the Night...MikeM. 7/13/2016
YouTube presentation of the music used in this episode, especially highlighting Bernard Herrmann. Link immediately below:
filmscorerundowns: https://www.youtube.com/user/FilmScoreRundowns
The Decades Channel showed this episode today because it had originally been broadcast on 5 October 1957...MikeM. 10/5/2016
ESG: "The Case of the Nervous Accomplice" is Perry Mason novel # 45, published in 1955. Submitted by catyron 11/2/2017
Perry has a workshop? In other episodes we've seen his office in the Brent building and we've seen his apartment. But this is the first (and only) time we hear that Perry has a workshop. Perry tells Paul to collect all the wood and pipes for the shooting stand and bring them to his workshop. Submitted by Kilo 2/22/2018.
This is the first of two PM appearances for Jean Howell, who in later life became an advocate for the cleanup of Santa Monica Bay. Jean Howell passed in Santa Monica in 1996 at the age of 68...MikeM. 4/24/2018
Maggie Hayes first of four appearances. Would also play a character named Granger in the movie Good Day For a Hanging. Perry remarks to her to the effect that she has an unusual marriage..she has an even more unusual marriage in TCOT Ominous Outcast, and Perry will comment on that as well. Notcom, 091919.
Morris Ankrum the first of his 22 appearances. He will be remembered as the trial judge in The Postman Always Rings Twice (it's a remarkably succinct proceeding that goes from reading of charges to sentencing in all of five minutes!) Notcom, 112822.
Second episode in a row where a couple is off to their honeymoon. Submitted by HamBurger, 9/12/2020
+ Second episode in a row with a non-alliterative title..they were not nearly as common early on, w/ only four of the first ten being such. Notcom, naturally. 100220.
OK folks, here is a real anomaly: In the shooting shack, there is a lamp above the desk/table. Where is the electricity coming from to power that lamp? Doesn't seem like there is electricity to power that for miles. I didn't hear a generator in that scene. Submitted by HamBurger, Jul. 24, 2021
A possible answer is that there was a generator when the shack was in use. But that generator was removed when the development stopped. The trash on the floor indicates that the shack may not have been in use for some time. Submitted by Kenmore 11/28/2022
Comments

Edit
The purchasing power of $1.34 in 1957 would be $19.87 in 2007. What's the price of a rib-eye, porterhouse, or New York strip today? Submitted by billp, 12/26/2008.
How much did Lutts sell that stock to Perry for? About $32,727.27. That means Sybil Granger came up with about $241,056.40 in 2007 dollars. Not bad. Her $2.95 taxi ride(s) would be about $21.73. Taxis were clearly a lot more economical back then. And the drivers spoke English, too! A million dollars would be $4,365,612.79 in 2007 dollars. No wonder Roxy is so upset!! Submitted by billp, 12/27/2008.
Sybil Granger is the second person whose gun is stolen from the glove compartment of her car. (Do all Americans keep their guns there? Why?) Submitted by evelyne, 2/4/2011.
+ I think it's just Californians, who also (according to this series) buy rifles at office sopply stores so they can shoot the Man when he comes onto their orange grove / dying farm / oil field / salted mine.
1957 Headlight Oddities. Until 1957, US federal and state laws only permitted two headlights on automobiles. For the 1957 Model Year, each of the Big Three automakers planned to introduce Quad Headlights on some models. However, by Sept 1956 (debut time for the '57 models) about eight states had not yet amended their regulations to permit these headlights. The automakers' fallback for the non-quad states was to install one conventional pre-57 High/Low-beam unit on each side and to install Parking, Driving or Turn-Signal lights in the two left-over headlight stations. These "Quasi-Quads" ended up looking like this on the Plymouth and this on the Lincoln. I have read one account that California was the last state to legalize Quad Headlights, apparently doing so in Dec '56. The next appearance of a car affected by this headlight confusion is in Ep#5 (Frances Celane's '57 Chrysler Imperial Crown Convertible). Added by Gary Woloski, 5/17/12.
Classic Perry Tough-Love line: "If you pick someone to lie to, Mrs. Granger, never choose your doctor or your lawyer: in both cases, it could be fatal*." Mike Bedard 3.24.15
+ Had to add a comma before Mrs. Granger's name; otherwise, your doctor or lawyer could be lying to Mrs. Granger. Submitted by Wiseguy70005, 3/29/15.
If Albert Tydings (TCOT Baited Hook, #14) is the most compliant corpse in series history, George Lutts is the most courteous. Just seconds before he's shot in the open field, he meets Sybil Granger with his hat in his hand. After being shot, he manages to hold on to his hat, even after dropping to the ground. Sybil rewards his extraordinary display of gentlemanliness by immediately fleeing from the scene. Submitted by BobH, 25 December 2015.
California's 9 executions accounted for 13% of the US Death Penalties carried out in 1957* [deathpenaltyusa.org]; the US Supreme Court ruled in 1972 that current Death Penalty laws violated the 8th & 14th Amendments (Furman vs. Georgia: 9 separate opinions, a 5-4 majority) [pbs.org]. Mike Bedard 4.14.15
The 14th Amendment: "No State shall...deprive any person of life, liberty, or property, without DUE PROCESS OF LAW; nor deny to any person within its jurisdiction the EQUAL PROTECTION OF THE LAWS [Ratified in 1868: the 2nd of the 3 Reconstruction Amendments]." Mike Bedard 4.18.15
Perry At His Best: "I'll Do Everything I Can To Help," he tells Client Sybil: he did the Same in the other 270 cases. Mike Bedard 7.12.16 MeTV viewing.
This was the first instance in the series - and one of very few, eventually - where we actually see the murder take place...more to the point, we see it can't be Ms. Granger who is the murderer. Although that can't be said to be much of a spoiler - given the format of the show - it nevertheless eliminates a small amount of dramatic tension, and certain possibilities for dialogue.
As with many PM shows, one must forgive certain gaps in logic: Why, on the eve of a multi-million dollar oil deal, would Lutts sell any of his stock to anyone at any price? Roxie testifies that she thought Sybil was the intended target because she was the one blocking the oil deal. But Roxie knew the stock was in Perry's name - it was Perry who was blocking the deal, not Sybil. Finally, if Lutts was the intended victim all along, how could our killer know Lutts would ever be in just the right spot at just the right time?
Frankly, I'm surprised Perry got involved with Mrs. Grainger in the first place. So often he makes clear he doesn't do divorce work, and this certainly comes close. In these early shows Perry has a taste for lighter patterned jackets that almost rival Paul's. As Perry gets a bit heavier, he tends to stick to dark suits and jackets. Considering from where the fatal shot was fired, the trajectory of the bullet should have been a vital clue. As in many episodes, our villain has a rather esoteric knowledge of firearms. DOD 04/24/18
Guns: Seems like the courts back then were pretty lax about firing off guns in the courtroom. Perry fires the blank in this episode and in at least one other episode a gun was fired in the courtroom. The ballistics expert Mr. Redfield was careful to push away the barrel of the gun Perry was holding so that it wasn't pointing at him. However, just a few minutes earlier Burger had the gun pointed directly at Redfield's chest but he made no similar correction of Burger. Kilo 11/25/2018.
<< Sleepwalker's Niece | Episodes | Drowning Duck >>