Show2
<< Restless Redhead | Episodes | Nervous Accomplice >>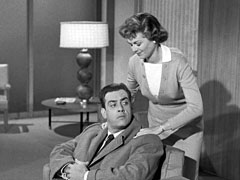 #2: The Case of the
Sleepwalker's Niece
Original Airdate: 09/28/57
From The Perry Mason TV Show Book
In this episode Perry must defend a man with a motive. Peter Cole walks in his sleep and has been found more than once roaming the house, unaware of his actions. One night, he was even found standing over his wife's bed holding a knife. Now he's been accused of stabbing someone he mistook for his former partner (who was attempting to extort money from him). Cole hires Perry to handle his difficult defense.
Perry needs all the encouragement he can get. Thanks to Della, he gets it in the famous shoulder-rubbing scene.
Opening
Starring Raymond Burr
in Erle Stanley Gardner's The Case of Sleepwalker's Niece
Barbara Hale, William Hopper, William Talman, Ray Collins
Trailing
Directed by William D. Russell
Teleplay by Laurence Marks, Gene Wang
Ben Brady | Producer
Produced by CBS Television in association with Paisano Productions
Gail Patrick Jackson | Executive Producer
Sam White | Associate Producer
Raymond Burr as Perry Mason
Barbara Hale as Della Street
William Hopper as Paul Drake
William Talman as Hamilton Burger
Ray Collins as Lt. Tragg
Cast
John McNamara as Peter Cole
Hillary Brooke as Doris Cole
John Archer as Frank Maddox
Nancy Hadley as Edna Hammar
Darryl Hickman as Steve Harris
Helen Mowery as Lucille Mays
Thomas B. Henry as Ralph Duncan
Harry Hickox as Phillip Kendall
Kenneth MacDonald as Judge
Tony Michaels as Jackson
Clark Howat as Policeman
Fred Graham as Sheriff
Joey Ray as Detective
Jack Harris as Court Clerk
Uncredited Actors Don Anderson as:
Juror
Courtroom Spectator
Lee Miller as Courtroom Spectator
Crew
Gene Wang | Story Editor
Production Supervisor … J. Paul Popkin
Director of Photography … Frank Redman, A.S.C.
Art Direction … Lyle Wheeler, Lewis Creber
Assistant Director … Maxwell Henry
Editorial Supervisor … Art Seid, A.C.E.
Makeup … Mel Berns
Wardrobe Supervision … Dick James
Set Decorations … Walter M. Scott, Charles Q. Vassar
Properties … Ray Thompson
Recorded by … Alfred Bruzlin
Rerecording Mixer … Harry M. Leonard
Script Supervisor … Cosmo Genovese
CARS: 1957 Ford Skyliner retractable, black (Mason), 1957 Plymouth convertible. From The Cars by Greg Cockerill.
Darryl Hickman makes his only Perry appearance here playing Steve Harris. Darryl Hickman was a prolific child actor appearing in among others, Grapes of Wrath, The Human Comedy, and Leave Her to Heaven. Upon entering adulthood, however, his star was surpassed by his little brother Dewayne Hickman, staring as Dobie Gillis. Submitted by PaulDrake 33, 25 August 2009.
+ Heaven also starred Ray Collins (as a defense attorney!); this episode will be the first of many where PM cast members are "reunited". Notcom 112122
The (shooting?) script for this episode is dated 27 June 1957. Scripts for at least 9 episodes are dated earlier. So, while it was aired 2nd, I believe this episode was no earlier than the 10th filmed. There was about a 3 month lag between filming and air date. Submitted by billp, 3 November 2009.
+ Note the Ford Skyliner. Other early episodes have that great big Cadillac which supports the shooting date/airing date discrepancies. Submitted by HamBurger, 9/20/2020
Fred Graham (Sheriff) played a detective in Rear Window, where Raymond Burr has his most famous film role. Graham is also in "TCOT Credulous Quarry" where he plays a fire chief. Submitted by billp, 15 November 2009.
In this episode, Perry drives a 1957 Buick. In early episodes he drives a 1957 Ford. I hypothesize that in later episodes he first drives a 1957 and then 1958 Cadillac. He winds up the season in a 1958 Ford. So 1957 Ford marks early, 1957 Cadillac marks middle episodes, 1958 Cadillac marks late episodes, and 1958 Fords is the last show or so of the season. Although an early script, it's not particularly early. I believe this episode marks a transition between early (Ford) and middle (1957 Cadillac) episodes. No earlier than the 12th filmed. But more likely no earlier than the 15th filmed. Submitted by billp, 29 November 2009.
Continuity: The Sleepwalking Jury: This episode involves a jury trial (a relative rarity), the first jury trial in broadcast sequence. But magically, these jurors seem to be in two places at once. During Mason's cross examination of Frank Maddox (John Archer), we can clearly see 10 of the 12 jurors. A few story minutes later during his cross of Frank Duncan (Thomas B. Henry), Mason sends Paul out on an errand. During Paul's exit, 9 of the 10 jurors we saw earlier are also recognizable in the gallery as he passes. (Are they trying to see the case from all angles? Or have they been sleepwalking?) Slow motion, quick pauses, and DVD clarity help considerably in spotting them. In other shots, some of the jurors are more clearly seen, but their seating arrangement is not always consistent. Presumably there were 12 jurors all doubling as spectators, but only "sleepwalking jurors" out 10 are confirmed. And presumably this double-duty was to observe economy in the casting budget. Greater economy was usually observed by having Mason win his case at the preliminary hearing so that the producers wouldn't have to hire a jury at all. Submitted by alan_sings, 9/27/2010. Some photographic evidence here.
Sightings / Uncredited Actors: Two of the jurors are familiar faces. Juror #7 (back row left end) is frequent uncredited actor Don Anderson, who also sits in the front row of the gallery behind the defense table near the window. Juror #9 (two seats to the right of Anderson) is Distinguished Gentleman #1, described on the Who Is That? page. He can also be seen in the back row of the gallery seated with some of the other "sleepwalking" jurors. Submitted by alan_sings, 9/27/2010.
+ At the airport, the aforementioned Gentleman #1 also appears as an extra just as Mr. Cole is arrested. A bit earlier in the scene, another man walks by who might be Burr's stand-in, Lee Miller. Submitted by gracenote, 8/23/2011.
++ Back in the courtroom, Distinguished Gentleman #2 sits in the back of the gallery. (He also appears as a juror. See Sleepwalking Jury item, above). Submitted by gracenote, 8/23/2011.
+++ Room for one more: Distinguished Lady #4 is a juror, too. You can view her clearly in the Sleepwalking Jury pix (see above). Submitted by gracenote, 9/6/2011.
++++ The actor known as Distinguished Gentleman #1 is Rudolph Salinger. Submitted by catyron, January 26th, 2021.
Syndication cuts: Conversation between Paul and Della at Gertie's desk; conversation between Paul and Perry as Mason's lighter doesn't light including Paul's report about Maddox's involvement in a scandal and Duncan getting him off five to ten years; Mason flying out to a Las Vegas Airport; Della rubbing Perry's shoulders and informing him Doris wants to see him; entire scene between Steve and Tragg in the lieutenant's office; Burger giving his opening statement.
+ Additional Hallmark cuts: entire scene of phone call between Doris and Maddox at 11:10 pm; entire scene of Maddox, Duncan and policeman as Maddox tries to leave to phone Doris again at 10:45 am; 29 seconds where Duncan signals to Burger to object to Mason's questions about lawyer ethics and Burger refuses; Perry whispers to Paul and Drake leaves the court. Submitted by Wiseguy70005, 7/03/12.
++ Some time in October 2021, MeTV extended Perry Mason's timeslot to a few minutes over an hour; this is now allowing them time to show the episodes without the syndication cuts. OLEF641 11/6/21
Cast Note: Hillary Brooke, a New York girl who crafted a cultured accent, appears in this episode in one of her last TV roles. Besides her film work, including three Sherlock Holmes films for Universal, she'd done scores of TV roles in the '50s, especially light comedy, including one season on The Abbott & Costello Show, and three seasons on My Little Margie. After retiring in 1960 she enjoyed another 40 years in private life. Submitted by francis, 5/13/14.
It's for you, Mr. Mason: They were the good old days, before cell phones. For the first time in the series, someone tracks down Perry in the field. At the Cole Ranch house, it's his legal assistant Jackson calling from Santa Barbara. Submitted by francis, 5/25/14.
+ It may not be a cell phone, but it's still a mobile phone (even it if takes two people to carry it around !!) Mirthed by Notcom, 080117.
++ They introduced Jackson as a legal aide but it seems like they didn't continue with one (or didn't like his style) until David Gideon was his aide for a short while later in the series. Submitted by HamBurger, 9/12/2020
++ Personally, I like Jackson, wish they'd kept him on. jfh 15Sep2022
+++ I'm guessing the ladies preferred David Gideon. Submitted by Rickapolis 07/03/23
Temperance: Quite often in the series, Perry is offered a drink; he seldom accepts and rarely drinks it. This time he accepts a tall drink from Doris Cole but hands it back to her moments later. Submitted by francis, 5/25/14.
+ Ditto for Perry with cigarettes, we sometimes see Perry fiddling with a cigarette, rarely smoking. In episode 1, for example, Perry takes out a cigarette, fumbles with a lighter, ultimately asks Tragg for a light (a ploy to look at a document Tragg is holding) but Perry did not smoke the cigarette. jfh 23Apr2018.
Closed-Caption Anomaly: On the CBS/Paramount DVD set, at 21:56 when Paul submits a monthly statement to Della for the Paul Drake Detective Agency the closed-captioning indicates the Fallgrade Detective Agency. Submitted by Wiseguy70005, 8/31/14.
+ This is likely to be due to the use of VR (voice recognition) captioning. "Fallgrade" and "Paul Drake" sound enough alike. Caption errors are a favorite spectator sport of mine; the local news a good place to hunt. My favorite (not from Perry Mason): ". . polluting flying suspect down . ." (= "bullets flying, suspect down . .") OLEF641 8/1/2017.
++ I am not sure they use voice recognition for closed captions. Captioning was probably done years ago for these shows and the station gets a version already captioned. Captions are typed using a court-reporter-type machine, and are typed phonetically, and I suppose it's easy to mis-hear something and that you should have known. This scene was cut from the MeTV version I watched, so I can't tell what it said on this version. I always have the captions on (have someone in my house who has English as a second language, and I just find it helpful) and I do find myself reading them. MeTV likes to censor the 'bad' words, which sometimes makes for interesting captions, because they don't do a good job of filtering correctly. Like instead of "cocktail," the caption will be "xxxxtail", "suspicious" will appear at "suxxxxious", and then there was that episode where one of the main character's name was "Dick" and whenever he was mentioned, it was "xxxx".--yelocab 04MAY19
+++ Not to say you are entirely wrong, but the censorship examples you cite support the case for automation. Have you ever used "change all" when editing a Word document and found unintended changes like the obviously non-offensive examples of words redacted given above? I'm not saying that stenographers weren't used in the early days of closed captioning, but compared to the hourly pay rate for a skilled steno, voice-recognition software is ridiculously cheap and most certainly was put into use as soon as practicable. And, yes, a transcript created by a person could be run through a censoring program later to remove offensive strings of letters. OLEF641 11/6/21
Although this is a full-length episode at 52:30 (although a few first-season episodes run longer) at two places the music stops so abruptly it seems a scene was cut out (as in syndicated episodes). First, at 9:22 after we see Perry Mason's door, followed by Mason already talking to Edna and Peter; and second at 26:36 after we see the McCarran Field sign. Perhaps the episode ran long and scenes were cut shortly before the original airdate. Submitted by Wiseguy70005, 8/31/14.
Although we hear Gertie's voice saying "Yes, sir" on the intercom, it obviously isn't Connie Cezon's voice who hadn't yet appeared on the series at least in the aired order. Submitted by Wiseguy70005, 8/31/14.
This was the first of 43 episodes where Paul called Della "beautiful". In some of the stories he did it more than once. Submitted by H. Mason 9/25/14
+ According to Jim Davidson's book The Perry Mason Book, the "Hello, beautiful" line originated with the Perry Mason radio series. ESG must have liked it because it continued in the TV series and ESG started using it in the novels! Submitted by Wiseguy70005, 3/29/15
The case of the misplaced kiss:Twice in the first scenes where Maddox and Doris kiss, it looks like Hillary playing Doris kisses him both times on his upper lip rather than on lips. When you see it (thanks to a large TV), it looks odd but possibly because she turns her head so much during the kiss. Submitted by Perry Baby 9/25/14
+ I see I'm not the only one who thought that kiss looked a bit odd ... Submitted by MikeReese 8/14/17
++ She absolutely kisses him on the upper lip. Perhaps it was a technique taught to avoid any hint of the dreaded "open-mouth kiss" so anathema to censors of those days? OLEF641 11/6/21
Technical goof: Toward the end of the show when the camera is on Drake as he enters the courtroom and then the camera pans to Perry who is front of the judge's bench, you can easily hear what sounds like a plastic cup hit the floor. No one seems to react but you can clearly hear it. Submitted by Perry baby 9/25/14
+ It's right after Steve Harris says: "Outside the house, right beneath Mrs. Cole's bedroom.". OLEF641 8/1/2017.
Kenneth MacDonald, the Judge in this and many other episodes is also known as Hammond Egger in a Three Stooges short Three Dark Horses 1952. Submitted by HamBurger, 10/11/2014
+ No, Hammond Egger is the candidate for President (running against Abel Lamb Stewer). Bud Jamison's photo is on the Hammond Egger campaign posters. MacDonald is Egger's campaign manager, Wm. "Bill" Wick. See for example your link and/or the Stooges short on DVD. I'll take a steak and French fries. lowercase masonite, 2/1/16.
++ OK, I stand corrected! How about a rib eye with twice baked potato. NYUK NYUK NYUK ;-) Submitted by HamBurger 5/29/2021
John Archer appeared in 4 more Perrys, most notably as the Finance Corps Major in Sardonic Sergeant, my favorite episode! Mike Bedard 3.23.15
Incorrect show summary: "Now he's been accused of stabbing a man who was attempting to extort money from him and block the progression of his divorce." Not true. It was another man who was stabbed. Submitted by Duffy, 3-23-15.
+ Yet another inaccurate description from "two of his biggest fans" from an episode widely syndicated in the twenty years before the book was printed. Submitted by Wiseguy70005, 3/29/15.
No "so help you God" at the end of the oaths....MikeM. 7/12/2016.
At Parker Center, the "Homicide Division, Lieutenant Tragg" office is across the hall from the "Fingerprint Division, Sergeant Bent" office...MikeM. 7/12/2016.
Suppose I: The infamous line use by Perry in several episodes "suppose I told you" is used by Frank Maddox in a slightly different manner, he says, "suppose I show you" when talking to new fling Doris Cole. Submitted by HamBurger, 07/16/2017
+ Tragg uses the same line on Steve when questioning him. Kilo 11/22/2018.
Ambient sound: In the early seasons, the microphone picked up a lot more ambiance on the set than in later seasons. You hear more sounds like foot steps, cups clinking, etc. and voices seem to be fuller. For example, the footsteps in the airport as they walk are quite noticeable. I assume they started using a more directional mic and then added sounds like foot steps when necessary. It probably meant fewer retakes due distracting noise. Submitted by Perry Baby 8/1/17
ESG: "The Case of the Sleepwalker's Niece" was Perry Mason novel # 8, published in 1936. Submitted by catyron 11/2/2017
This is the only PM appearance for Helen Mowery who, if IMDb is correct, will celebrate her 96th birthday on 28 April 2018...MikeM. 4/23/2018
IMDb seems to have updated their information on Helen Mowery. She passed away in 2008 at the ripe old age of 86. Submitted by Kenmore 01/19/2022

This is the first of three appearances for Thomas B. Henry, the other two being TCOT Dubious Bridegroom (1959) George Denby, and TCOT Treacherous Toupee (1960) Hartley Basset (the one with Robert Redford). He very much reminds me of Al B. Lewis, aka, "Grandpa" of The Musters fame
Comments

Edit
The $100,000 Maddox offers to Doris Cole would be worth about $736,561.28 in 2007 dollars. She later accepts $25,000 ($184,140.32) to settle from Mason. That's still an "ouch" in my book, especially when we consider what kind of lady she is. The $500,000 Maddox wants for his share of the company would $3,682,806.39. Submitted by billp, 12/26/2008.
+ billp added his notes about current value of money a long time ago and, while it is useful, I always chuckle at pasting the exact amount calculated including cents! A half million in 1957 would in 2008 money be $3.6million...and 39¢! submitted by DyNama, 7/1/2014.
++ Some things inflate more than others. The White Castle restaurant I passed every day walking to school the year this was broadcast offered 2-cent hamburgers and 3-cent cheeseburgers - now they are more than a dollar. Submitted by cspoleta
+++ Money for Nothing why does Perry offer Doris anything at all ?? Her ace in the hole was the ability to block the divorce, but the decree has already been entered; actually, given the circumstances, the offer might well be interpreted as a bribe (tho a bribe to do what is unclear) Notcom, 101421.
Novel Oddities:
1) In the novel the judge's name is given as Judge Markham. Actor Monte Markham portrayed Perry Mason in the 1973-74 CBS series.
2) In the novel, the defendant's name is Kent (changed to Cole for the episode). In my paperback copy [Pocket Books, 22nd printing, Oct 1973] there is an ad insert in the middle of the novel...for Kent cigarettes.
3) Either I'm confused or ESG was or the typesetter of this edition made a mistake. There were two mornings in question, the 13th (when the knife was found under Peter's pillow and returned to the drawer) and the 14th (where the bloody knife was found under his pillow after the murder). In Chapter 21, during Edna's examination by Burger, he says "it's similar to the knife you found under your uncle's pillow on the morning of the fourteenth and placed in the drawer." Shouldn't that be the thirteenth? In the next paragraph, he seems to get it right when he says "this knife...is the same knife which you found under the defendant's pillow on the morning of the thirteenth and placed in the sideboard drawer." But later during Mason's cross-examination he asks "How did you happen to discover the carving knife under your uncle's pillow on the morning of the fourteenth?" After she answers that she was worried about him, Mason asks "You had reason to believe he might have been walking in his sleep the night before?" The night before would have been the thirteenth not the fourteenth. Submitted by Wiseguy70005, 8/31/14.
DA Burger refers to Steve Harris as an ADVERSE Witness: is that the official term for HOSTILE Witness? Mike Bedard 3.24.15
- - both may be called official. "Hostile" is older usage, and "Adverse" is more likely used under modern rules of evidence. But there may be variation between the states. Ed Mahl 9/22/17.
Perry's library would eventually grow to cover the entire length of the console behind his desk. The exterior shot of police headquarters shows a very modern, International Style building. The interior (Tragg's office) is like something out of"The Front Page".\\ Lucille must expect it to be chilly in Honolulu - she wears a fur stole. And isn't that orchid a bit like " coals to Newcastle"? DOD 04/20/18
This error in grammar is preceded by another: Perry notes "there are no less than three phones" in the Cole house. That should be "no fewer than three phones". DOD 05/03/19
Forgetful Tragg? When Perry goes to see his client Peter Cole, Tragg answers the door. Tragg asks Perry who his client is. "Peter Cole" says Perry. A bit later when Tragg is questioning Edna, Perry says "Take it easy on her, Tragg." Tragg responds "You representing her?" Perry replies "No. Her uncle. Peter Cole is my client." Kilo 8/26/2019
A Busy Day in the Perryverse
- Frank Maddox drives up to Santa Barbara to see Doris Cole.
- He then drives to the Cole ranch (location unknown) to present his "package deal", where, by the way, he is late for a meeting "at 4pm".
- Then Peter Cole and Edna, his niece/secretary, drive to Los Angeles and meet with Perry.
- Then Perry sends Jackson to Santa Barbara, who arrives in time to "find out the exact status of Doris Cole v Peter Cole", presumably before the courts close at, again presumably, 5pm.
All this on the day before the divorce becomes final. BTW, Santa Barbara is about 100 miles from Los Angeles and a drive today of at least two hours; it had to have been longer in those pre-freeway days. OLEF641 11/6/21
Man Without a Plan?? Not only - for obvious reasons - do we never get to see Perry fully implement his plan for thwarting Doris/Frank from blocking the divorce, we never even get a (logical) description of what it might be. He hints, perhaps, that he hopes to stall them, or maybe thinks they'll get sloppy and not act quickly, but as everyone is clearly aware of the 10AM deadline, that doesn't really make sense. IMHO, rather disappointing, as in other episodes he finds some clever loophole. Also, the much ado made in court as to whether/not Frank was attempting extortion, or more precisely if Duncan was aware of it, seemed pointless...Frank freely admitted it in front of everyone when they first met. Notcom 102822.

There seems to be a flaw in this plot. Did Ralph Duncan call Doris at 3am, or not? If he did, then Perry's whole reason for thinking Steve was lying, and therefore the murderer, disappears. (although he can still prove it with the fake photo of her house) If he didn't, then why does Doris admit to Perry that he did? Can someone explain this?
It was Steve who called, pretending to be Duncan. The idea was he could claim to overhear a conversation in Santa Barbara when he was really in Los Angeles to commit the murder. His plan was full of holes: how could he be sure Doris and Duncan did not know each other? Shouldn't he have scoped out Doris's house? Shouldn't he have expected Duncan to deny calling? What if something happened at Doris's house he should have known about? It would have been more prudent of him to call Doris, pretend to be a drunk with a wrong number, then report he heard the phone ring about 3am but could not hear the conversation. DOD 04/20/18
Add to that, if Steve were outside Doris's house, could he "really" have heard what she was saying on the phone inside the house? That raised a red flag for me when Steve said it. I though he would have been in his car, parked in front of the house. And would Perry "really" have let some average Joe watch the house, rather than a trained professional? Especially when Perry says "If she leave the house, follow her". Tailing a person takes some knowledge and good driving skills. --yelocab 04MAY19
<< Restless Redhead | Episodes | Nervous Accomplice >>