Show1
<< | Episodes | Sleepwalker's Niece >>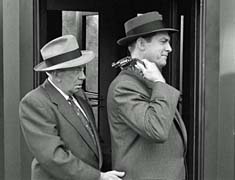 #1: The Case of the
Restless Redhead
Original Airdate: 09/21/57
From The Perry Mason TV Show Book
Perry drives to the scene of a shooting and finds the police recovering the body of Harry Merrill from a car that went over the side of a mountain. Merrill has a bullet in his body and a pillowcase over his head. This is a coincidence, because Perry's client, Evelyn Bagby, claims she was chased by a hooded man in a car near the same cliff that day. She fired two shots at the man's car to scare him off, and now the police want her for murder.
Perry appears interested in more than the charges when he takes on Evelyn's case. He makes numerous comments about her big blue eyes. Is it those peepers, money, or dedication that spurs this young lawyer on to the cause of justice? We have 270 more winning episodes to figure it out.
Opening
Starring Raymond Burr
in Erle Stanley Gardner's The Case of Restless Redhead
Barbara Hale, William Hopper, William Talman, Ray Collins
Trailing
Directed by William D. Russell
Ben Brady | Producer
Produced by CBS Television in association with Paisano Productions
Teleplay by Russell S. Hughes
Gail Patrick Jackson | Executive Producer
Sam White | Associate Producer
Raymond Burr as Perry Mason
Barbara Hale as Della Street
William Hopper as Paul Drake
William Talman as Hamilton Burger
Ray Collins as Lt. Tragg
Cast
Whitney Blake as Evelyn Bagby
Vaughn Taylor as Mr. Boles
Jane Buchanan as Mrs. Boles
Ralph Clanton as Aldritch
Dick Rich as Sgt. Holcomb
Gloria Henry as Helene Chaney
Grandon Rhodes as Judge Kippen
Clark Howat as Policeman
Norman Leavitt as Mr. Redfield
Helen Mayon as Mary Thompson
Jack Gargan as Court Clerk
Lorraine Martin as Drake's Operator
Uncredited Actors
Lee Miller as:
Plainclothesman
Courtroom Spectator
Bess Flowers as Woman Departing Magnum Studio
Don Anderson as Policeman
Bert Stevens as Studio Employee

Crew
Gene Wang | Story Editor
Production Supervisor … J. Paul Popkin
Director of Photography … Frank Redman, A.S.C.
Art Direction … Lyle Wheeler, Lewis Creber
Assistant Director … Art Marks
Editorial Supervisor … Art Seid, A.C.E.
Film Editor … Richard W. Farrell
Makeup … Mel Berns
Wardrobe Supervision … Dick James
Set Decorations … Walter M. Scott, Charles Q. Vassar
Properties … Ray Thompson
Recorded by … Alfred Bruzlin
Rerecording Mixer … Harry M. Leonard
Script Supervisor … Cosmo Genovese
CARS: 1957 Ford Fairlane 500 Skyliner retractable, black (Mason), 1957 Ford Custom Fordor, black. From The Cars by Greg Cockerill. Some pictures here.
+ Evelyn drives a late 1940's car, a Ford I think. It has "three on a tree", a 3 speed, column mount manual transmission. You can clearly see this when she runs out to the car from her apartment and drives away. She smoothly throws it into reverse and backs out. It was assumed, in the 50's and 60's, that every driver could drive a standard. Many Mason episodes feature stick shift cars, from 1950's Ford and Chevy models (taxis, police cars etc) to Jeeps and VWs. My wife and I learned on a "three on a tree" (yes, I'm that old). I drove a 3 speed until 1989, and finally switched to an automatic in 2007! Submitted by Bill-W2XOY on 08/13/2013.
+I believe Evelyn is driving a 1941 Mercury Eight Convertible. Added by oldgray on 02/25/2014.
Goof: In the office scene after Tragg impatiently arrives, look for a T-shaped mark on the floor when Della goes to pour the coffee for Tragg. Oops! Picture here. Posted by Dedra Kaye DeHart to the Della-Perry group, 10/14/07.
Did you notice? The Court Clerk is also the Court Reporter. Seems odd. Submitted by daveb, 10/6/08.
Uncredited Actors: Note that Lee Miller, who has often played Sgt. Brice, makes his first appearance in the opening credits as a spectator. He's seated near the window. Later we see him in the episode as a plainclothes policeman examining the pillow-case where the victim's car went off the road. Still later we see him again in plainclothes as a spectator in the courtroom. He's seated in the section behind the defense, 2nd row, aisle seat, behind Vaughn Taylor (Mr. Boles). Submittd by PaulDrake33, 9 September 2009.
+ We see Bert Stevens coming out the door at the Studio with Distinguished Lady # 2. Submitted by BigBill767, Nov 11, 2016.
Uncredited Actors: Bess Flowers makes one of six appearances on Perry Mason in this initial episode. She's the Woman Departing Magnum Studio. She also appeared in "Negligent Nymph" (Miss Miller, DA Stenographer), "Fiery Fingers" (Women dining in restaurant), "Lonely Eloper" (Birthday party guest), "Shoplifter's Shoe" (Department Store customer) and "Frustrated Folksinger" (Woman at party). Besides these appearances, she also appeared with Raymond Burr in Rear Window. She's the songwriter's party guest with the poodle. This lady appeared in over 779 films! She appeared in more films that won the Best Picture Oscar than anyone else. Submitted by billp, 15 November 2009.
Uncredited Actors: Don Anderson gets his first appearance in the Mason series as a uniformed policeman at the crime scene, a role he played fairly often in the early episodes. He gets to do a bit of business when Mason saunters over to a group of officers examining the pillowcase/hood. Mason asks Anderson for a match then, as he light his cigarette, takes a closer look at the hood and spots the "Villa España" embroidery. Submitted by FredK, 29 September 2010.
Sightings: In the courtroom gallery, spotted before we had this tag by PaulDrake 33, is Distinguished Lady #2 seated near the middle of the back row. She's best seen just as Mr. Boles stands up near the end. She's also seen walking along the street outside Perry's office and coming out a door at the studio. Also, Pencil Mustache Man is seated first in the last row behind Lee Miller [see above]. Blue Collar Guy appears as "Joe" the Brent Building parking attendant. More about these people on the "Who Is That?" page. Submitted by daveb, 9/24/2010. Updated by alan_sings, 9/26/2010.
+ Distinguished Gentleman #1 is one of the first people we see in Court. I also like to think that he may be one of Paul Drake's card-playing friends at his apartment (sitting on his right). Updated by evelyne, 2/1/2011.
+ Little Old Lady #2 appears as Helene Chaney's dresser "Doris." She has two scenes, but not a line to say, alas. Submitted by evelyne, 2/3/2011.
+ We can add Distinguished Gentleman #2 to the list of first-timers appearing in the courtroom gallery. Submitted by gracenote, 8/20/2011.
Sightings: Also note in the same section (see above item), in approx. the middle of the last row, is a lady who frequently plays a matron on the series—when she isn't being a spectator. Does anyone know her name? Submitted by PaulDrake 33. 9 September 2009.
+ I don't know her name, but she is now known as Distinguished Lady #2. See more about her on the "Who Is That?" page. Submitted by daveb, 9/24/10.
++ You can see more shots of her throughout the rest of the scene after Perry recalls Mr. Boles back to the witness stand. To me, the more I paid attention and saw the woman in question, she sure seems to look younger, has a skinnier face, and does not look as "matronly" as Distinguished Lady #2. I'd vote it's Miss Carmody (especialy the last couple of times I saw her towards the end)! ;-> Submitted by mesave31, 03/20/15
++ It is definitely Distinguished Lady #2. Submitted by BigBill767, Nov 11, 2016.
+++ We may be getting our first glimpse of Distinguished Gentleman #1 -- I'm pretty sure that's his toupee -- early in this initial episode, as one of the poker players in Paul Drake's apartment. JohnK, 24 November 2015
++++ Distinguished Gentleman #1 is sitting in the courtroom to the left of the door as the bailiff, if that's his job title, enters at the beginning of the preliminary examination scene. Pencil Mustache Man is seated to the right of the door. Distinguished Gentleman #2 appears to be sitting in the front row of spectators on the defense side during the same scene. Submitted by JazzBaby, 6/29/2019.
+++++ I believe Distinguished Gentleman is also the Brent Building parking attendant. DOD 05/15/20.
++++++ I am certain that right after Bess Flowers exits the Magnum studio building, she is followed by Miss Carmody. -- catyron Sept 4 2020.
+++++++ Thanks to the research of Bill767, we now know that Distinguished Gentleman #1 is Rudolph Salinger. He was credited in #112 TCOT The Wintry Wife as "Chemist" and in #78, TCOT Artful Dodger he played a waiter whom Perry addressed as "Rudy," the actor's real name. Submitted by catyron, January 25, 2021.
Ironic, both Whitney Blake and Gloria Henry sport dark hair in this episode, however each would find their greatest fame as blonde mothers. Whitney Blake as Dorothy Baxter on Hazel and of course, Gloria Henry as Alice Mitchell on Dennis The Menace. Submitted by PaulDrake 33, 9 September 2009.
+ Just noted that Gloria Henry died back on April 3 of this year(2021). She made it to 98. WOW! Submitted by HamBurger, 5/31/2021
++ To be specific, both were redheads, per dialog in final scene, tho' on b&w TV, who could tell ;-) OLEF641 10/30/21
Guns: At first blush, "the fatal gun" looks like a .38 Colt Detective Special snub nose revolver to me. (Perry calls it a .38 Colt snub-nose.) This model turns up in countless film noir and early television dramas. However, the serial number Perry tells Paul at the beginning of the episode is 17474LW. LW stands for "light weight," or aluminum frame, I believe. It appears to be a real Colt serial number. If I understand the "numerology" correctly, this gun would have been made in 1952. However, this serial number would correspond to the Colt Cobra or Aircrewman and not the Detective Special. These guns were also "snub-nose." So if we go by what Perry says the serial number is, it's either a Cobra or Aircrewman. At this point, I'm inclined to believe Perry gave the actual serial number of the gun he had. Wouldn't it be fantastic to find that gun today? Even so, the gun looks somewhat beat up to me. Submitted by billp, 25 November 2009.
+ "One time years ago, I was watching the episode and looked up the serial number in a big Colt coffee table book I had. The Colt is definitely an "aircrewman" according to my book." Submitted by Jim via email, posted by daveb, 6/28/11.
+The guns used in the episode were early (pre-1933) Colt Detective Specials, as evidenced by their square butts. After 1933 the Detective Special's butt was rounded, for better concealment. The Aircrewman was an alloy frame,aluminum cylinder version of the DS made for Air Force crews to save weight.The aluminum cylinder did not work well in practice,and the Aircrewman was discontinued. They are rare collectors' item. The Cobra,on the other hand, although also alloy framed,had the steel cylinder of the original DS and was made from 1950 to 1981. Most Cobras you see are two inch barreled "snub-nosed" .38 Specials, and were readily available. The "character" gun was almost certainly supposed to be a Colt Cobra,but the prop department,going by the script,brought out the Detective Specials. Regards, SteveP 15 February 2013
+Actually some first generation Detective Specials were produced with square butt Police Positive Special frames even after the introduction of the round butt frame in 1933, and this practice continued through the war years. Evidently when they were short of round butt frames, they just grabbed a square butt and screwed a short barrel on it. Colt and S&W didn't hesitate to substitute components when the need arose. Further complicating figuring out the specific guns on this episode, Police Positive Specials were produced to order with snubby barrels prior to the introduction of the Detective Special in 1927. Submitted by oldgray, 02/25/2014
+ The serial number 17474-LW was taken from the novel where the gun was described by Mason as "one of those new aluminum alloy jobs...This is the Colt 'Cobra.' A gun that...weighs only fifteen ounces." Submitted by Wiseguy70005, 9/22/14.
+ The Colt website categorizes this serial number in this manner: 1952 "COBRA MODEL/AIRCREWMAN/COURIER/AGENT & VIPER ""LW"" SUFFIX IS FOUND BELOW SERIAL STAMP"; Submitted by HamBurger, 07/15/2017
+ Erle Stanley Gardner said that when he was writing his novels, he decided to purchase any weapon he planned to use as a fictional murder weapon. He said that would allow him to give accurate serial numbers for authenticity, while protecting himself from being sued by anyone owning a weapon with that serial number...MikeM. 4/20/2018
The absence of 1958 model cars in the episode coupled with Perry wearing a hat places this episode in the first (1957 Ford) set of episodes filmed in the first season. The supposition this is no earlier than the third episode filmed is still looking pretty good. (In fact, I'm thinking it is, more likely than not, the 3rd filmed). Submitted by billp 29 November 2009.
Set Dressing: The wood paneling behind Perry's desk is "pecky cypress"—apparently pretty popular mid-20th century. It may have been considered a high-end or up-market product, thus very suitable for a high-powered lawyer like Perry. Interestingly enough, it was also popular for lodges or cabins. When we consider Perry's penchant for fishing etc., it fits that aspect of his personality, too. In either case, high-end or lodge, it is appropriate material for Perry's office. It's described as having "character," and I believe it very rough or "textured." Pecky cypress gets its name from the hollowing of cypress trees by a fungus which destroys the wood. The fungus attacks the core of the trees resulting in "pecky" vertical channels, whence the textured effect. The cross sections of pecky logs resemble swiss cheese. The wood seems to have a reddish blond/yellowish cast. Check out this tabletop to get an idea how the surface looks. Also see here. Submitted by billp, 13 November 2010.
+ Is this the only time we see the outer office? I can't remember seeing it before, having just wrapped around on MeTV from the last episode (having started some time ago in the middle of Season 1). I guess I'll find out as I go forward. OLEF641 10/30/21
We get our first look at Della's unique filing system - a separate drawer for each letter A through D and J through M. DOD 05/15/20
The "horses" bas-relief in Perry's office or its twin appears in the very good 1957 20th Century film "Desk Set" starring Tracy and Hepburn. You see the bas-relief during the "Mr. Azae's office scene" which begins about 16 minutes into the film. A cursory viewing indicates a number of other items in Azae's office also appear in "Perry Mason," e.g., the ceiling lamp over the circular table in Perry's office, the circular table itself and the accompanying chairs. My impression is other items in Azae's office also appear in various episodes of Perry Mason. I'm assuming the scenes in "Desk Set" were filmed prior to the Mason series. I note Lyle Wheeler was the Art Director/Production Designer for both "Desk Set" and these early "Perry Mason" episodes. Submitted by billp, 29 July 2012.
Perry's Rauland Amplicall is also present in "Desk Set." It's the phone Mr. Azae uses to call his secretary. Submitted by billp, 2 August 2012.
The eagle sculpture can be seen in the 1956 film, The Man in the Gray Flannel Suit. Submitted by vgy7ujm, 3 September 2021.
Glovebox Guns: Mervyn Aldritch has the distinction of being the first person in the show to have his gun stolen from the glove compartment in his car. Let the count begin! Submitted by evelyne, 2/1/2011.
+And Sybil Granger was the 2nd only 2 episodes later in Nervous Accomplice! Mike Bedard 3.24.15
Ironically, Whitney Blake, the "Restless Redhead," played the "Black-eyed Blonde" the following season. Submitted by cgraul, 8/22/2011.
+ The following year (1958) but the same season (first). Submitted by Wiseguy70005, 3/22/15.
Syndication Cuts: Minor edits include: Della arrives at the office, Drake phones in and hasn't traced the gun, Mason calls Gertie to have his car brought around, Mason tells Joe to park his car, Miss Chaney calls Aldritch. Also cut is the entire Eucalyptus Grove Motel scene.
Hallmark apparently obtains the syndicated version, then adds more cuts of their own: Scenes of Drake's phone operator talking to Evelyn, Mason talking to Miss Chaney outside of the studio (see spoiler notes below) and about 22 seconds during the conversation between Mason, Burger and the judge about a personal relationship Burger and Mason are reluctant to introduce. In addition to the added cuts, the Hallmark version appears to be time-compressed. Submitted by Wiseguy70005, 6/30/12.
In Mason's office Evelyn tells Perry she told Harry Merrill if he didn't give her her money back she'd go to the police. Later in Evelyn's apartment Perry says she wrote him a letter demanding money but Evelyn never mentioned a letter before. Submitted by Wiseguy70005, 9/22/14.
Switching guns This was the first of three stories where it happened. It was also done in episodes 33 and 87. Submitted by H. Mason 9/27/14
WEDDING RINGS: The one married couple in this story, Vinnie and Lewis Boles, both wore a wedding band. This was not the norm. In most episodes throughout the series the married woman wore a ring of some kind where a wedding ring should be and the man did not. Some interesting circumstances were seen in a few of the stories. In 34 TCOT Gilded Lily - Charles Stewart Brent talked about how much he loved his new bride. He didn't wear a ring. In 47 TCOT Jilted Jockey - Francis "Tic" Barton was so proud to be married to Gloria. He didn't wear a ring. Della pretended to be married in two stories. In 35 TCOT Lazy Lover - while posing as Mabel Fleetwood she did not wear a wedding ring. In 66 TCOT Deadly Toy - while pretending to be married to Perry (who called himself Mr. Street) she did wear a ring on her finger. Perry only wore his pinkie ring. Submitted by H. Mason 9/29/14
Pinky rings are seen on Perry, Paul, the opening credit judge, the cop who gives Perry a light, Mr. Aldritch and Mr. Boles...MikeM. 7/8/2016
The court oath is given with "so help you God" at the end. In most later PM shows that phrase would not be spoken...MikeM. 7/8/2016
Closing credits show products appearing alternately in a window in the lower left corner: Sweetheart bar soap ; New Blue Dutch Cleanser; "trend" laundry detergent; and Beads o' Bleach...MikeM. 7/8/2016
ESG: "The Case of the Restless Redhead" was Perry Mason novel #43, published in 1954. Submitted by catyron 11/2/2017
Crew Visible: As Perry drives up in front of the Brent building the legs/feet of a member of the film crew can be seen reflected in the car door. Submitted by Kilo 2/19/2018.
+ Also, in the same scene when Paul is talking to Perry, an "extra" wearing a hat can be seen over Paul's shoulder reflected in a glass window waiting for his cue to enter the scene. He then walks behind Paul and enters the Brent building. Kilo 11/21/2018.
This is the only PM writing credit for Russell S. Hughes, who was born in Cincinnati in 1910. Russell Hughes wrote many radio scripts before writing for films and television. Russell Hughes died in Studio City on 16 April 1958 at the age of 48...MikeM. 4/20/2018
Sadly, Gloria Henry passed away on 4/2/2021, just one day after her 98th birthday. I don't know if Lorraine Martin is still living (a Google search was inconclusive.) If she is, she would be the only surviving credited cast member of the original episode. Third_Generation_Fan 4/5/2021
Evelyn Bagby's life savings of $1500 is the equivalent of nearly $15,000 in 2021 money and Aldritch's payoff to Merrill of $10,000 would be more than $97,000. OLEF641 10/30/21
Comments

Edit
This first episode doesn't paint a particularly flattering portrait of Hollywood: the actress wannabe cheated out of her savings by the "talent scout," the behavior of Helene Chaney and, at least initially, of Aldritch. A seedy Hollywood inhabited by mostly less than honorable characters seems to be a common theme in the Mason series. Besides the instant episode, episodes like "Vagabond Vixen" and "Promoter's Pillbox" come to mind. Even the final episode, "Final Fade-out," rounds out the series on this same note. Submited by billp, 12/26/2008
This first episode certainly sets the template for the nine years to follow. The murder plot is ludicrously complex and a bit illogical, but it doesn't matter. We watch for the fine performances by a who's who of great but underappreciated actors; lessons in the esoterica of law and court procedure; but mostly we watch for the wonderful interplay of our five main performers. DOD 05/01/19
This first episode also introduces a plot point we will see several more times - a person being blackmailed by a thought-to-be former spouse. (Left Handed Liar, Cautious Coquette, Bogus Buccaneers). DOD 06/30/23
In making their case against Evelyn, the police don't even try to explain the pillowcase on the victim's head. DOD 05/16/20
First Impressions: Perry In Pajamas Interestingly, the first time we're introduced to Perry is at his home and he's in his pajamas; Della At The Ready we meet Della when she meets Parry at the office at 1:15AM, bringing coffee and serving it in plain china cups (NOT cups from the curious coffee set); Paul being Paul at a late night card game; Tragg being arrogant and rude. jfh 15May2020
In the courtroom scenes, observe the attractive young lady who plays the matron. She is seated behind the defence table. Now consider the actress (Nancy Hadley) who plays Edna Hammar in "Sleepwalker's Niece." Nancy Hadley may play both roles. Anyone agree? If not Hadley, there's someone else in the series who plays the matron. I've seen her before. Submitted by billp, 12/26/2008.
Lee Miller who appears in this episode as a spectator also was seen in Ironside. I suspect fairly often, but it's been a long time since I've seen a substantial number of episodes. However, I recall seeing one episode on TV a couple years ago where he was playing a policeman on the show. He was dressed just like Sgt. Brice—black suit, white shirt, dark thin tie and a somewhat rakish, dark pork-pie hat. Physically, he looked pretty much the same as he did on Mason. Particularly interesting was that Det. Sgt. Ed Brown addressed him as "Lee." Submitted by billp, 12/26/2008.
+IMDb says that Scotland-born Lee Miller appeared in 9 Ironsides: 6 uncredited & 3 credited. Mike Bedard 2.5.15.
+ Speaking of Ironside, Whitney Blake appeared in the first (broadcast) episode of Perry Mason, and the last episode of Ironside. Submitted by Bill-W2XOY on 08/18/13..
The $1500 Evelyn Bagby got taken for in approximately 1957 would be about $11,048.42 in 2007 dollars. The $10,000 blackmail money stolen by Boles would be worth about $73,656.13 in 2007. I guess that's how much Harry Merrill's life was worth to Boles. Submitted by billp, 12/26/2008.
+ Inflation: As of 2014, whenever you hear a dollar figure mentioned in the first five years of Perry Mason, multiply it by eight to get a rough idea of the current equivalent amount. Submitted by 65tosspowertrap, 3-6-2014.
We see a bit of Perry's apartment when he takes calls from his answering service. We also see, I think, Paul Drake's apartment/house when he gets a call from Perry to check the serial number of the gun Evelyn found. Submitted by billp, 12/28/2008.
This show is based on a Erle Stanley Gardner novel of the same name. In the novel, in Chapter 1, the trial of Evelyn Bagby for theft, in the city of Riverside is written of. This show starts after the trial and barely references the trial. This causes some confusion as to why the man in the hood is after Evelyn, and why Perry needs to confront Helene Chaney. Not a good beginning for Perry. Submitted by PaulDrake33, 2/9/2009.
I have noticed that the entire first season of Perry (with the exception of shows # 17 and 25) is now available for viewing online at IMDb.com. Submitted by PaulDrake 33, 5/14/2009.
The rotund Raymond Burr of the later episodes, and of "Ironside," could never have run the 10 yards he did in the initial office scene here. cgraul 1.30.12
+ I beg to differ: in episode 268, "The Case Of The Misguided Model" original airdate of 04/24/66, nine years later and only three episodes before the series finale, Perry runs. jfh 20Apr2018.
+ Perry also does an impressive dash when he runs after Helen as she is about to discover the body in Episode #235 TCOT Careless Kitten. Added by Dan K, 20 January 2020.
+ Paul Drake ran in front of the Brent Building to Perry who asked, "Are you training for the Olympics?" Mike Bedard 3.20.15
+ Now this first episode has both Perry and Paul running. The only thing missing is Della running in her high heels as she did in other episodes. Submitted by HamBurger 9/6/2020
The (shooting?) script for this episode is dated 22 March 1957. I believe this episode is no earlier than the third of the series filmed. (The actual call sheets would likely be useful here). "Moth Eaten Mink" was first and "Fan Dancer's Horse" was probably filmed before "Redhead"—or less probably, right after "Redhead." "Fan Dancer's Horse" wasn't aired until about mid-season. However, its look-and-feel obviously place it as a very early episode. For "Redhead," there was about a 6-month lag between filming and air date. Submitted by billp, 3 November 2009.
+ For a 3rd "Time Tunnel" perspective, takemeback.to/21-September-1957 FACTS section states: "Perry Mason with Raymond Burr premieres on CBS-TV.
 German sailing school ship Pamir sails Atlantic Ocean.
 Olav V becomes King of Norway." Mike Bedard 2.5.15 


- The aforementioned Pencil Mustache Man was apparently part of a cadre of extras that worked on several television shows of the 1950s and 1960s. You can see him as one of henchmen in "Alexander the Greater Part 1" in the series "The Man from U.N.C.L.E." submitted by Kenmore, April 16, 2014
I rather dislike the opening credits during this first season. I understand that Barbara Hale, William Hopper, William Talman, and Ray Collins are seated in billing order, but it is totally unrealistic to seat them all at one table. Talman as the prosecutor cant even get out to walk up to the witness stand! submitted by DyNama, 7/1/2014.
Novel Oddity: In my paperback copy [Ballantine Books, Fourth Printing, December 1988] the copyright date is given as 1964. Which would be a bit of precognition considering the episode was produced in 1957! The copyright of the novel should have been 1954. Submitted by Wiseguy70005, 9/22/14.
Sgt. Holcomb, who appears in the "Restless Redhead" novel and many others makes an appearance in this episode. Is this the only episode in which the character appears? Submitted by Wiseguy70005, 9/22/14.
+ A tv.com post states that the SH character also appeared in Fan Dancer's Horse, & was Perry's main antagonist in the Early novels before Lt. Tragg. Mike Bedard 3.20.15
+ Holcomb and Tragg often appeared together in the novels. Holcomb was the more belligerent, argumentative officer while Tragg, still on opposing sides of Perry, was more level-headed and reasonable. Submitted by Wiseguy70005, 3/22/15.
The trial adjourned from the courthouse to The Scene Of The Crime in RR: in how many other episodes did that happen, other than Pint-Sized Client? Mike Bedard 3.20.15
In the novel/episode "The Case of the Curious Bride" the entire court goes to examine two adjoining apartment buildings, along with telephone rings and doorbells. Submitted by Wiseguy70005, 3/22/15.
This premier episode is already a rarity in that the victim never appears. In the first office scene, Della takes coffee cups out of the credenza. This is the only time I recall that credenza being opened. The reaction shots of Perry talking to Helene Cheney at the studio show him wearing a different jacket than in the medium shots. When Evelyn hurriedly leaves her home, the convertible top is down. When she encounters the hooded driver, the top is up. DOD 05/02/19
Art Deco Cups: The coffee cups Della takes out of the credenza look to me like 1930s art deco tea cups with what are called "seven handles" (because they look like a number 7). They are white or ivory bone china with bands of gilding. Weirdly, at the end of the episode, everyone has a big ugly paper cup of coffee and Perry is about to pour from his into the beautiful porcelain tea cup. What a travesty of etiquette! I am so glad that coffee makers and carafes soon entered the series. -- catyron, Sept. 4, 2020
Tonight MeTV restarts airing the 271 episodes in order with the first episode 5 days short of the 62nd anniversary of the very first broadcast of this episode! Submitted by DyNama, 09/16/2019 rev. 12/24/2019
When Perry interviews Hellene Chaney, she has just walked out of a (studio) building and is standing at a street curb. Burr is filmed speaking while he stands against a white canvas. This view of Perry should include the street outside the building Hellene exited, and include cars, buildings, and other film studio lot detritus. Submitted by Jared 05/06/2021
Shooting Blanks During the hearing, much is made of the (in)ability to distinguish b/w the two guns, but it is also revealed that, because the "fatal bullet" was mangled, ballistics tests couldn't be run. Much verbal sparring ensues - at one point Hamilton offers up the nonsensical claim he'll "stipulate as to which is the murder weapon" - but the point is obvious: the murder weapon can't be identified, and any relevance to Evelyn having possession of a gun is lost; the case would have to proceed with other evidence. Notcom 101421.

+ It is later stated that the hooded motel owner chased her in order to induce her to shoot at his car. After holes were made in the car, he was going to put the body of the murder victim (already dead) in the car, drive back to the scene of the shooting, and create the impression that the Restless Redhead had shot the murder victim. Pretty far fetched. Ed Mahl 9/22/17
+ It's also made clear that the police find the hood - either on Merrill or in the car - but, as Evelyn adroitly points out (and Perry readily agrees), she wouldn't be able to identify him if he were hooded; so Boles actually works against the credibility of his scheme in planting it.(Altho a counter-argument from the police would be that Evelyn herself had planted it, to provide that very defense.) Notcom 091719.
The MeTV showing of this episode omits Perry's visit to the Eucalyptus Grove motel, which should follow just after he remarks to Miss Chaney, "Very interesting place, Riverside." This is an unfortunate omission, since two key characters and several key clues are not seen until just before the solution is revealed, and makes the whole thing seem like an unfair surprise for the audience. Net result, two and three-quarters more minutes for advertising. Whether that is true for the original syndication print or is specific to MeTV, I wouldn't know. Submitted by alan_sings, 1/30/2012
+ I too have been watching the MeTV broadcasts. The syndication cuts are infuriating. It's difficult enough following a Perry Mason episode without having sometimes crucial scenes cut out. I don't know how anyone watching the Hallmark version has any idea what's going on. And this is done so we can be assaulted with ads for catheters, reverse mortgages, Medicare, and ambulance-chasing lawyers. (What would Perry think about the ambulance-chasing lawyer ads?). Submitted by Alan Smithee, 3-7-2014.
+ The current syndication version goes from the scene with Paul outside the building to the scene with Miss Chaney with only a minor edit between, followed by the scene with Perry filing a notch on the gun. The version shown by Hallmark skipped the scene with Miss Chaney and jumps from the scene with Paul to the scene with Perry filing the gun. The motel scene is not shown in either version. Submitted by Wiseguy70005, 6/30/12.
+ Maybe they're listening ?? Viewers like me are probably happy to see the latest MeTV (evening) offerings are less-edited versions: the motel scene is back, here, and subsequent shows have been closer to the originals as well (not sure if I agree w/ Perry's decription of Riverside though !!) Submitted by Notcom, 101315.
Perry doesn't demonstrate good firearm safety when he points the revolver at Lt. Tragg. Submitted by billp, 2 August 2012.
Episode 1 features prominent evidence about Ballistics, which derives from the Greek "to throw" & the Ballista: "an ancient military engine for throwing stones or other missiles [Webster's Unabr. Dict.]" "Charles Waite, a legal investigator...joined with Major Goddard...of the Ordnance Corps, Philip Gravelle, a chemist; & John Fisher, a physicist, to form a private Bureau of Forensic Ballistics in NYC...Firearms identification came to the public's attention in 1925 when The Saturday Evening Post published 2 articles called 'Fingerprinting Bullets' on Waite's work. Goddard became famous for his work identifying firearms used in the Sacco & Vanzetti case in 1927 & Chicago's St. Valentine's Day Massacre in 1929. Goddard trained the 1st firearms expert at the FBI Laboratory, founded in 1932," apps.americanbar.org notes. Mike Bedard 3.20.15: MeTV AM re-airing.
Given that Perry presented the gun to Clanton as one that Clanton owned (using the serial number), how did Clanton expect to get away with the switch? Of course, Perry shoots the gun to confuse the police. The police should have notice new gun shots not at the original scenes and even worse take pictures days after the murder. Submitted by Perry Baby 7/30/17.
Off and RUNNING. Various comments here have discussed filming order, and the broadcast order is shown at left; but why were episodes broadcast in the order they were ?? We'll probably never know for sure the reason(s) - if there were any - but it's easy to see why this was an excellent choice for the series premiere: with the very first shot we're shown the (eventual) defendant - and what a defendant!! - and then within the next ten minutes we're introduced to Perry, Della, Paul and Lt. Tragg, we witness what seems to be "the murder", we find out that the office works at all hours and that Perry is famous throughout the Southland, to friend and foe alike....whew !! Compare this to some of the later, leisurely episodes where the killing takes place in the second half, or Perry doesn't even appear until twenty minutes in. Notcom, 080117.
OK, time is doing some weird things in this episode. At 00:28 and again at 00:50 Perry refers to the motel registration cards for April 12, when the jewelry was stolen; the first reference is when he asks to see them at the motel, the second when he refers to that visit in court. Perry also mentions, at 00:34, in his talk with Mr. Aldrich, that April 12 was the night Aldrich paid off Merrill at the motel. The murder takes place two months later (at 00:18 Miss Bagby say her failed meeting with Merrill was "two months ago") -- but it also occurs on April 12 !?! At 00:45 Burger says he'll prove Miss Bagby "was in possession of the fatal gun on the night of April 12" i.e. the night of the murder. Ooops! Also, justice progressed much more quickly in those days, only two weeks after the murder they're already in court, albeit for the preliminary. all times are from a dvr recording of the episode broadcast on MeTV on 9/28/2020 OLEF641, 9/29/2020
Here we are again at Season 1, Episode 1. It is June 15, 2022 and I still look forward to watching on MeTV, and commenting on one of my very favorite websites. Let's do it all again. Submitted by Rickapolis 06/15/22
+Also watching on June 15th. I wonder if they are going to start going through the episodes in sequence again. That would be nice since the earliest episodes are some of the best. Submitted by Wick 6/15/2022.
> That's how they do it !! And while this is easy, logical and facilitates scheduling one's viewing time, I think it would be interesting to see them presented in filming order: the show has no real continuity to worry about, and episodes would presumably be more consistent in details like hair length and - later on - Raymond Burr's weight. Notcom 061622.
It seems it takes just over a year to cycle through. From 6/15/22-6/30/23. And, I never get tired of them. There is always something new to see. Take care all, and enjoy. Submitted by Rickapolis 6/30/23
Near the beginning when Perry and Della are discussing the previous Bagby case Perry makes the statement "As I recall there was an interesting highlight to the case". Anyone have a guess what he was referring to? Kilo 8/4/2022.
+ One interesting highlight was that a Hollywood movie star and her wealthy financée were staying in a roadside motel of the Eucalyptus Motel ilk. Aldrich says to Perry, "Does it [the motel] look like a place I would choose?" jfh 30June2023
<< | Episodes | Sleepwalker's Niece >>