Show235
<< Murderous Mermaid | Episodes | Deadly Debt >>
#235: The Case of the
Careless Kitten
Original Airdate: 03/25/65
From The Perry Mason TV Show Book
When Franklin Shore, a man dead ten years, telephones his niece, Helen, giving her instructions on how to meet him, things are just beginning to get spooky.
Perry must not only find out where the dead man was calling from, but also: Who killed Henry Leach, a man who was blackmailing the deceased? Who took a shot at Helen's boyfriend, Frank? Who poisoned the deceased's wife, Matilda? And who poisoned Monkey, the cat?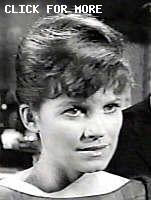 Opening
Starring Raymond Burr
in The Case of THE CARELESS KITTEN
Based upon characters created by Erle Stanley Gardner
Barbara Hale, William Hopper, William Talman, Ray Collins
+ s/b "Erle Stanley Gardner's TCOT Careless Kitten"
(this was actually one of his novels, instead of simply
'characters created by...') -- dwhite 1.20.13
Trailing
Directed by Vincent McEveety
Teleplay by Jackson Gillis
Arthur Marks \ Art Seid | Producers
Gail Patrick Jackson | Executive Producer
Jackson Gillis | Associate Producer
Samuel Newman | Story Consultant
Raymond Burr as Perry Mason
Barbara Hale as Della Street
William Hopper as Paul Drake
William Talman as Hamilton Burger
Ray Collins as Lt. Tragg
Wesley Lau as Lt. Anderson
Cast
Louise Latham as Matilda Shore
Lloyd Corrigan as Gerald Shore
Allan Melvin as Thomas Link
Julie Sommars as Helen Kendall
Alan Reed, Jr. as Frank Templar
Hedley Mattingly as Cosmo
Percy Helton as Hotel Desk Clerk
Raymond Guth as Veterinarian
Francis De Sales as Doctor
Lee Miller as Sgt. Brice
Uncredited Actors
Don Anderson as Police Officer (sighted by gracenote, 4/27/2011)
Crew
Director of Photography … John M. Nickolaus, Jr.
Art Direction … Lewis Creber
Assistant Director … Gordon A. Webb
Film Editor … Al Clark, A.C.E.
Casting … Harvey Clermont
Makeup … Irving Pringle
Hair Stylist … Annabell
Wardrobe Supervision … Ed McDermott, Evelyn Carruth
Set Decoration … Carl Biddiscombe
Properties … Ray Thompson
Production Sound Mixer … Herman Lewis
Script Supervision … Marshall Schlom
Theme Composed by … Fred Steiner
Automobiles Supplied by … Ford Motor Company
Perry Mason
Produced by the CBS Television Network in association with Paisano Productions
This episode is based on the 1942 Erle Stanley Gardner novel of the same name. Submitted by PaulDrake 33, 27 October 2009.
Julie Sommars would later appear in another series centered on a mystery-solving defense lawyer—Matlock. According to the IMDb, she played A.D.A. Julie March (and Matlock's friend) in 94 episodes between 1987 and 1994. Submitted by gracenote, 4/27/2011.
+ Julie was in 3 FBIs, 2 McClouds & the 1991 Perry Color movie TCOT Glass Coffin [IMDb]. Mike Bedard 5.7.15
++ Julie was also in a short-lived TV series called The Governor and JJ with Dan Dailey, 1969-1970. Submitted my MillieG, 3/1/18.
This is one of the few Perry Mason episodes where there is no trial or evidentiary hearing. Instead, everyone is gathered into the parlor â la Hercule Poirot for the denouement. Submitted by gracenote, 4/27/2011.
Always edgy Louise Latham makes the first of her two "Perry Mason" appearances here. According to production notes, she had a contract for two episodes, but the second one didn't take place until the fall, in Season 9, in TCOT Cheating Chancellor. Submitted by dwhite 1.20.13
Handsome Alan Reed, Jr. may be best remembered as beatnik Sheldon Epps on several episodes of the "Beverly Hillbillies." He left acting to produce commercials and co-wrote a loving little bio of dad, Alan Reed, Sr. called "Yabba Dabba Doo!" (Or "Never a Star")."
Although this episode is sans courtroom dynamics, the book has one of the best courtroom dramas of the series. The defendant? Della Street!! cgraul 2.12.16
It's for you, Mr. Mason: Paul tracks down Perry in the doctor's office after Frank is shot. jfh 23Feb2017.
Location: About 17 minutes in they drive to Empire Theatre. It's such a tight shot I can't be certain until I get a chance to drive by and explore but I think it's the John Anson Ford Theater which is still rockin' and is a short drive from the studio. Submitted by Eric Cooper, 14 September 11.
+ It is, indeed, the Anson Ford Theatre in Hollywood; but the hotel clerk is not saying 'Empire', he is mis-pronouncing 'Amphitheatre' (am-PIE-thee-AY-ter). The Ford is referred to, locally, as the Amphitheatre. dwhite 1.20.13
Name of the "Careless Kitten": Monkey. Submitted by H. Mason 9/29/14
No credit for the dead body of Mr. Leach (Leech?)
+ In the Erle Stanley Gardner novel, the name is Leech. (Seems appropriate for a blackmailer.) Added by Dan K, 26 January 2020.
++ Even the IMDb listing for this episode (https://m.imdb.com/title/tt0673215/fullcredits/cast?ref_=m_tt_cl_sc) does not show a credit for the unfortunate Mr. Leach but it does list a credit for "Juror" (Christopher Riordan). Was there a juror in this episode? jfh 13Mar2019
This is the first of two PM directing credits for Vincent McEveety, who would later direct "A Perry Mason Mystery" in 1995 with Hal Holbrook and Barbara Hale...MikeM. 2/23/2017
This is the last of three PM appearances for the multi-talented and always memorable Lloyd Corrigan (Gerald Shore). Unfortunately, Lloyd Corrigan's many acting credits end in 1966. He passed away in 1969...MikeM. 3/1/2018
+ As a fan of the Boston Blackie movies, Lloyd Corrigan is immediately recognizable as having played Arthur Manleder, Blackie's millionaire friend. jfh 05Jul2018.
++ Wonderful Lloyd Corrigan also gave an unforgettable performance in The Thin Man Goes Home, 1945, the 5th in the series. And he appeared as Santa Claus in an episode of Lassie! He was delightful as Ned Buntline in several episodes of The Life and Legend of Wyatt Earp, too. Can you tell I'm a big fan of his? Submitted by JazzBaby, 6/17/2019.
Curious Coffee Service: In the epilogue, Della has 5 thermos cups on a tray along with the creamer and sugar bowl from the set. Does this mean that the set only has 4 cups, or does it mean the two youngsters don't rate the highest appreciation? And is there no saucer for Monkey? HiTechHiTouch 23Mar2018
+ Monkey got his aplenty by knocking over the cups and the creamer when he jumped on the table ;) jfh 05Jul2018.
++ This is the West Bend Thermo Serv plastic set that has replaced the chinaware Curious Coffee Set at Perry's office. The sugar and creamer, however, were not plastic. The original chinaware cups and saucers from the Curious Coffee Set are now only seen at the homes of the wealthy and the well-to-do, and occasionally in restaurants. Submitted by catyron, July 9th, 2018
This is the second of three PM appearances for veteran character and voice actor Allan Melvin (Thomas Link), who had recurring roles on many television shows and cartoon series. Allan Melvin passed in 2008 at the age of 84. He was survived by his wife of 64 years and one of their two children...MikeM. 7/5/2018
1416 N. La Brea That's Helen's address as seen on the postcard as Perry reads it to Burger. Lots of people living at that address :-) Kilo 10/15/2018.
Comments

Edit
Last episode with Perry's arm immobilized. Submitted by Francis, 10 June 2011.
+ AND Perry also runs w/that arm sling when he hears Helen scream after finding the body in the car! Run Perry Run! ;-> submitted by mesave31, 01/29/15
++ AND this allows Della to serve in an unusual role: chauffeur. I believe there have been several instances where Della took the wheel from Perry, but I think this is the first where she took it in place of him. Submitted by Notcom, 052016.
The Eerily Empty Bookcase has been moved to Perry's office, apparently for the sole purpose of giving the Careless Kitten a perch from which to jump in the final scene.
In the version I just watched, immediately after Perry, Helen, and Gerald discover the body, Perry is shown on the phone calling the Shore house and asking for Gerald - he is then shown back at the car with Helen and Gerald.
+Glad you also noticed that. That whole phone call was odd. I kept asking myself why is he asking for Gerald when Gerald is right there with him at the time? Also, what is the point of Cosmo? Is he just a red herring? Submitted by Wick 4/25/2022.
Another episode with a good story undone by clumsy dialogue, exposition, and direction, as if done in a hurry. DOD 03/13/19
This is, indeed, unique in all the 271 PM episodes. Not only is the direction and the camera-work unprecedented - but a unique scene between Burger and Mason in Perry's office, discussing the case, ex party. This kind of personalization of Burger is rare, indeed. (TCOT Prudent Prosecutor, TCO Paul Drake's Dilemma, TCOT Lame Canary, TCOT Dead Ringer.) dwhite 1.20.13
+ IMHO Burger evidences a condesending attitude toward Della as he discusses the issues then glances at her and says that maybe he's saying too much. The look she gives him in return should be included in the "Della Looks On" site! jfh 23Feb2017.
The usually taciturn Sgt. Brice has as many lines in this episode as he ever had, few though they are. Submitted by francis, 3/8/12.
I liked the kitty cat. I'm surprised that no credit was given to the cat handler/trainer...
+ A day after I saw this episode on MeTV, I happened to see part of an episode of Mister Ed (probably episode 138, "The Horse and the Pussycat," OAD 10-31-65) on Antenna TV that featured what appeared to be the same cat! RIP, cat. Submitted by cat lover 65tosspowertrap, 1-18-2014.
++ I always think that too, RIP all the dogs and cats I see in old TV shows. RIP Monkey the Siamese. Submitted by cat lover DyNama, 2/19/2016
+++ If this cat appeared on Mr. Ed, its trainer was Frank Inn. He did all the animals for Green Acres, Mr. Ed, Petticoat Junction, and so forth. And the movie "Benji," of course. He trained animals of various species -- the cat in "Breakfast at Tiffany's" a troop of camels, and Arnold Ziffel the pig, (or rather a series of them). Submitted by catyron, October 10th, 2021.

Minor goof: there is no poison ivy in Los Angeles. The deceased should have been buried beneath the poison oak (but I don't envy the one with that chore). SoCalSis, June 16, 2023.
WEIRD REACTION (IMHO of course) by Helen, after Frank gets shot *inside the house* after opening a door, and she does not even look where the shot came from, help Frank, or even more...seemingly not worry that she will get shot next since the shooter is IN THE HOUSE and in the next room WITH A GUN!!! ;-> submitted by mesave31, 01/29/15
+ Other weirdness: When Perry and Paul accompany Thomas to his house, they all spend an inordinate amount of time outside instead of going in to check on Franklin. jfh 01Mar2018.
Continuity Error: When Perry, Paul and Thomas follow the floury cat prints to Thomas's kitchen, the lid is on the canister (interestingly labelled "Cookies"), but, when the kitten comes into the kitchen, suddenly the lid is no longer on the canister. jfh 05Jul2018.
Not a continuity error, as such, but, in the "confession" scene, Helen wears the same dress as she did in the opening scenes. jfh 13Mar2019
[Comments moved below Spoiler flag because of contents]
---in the book, there is a question of name switch in Florida, in which one man found a Doppelgänger; this occurred ten years prior to the story, and this created confusion as to who actually was now in LA. Of course, because the one was thought to be deceased, there could be no credible blackmail. Yes, it's weak, but in the book it's an okay line. cgraul 2.12.16
Continuity: When Matilda was chasing the cat after it jumped on the table her necklace mysteriously becomes unlatched in the front. Kilo 10/14/2018.
Notice the way Della flutters her eyelashes at Burger when she asks him "What if you find him murdered, too, Mr. Burger?". Cute. Kilo 10/14/2018.

Cold case / old case: Perry also solved the murder of Franklin Shore - killed 10 years earlier. This was the final time Perry discovered clues from a past death. Submitted by H. Mason 9/27/14
Why wait ten years to get rid of the blackmailer? And what was to be gained by intimating Franklin was still alive? Seems to me it would be to Matilda's benefit to have him declared dead once and for all. DOD 03/12/19
I think that as part of the blackmail scheme, Leach would want Matilda to keep insisting that Franklin was still alive. If he were declared dead, then Leach might have revealed what happened to the police, but he would not get any money. Of course, it might've behooved Matilda and her faithful gardener to move the body someplace else so the blackmailer would have nothing to hold her on. 01.02.2022 Submitted by Kenmore
Has anybody read the Erle Stanley Gardner work that inspired this episode? It's hard to imagine Mr. G would have such a major error in one of his stories. Anytime a blackmailer gets killed by the person paying, the story is flawed. Too many recent stories have had this mistake (#216, 226 and 228). In episode 229 a person attempting blackmail was killed immediately. That's the way it probably would happen. Why did it take so long in this story? Any smart blackmailer would have documents of the damaging information with another person to be given to legal authorities in case of death and the person paying must know about it. In the 1972 movie Super Fly a person who had something on a politician went to a crime syndicate and paid for a contract to kill the politician and his family if he died. In "Northern Explosion" a 1994 episode of Murder, She Wrote a blackmailer with "insurance" was killed by another person and the payer knew he had to leave the area right away. There are many other crime stories where a blackmail situation was presented in a more believable manner. Submitted by H. Mason 4/28/15
+ I disagree, H. Blackmailers count on the income, they don't want to share, they rarely tell anybody else they have something on the victim, and would be loath to put in writing the location of the blackmail material. Do blackmailers have friends, associates, or lawyers they can trust not to read the letter and cash in on it themselves? And perhaps kill the blackmailer to get rid of the competition? There's only 3 things to do about blackmail: Pay, somehow make the material worthless, or kill the blackmailer. The 2nd tactic is the only practical solution, and of course the other 2 are not recommended. Does anybody know of this old "deliver to authorities in case of my death" trick actually working? Authorities catching your killer after you've been murdered would be poor consolation. The blackmailer should warn the victim about the trick but not actually write it down. Submitted by DyNama, 11/3/2018
The story is convoluted and could've benefitted with a few more drafts. Matilda kills Franklin and pays/coerces the gardener to bury him out back. Leech, apparently an old friend of Franklin AND a next door neighbor sees or at least deduces what happened and starts the blackmail scheme because she is loaded. It becomes less logical after that. Matilda should've either killed Leach right away or gotten rid of the body so there is no evidence. Keeping the illusion of Franklin being alive only works if Franklin had a will that would cause Matilda to lose out on a LOT of money or Leach insisting as such, though he could still blackmail her anyway. It is rather clever to blame Leach's death on Franklin and plant clues to indicate that is the case. But they are clumsy clues, especially the whole business at the gardener's (Thomas) house. Oh well, considering this is a weekly TV show, writers often lack the time to work things out properly. 01/02/2022 Submitted by Kenmore
<< Murderous Mermaid | Episodes | Deadly Debt >>