Show236
<< Careless Kitten | Episodes | Gambling Lady >>
#236: The Case of the
Deadly Debt
Original Airdate: 04/01/65
From The Perry Mason TV Show Book
Danny Talbert is a police detective who leaves the force after his father dies of a stress-related heart attack brought on, Danny thinks, by the fact that dad was into a mobster for $10,000. When the crook in question is killed by Danny's gun, Perry must step in and attempt to clear the name of the young detective.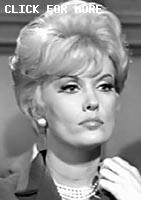 Opening
Starring Raymond Burr
in The Case of THE DEADLY DEBT
Based upon characters created by Erle Stanley Gardner
Barbara Hale, William Hopper, William Talman, Ray Collins

+ interesting here that in the Opening Credits sequence, they are still using images of Burr from several years before (as contrasted with his appearance in the actual eipsodes). Also, that, at Burr's insistence, even though he was no longer able to appear in the series, and hadn't in more than a year, as long he was still alive, Ray Collins was credited as Lt. Tragg.
dwhite 1.20.13
++ Nothing unusual there. The same image of Jack Lord was used on Hawaii Five-0 for 12 years. Actor Sidney Clute was credited on Cagney & Lacey even after he died through the end of the series. Wiseguy70005, 10/2/17.
Trailing
Directed by Jesse Hibbs
Written by Robert C. Dennis
Arthur Marks \ Art Seid | Producers
Gail Patrick Jackson | Executive Producer
Jackson Gillis | Associate Producer
Samuel Newman | Story Consultant
Raymond Burr as Perry Mason
Barbara Hale as Della Street
William Hopper as Paul Drake
William Talman as Hamilton Burger
Ray Collins as Lt. Tragg
Wesley Lau as Lt. Anderson
Cast
Chris Robinson as Carl Talbert
Joe De Santis as Louie Parker
Gregory Morton as Steve Radom
Joan Huntington as Kitty Delaney
Max Showalter as Charles Judd
Robert Quarry as Danny Talbert
Allison Hayes as Stella Radom
Sheila Bromley as Mrs. Talbert
Willis Bouchey as Judge
Madgel Dean as Mrs. Johnson
Emile Meyer as Ed Talbert
Alex Bookston as Station Master
Lee Miller as Sgt. Brice
Johnny Silver as Eddie (Waiter in Night Club)
Jimmy Cross as Waiter in Hotel
Uncredited Actors
Don Anderson as:
Man at Train Station
Courtroom Spectator
(sighted by gracenote, 4/29/2011)
Crew
Director of Photography … John M. Nickolaus, Jr.
Art Direction … Lewis Creber
Assistant Director … Robert G. Stone
Film Editor … Richard W. Farrell
Casting … Harvey Clermont
Makeup … Irving Pringle
Hair Stylist … Annabell
Wardrobe Supervision … Ed McDermott, Evelyn Carruth
Set Decoration … Carl Biddiscombe
Properties … Ray Thompson
Production Sound Mixer … Herman Lewis
Script Supervision … Marshall Schlom
Theme Composed by … Fred Steiner
Automobiles Supplied by … Ford Motor Company
Perry Mason
Produced by the CBS Television Network in association with Paisano Productions
Watch for some unusual camera work in this episode. The director artfully uses an ornamental screen in the High Hat Club as a picture frame in a couple of scenes. Submitted by Mitch English, 4/20/2005.
In the opening scene, when the elder Talbert says, "You know, I'm 65 years old!" Kitty replies, "No! I would've guessed a good ten years younger!"
55 was the actual age of Emile Meyer at the time!
dwhite 1.20.13
+ One thing I constantly notice on Perry Mason is how old for their age so many of the male actors look. Look at Willis Bouchey. He was age 57 when this episode was made, but to me he looks at least ten years older. I suppose it's because everybody smoked back then. (What about the female actors? I'm not touching that one with a ten foot pole!) Submitted by 65tosspowertrap, 1-18-2014.
++ Not just the smoking, but a "proper" male diet was of the "meat and potatoes" style, light (or nonexistent) on the vegetables, and "exercise -- what's exercise?" OLEF641 8/24/21 +++Granted, but remember, most males of age then had served, and exercise reminded them of boot camp and or battle. Happy to be alive and not eating K-rations. Hojo 4-26-22
Location: The opening scene is Union Station in Los Angeles. It remains relatively unchanged from the way it looked in this episode. Posted by Eric Cooper, August 17, 2009.
+ Although the continuity here is a little hard to swallow. Yes, there is a 3-second stock-footage view of the Waiting Room at LA Union Station (with its wonderful V. S. Pearlman light fixtures!) but the opening scene of the train pulling in outdoors is hardly downtown LA, and obviously the interiors are on the sound-stage.
dwhite 1.20.13
++ Actually, having traveled in and out of Union Station many times, I can say that the scene of the train pulling in was indeed shot on one of the platforms there. And the interior scene, as Kitty and Talbert are coming from the train, is a fairly faithful rendition of that part of the station. Another bit of local info: Kitty and Talbert are portrayed as coming down from the platform between tracks 3 and 4 -- that platform is now the Union Station stop for the local rail transit "Gold" line OLEF641 8/24/21
Uncredited Actors: In the opening scene at the railway station, Don Anderson, sporting a spiffy cardigan, hurries quickly by Gregory Morton. Later, he turns up in the courtroom gallery. Submitted by gracenote, 4/29/2011.
Sightings: Three familiar faces turn up to watch Perry at the hearing (and they are all sitting behind him): Distinguished Gentleman #1, the perpetually Quiet Old Man (#1), and the dashing Pencil Mustache Man. (The second one moves behind Kitty Delaney at some point.) Submitted by gracenote, 4/30/2011.
Location: About 10 minutes in Danny sneaks into Carl's car. The key chain reads "1416 No. La Brea." It's an inside joke. That is the address of the studio that Perry was being shot at the time. It might even be where the scene was shot. It was originally Charlie Chaplin's studio, and now it's Jim Henson studios. Submitted by Eric Cooper, 14 September 11.
+ Yes! with the wonderful statue of Kermit the Frog atop the studio gates! Submitted by dwhite 1.20.13
    This was recognizably the studio exterior; it was used on several of the episodes.  cgraul 5.11.23

Police HQ: For about the third time Lt. Anderson was shown in his office (episodes 158 and 162). Submitted by H. Mason 4/29/15
Plumbing Problem? When Perry entered his office through the private door, the water fountain seen in the hallway at least six times, starting with episode 194 TCOT Wednesday Woman, was not there. Submitted by H. Mason 4/29/15
+ A FALL OUT SHELTER Sign was in the hall [Type FS 2 civildefensemuseum.com]. Mike Bedard 5.20.16 MeTV airing.
This is the first of two PM appearances for Joan Huntington (Kitty Delaney), who also appeared in one episode of "Ironside"...MikeM. 2/24/2017
John M. Nickolaus Jr. was Director of Photography for 56 episodes of PM from 1964-1966. He was also Director of Photography for 15 episodes of "The New Perry Mason" from 1973-1974...MikeM. 3/2/2018
Together again Messrs Bouchey and Showalter also appeared together in the 1953 film Dangerous Crossing - the former as the captain, the latter as a fellow officer - along with Perry alums Michael Rennie, Mary Anderson and Carl Betz (that's right: no fewer than five co-stars!!). True to type, their characters were much as they appeared on PM: Bouchey chatty but somewhat imperious, and Showalter rather slimy. Sea Also by Notcom 062518(updated 031419).
This was the last of Max Showalter's six appearances. PerryFan Steve 3/10/20
This is the only PM appearance for Chris Robinson (Carl Talbert), who had a recurring role as Sgt. Sandy Komansky on the television series "12 O'Clock High". Chris Robinson is now 79 years old...MikeM. 7/6/2018
Goof Danny tells Perry "I realized I had lost my service revolver", but he had already resigned at that point: he wouldn't - or shouldn't - even have his service revolver. Notcom 082421.
Comments

Edit
Ah, the good old days! When Carl Talbert could leave his automobile unlocked, with the keys in the ignition, unguarded, all alone in the parking garage, and then come out to find it still there. Submitted by PaulDrake 33. 30 January 2015.
+It wasn't a parking garage, it was a parking lot to a business with underworld connections. Everybody in the 'hood probably knew those cars were off limits. Added by H. Mason 4/29/15
++And his address written on the key case. I guess in case he lost his keys, someone would know where to return them too! --yelocab 15AUG19 This was a VERY common trope in PM and other shows; it allowed the actors to jump into cars and immediately drive off w/o having to find and insert keys. cgraul 5.11.23
Especially during the scenes surrounding the murder, this episode has some especially lush, dramatic music.
Danny Talbert followed the presumed killer's car close enough to read some of the license plate, but could give only a generic description. Cars were so distinctive then, surely a police officer would have instantly known the exact year and make just from the tail lights. Carl says that after losing phone contact with his father, he tried to reach his brother, then rushed to the hospital. How did he know which hospital to go to? Kitty and Stella seem to be competing for the most ludicrously thick, heavy eyelashes. As others have noted, a really strong plot that could have filled out a two hour movie. The only plot hole is how our killer knew that there was a valuable paper to be stolen in the first place. DOD 03/13/19
From certain angles, Joe De Santis has a strong resemblance to the older Laurence Olivier.
+ IMHO, and a bit like Omar Sharif

Does every "swank" apartment in LA have that door with the three decorative panels?
A very intriguing plot, but one that really could have filled two hours. As is, there were way too many sudden revelations by Perry when questioning Parker.
+ I agree. There was not enough "Paul action" to justify Perry knowing the solution so quickly. Submitted by catyron, July 19th, 2018
Well what does the Public know, anyway? I concur this was one of the better episodes: three common plot devices - The Underworld, Estranged Brothers, Cop on Trial - were brought together in a tense storyline which had some underdeveloped points - the father's actions (indeed his death is really almost a McGuffin) - but nothing absurd or inconsistent; and it just oozed Noirish "tough guy". Curiously, tho, the the rating for it is actually below average. Notcom 082421.

    I strongly disagree with this review:  it is one of the worst, most overly-melodramatic episodes. I am not sure which is worse: Hibbs' direction or Dennis' writing. cgraul 5.11.23


Continuity Error Early in the episode when Steve is in Stella's bungalow, Stella is wearing a dress with a little bow at the back neckline, a wrap that completely encircled her shoulders (no opening for arms or easy removal) and a matching hat. When the camera cuts back to Stella as Steve is leaving, she is still wearing her hat and the little bow is still on the back neckline of her dress, but her shoulders are no longer encircled by the wrap. jfh 14Mar2019.
+ While talking to Steve she slips it off as she says the line "just friends". Kilo 4/16/2020.
Knock Knock Early on when Charles Judd (Max Showalter) leaves his drink at the bar, enters the hallway, then knocks on Louie Parker's door we hear the knocks before his knuckles wrap on the door. JJ 2021-04-11.

This was an excellent story except for the incomplete ending. What happened to Louie Parker? Just one line of dialog in the final scene saying he would be back in court on perjury charges or something of that sort would have been a bit more satisfying. Submitted by H. Mason 4/29/15
<< Careless Kitten | Episodes | Gambling Lady >>