Show32
<< Fiery Fingers | Episodes | Long-Legged Models >>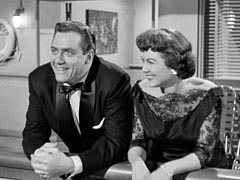 #32: The Case of the
Substitute Face
Original Airdate: 05/10/58
From The Perry Mason TV Show Book
The scene opens with that beautiful shot of Perry and Della on board a luxury liner returning from a case in Vancouver. The dreamy-eyed vision of the two looking out over the ocean is broken by a desperate woman in need of help. Perry must defend her for the murder of her husband. He starts by investigating that "strange man" on board who was in a wheelchair, his face wrapped in bandages.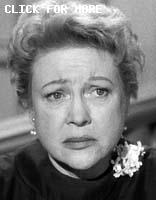 Opening
Starring Raymond Burr
in Erle Stanley Gardner's The Case of Substitute Face
Barbara Hale, William Hopper, William Talman, Ray Collins
Trailing
Directed by William D. Russell
Teleplay by Francis Cockrell
Ben Brady | Producer
Produced by CBS Television in association with Paisano Productions
Gail Patrick Jackson | Executive Producer
Sam White | Associate Producer
Raymond Burr as Perry Mason
Barbara Hale as Della Street
William Hopper as Paul Drake
William Talman as Hamilton Burger
Ray Collins as Lt. Tragg
Cast
Lurene Tuttle as Anna Houser
Maureen Cassidy as Laura Houser
Joan Tabor as Evelyn Whiting
Ralph Dumke as Roland Carter
Theodore Newton as Carl Houser
Maurice Wells as Andrew Dale
Frank Wilcox as Judge Romley
Gavin Gordon as Capt. Walters
Donald Lawton as Daniel James
Noel Drayton as Purser
Stanley Farrar as Accountant
William Quinn as Christopher Walsh
Bobbie Collentine as Marta Lawrence
Uncredited Actors

Bert Stevens
as Officer on Ship
Arthur Tovey
as Waiter on Ship
Crew
Gene Wang | Story Editor
Production Supervisor … J. Paul Popkin
Director of Photography … Frank Redman, A.S.C.
Art Direction … Lyle Wheeler, Lewis Creber
Assistant Director … Art Marks
Editorial Supervisor … Art Seid, A.C.E.
Film Editor … Paul Weatherwax, A.C.E.
Makeup … Mel Berns
Hair Stylist … Annabell, S.C.H.
Wardrobe Supervision … Dick James
Set Decorations … Walter M. Scott, Charles Q. Vassar
Properties … Ray Thompson
Production Sound Mixer … Eugene Irvine
Script Supervisor … Cosmo Genovese
This has been a CBS Television Network Production
Filmed in Hollywood by TCF Television Productions, Inc.
CARS: 1958 Cadillac convertible, black, white top up (Mason). From The Cars by Greg Cockerill. (& more)
Continuity: The case of the "Disappearing Defendant." At about 28 and 1/2 minutes into the episode, Perry is in Court. Anna Houser is there. She touches Perry's arm and they talk. Paul Drake comes into Court and goes to the Defendant's table. If you look next to Perry, it's obvious that Anna Houser has disappeared. When everyone stands, we see she has reappeared! Submitted by billp, 1/17/2009.
+ She hasn't disappeared; she's just leaning forward in her chair. You can see her shoulder and arm as Paul sits down. Submitted by francis, 6/4/13
That dictating machine that appears in this episode and several others is a Dictaphone Time Master by the Dictaphone Corporation. For a picture of the device and information about how it worked, see here. Submitted by billp, 1/18/2009.
+ This link observes, "The actual Dictaphone machine used by President Kennedy in the White House. It's a Dictaphone 'Time-Master' Model 117000 type P6. It was manufactured in New York and measures 2 3/4 x 12 x 10 1/2 in. It is now in the collection of the JFK Library and on display in the museum. The recording was made on a plastic belt that went around the drum at right and into which grooves were made." Mike Bedard 4.30.15
The vessel Perry and Della are on is called the Westminister, sailing from Vancouver, Britsh Columbia to Los Angeles (I presume). Raymond Burr was born in New Westminister, British Columbia which is in the general region of Vancouver. Submitted by billp, 1/24/2009.
+ Actually, it's "Westminster" in both cases. Submitted by 65tosspowertrap, 18 April 2014.
++ Canada's 3 Best Imports to the US: Raymond Burr, William Shatner, James Doohan. Mike Bedard 5.4.15
Uncredited Actors: Another doubleheader for Don Anderson. He appears first as a bartender on the cruise ship then later as a courtroom spectator. Submitted by FredK, 2 October 2010.
+ In the same scene in which Anderson is tending bar, King of the Extras Arthur Tovey plays a smiling waiter taking an order, and then he also serves Perry and Della. Bert Stevens also appears as an officer on ship. Submitted by gracenote, 9/3/2011.
++ Arthur Tovey (1904-2000) has 294 IMDb "Credits" for mostly UNcredited roles: 14 Perrys (5 Courtroom Spectator), 3 Wild, Wild Wests; 3 Quincys, 2 Columbos + 1 CREDITED Ironside (Professor). Mike Bedard 5.4.15
Sightings: It's a quick shot, but around the 13 minute mark as the captain opens the door to collect a couple of witnesses, we see the Distinguished Gentleman #1 walking down the hallway from right to left. Submitted by Kenmore, 1/31/2011.
+ We actually catch an earlier glimpse of him in the same hallway as Perry as the attorney approaches Mrs. Houser's cabin door. Submitted by gracenote, 9/3/2011.
Goofs: At 9:39, in the passageway of the cruise ship, Perry talks with Mr. Carter, the real-estate man; as the boat is supposed to roll from side to side, the men tilt right along with the walls. And at 9:45 in the cafe, Perry sits at a table with Mr. Carter and his secretary; as the boat is supposed to roll from side to side, the surface of the brandy in their glasses stays parallel to the table top. Submitted by 10yearoldfan, 7 August 2011. See also Comment below.
Sightings: A waiter talking to Anderson (see Uncredited Actors, above) is Pencil Mustache Man, who also carries a tray of drinks. Later he is a courtroom spectator, along with Distinguished Lady #4. They are joined by Distinguished Gentleman #1 and Distinguished Lady #2 in a later court session. Learn more about all the favorite frequent faces. Submitted by gracenote, 9/3/2011.
+ We see the Distinguished Lady #4 cashing a check in the opening scene. The Distinguished Gentleman #1 and the Pencil Mustache Man make multiple appearances in the background in the halls of the ship. Submitted by BigBill767, Nov 12,2016.

When the Captain visits Mrs. Houser he states "You say you did not go out on deck with your husband?" But she didn't say and he didn't ask. What he asked earlier (and she didn't answer) was "Where did you and your husband go when you left the dining room?" Submitted by Wiseguy70005, 8/20/13.
The purser is identified by the name "Buchanan." Submitted by Wiseguy70005, 8/20/13.
Because the murder investigation takes place aboard the ship, Lt. Tragg was not involved and does not appear in this episode. [Note I didn't use the unnecessary and over-used phrase although credited. Credits have nothing to do with whether a regular appears or not. If it's stated in the actor's contract he will be credited for every episode while he's a regular, he will be credited regardless of whether he appears or not. Contrast that with William Talman's "new" contract after his return that stated he only be credited on episodes he appears in. This was an exception used only rarely in TV series. Other examples of actors not being credited include Gale Gordon in episodes of The Lucy Show where he didn't appear, Adrienne Barbeau in the final season of Maude and the final season of The West Wing where, as a cost-saving measure, many of the normally-credited regulars were not when they didn't appear. It all depends on the contract.] Submitted by Wiseguy70005, 8/20/13.

Lt Tragg, although credited, doesn't appear. [Note I did use the "over-used" phrase. Contrary to Wiseguy70005's comment, this is actually useful information. The PM team kept Lt Tragg in the credits of dozens of episodes out of admirable loyalty and respect--how the phrase got over-used--but it'd be nice if somebody noted the episodes he is not in, somewhere...I know, in the PM wiki! Where else? Gracep wanted to know and decided to note that right here. I want to know too, so thanx, Gracenote! Wiseguy70005, please post a copy of Ray Collins' contract.] Submitted by DyNama, 11/3/2018
Sadly, Joan Tabor who played Evelyn Whiting in this one, died of an accidental overdose of flu medicine at the young age of 36 on December 18, 1968 in Culver City, California. She was last married to (and divorced from) Broderick Crawford ("10-4, 10-4"!!!), who was 21 years her senior. Submitted by mesave31, 05/04/15.
This is the first of six PM episodes for Lurene Tuttle...MikeM. 8/22/2016
This is the second of four PM teleplays for writer Francis Cockrell....MikeM. 8/22/2016
This was the only PM appearance for Maureen Cassidy...MikeM. 8/22/2016
The epilogue is memorable. Paul says the complete name of the episode, "The Case of the Substitute Face", and Paul chokes on his sandwich and has to receive forceful back slaps from Della...MikeM. 8/22/2016
+ "It floored me too"....one of my favorite endings. Submitted by HamBurger, 9/17/2017
This is the first of two PM appearances for Ralph Dumke. He was born in South Bend, Indiana, in 1899...MikeM. 8/22/2016
This is the only PM appearance for Theodore Newton (Carl Houser), who worked steadily on stage, screen, and television until he passed in Hollywood in 1963 at the age of 59...MikeM. 6/4/2018
Comments

Edit
The dictating machine in Mr. Dale's office appears to be the same one on the credenza behind Perry in his office. Submitted by billp, 1/17/2009.
Carl Houser appropriately get his money out of the file drawer labeled . I presume that's for "money." Submitted by billp, 1/17/2009.

Probably the same files sometimes seen in Della or Gertie's office - the ones with a single drawer for the first 12 letters of the alphabet. DOD 06/03/18
+ Or possibly (unluckily for him) "murder." Submitted by 65tosspowertrap, 4-18-2014.
At about 6 minutes into the episode, Anna Houser (Lurene Tuttle) tells Perry and Della about a portrait on the stateroom dresser. You can plainly see one of these curious tripod bowls I have previously mentioned in "Corresponding Corpse." Submitted by billp, 1/17/2009.
When the captain opens the Houser cabin door to talk to the men across the hall, Distinguished Gentleman walks by. Just before the "man overboard" announcement, there is a brief shot of the ship in a storm. It looks like a different ship from the previous shots - the stacks are taller and thinner. The Houser cabin has a curious mix of art - a seascape, a Renoir repro, and what looks like a Miro/Kandinsky mashup. DOD 06/03/18
+ I've seen this episode many times but this is the first time I've noticed the painting you call a mashup. Before I saw your note I was thinking Calder or Dali. An internet search turned up nothing. Maybe another viewer can name the artist. Kilo 12/22/2018.
"455 Alder Lane in the Palisades." Does anyone recognize the house Perry and Paul left their fingerprints in? Submitted by billp, 1/17/2009.
+According to Jim Davidson's "The Perry Mason Book", no written record could be found of the 455 Alder Lane location. But assistant director Art Marks said that the house was not in the Palisades, but was located "up the coast about three miles north from Malibu"...MikeM. 6/4/2018
Speaking of those fingerprints, note the date on them is 9/12/58. This date clearly occurs during the course of the episode's trial. However, this episode was broadcast 5/10/58. So apparently we were getting a glimpse into the future. Submitted by billp, 1/18/2009.
Regarding the listing of the ship, at least during the storm, it appears the effect is achieved first by simply filming on the ship normally. Then in post-production, it is optically zoomed. (You may notice the film looks grainier and the shots on people are much, much tighter.) Then the frames are manually rotated one side to the other, and because they are zoomed they still fill the screen. Suggested by BenB & posted by gracenote, 9/3/2011.
I recently went on a week long cruise and (naturally) read the book while on board the ship. One thing is certain, today's cruise ships are absolute palaces when compared to ESG's description of the 1938 ship! Submitted by Bill-W2XOY on 08/26/13.
Della looked yummy in her Little Black Dress. Did the combination of dress, boat, and moonlight have its intended effect on Perry? Submitted by DellaFan, 4/21/2014.
Who brings photos of themselves and their family on a cruise? Maybe they were trying to make the cabin a little more homey? —yelocab 21NOV19
Maritime Jurisdiction: "Congress shall have power to define and punish PIRACIES and FELONIES COMMITTED ON THE HIGH SEAS," the Constitution states (Art. 1, Sec. 8). Mike Bedard 5.5.15

Oddly stated: Hamilton Berger stands up in court and states that Mr. Mason has predicated his defense on the premise that Carl Houser "is, or may be still, alive". If he is alive it necessarily follows that he definitely is still alive. jfh 09Oct2018



In the novel, Evelyn Whiting was married to the Shreves character but in the episode she, her husband and Shreves were all involved making things more complicated. On the other hand, the episode was made simpler by having Laura be a witness taking the place of two characters in the novel: a person who doesn't appear in the episode and Della Street herself. Submitted by Wiseguy70005, 8/20/13.
Early in the story we see Carl Houser taking money from a file in the bank and hiding it in a money belt under his shirt. Later we learn he didn't steal any money from the bank. The only possible reason for him to keep the cash there would be so his wife wouldn't find it in their house. Why didn't he use a safe deposit box? Submitted by H. Mason 10/8/14
+ Because his wife--or the authorities if they ever came looking for him in connection with his past--might have found out about the box. Submitted by Duffy, 10-9-2014.
+ I found that odd too. If you had $100,000 (or maybe that's more like $300,000 in today's dollars) would you store it at your office? What if someone found it? What if you got fired? Certainly in those days you could have gotten a safe deposit box under an assumed name. (I thought I saw an episode where driver's licenses didn't have photos.) Or there are plenty of places around the house to hide money. (at least in my house there are). —yelocab 21NOV19
The money: Was Anna allowed to keep the money after she was found innocent? Submitted by H. Mason 10/8/14
Interesting point. It wasn't stolen money, but it was payment for committing a crime; however, the actual criminal is dead. Also, apparently this elaborate ruse was designed to help Houser disappear - but he would be doing so without the $100,000. DOD 06/03/18
<< Fiery Fingers | Episodes | Long-Legged Models >>