Show105
<< Nine Dolls | Episodes | Red Riding Boots >>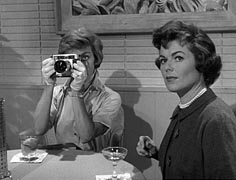 #105: The Case of the
Loquacious Liar
Original Airdate: 12/03/60
From The Perry Mason TV Show Book
Trouble breaks out when a man breaks into Lester Martin's apartment and forces Lester at gun-point to drink half a bottle of scotch and then drives him to the country. Thus begins a nightmarish journey for Lester, as he becomes involved in a kidnapping (his own), stock takeovers, and murder.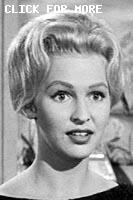 Opening
Starring Raymond Burr
in The Case of THE LOQUACIOUS LIAR
Based Upon Characters Created By Erle Stanley Gardner
Barbara Hale as Della Street
William Hopper as Paul Drake
Ray Collins as Lt. Tragg
Trailing
Directed by Arthur Marks
Written by Michael Morris
Seeleg Lester | Producer
Gail Patrick Jackson | Executive Producer
Arthur Marks | Associate Producer
Produced by The CBS Television Network in association with Paisano Productions
Jackson Gillis | Story Consultant
Raymond Burr as Perry Mason
Barbara Hale as Della Street
William Hopper as Paul Drake
Ray Collins as Lt. Tragg
Cast
H. M. Wynant as Deputy D.A. Sampson
Bruce Gordon as Judson Bailey
Lurene Tuttle as Emma Bailey
Wynn Pearce as Lester Martin
Regis Toomey as Sam Crane
Melora Conway as Lois Rogers
Jeanne Baird as Marge Fuller
Baynes Barron as The Man
S. John Launer as Judge
Dorothy Adams as Wilma Stone
Michael Fox as Autopsy Surgeon
John Truax as The Stranger
Lori Kaye as Photo Girl
George E. Stone as Court Clerk
Uncredited Actors
Don Anderson as Courtroom Spectator
Robert Wegner as:
Crew
Art Seid, A.C.E. | Assistant to the Producer
Production Supervisor … Dewey Starkey
Director of Photography … Frank Redman, A.S.C.
Art Direction … Lewis Creber
Assistant Director … Morris Harmell
Film Editor … John D. Faure
Casting … Harvey Clermont
Makeup … Irving Pringle
Hair Stylist … Annabell, S.C.H.
Wardrobe Supervision … William Zacha, Evelyn Carruth
Set Decoration … Charles Q. Vassar
Sound Effects Editor … Gene Eliot, M.P.S.E.
Music Editor … Gene Feldman
Properties … Ray Thompson
Production Sound Mixer … Herman Lewis
Script Supervision … M.E.M. Gibsone
Sound … Glen Glenn Sound Co.
Titles and Opticals … Pacific Title
Perry Mason \ A Film Presentation
A CBS Television Network Production
Perry is seen wearing a cast on his right arm. Perry tells Lt. Tragg that it is an old war injury that has flared up. In reality, Raymond Burr had been injured in a helicopter crash on one of his many tours of Vietnam to entertain the troops, during a hiatus in filming Perry Mason. He wore a cast on his arm and shoulder for three months. The wardrobe department had him wear oversized suits to cover the cast. Viewers at the time thought he was gaining weight again. Submitted by P. Armstrong, 6/12/2012.
Raymond Burr visited U.S. troops in Vietnam in 1960? When there were all of 900 U.S. military personnel in Vietnam, none of whom were combat troops, and most Americans had never heard of Vietnam? Submitted by 65tosspowertrap, 7/11/2013.
+ There might be some confusion here. Raymond Burr's arm was injured in a few early 1965 episodes. These may be the result of the Vietnam crash described above. Submitted by Wiseguy70005, 7/14/13.
Still highly unlikely. The first U.S. combat troops (3,500 Marines) arrived in Vietnam in March 1965. Submitted by 65tosspowertrap, 9/20/2013.
Raymond Burr's Wikipedia page suggests he may have visited Vietnam more than once. The year 1965 is mentioned, as well as a 1967 NBC documentary about one or more of his visits. In the 1967 NBC News Special, Burr says it is his TENTH visit to South Vietnam. He said that when he made his first visit, there were only a few hundred American service personnel in the country. This means his first trip might have been before 1959, when the US troop level was almost 800..MikeM. 8/24/2016
Some of the exact same music from the fight scene in the quarry can be heard in North By Northwest. The connection is probably the film's original music composer, Bernard Herrmann, who also did music for Perry Mason. Submitted by Adam Kamil, 11/26/04.
The music heard in this episode IS by Bernard Herrmann, but not from North By Northwest, but from the score from the premiere episode of "Twilight Zone" - "Where is Everybody?", originally televised on October 2, 1959. Original scores for CBS television programs then became part of their "stock" music library, and were used in other programs. Of course, there is a similarity to "North by Northwest" - but this music is definitely from TZ's "Where is Everybody". It can be heard on a Varese Sarabande 2-CD set "Bernard Herrmann - The Twilight Zone". Submitted by Sidney Keywood, 11/13/12
+ The "Where Is Everybody?" music can be frequently heard on Perry Mason, the first time one week after the original broadcast of that Twilight Zone episode. People here have confused music from both Psycho and North by Northwest with music on Perry Mason. The fact that North was an MGM movie and Psycho was a Paramount release makes it unlikely CBS could get the rights to those music selections...even IF they wanted to. Submitted by Wiseguy70005, 7/14/13.
Location: The house featured in the opening and again 3 minutes later is at 2600 Park Oak Dr. near Griffith Park. Submitted by Eric Cooper 1 October 10. Some pictures here.
Cups from the Curious Coffee Set can be seen in Perry's office. More info here. Submitted by daveb, 12/30/10.
+ TCOT Changing Carafe: Of course Della loves the Curious Coffee Set and always keeps it near, but she has not settled on a way to serve the coffee and so she changes carafes from episode to episode. This time we have a solid colour one with a shiny metallic band around the neck, an ultra-modern "butterfly" handle, and its own sleek stand. Submitted by catyron 12/12/17.
Sightings: "Miss Carmody" and Distinguished Gentleman #1 watch Mason at work in the courtroom. Read more about these favorite frequent faces. Submitted by gracep, 10/26/2010.
+ Uncredited Actors: Robert Wegner appears ever so briefly as a bartender at Carelli's. We see him mainly in profile and with his back turned. He makes a second appearance, but I won't spoil it for you (see Comment section for spoiler if you've seen the episode). Meanwhile, Don Anderson looks pensively on from the courtroom gallery. Submitted by gracep, 10/26/2010.
+Don Anderson also makes an appearance as the jail guard as Perry interviews the defendant. Bill767, 1/3/16.
+ Continuity: Don Anderson appears on both sides of the courtroom gallery at different points during the hearing. So does "Miss Carmody" Submitted by gracep, 10/26/2010.
CARS. (1) Marge Fuller's medium-color 1960 Mercury Comet 4-Door Sedan, Lic No TZX 479, almost certainly the exact same car as Car (1) in Ep#100.
Car(2) could instead be an Invicta, the next model up the Buick line. Called the "Banker's Hot Rod", Invicta had a larger engine and more trim options than LeSabre. Added by Gary Woloski, 9/22/12.
This is the first of two PM writing credits for Michael Morris. He was born in Ukraine in 1918 and passed in Los Angeles in 2003...MikeM. 8/25/2016
This is the second of five PM appearances by Melora Conway...MikeM. 8/25/2016
This is the only PM appearance for Lori Kaye, who appeared in two episodes of Surfside 6...MikeM. 12/1/2016
Comments

Edit
Here's another title where the alliteration proves better than the relevance. None of the liars in the episode is especially loquacious! Ed Zoerner 4/27/10
No, the title makes little sense (too bad Fraudulent Foto was already taken!), but this is a superior episode, tightly plotted and with a nice bit of misdirection. DOD 10/08/20
I'm sorry but I don't believe the profile view of the man in the picture Perry is showing to Lois Rogers is Perry, as he tells her, but is actually Judson Bailey's profile view in the picture. Submitted by HamBurger Aug. 31, 2014
+ Perry had her superimpose Bailey's image on the photo. It was subtle, but in the conversation Perry had with Lois before he went to the bar. Submitted by H. Mason 11/4/14
++ I believe what 'Hamburger' means is they actually just reused the original photo, rather than create the composite you describe. Hard to tell, tho, without a side-by-side comparison. Notcom, 030922.
Missed opportunity: In the opening scenes there was a good view of part of Lester's home. The vase used for the murder should have been in the background. Submitted by H. Mason 11/4/14
Marge is told to look for a man in a dark suit, white tie. No mention of the mustache or prominent scar. And surely even then there were mor compact cameras available? DOD 10/22/21
TCOT Sudden Sobriety This episode was another example - perhaps the most egregious is the series - of Hollywood's disconnect from reality when showing drunkenness: Lester is forced to drink a quantity of liquor which, if it didn't in fact put him in a coma, would have ensured he would has been a slurring, staggering mess for most of the day; yet shortly after the imbibing he is able to tackle a man and then disarm and accurately fire a gun at him. Hiccup (See also my comment for episode 111.) Lecture by Notcom, 122217.
+ Adrenaline. Survival instinct. Not "accurately", as he fired several shots and missed. jfh 12Sep2018.

It is surprising that Drake's man could find any of Lester's fingerprints (and no one else's!) on the gun considering the way Perry was handling it in his office before giving it to Paul. TerryS 1/19/2019
Melora Conway nervous? Or just hot on the set? Photo Feb 09, 3 30 35 PM.submitted by Wick
+ Hot, sweaty and sticky. I heard the distinct sound of skin peeling off her seat when she stood up. Kilo 2/18/2022.

Near the end, Robert Wegner makes a surprise appearance as an actor (hired by Paul Drake) pretending to be the man everyone has been looking for, the man who took the defendant from the cottage at the show's beginning. I won't completely spoil it by telling you why, but it makes for an exciting ending! Such an important role, in my opinion, but no credit for it! Submitted by gracep, 10/26/2010.
+ At least as Drake is paying Wegner's character, the detective says, "Friend, you've earned your one hundred bucks." For the first time ever, I believe, we see Wegner smile! Submitted by gracep 10/26/2010.
++ Small wonder Wegner is grinning. Those one hundred 1960-vintage simoleons would be worth $800 in 2015, all for a few minutes' easy work. JohnK, 5 October 2015
I find it puzzling that Lester doesn't try to toss his drink into the gunman's face right before he tackles him. Submitted by scarter 8/25/14
Why did the "kidnapper" need a loaded gun if he was only supposed to detain Lester? He almost got himself killed. Submitted by H. Mason 11/4/14
Since the 'kidnapper' was hired to make trouble for Judson Bailey, it's possible the gun had blanks in it? I know you can get hurt, maybe killed with a 'blank', but still... Submitted by MikeReese, 3/9/22
Before Breaking Bad: Watching the scene in the desert where Lester Martin is about to get whacked (or so he thinks) called to mind some of the more serious consequences in Breaking Bad. JohnK, 5 October 2015
Or "The Hitch-Hiker"1953, starring William Talman as a psychopathic killer (also in the California desert). Joe B. 4/19/19 Doesn't Wynn Pierce look like Dick York? Joe B. 4/19/19
Who is in charge?: Who would be president of the Martin Boat Company after the two candidates for president were removed? Submitted by H. Mason 11/4/14
Perry's full inhale of a cigarette and exhaling smoke through his mouth and nose while speaking, during the jail house interview. is quite rare. Not for Paul though. Joe B. 06/14/21
<< Nine Dolls | Episodes | Red Riding Boots >>