Show178
<< Elusive Element | Episodes | Skeleton's Closet >>
#178: The Case of the
Greek Goddess
Original Airdate: 04/18/63
From The Perry Mason TV Show Book (Revised)
John Larkin, the actor who was the voice of Perry Mason on the original radio show, plays sculptor John Kenyon in this episode. Kenyon is a middle-aged man acting like a teenager. Senility? No, more like midlife crisis. John has fallen for a Greek goddess—his young Greek model, Theba—and makes a statue of her to show his affection.
When John realizes that Theba's mother, Cleo, will not allow the shy girl to marry him and that Theba is spending time with a man her own age, he is devastated. Not long after, he is spotted throwing what looks like a woman's body off a cliff. He has a perfect, if unusual, explanation for that--but then Cleo is found dead in his studio.
Can Perry get John out of what comes next? Academy Award winner George Kennedy also stars.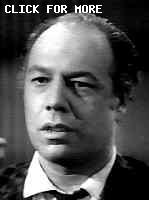 Opening
Starring Raymond Burr
in The Case of THE GREEK GODDESS
Based upon characters created by Erle Stanley Gardner
Barbara Hale, William Hopper, William Talman, Ray Collins

Trailing
Directed by Jesse Hibbs
Teleplay by Arthur Orloff, Robert Presnell, Sr., & Maurice Zimm
Story by Robert Presnell, Sr.
Arthur Marks | Producer
Gail Patrick Jackson | Executive Producer
Jackson Gillis | Associate Producer
Samuel Newman | Story Consultant
Raymond Burr as Perry Mason
Barbara Hale as Della Street
William Hopper as Paul Drake
Wiliam Talman as Hamilton Burger
Ray Collins as Lt. Tragg
Cast
John Larkin as John Kenyon
John Anderson as Dan O'Malley
Mariana Hill as Theba
George Kennedy as George Spangler
Faith Domergue as Cleo Grammas
Robert Harland as Ken Judson
Russell Arms as Roger Correll
Tol Avery as Charles L. Welsh
Willis Bouchey as Judge
William Hughes as Policeman
Lee Miller as Sgt. Brice
Uncredited Actors
Bert Stevens as Airport Extra
Robert Wegner(?) as Guard in Jail and Courtroom Bailiff
Crew
"Perry Mason"
Director of Photography … Robert G. Hager
Art Direction … Lewis Creber
Assistant Director … Robert G. Stone
Film Editor … Richard H. Cahoon, A.C.E.
Casting … Harvey Clermont
Makeup … Irving Pringle
Hair Stylist … Annabell
Wardrobe Supervision … Ed McDermott, Evelyn Carruth
Set Decoration … Sandy Grace
Properties … Ray Thompson
Production Sound Mixer … Herman Lewis
Script Supervision … Cosmo Genovese
Theme Composed by … Fred Steiner
Automobiles Supplied by … Ford Motor Company
Perry Mason
Produced by the CBS Television Network in association with Paisano Productions
Location: Episode opens on The Theme Building at LAX at Los Angeles International Airport and is an example of the Mid-Century modern-influenced design school known as "Googie" or "Populuxe." The landmark was completed in August 1961 at a cost of $2.2 million. The Jetson-like Encounter Restaurant has a space age interior. Submitted by Eric Cooper, 10 June 10. Some pictures here.
Sightings: At the airport, "Miss Carmody" converses with another traveller in the lobby during the opening scene. She must be keeping tabs on the sculptor, because she later appears in the courtoom gallery, along with Pencil Mustache Man and Little Old Lady #1. Submitted by gracenote, 2/3/2011. More here.
Uncredited Actors: In the opening scene, Bert Stevens hurries by in the background of airport lobby—more than once. He strolls by as the camera first starts panning across the lobby, and he welks by again as the scene closes. See also item below (2 additional appearances in the same scene). Submitted by gracenote, 2/3/2011.
+ That might be Robert Wegner playing the guard sitting in the background while Perry gives John the grim facts of life. Submitted by gracenote, 2/3/2011.
+As Burger objects in court, we find Robert Wegner as the door bailiff. Submitted by BigBill767, 6/20/2016.
Continuity: In the first scene, unbilled actor Bert Stevens (see above) walks behind O'Malley & his friend as they chat and leaves the room. Then we cut to John Kenyon approaching, and magically Bert Stevens is scurrying behind him from the other direction, same hat, coat, and valise. Submitted by gracenote, 2/3/2011.
Character Names: The credits omit some complete names of characters as revealed during the episode, to wit: Daniel Patrick O'Malley, Kenneth L. Hudson, Jr. Submitted by gracenote, 2/3/2011.
+ Actor George Kennedy played a character named George and actor John Larkin played a character named John. Added by H. Mason 2/10/15
+ In the courtroom, while questioning Charles Welsh for the second time, Perry refers to Theba as "Theba Grammas", even though Cleo Grammas was known not to be Theba's mother. jfh 10Feb2023

The music playing on the hi-fi while Kenyon tries to catch Theba alone at the house is (I believe) Tchaikovsky's "Waltz of the Flowers," from The Nutcracker Suite. Submitted by gracenote, 2/3/2011.
In notes made almost twenty years ago, I have this as Ray Collins' final appearance in the series. By my count, he was the investigating officer in 120 episodes, 105 by himself and 15 partnering with Wesley Lau's Lt. Anderson. Submitted by FredK, 7 April 2011.
+ I have to edit my own post here. This was Collins' final appearance as the solo police investigator. His last team appearance with Lau was in episode 196. Submitted by FredK, 7 April 2011.
Willis Bouchey was a Judge in 23 Perrys from 1960-66 & 1 Ironside (uncredited) [IMDb]. Mike Bedard, Abraham Lincoln's Birthday 2015.
Location: Various scenes outside sculptor's studio were shot at Gulls Way in Malibu which is now owned by Dick Clark and can be rented for weddings. Submitted by Eric Cooper 27 June 11.
CARS. (1) George Spangler unloads Kenyon's gear from a 1955 Chevrolet Nomad station wagon, medium-color w/white roof. Nomad was part of Chevy's top-of-the-line BelAir series: see Chevy badge and "BelAir"script aft of the gas-filler hatch.
Background Cars. In the opening shot, approaching the LA airport "Theme Building":
At PACIFICA MOTOR HOTEL parking lot (20:14), from Right→Left are Perry's Car(4) &:
(b) a medium color 1960 Ford Galaxie sedan or hardtop w/ a dark licence plate.
(c) a medium color 1963 Buick Wildcat Convertible, white top UP. Apparently it's not representing Correll's car here but observe that the Black-Plate looks like "QCV 014".
Except on Car(a), no '56-pattern yellow-plates remain. Added by Gary Woloski, 9/28/13.
Thanks: I want to thank Gary W for his very interesting and very observant comments on cars, and also on locations, especially the shot of the "Theme Building" that appears in two successive episodes.--Submitted by 10yearoldfan, 14 December 2013.
End Notes If you're like me, you sometimes use the photo/bio links to play a quick game of "wonder if he/she is still around?" It's an honest inquiry with the more obscure players - and a comforting confirmation with the more well known - as the number of "survivors", for want of a better term, slowly grows smaller. In some cases, when the answer to the question turns out to be "no", it becomes apparent that the actor has passed on between a previous showing of their episode and the current one; I don't recall, however , there ever being until now an instance of an actor dying coincident with his episode being shown: George Kennedy who actually died Sunday, but whose death was announced Tuesday may be the first...always a go-getter in his roles, he similarly took no chances with whether/not MeTV would break ranks to show an episode in his honor. Submitted by Notcom, 030216.

General's Cousin: Marianna Hill (Theba) is the cousin of General Norman Schwarzkopf of Gulf War 1 fame. Submitted by BigBill767, 6/20/2016.
This is the second of two PM appearances for Faith Domergue, who supposedly became a favorite of Howard Hughes when he met her at a party on his yacht...MikeM. 12/6/2016
This is the only PM appearance for Marianna Hill, who shows an IMDb credit for "Chief Zabu" in 2016...MikeM. 3/14/2017
Crew/equipment visible: In the opening shot of the airport the shadow of the camera and cameraman or director can be seen on the road. The shadow of a boom mike can be seen on the TR4 sports car that Perry and Paul are inspecting. Submitted by Kilo 10/29/2017.
This is the only PM writing credit for Robert Presnell Sr. and , according to IMDb, was the last credit of his long career. Robert Presnell Sr. passed in Burbank CA in 1969...MikeM. 4/3/2018
It's for you, Mr. Mason: Mason takes a call from Paul while he is in Welch's office. Submitted by catyron, May 15th, 2018
Comments

Edit
Client Kenyon mentions "Blackstone's Commentaries" in Perry's office: "Sir William Blackstone's 'Commentaries on the Laws of England' were first published in 1765-69," www.gutenberg.org observes. They were required reading in Thomas Jefferson's day. Mike Bedard 2.17.15.

TRIUMPH MOTORS. Ken Judson's Triumph TR4 (1961-65) was in the middle of the Triumph "TR Series". The Series started with TR2 (1953) and continued through the TR3, TR4, TR4A, TR5 to the TR6 (produced to 1976). These cars were designed for simplicity, low cost, ruggedness and reliability - which made them popular with weekend racing enthusiasts. Well over a quarter-million TR2s to TR6s were produced. TRs and MG Cars were main competitors for the lower-price sports car market. Triumph followed the TR6 with the totally restyled & redesigned TR7 and TR8 (produced to 1981). I have it on very good authority that mechanics disappear whenever TR7s & 8s approach the shop. TRIUMPH Motors folded in 1984, more here. Submitted by Gary Woloski, 11/22/11.
Perry tells Kenyon that Cleo has a right to stay in the country "until her passport runs out". That should be until her visa runs out. DOD 01/19/21

Generous Cousin-In-Law: Charles Welsh bought a house as an engagement present for his wife's cousin, Dorothy. jfh 10Feb2023

On the witness stand, Mr. o'Malley refers to Cleo Grammas as a "harridan", which is defined [because I didn't know] as "a strict, bossy, or belligerent old woman". jfh 10Feb2023

Lt. Tragg mentioned the GAS CHAMBER: "In 1937, the [CALIF] Legislature provided that Lethal Gas replace hanging...The only...Gas Chamber in the state was...at San Quentin. The first execution... was conducted December 2, 1938...through 1967 a total of 194 persons were executed by Gas, all at SQ. The total includes 4 Women," cdcr.ca.gov reports. Mike Bedard 2.18.15.





Just what was that statue made from? It survived unscathed being thrown over a cliff, and was light enough to float!
If we can believe Kenyon's final line, it was made out of corn!
> I believe he was speaking metaphorically, as cornstarch is water soluable (as people nowadays can readily discover). Knowing what it isn't doesn't help in knowing what is is, tho; the final scene - and logic - would suggest he used clay, but that would certainly be too heavy...so maybe clay over a styrofoam core? or papier-mâché? Notcom 061720.
<< Elusive Element | Episodes | Skeleton's Closet >>