Show130
<< Meddling Medium | Episodes | Travelling Treasure >>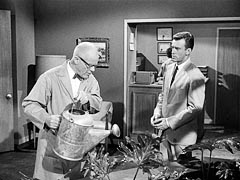 #130: The Case of the
Pathetic Patient
Original Airdate: 10/28/61
From The Perry Mason TV Show Book (Revised)
Doctor, heal thyself! Perry is called on to travel outside L.A. to defend a doctor—already with a malpractice suit hanging over his head—accused of murdering his wife's former boyfriend (with a scalpel, no less). And it only gets worse.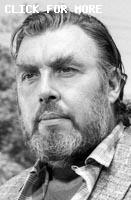 Opening
Starring Raymond Burr
in The Case of THE PATHETIC PATIENT
Based upon characters created by Erle Stanley Gardner
Barbara Hale as Della Street
William Hopper as Paul Drake
Ray Collins as Lt. Tragg
Trailing
Directed by Bernard L. Kowalski
Written by Maurice Zimm
"Perry Mason"
Arthur Marks | Producer
Gail Patrick Jackson | Executive Producer
Jackson Gillis | Associate Producer
Produced by The CBS Television Network in association with Paisano Productions
Samuel Newman | Story Consultant
Raymond Burr as Perry Mason
Barbara Hale as Della Street
William Hopper as Paul Drake
Ray Collins as Lt. Tragg
Cast
Skip Homeier as Doctor Edley
Frank Cady as:
Joe Widlock
Hiram Widlock
Virginia Gregg as Mrs. Osborn
Richard Eastham as Prosecutor Parness
Mort Mills as Sgt. Ben Landro
Peter Whitney as Roger Gates
Bek Nelson as Janice Edley
Edward Kemmer as Leslie Hall
Charles Irving as Judge
Wally Brown as Mr. Morgan (Manager)
Percy Helton as Asa Cooperman
Bill Erwin as Autopsy Surgeon
Maura McGiveney as Miss York
Wayne Heffley as Grif Roland
Thomas Freebairn-Smith as Banning
Crew
Director of Photography … Robert G. Hager
Art Direction … Lewis Creber
Assistant Director … Robert G. Stone
Film Editor … Richard H. Cahoon, A.C.E.
Casting … Harvey Clermont
Makeup … Irving Pringle
Hair Stylist … Annabell
Wardrobe Supervision … Ed McDermott, Evelyn Carruth
Set Decoration … Charles Q. Vassar
Properties … Ray Thompson
Production Sound Mixer … Herman Lewis
Script Supervision … M.E.M. Gibsone
Sound … Glen Glenn Sound Co.
Automobiles Supplied by … Ford Motor Company
Titles and Opticals … Pacific Title
Perry Mason \ A Film Presentation
A CBS Television Network Production
This episode reunites fellow Rear Window actors Raymond Burr and Frank Cady, well-known for his role as Mr. Drucker on Petticoat Junction, Beverly Hillbillies (along with Perry Mason, one of my all-time favorites), and Green Acres. Submitted by billp, 15 November 2009.
+And William Hopper and Frank Cady are reunited from the 1956 movie The Bad Seed. Recurring prosecutor Paul Fix also appears in the movie. Submitted by Wiseguy70005, 1/27/15.
Goof: About a third of the way in, Perry tells Paul to look on page 2 of the newspaper for the story about Leslie Hall's murder. But Paul clearly finds the story on page 3, complete with picture. Submitted by Ed Zoerner, 6/17/2010.
+ The front page of that newspaper came from episode 8 TCOT Crimson Kiss. Added by H. Mason 11/13/14
++ Also Page 2 appears to be blank. Submitted by Wiseguy70005, 1/27/15.
Could the establishing shot at the beginning of the episode be Franklin Avenue or thereabouts? I note there's a Haig's Market sign visible. I think there used to be such a place in the vicinity once upon a time. Perhaps someone in the LA area could check this out? Submitted by billp, 25 September 2010.
Although credited, Lt. Tragg (Ray Collins) does not appear. D.A. Burger (William Talman) appears neither on screen nor in the credits. We have Sgt. Landro and Prosecutor Parness as substitutes. Submitted by gracep, 11/30/2010.
Sightings: Some people are true fans of Perry Mason. The Pencil Mustache Man, Little Old Lady #1, and "Miss Carmody" sit together in the back row of the courtroom, with "Sasha Magaloff" in front of them. Across the aisle, Distinguished Gentleman #1 just couldn't miss watching Perry in action, either. Find out more about these and other regulars on the "Who Is That?" page. (No doubt the rest would have made it if they could). Submitted by gracep, 11/30/2010.
+ "Sasha Magaloff" is now known to be the actor Mitchell Rhein. Submitted by catyron, November 16, 2020.
The actor who plays Leslie Hall is instantly recognizable to people of a certain age from his 175 episode run as Commander Buzz Corey on the ground-breaking science fiction series Space Patrol (1950-55). Submitted by old daveb, 4/12/2011.
Location: About 7 minutes in, there is a quick shot of the W. 5700 block sign of Wilshire Blvd. This could be an inside joke as the building behind at 5757 is the Screen Actors Guild headquarters. Submitted Eric Cooper, 20 May 2011.
Location: At exactly 17:17 on the DVD you can see from the background that he is in what is called the Royal Pacfic Court apartment complex used in episode #159 as well as #241. Submitted by Eric Cooper, 20 May 2011.
Character Names: Doctor Edley's first name is Wayne. Though merely listed as "Banning" in the credits, the plant-watering physician (see picture on this page) is Dr. Wm. Banning, radiologist, according to his door sign. Submitted by gracenote, 6/16/2011.
Greyhound bus: The coach departing from the bus station in Palm View is a GM PD-3751 or PD-4151, built in 1947 or -48. [The PD-3751 and the -4151 are identical on the outside; the -4151 has one more rows of seats, using slimmer seats on shorter intervals. The numbers 37 and 41 indicate the respective seating capacities.] Submitted by DocRushing on 10 October 2012.
CARS. (1) 1961 Ford Fairlane 4-Door Sedan, PALM VIEW ACE TAXI SERVICE, light color. Brings Widlock to the construction site and waits for him.
Background Cars. (a) 1951 Ford F-4 Stake (flatbed), parked on the street beside the construction site. Could, instead, be the higher-capacity Ford F-5.
Read about the styling of Perry's '61 Lincoln Continental here. Added by Gary Woloski, 1/24/13.
Fake Della: For the third time some woman made a phone call and identified herself as Della Street. (see episodes 68 and 79). Submitted by H. Mason 11/13/14
This is the second of three PM appearances for Bek Nelson, who passed in 2015, aged 88...MikeM. 9/29/2016
This is the second of three PM appearances for Percy Helton, whose distinctive voice was the result of an accident. Helton was the drunk Santa in Miracle On 34th Street in 1947...MikeM. 1/5/2017
Book 'm Da...your Honor Rather than the usual background (panelling, a portrait of a president, etc) this courtroom had something unusual, indeed singular on this series (or any other AFAIK): bookcases. Commented by Notcom, 010617.
Comments

Edit
Interesting to note the smoking doctor early on. Although pretty common once (doctors even were quoted in cigarette ads on old-time radio), it is nonetheless somewhat startling as it isn't something you see in TV shows today. Submitted by gracenote, 6/16/2011.
As soon as Edley entered Leslie Hall's dark house, I immediately thought "oh, here we go again, he'll be knocked out and wake up with a dead body next to him." Gee, what a surprise that a PM episode would use that device again ! cgraul 11.15.12
+ Actually after he was knocked out he was thrown out by Hall. He didn't wake up next to the dead body which was later discovered alone. Submitted by Wiseguy70005, 1/27/15.

How did Janice Edley know Della's name when she called Mr. Widlock? Submitted by H. Mason 11/13/14// + Good question. Since we see Dr Edley in Mason's office (presumably on the same day because Widlock has not left town) he may have informed her of that fact and in so doing enabled her to track down the name of Mason's secretary. Submitted by pauloh1 11/23/14
Rough Tough Cream Puff: Even though he's a big, burly farmer, Roger Gates (played by Peter Whitney, who in later PM episodes was a hardened gangster/convict, and a sea captain or something) gets queasy as he views the second murder victim. Nice touch. JohnK, 13 October 2015

Mona Lisa smile: We often see Perry smile enigmatically as he receives new information, but, this time the smile belongs to Prosecutor Parness (Richard Eastham) in court as he receives information from Sgt. Ben Landro (Mort Mills). jfh 29Oct2019.



Another story where one of the main three characters (defendant, victim, killer) was not given a complete name. Submitted by H. Mason 11/13/14

Hard to believe the second body could have gone undetected for any length of time - and how did the murderer manage to hide it that way alone? Despite the grey hair and creaky Voice, it's obvious Mrs. Osbourne is played by a younger actress; Virginia Gregg was about 45 at the time ODay 10/04/17
For the second time in three episodes, the murderer is portrayed by one of Jack Webb's favorite guest stars. Virginia Gregg appeared not only in the 1954 Dragnet movie, but worked on 10 episodes of the original Dragnet and 13 more (!) in the 1967-1970 run, not to mention later appearances on Adam 12. TriviaSleuth 8/8/19
<< Meddling Medium | Episodes | Travelling Treasure >>