Show122
<< Duplicate Daughter | Episodes | Guilty Clients >>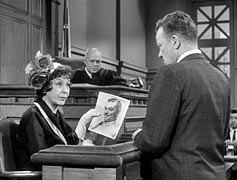 #122: The Case of the
Grumbling Grandfather
Original Airdate: 05/27/61
From The Perry Mason TV Show Book (Revised)
David Gideon is in deep. His lying girlfriend has convinced him to raise $10,000 for her, supposedly to pay off her punch-drunk husband. But when hubby turns up stiff, David is arrested for murder. And why not? He was seen fighting with the soon-to-be-deceased man, who, it turns out, was most likely holding some damaging info on David's family. Despite these obstacles, and the fact that the matter goes beyond the usual preliminary court hearing, Perry takes the case.
Gavin MacLeod (of McHale's Navy, The Mary Tyler Moore Show, and The Love Boat) makes an appearance in this episode.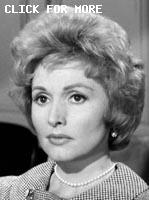 Opening
Starring Raymond Burr
in The Case of THE GRUMBLING GRANDFATHER
Based upon characters created by Erle Stanley Gardner
Barbara Hale, William Hopper, William Talman, Ray Collins
Trailing
Directed by Bernard L. Kowalski
Written by Jackson Gillis
Arthur Marks | Producer
Gail Patrick Jackson | Executive Producer
Produced by The CBS Television Network in association with Paisano Productions
Jackson Gillis | Story Consultant
Raymond Burr as Perry Mason
Barbara Hale as Della Street
William Hopper as Paul Drake
William Talman as Hamilton Burger
Ray Collins as Lt. Tragg
Cast
Patricia Barry as Dorine Hopkins
Otto Kruger as J. J. Gideon
Karl Held as David Gideon
Frances Rafferty as Sue Franks
Gavin Mac Leod as Lawrence Comminger
Phil Arthur as Si Farrell
Fifi D'Orsay as Woman Witness
Dub Taylor as Stroller
John Gallaudet as Superior Court Judge
Kenneth MacDonald as Trial Judge
Henry Hunter as Avery Bellison
John Close as Police Sergeant
Maura McGiveney as Waitress
Fred Coby as Tony Mongomery
Hal Dawson as Watchman
Lee Miller as Sgt. Brice
Suggested correction: Fred Coby as Tony Montgomery
Uncredited Actors:
William. H. O'Brien as Courtroom Spectator
Robert Wegner as Balliff
(from IMDb)
Crew
Production Supervisor … Dewey Starkey
Director of Photography … Robert G. Hager
Art Direction … Lewis Creber
Assistant Director … Morris Harmell
Film Editor … John D. Faure, Roy V. Livingston
Casting … Harvey Clermont
Makeup … Irving Pringle
Hair Stylist … Annabell
Wardrobe Supervision … Ed McDermott, Evelyn Carruth
Set Decoration … Charles Q. Vassar
Sound Effects Editor … Gene Eliot, M.P.S.E.
Music Editor … Gene Feldman
Properties … Ray Thompson
Production Sound Mixer … Herman Lewis
Script Supervision … M.E.M. Gibsone
Sound … Glen Glenn Sound Co.
Titles and Opticals … Pacific Title
Perry Mason \ A Film Presentation
A CBS Television Network Production
Here is Karl Held's initial appearance as David Gideon. He would go on to appear as David Gideon 8 more times in the 1961-62 season. He had appeared 3 months earlier in an episode playing a different character. Submitted by PaulDrake 33, 15 January 2010.
+ Perhaps the "David Gideon" character was intended to appeal to the female audience. Submitted by DellaFan, 10/5/2013.
++ Call me eccentric, but, leaving aside first-tier characters, i find Kenneth MacDonald, and George E. Stone far more appealing to my female sensibilities. Submitted by catyron, March 23rd, 2021.
Dub Taylor makes his only Perry appearance here as a witness noted only as "Stroller." Dub Taylor was an old time cowboy star using the name "Cannonball Taylor."He appeared in over fifty B-Westerns as the sidekick of Wild Bill Elliott, The Durango Kid, Red Berry, and Jimmy Wakley. Often Kenneth MacDonald, who plays the judge in this episode would also have a part as the villian in his Westerns. Dub Taylor, though, is probably best known as Ivan Moss, the man who set up Bonnie and Clyde for their ambush in the 1967 movie of the same name. Submitted by PaulDrake 33, 15 January 2010
Character Names: John Gallaudet is listed in the credits as "Superior Court Judge," even though the door to his courtroom is clearly labeled Judge Thomas J. Hood. Submitted by PaulDrake 33, 15 January 2010.
Whose courtroom, actually, is it? At about 18:07 (on the 2009 Paramount DVD) Kenneth MacDonald is using Hood's courtroom. Then, at about 33:26, John Gallaudet is using it. Submitted by masonite. 12 March 2010.
+ Kenneth MacDonald and his scene described above do not appear in the syndication print. Also, Ray Collins is listed in the credits but does not appear. Someone else needs to verify if this is only in the syndication print or if he has a scene in the DVD. Submitted by gracep, 11/18/2010.
++ I didn't see him in the episode, only listed in the credits at the beginning and end. At about 22:17 (on the 2009 Paramount DVD) a Sheriff's car drops David Gideon off at the scene of the crime, and later Sgt. Brice is at the same scene. Submitted by masonite, 21 November 2010.
+++ On the Paramount DVD, the first courtroom scene runs from about 20:15 to 22:55 with MacDonald as the judge. The second courtroom scene starts at about 34:50. It's the same courtroom as the first scene. Such cutting is not unusual in broadcast episodes. Submitted by daveb, 11/21/2010.
Judges, Courtrooms and Credits: Apparently the name on the door may be the main judge who uses the courtroom but other judges also use it. The name of "Thomas J. Hood" was also seen on the door in the second season episode "The Glittering Goldfish" and the third season's "The Golden Fraud" (in a different shots and perhaps in other episodes) but the judge in those episodes was played by S. John Launer so an exact identification of which actor played Thomas J. Hood (if any) may be impossible. Also although it is obviously the same set used twice in this episode it may be different courtrooms built identically in the same building. As far as the credits go, actors' names are credited not as a public service but due to legalities: if the actor's contract specifies he will be credited regardless of an appearance he will be credited. This is why Ray Collins gets a credit. On the other hand, character credits are given for informational purposes. If the judge had been credited as "Thomas J. Hood" viewers may not know which judge was being referred to (and, as mentioned above, he may not BE Thomas J. Hood). The credit of "Superior Court Judge" immediately informs the viewer which judge the actor played in the brief time the credit appears. Submitted by Wiseguy70005, 11/03/14.
Sightings: "Miss Carmody" is a smiling but silent hostess at a restaurant. She reappears in the courtroom gallery during the trial, along with Quiet Old Man #1 and Distinguished Gentleman #1, not to mention the Little Old Lady in a Hat, who is very prominent in a cutaway to Miss Franks. Read more about these and other regular faces here. Submitted by gracep, 11/18/2010.
+ Distinguished Gentleman #1 can also be seen driving the cab outside Doreen's place. Or is that Blue Collar Guy wearing glasses? Submitted by daveb, 4/11/2011.
CARS. (1) Dorine Hopkins' circa 1960 Volkswagen Beetle, sunroof closed, Lic No SGL 486,
The car in the garage at 2247 Pine (as David breaks in) is a 1960 Ford Fairlane, medium color, only tail end seen. The external spare tire (Continental Kit) on David's car was Standard Equipment on '56 TBirds. The weight at the rear caused quirky handling so this feature was discontinued for '57 (more about this here). Added by Gary Woloski, 11/25/12.
Cold case / old case: Perry also solved the murder of Lucius Gideon killed 3 months earlier and thought to be a suicide. Submitted by H. Mason 9/27/14
Wrong number: Most fans know Perry's office number is Madison 5-1190. When J.J. Gideon called him from the phone booth the first two numbers he dialed were 7-5 instead of 6-2. Submitted by H. Mason 11/10/14
Judge: Kenneth MacDonald was listed in the credits as "Trial Judge". He was at the preliminary hearing. There is a difference between a hearing and a trial. Submitted by H. Mason 11/10/14
Uncredited Actor: Robert Wegner joins the court as the Balliff. Bill767, 1/6/16.
This episode along with TCOT Devious Delinquent feature both Otto Kruger and Frances Rafferty. HamBurger 8/13/2016
This is the first of six PM directing credits for Bernard Kowalski. All the episodes aired in 1961...MikeM. 9/17/2016
This is the second of four PM appearances for Maura McGiveney, who was born in England in 1939. She was married for less than a year to comedian Bill Dana. McGiveney passed in Los Angeles in 1990...MikeM. 12/26/2016
This is the first of two PM appearances for Frances Rafferty, who was a pin-up girl in YANK magazine during World War II...MikeM. 9/25/2017
TCOT Curious Coffee Set: A Curious Coffee Cup and its Sensuous Saucer feature in an extreme closeup as the restaurant scene opens, The Cup then whirls away, revealing the smiling "Miss Carmody", seating Perry's party. Submitted by catyron, March 23rd, 2021.
Comments

Edit
This is yet another episode where violence against women, particularly husband against wife, has hardly any consequences for the perpetrator. Assault and battery, anyone? Submitted by gracep, 11/18/2010.
+ Once again, please do not Judge the 50s and early 60s by what is considered to be the norm in 2010. The two time periods are like night and day. What you see in Perry Mason, and other popular shows of the time is HOW THINGS WERE, PERIOD. The whole reason things are so different now is because of the many changes our society has gone through between then and now.
Back then NO WOMAN EVER CALLED THE POLICE over domestic violence; there wasn't even such a term back then. Women were considered to be the property of their husbands; they had no rights in the workplace; they were considered fair game to office wolves, etc. If they complained, suspicion was automatically cast upon them and they were labeled a troublemaker.
So, enjoy the show, and just try very hard to accept things as they were during that point in time. This is simply how it used to be; no one is condoning anything. We all know almost everything has changed drastically since then. If you've ever seen SOME MadMen episodes; yep, that's exactly how things used to be although MM was toned down considerably (so was PM). Submitted by Arisia, 03/18/18.
++ An example of the second-class status of women in that era: My mom bucked the usual "get married right out of high school" way of things and actually was a professional single woman, with her own credit account at the department store in her hometown. She met and married my dad while living and working elsewhere. While passing through her hometown, in 1955, on their way to married life in Los Angeles, she went to add him to her account. Nothing doing. He had to apply for an account on his own, then she would HAVE TO CLOSE HERS and be "wifey" on his account. She was understandably furious and closed her account. OLEF641 3/16/21
Interesting that in 1961 we have a still-married couple, the wife of which is named "Dorine Hopkins" while the husband's name is "Tony Montgomery". Pretty progressive. jfh 17Oct2019
I may have seen an edited version, but I don't recall another episode that went immediately from crime to hearing - no police investigation at all. Also, do we ever learn the exact cause of death? It would be interesting to know how our murderer successfully staged a suicide. DOD 10/04/18
Things have, alas, changed very little. Sexual assault against women continues to go unpunished. 10/05/18
For all the folderol made concerning the age difference between Dorine and David, at the time of the episode Patricia Barry was 40 and Karl Held 30, hardly the "child" he is made out to be. cgraul 10.20.11
Ah, Patricia Barry, once again with that voice that probably worked (on men) better than steroids, playing another role, as a Noir film once put it, "Like the 60 cent special at the local diner, pure poison under the gravy." Submitted by MikeReese, 12/28/2016
Bad Accent Dept.: PM (like other shows of the time) is full of actors doing bad foreign accents. In this episode, French-Canadian actress Fifi D'Orsay's accent sounds like she must have come from the Italian part of France. Strangely unconvincing for someone who actually must have spoken French. Submitted by francis, 4/21/12.
Minor Anomaly When David Gideon rouses in the dark after being knocked out we see him immediately turn on the light. However, later when speaking with Perry, he said he had to light matches to see the envelope's contents after being knocked out. Submitted by ace, 8/9/12.
Quick healer: After Dorine was pushed out of the car her eye was either completely healed or she did a better job covering it with make-up. Submitted by H. Mason 11/10/14 minor correction: her eye is actually already healed one scene earlier when she's on the phone with David.
I found Phil Arthur's acting on the stand to be quite unusual. His slow comments "Let me think, I do not want to lie" was quite odd. I would say it is bad acting but not sure if that is what the director wanted. It just seemed completely inconsistent with everyone else. Submitted by Perry Baby 1/10/16
When Perry shows up at the hearing, Burger says that Perry won't be able to get Gideon off, "not even one of your tricks will save him." This doesn't make sense. I wouldn't consider Perry to be a sly trickster lawyer, getting guilty clients off on technicalities, since he always figures out who the real murderer is and gets them to admit it in open court. Several times they have tried to make Burger and Mason seem like arch rivals, with Burger acting like he was foiled again, but Mason always stays above the law and finds the true criminal. Are we supposed to believe that Burger is the snake, who wants a conviction, even if it's the wrong person? He doesn't seem that unlikable either.--yelocab 01MAR19

Bad Name First off, the grandson character is bad - dull and hardly compelling. And he was brought back to PM 8 more times! (BTW, Karl Held just just turned 90.) Secondly, the episode title is insipid; no one would say "yeah, let's watch about the grumbling gandfather!" Not a particularly good episode IMHO. Rick P 12/1/21

Character (In)Consistency we find out at the end, not only that Dorine killed her husband, but that she had already killed him when she phoned David; yet on that call she was thoroughtly composed, seemed light-hearted, laughing lightly...granted, we also find out she's a serial killer, and so perhaps a psychotic, but even given all that I don't find the emotions she showed believeable - I think if the killing was unplanned (an argument) she would have seemed flustered and if premeditated she just would have been calm and unemotional - but rather meant to mislead the audience. Much like characters needlessly feigning surprise, it's not playing fair. Notcom 041323.
<< Duplicate Daughter | Episodes | Guilty Clients >>