Show116
<< Barefaced Witness | Episodes | Cowardly Lion >>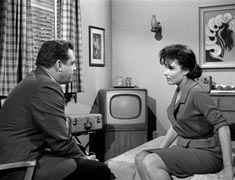 #116: The Case of the
Difficult Detour
Original Airdate: 03/25/61
From The Perry Mason TV Show Book
Plans to build a vacation resort go wrong when someone engineers the death of the developer. Perry is called on to defend the construction worker charged with the crime.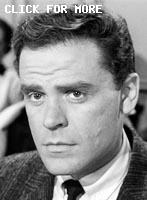 Opening
Starring Raymond Burr
in The Case of THE DIFFICULT DETOUR
Based Upon Characters Created By Erle Stanley Gardner
Barbara Hale, William Hopper, William Talman, Ray Collins
Trailing
Directed by John Peyser
Teleplay by Sy Salkowitz and Samuel Newman
Story by Sy Salkowitz
Art Seid | Producer
Gail Patrick Jackson | Executive Producer
Produced by The CBS Television Network in association with Paisano Productions
Jackson Gillis | Story Consultant
Raymond Burr as Perry Mason
Barbara Hale as Della Street
William Hopper as Paul Drake
William Talman as Hamilton Burger
Ray Collins as Lt. Tragg
Cast
Jeff York as Pete Mallory
Suzanne Lloyd as Sheila Benton
Jason Evers as Stuart Benton
Mort Mills as Sgt. Ben Landro
Lee Farr as Chet Stark
Joe di Reda as Phil Edwards
Neil Hamilton as Ames
Joan Camden as Miriam Ames
Bert Freed as Edward Parker
John Gallaudet as Reviewing Judge
S. John Launer as Judge
Mike Masters as Driver
Uncredited Actors
Don Anderson as Bailiff (spotted by gracep 11/12/2010)
Crew
Production Supervisor … Dewey Starkey
Director of Photography … Frank Redman, A.S.C.
Art Direction … Lewis Creber
Assistant Director … Gordon Webb
Film Editor … John D. Faure
Casting … Harvey Clermont
Makeup … Irving Pringle
Hair Stylist … Annabell
Wardrobe Supervision … Ed McDermott, Evelyn Carruth
Set Decoration … Charles Q. Vassar
Sound Effects Editor … Gene Eliot, M.P.S.E.
Music Editor … Gene Feldman
Properties … Ray Thompson
Production Sound Mixer … Herman Lewis
Script Supervision … M.E.M. Gibsone
Sound … Glen Glenn Sound Co.
Titles and Opticals … Pacific Title
Construction Equipment Through Courtesy of Allis-Chalmers
Perry Mason \ A Film Presentation
A CBS Television Network Production
Anomaly: Bert Freed, listed as Parker, is really Parker. Posted by daveb, 12/20/2007.
Continuity Error: A bit of a blooper happens after Perry ticks off Sheila Barton on the stand. When we see Perry talk to Pete Mallory (York) about "blackmail" at his table, the wide shot showing Perry's face reveals that York's hair is parted, yet on the "reverse angle" York's hair is combed straight back. Clearly both shots happened on different days. Posted by Kenmore, 12/14/2009.
Holy triple play! This makes the third appearance of 1960s Batman's Commissioner Gordon—I mean Neil Hamilton. Submitted by gracep, 11/12/2010.
+...and isn't it interesting that this episode originally aired following TCOT the Bare-Faced Witness, in which Batman (Adam West) appeared. Submitted by Fifty-Niner on 13 July 2011.
++ This is also the third - and final - appearance of Joan Camden. In each of the roles she was the girlfriend of the victim...Gentlemen (and scoundrels): Stay away from this woman!! Notcom, 022422.
Sightings: The Little Old Lady in a Hat and Quiet Old Man #2 sit in the back row of the courtroom gallery on the prosecution's side. Distinguished Gentleman #1 and "Miss Carmody" both appear on the defense's side. Read more about these favorite frequent faces and help us find more! Submitted by gracep 11/12/2010.
+ Quiet Old Man #1 can be seen briefly in a few shots seated on the other side of the Little Old Lady in a Hat in the back row. Submitted by daveb, 11/12/2010.
++ "Miss Carmody" looks unusually fetching even though she's a bit blurry (or maybe because she's a bit blurry!). Submitted by 65tosspowertrap, 9/27/2013.
+++ "Little Old Lady #2, looking very up-to-date and chic with a bob and a stylish jacket, can be seen behind Miriam Ames in cutaways as Perry questions Mr. Ames. Submitted by JazzBaby, 9/8/2019.
++++ Maybe the wardrobe department and Annabelle had extra time on their hands, because "Miss Carmody" and "Little Old Lady #2 look all dolled up, and Miss Carmody's hair is lovely.
Character Names: Mr. Ames' first name is Jim. Submitted by gracenote, 7/8/2011.
CARS. (1) circa 1952 Allis-Chalmers TS-200 Motor Scraper.
None of the heavy equipments (1), (2) & (7) have RollOver Protective Structures (ROPS), made mandatory in USA starting 1972. Added by Gary Woloski, 11/3/12.
*Which has a continuity error. When Perry leans over to give Della her instructions, she is in the passenger seat as Perry was the driver originally. When camera angle changes and Perry stands up, Della drives off as the driver. She apparently slid over in an instant to the drivers side without having to adjust her skirt. Added by Bizyfe0415- 9/26/18
Telephone Number: The phone number (DU 2-0799) written on the phony survey map was used to call Eve Nesbitt's apartment in episode 113 TCOT Angry Dead Man. Submitted by H. Mason 11/8/14
Continuity Error: Perry is questioning Sheila Barton in her room. In an establishing wide shot, Perry is seated to our left, Sheila to our right and to her right is a representational painting of a horse, with curly mane flowing down towards our left side of the painting. Later, in two close-up shots of her profile still facing Perry off-screen to our left, Sheila stands and is framed against the painting. However, the horse's mane is seen flowing down the opposite side of the painting. In the following scenes after each close-up, the horse's mane flips back to its the original side. Posted by David E. Hurst, 3/30/2013.
+ Not an Error: There are actually two paintings, one the reverse of the other. One is on the wall above a dresser or desk (left mane) with statues on either side. The other painting (right mane) is above the headboard of the bed. We can see the corner of the frame and a line that goes down the wall to the left of the painting in close-ups as she sits on the bed. When she stands up we see the full painting with no statues and the same line that goes down the wall on the left of the painting. Submitted by Wiseguy70005, 9/6/14.
+ This is almost certainly the same set used for Marta Wiltern's motel room in the previous episode, #115 TCOT Barefaced Witness. The drapes and the pictures on the walls have been changed, but the small light fixture on the wall, the television set, the window and window blinds, and the dresser are all identical. Added by Dan K, 23 February 2020.
Continuity: In the scene where Sheila Benton has a suitcase and is getting into her car the rear window is closed. However, when Perry sticks his head in to speak with her he puts his hand through the rear window. As she drives off the window is closed again. Submitted by Kilo 8/27/2017.
This is the only PM appearance for Canadian-born Suzanne Lloyd. She is the mother of actress Tracey Bregman...MikeM. 9/9/2016 ...and she was in six episodes of another classic TV series, "The Saint". Joe B. 10/09/2019
This is the first of five PM appearances for Lee Farr, whose actress wife Felicia Farr would later become Jack Lemmon's last wife...MikeM. 12/16/2016
This is the second of four PM appearances for Bert Freed, who portrayed police lieutenant Columbo in a live television drama in 1960...MikeM. 9/15/2017

This is the first of three Perry appearances for Jason Evers, who starred the very next year in the cult classic movie "The Brain That Wouldn't Die" alongside Virginia Leith (Jan-In-The-Pan). Love that movie. jfh 09Nov2021

Launer Daily Double last night the orbits aligned again and permitted 90' of S. John Launer; unlike the earlier instance I thought he gave a strong performance in his Twilight Zone appearance (as a thug...his authoritarian manner convincingly conveying a feeling of menace.) Notcom, 022220.
The Case of the Carefree Carafe: Della's tall thin coffee carafe -- the metallic one with the black bottom -- has wandered away from the Curious Coffee Set and taken up temporary residence with Mr. Ames. Submitted by catyron, March 15th, 2021.
Comments

Edit
Joe di Reda appears here as Phil Edwards. Mr. di Reda should not be confused with Joe DeRita who played the part of Curly Joe in the Three Stooges movies of the 1960s. Mr. di Reda was much younger. Submitted by PaulDrake 33, 3 September 2009.
This is the first of three appearances by Jeff York, who turns in a rather "angry" performance (though that's what the character calls for). Submitted by Kenmore, 12/14/2009.
++ I think it's worth noting that Joe di Reda puts in a superb acting job as the neurotic Phil Edwards. Submitted by Tragg, March 17th, 2023.
Mason was pretty rough on Phil Edwards on the stand, dredging up his poor military record and all. Not that circumstances didn't call for it... JohnK, 9 October 2015.
The direction, especially in the first half, is self-consciously arty, almost to the point of distraction. So many extreme closeups, odd angles, and traveling shots. DOD 09/27/18
A year before this episode Suzanne Lloyd appeared in the classic The Twilight Zone episode "Perchance to Dream" as Maya, the carnival-dancing Cat Girl. Submitted by Wiseguy70005, 9/6/14.
Another episode in which Della wears her monogrammed dress! Ed Zoerner, 5/22/2010.
And my imagination runs wild. Submitted by DellaFan, 9/27/2013.
This is yet another episode where the way they handle violence against women is terrible and perplexing. Sheila Benton comes staggering in, claiming her husband has beat her. She seems to be believed, but no one takes her to the hospital or gets a statement. Instead, the cop rushes her back to her husband! Submitted by gracep, 11/12/2010.
Not just that - Miriam, a single woman, was blackmailed with proof of her affair with a married man. Shouldn't it be the married man who is vulnerable to blackmail? Seems to be the old double standard at work. DOD 09/27/18
I don't think that Mort Mills gets enough credit for the fine job he does in his several episodes as Sgt. Landro. Plus, he has a great voice! Ed Zoerner, 1/18/14
+ Every time I hear Landro say, "Laboratory tests show..." and "Laboratory tests prove..." I think I'm listening to one of those commercials from the 60s ;-) . Submitted by Arisia 03/15/18
+ The year before, Mills was the highway patrol officer in Alfred Hitchcock's "Psycho". Submitted by vgy7ujm 10/06/21

Finish the job: At the end of the show the conversation seemed to indicate the construction project was going to continue. Would it still be called the Bentonville Park Estates, named after a murdered con man, or would they change it? Submitted by H. Mason 11/8/14
Deja View Estates might be a good name if - as H. Mason suggests (above) - the development is renamed, since the plot device (of a contractor being ruined by fraud) was used only seven episodes back. It seems curious that, so early in the series history, the writers would recycle parts of a storyline...or more precisely it seems sloppy that they would place them so close together; admittedly watching in syndication can place episodes a few nights apart that in reality were separated by 8-9 months, but here the original air dates were separated by a matter of weeks. Submitted by Notcom, 120915.
When Sgt. Landro drives Sheila back to the construction trailer to find her husband Landro drives into the curb hitting his bumper with a clunk. Kilo 12/19/2019.
<< Barefaced Witness | Episodes | Cowardly Lion >>