Show98
<< Credulous Quarry | Episodes | Singular Double >>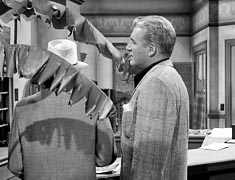 #98: The Case of the
Ill-Fated Faker
Original Airdate: 10/01/60
From The Perry Mason TV Show Book
This episode features all the standard elements: a successful husband, his bored wife, the freeloading, bloodsucking nephew, an $80,000 robbery, a crooked accountant, and a naive secretary accused of murder. Luckily, Perry can handle these cases in his sleep.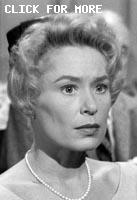 Opening
Starring Raymond Burr
in The Case of the ILL-FATED FAKER
Based upon characters created by Erle Stanley Gardner
Barbara Hale as Della Street
William Hopper as Paul Drake
Ray Collins as Lt. Tragg
Trailing
Directed by Charles Haas
Teleplay by Jackson Gillis
Story by Edward Lakso
Seeleg Lester || Producer
Gail Patrick Jackson || Executive Producer
Arthur Marks || Associate Producer
Produced by The CBS Television Network in association with Paisano Productions
Jackson Gillis || Story Consultant
Raymond Burr as Perry Mason
Barbara Hale as Della Street
William Hopper as Paul Drake
Ray Collins as Lt. Tragg
Cast
William Campbell as Jim Ferris
Kenneth Tobey as Prosecutor
June Dayton as Alice Gorman
Sue Randall as Betty Wilkins
Howard Petrie as Carl Gorman
James Anderson as Stan Piper
Tyler McVey as Harold Ames
Sarah Selby as Mrs. Ames
S. John Launer as Judge
Pitt Herbert as Autopsy Surgeon
George E. Stone as Court Clerk
Uncredited Actors
Robert Wegner as Courtroom Spectator (sighted by gracep 10/15/2010)
Crew
Art Seid, A.C.E. || Assistant to the Producer
Production Supervisor … Dewey Starkey
Director of Photography … Frank Redman, A.S.C.
Art Direction … Lewis Creber
Assistant Director … Morris Harmell
Film Editor … John D. Faure
Casting … Harvey Clermont
Makeup … Irving Pringle
Hair Stylist … Annabell, S.C.H.
Wardrobe Supervision … William Zacha, Evelyn Carruth
Set Decoration … Charles Q. Vassar
Sound Effects Editor … Gene Eliot, M.P.S.E.
Music Editor … Gene Feldman
Properties … Ray Thompson
Production Sound Mixer … Herman Lewis
Script Supervision … M.E.M. Gibsone
Sound … Glen Glenn Sound Co.
Titles and Opticals … Pacific Title
Perry Mason \ A Film Presentation
A CBS Television Network Production
That little pistol that Alice Gorman uses looks to be a Browning "Baby" 25 (caliber). It's about 4" long and 3" high. Holds 6 rounds, I think. Watch for this gun in other Perry Mason episodes, it's pretty distinctive in B&W film with its pearl handle. Submitted by billp, 31 October 2009.
Location: Quick shot of the Stanley Mosk Courthouse 32 minutes into the episode. Submitted by Eric Cooper, 28 September 10.
Character Names: Paul Drake reveals that Stan Piper's full name is Stanley J. Piper. Submitted by gracep 10/15/2010.
+ Anomaly: The Prosecutor's name, as stated by Paul Drake, is Deputy D.A. Jack Alvin. No explanation as to why this is omitted from the credits. Submitted by gracep 10/15/2010.
+ No Anomaly: Credits are used to identify actors. Since the casual viewer probably would not remember the name "Jack Alvin" (it was only mentioned once before he appeared) the word prosecutor was used instead. Since he wasn't identified as a Deputy D.A. in this episode those words weren't used either. Submitted by Wiseguy70005, 3/17/14.
Character Names: Mrs. Ames' first name is 'Dora' (played by Sarah Selby) jfh 18Jan2023
William Campbell, better known to Generation X for his appearances on the original Star Trek, makes his second appearance on Perry Mason. See trivia item for episode 78. Submitted by gracep 10/15/2010.
Sightings: On the second day of the hearing, Distinguished Gentleman #1, Quiet Old Man #1, and "Miss Carmody" are all sitting together on the defense side. Read more about these recurring spectators as you ask yourself, Who Is That? Submitted by gracep 10/15/2010.
+ "Sasha Magaloff" can be seen as well seated in various places about the courtroom. Submitted by daveb, 4/2/11.
++"Sasha Magaloff" can also be seen clearly sitting on a bench outside the courtroom next to another gentleman as Perry walks along the hall on the first day of the hearing. Submitted by JazzBaby, 8/30/2019.
+++ "Sasha Magaloff" is now known to be the actor Mitchell Rhein. Submitted by catyron, November 16, 2020.
CARS. (1) 1960 Buick Invicta Convertible, Carl Gorman & Betty, medium-color, top down;
1960-61 was LA's "Driest water year (4.85")" up to that time. Were the cars dirty due to dust storms, brush fires, car-wash restrictions or greasy fingers? Submitted by Gary Woloski, 9/6/12.
SEASON PREMIČRE. This ep#98 was the Season Premičre (Season 4) according to the daily TV listing on page 51 of THE NEW YORK TIMES on Saturday, 1 October 1960:
7:30-8:30 -- Perry Mason: "The Case of the Ill-Fated Faker," with Raymond Burr (Season's premičre) - (2).
The Toronto GLOBE AND MAIL listing for the same day was:
7:30 4-Perry Mason.The Case of the Ill-Fated Faker.Perry is hired to rid a businessman of his larcenous, free-loading nephew.(Seasonal premiere.)
New York's Ch2 was & still is WCBS. Toronto's Ch4 was WBEN TV Buffalo, then a CBS affiliate. On the same page 51 of THE NEW YORK TIMES, don't miss Jack Gould's negative review of Episode 1 of The FLINSTONES (debuted the previous night, 30 Sep 60). Gould wrote: "the show was an inked disaster". Review reproduced here, scroll ↓ 6 paras. Added by Gary Woloski, 2/22/13.
+ my perception of reality is shattered: FeTV indicates this to be the 3rd episode of Season 4, TCOT Treacherous Toupee being the first, TCOT Credulous Quarry being 2nd sigh. jfh 18Jan2023.

Della: Very subtle - Miss Street wore her monogram dress while driving Perry's car near the cabin. Submitted by H. Mason 11/1/14
+ Della was also wearing her monogrammed dress in Perry's office earlier. jfh 18Jan2023

Medical Expert: After being given the name Dr. James Latham in his last appearance (episode 79 TCOT Lucky Legs) Pitt Herbert was again identified as "Autopsy Surgeon." Submitted by H. Mason 11/1/14
This is apparently the only PM for Harvard-educated director Charles Haas. Haas passed in 2011 at the age of 97...MikeM. 8/15/2016
According to Wikipedia, story submitter Edward Lasko/Lakso had a music degree from UCLA. Lasko/Lakso co-wrote and scored a Russ Meyer film, The Immoral Mr. Teas....MikeM. 8/15/2016
According to Wikipedia, Sue Randall was a heavy smoker who died of lung cancer...MikeM. 8/16/2016

This is the fourth of five PM appearances for June Dayton, who also appeared in five episodes of Death Valley Days...MikeM. 11/22/2016
+ TCOT Girls Reunion it's also the second of three appearances for Sarah Selby, and - of more interest - it's the second (of two) in which they appear together [the first being TCOT Runaway Corpse 10 11/23/57 ---jfh 18Jan2023]. Although hardly identical - Ms. Dayton played the defendant in the earlier role - there are substantial plot similarities (the cases both center around someone faking their death, and Ms. Selby is notably duplicitous in both). Notcom, 022522.
Morris Harmell was assistant director of 38 episodes of PM from 1958 to 1961...MikeM. 8/22/2017
El Salón México by Aaron Copland is, I believe, what is played in the penultimate scene with Paul in the hotel Lobby. Notcom, 022522.
+ another wardrobe note: Della wears a beautiful soutache embroidered shirt in Perry's office while Perry speaks to Paul when he called from Mexico. jfh 18Jan2023
Comments

Edit
Even considering today's "anything goes" mentality, this episode seems racy to me, i.e., the nephew having a "relationship" with his aunt-in-law. It must have been seen as particularly bold in its day. Submitted by billp 6/14/09
$80,000 in 1960 would be worth about $576,324 today. Submitted by billp, 6/14/2009.
Sue Randall makes her first of two appearances on Perry playing murder defendant Betty Wilkins. Every baby boomer will remember Sue Randall much better as Beaver Cleaver's grade school teacher, Miss Alice Landers. Sue Randall died at the age of 49 in 1984. Submitted by PaulDrake 33, 06/26/2009.
James Anderson is best known as the villainous Tom Ewell in "To Kill a Mockingbird". Despite his long and varied career, Kenneth Toby may be best known for three sci fi classics - "Beast From 20,000 Fathoms", "It Came From Beneath the Sea", and the terrific "Thing From Another World". DOD 09/02/18
That brief shot of the fire as seen from the phone booth is taken from the end of Hitchcock's "Rebecca". DOD 11/15/22
Ken Toby is also well known for his appearance in Airplane. On the DVD commentary for the film, the directors implied that he didn't quite get the jokes, but he still did a pretty decent job. Submitted by Kenmore 9/29/2020.
Notice when Alice Gorman leaves the cabin which is on fire, she enters her car from the passenger side and awkwardly scoots to the driver's side. It makes little sense in reality since entering on the driver's side is what most folks do, especially if they are in a hurry. But from the camera's point of view it makes perfect sense since she stays in frame for the entire scene. Submitted by Kenmore,11/10/2009.
+ Actually, in the days of roomy cars and bench seats, people would often enter on the passenger side and scoot over, especially if the car was parked at the curb and traffic was heavyish. I've seen it happen on PM more than a few times. OLEF641 2/6/21
I love Perry's coffee carafe! (at 42:31 on DVD) submitted by scarter 8/21/14
Funny how William Campbell who played "Trelane" in the Star Trek episode reminds us a little like Liberace in that Star Trek episode and is shown at the end of this episode, when revealed by Paul Drake wearing a "Liberace" style hat ! ;-) Submitted by HamBurger, Aug. 24, 2014 <<<<<<<
Perry ID's Beautiful Cocktail Waitress as Frances Banks near the end in court but she never gets a credit. Anyone know who she is or if she appears in other episodes? Eric C 16 Aug 16 =======
"The Case of the Ill-Fated Artful Dodging Faker." At several points in this episode, Paul Drake refers to Jim Ferris's having at least one alias, but never supplies it. One can only wonder whether Ferris's alias might be Allen Sheridan (See Episode #78, TCOT Artful Dodger), another scheming nephew--also played by William Campbell--who's trying to bilk money out of a wealthy relative by claiming that gangsters are putting the bite on him. Submitted by BobH, 3 December 2016.
TCOT Kafkaesque Credits: And thus we come to the dreaded Season Four Opening Graphics by Pacific Title, which, speaking as a professional graphic designer, i find unbearably lame and useless, fading from grey dimensionality to stark chiaroscuro by way of filmic realism, symbolic of Eternal Anomie, the Endless Void of Judgement, and the Overwhelming Blankness of Nihility. Tiny Featureless Perry stands 20 feet away from the Looming Faceless Judge emerging from the shadowlands, with no one to defend but himself. There is no prosecutor to contend against, no witness to call, no secretary to take notes, no spectator to watch. We see him alive for but a passing moment, and then he blinks into linear flatness, alone, Trapped in a Sword He Never Made. This is truly Perry Mason's Nightmare, The Case of the Kafkaesque Credits. Submitted by catyron, February 22, 2021.

Another plot that relies on rather casual identification of a body. DOD 09/02/18
<< Credulous Quarry | Episodes | Singular Double >>