Show136
<< Brazen Bequest | Episodes | Unwelcome Bride >>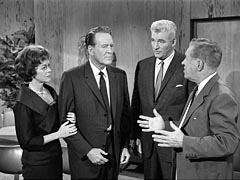 #136: The Case of the
Renegade Refugee
Original Airdate: 12/09/61
From The Perry Mason TV Show Book
A journalist is murdered while tracking an ex-Nazi who may be posing as an executive at a company called Space Associates Ltd. Perry comes to the aid of an American ex-GI who is charged with the killing and is still suffering from his own "cowardly" past.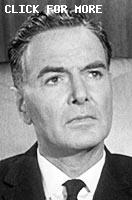 Opening
Starring Raymond Burr
in The Case of The RENEGADE REFUGEE
Based upon Characters Created by Erle Stanley Gardner
Barbara Hale, William Hopper, William Talman, Ray Collins
Trailing
Directed by Bernard L. Kowalski
Written by Samuel Newman
"Perry Mason"
Art Seid | Producer
Gail Patrick Jackson | Executive Producer
Jackson Gillis | Associate Producer
Produced by The CBS Television Network in association with Paisano Productions
Samuel Newman | Story Consultant
Raymond Burr as Perry Mason
Barbara Hale as Della Street
William Hopper as Paul Drake
Wiliam Talman as Hamilton Burger
Ray Collins as Lt. Tragg
Cast
Frank Overton as Father Paul
Dick Foran as Harlan Merrill
Paul Lambert as Lawrence Vander
John Sutton as Clifton Barlow
Karl Held as David Gideon
Wesley Lau as Lt. Anderson
Ronald Long as Arthur Hennings
Jennifer Howard as Winifred Dunbrack
Donna Atwood as Phylis Merrill
Denver Pyle as Emery Fillmore
John Gallaudet as Judge
William Boyett as Buck Osborn
John Lormer as Autopsy Surgeon
Robert Nash as Colonel
Victor Izay as Mr. Jones
Jess Kirkpatrick as Lou Kouffman
Lee Miller as Sgt. Brice
Jo Summers as Miss Gibsone
Crew
Director of Photography … Robert G. Hager
Art Direction … Lewis Creber
Assistant Director … Robert G. Stone
Film Editor … John D. Faure
Casting … Harvey Clermont
Makeup … Irving Pringle
Hair Stylist … Annabell
Wardrobe Supervision … Ed McDermott, Evelyn Carruth
Set Decoration … Charles Q. Vassar
Properties … Ray Thompson
Production Sound Mixer … Herman Lewis
Script Supervision … M.E.M. Gibsone
Sound … Glen Glenn Sound Co.
Automobiles Supplied by … Ford Motor Company
Titles and Opticals … Pacific Title
Perry Mason \ A Film Presentation
A CBS Television Network Production
Location: Serra Retreat. One of the amazing things about Perry Mason is they don't disguise location. This episode set at a retreat in a Francisan Order is in fact an actual Francisan Order in Malibu that does offer retreats. The 50-room mansion was first built by the Rindge Family in the 1920s. The Rindges owned all of Malibu at one time but got in costly lawsuits with the government and railroads over access through their property. Consequently they ran out of money and were never able to complete the structure, selling it to the Francisan Order in 1942. Serra Retreat as it is now known is closed on weekends but you can visit it for free during the week. Access is off of Pacific Coast Highway. There is a guard gate but if you tell them you are going to Serra Retreat they will let you through. Submitted by Eric Cooper, 8/13/2009. Edited by gracep, 12/1/2010.
+ The Rindges were also known for their Adohr Farms Dairy in Encino (Adohr is Rhoda Rindge's first name backwards) and their world famous Malibu tiles. Rhoda Rindges' home called the Adamson House is on the beach directly across from the entrance to Serra Retreat. It is now a historical landmark and well worth the $5 docent tour. Posted by Eric Cooper, August 13, 2009.
For the seventh time, Karl Held appears as dapper young David Gideon, law student and sometime assistant to Perry Mason and Paul Drake (and Della Street, come to that). He has two more appearances left. Submitted by gracep, 12/1/2010.
+ Seven appearances and he still calls Perry "Mr. Mason"; even allowing for the greater emphasis given to "respecting your elders - as well as your boss !! - at the time, this episode has element of formality that makes it seem stiff. Notcom, 011417.
Here we have yet another episode in which Lt. Tragg (Ray Collins) is credited but does not appear. Good thing Lt. Anderson is around. Submitted by gracep, 12/1/2010.
Sightings: In the courtroom gallery, behind Osborn and Winifred Dunbrack on the prosecutor's side, "Miss Carmody" and Quiet Old Man #1 sit together. On the second day of the hearing, the priest comes in and sits next to our taciturn friend. "Sasha Magaloff" is on the front row on Perry's side. Little Old Lady #1 also shows her demure face in the gallery. Submitted by gracep, 12/9/2010.
+ "Sasha Magaloff" is now known to be the actor Mitchell Rhein. Submitted by catyron, November 16, 2020.
+ The Pencil Mustache Man sits in the gallery, too, and visibly reacts to the testimony. Submitted by gracenote, 7/13/2011.
CARS. (1) Harlan Merrill's 1961 Buick Electra 225 Convertible, medium-color body, white top up. In the interior shots you can read "ELECTRA 225" on the dash above the glove box.
It's no accident that Car(3) 1962 Plymouth Savoy Police Special is the first 1962 model-year car in the series. One year earlier, the first 1961 model-year car to appear was a police 1961 Plymouth Savoy 4-Door Sedan in Ep#106. Police departments and taxi companies were prime prospects for the automakers' Fleet Sales arms. I suggest that the '56 Plymouth taxis (suggesting high-use durability) could have been connected to the Product Placement of the Plymouth police car. I bet a lot of Police Chiefs watched Perry Mason! Added by Gary Woloski, 2/13/13.
Wrong Number: When David called Perry's office the sound effects didn't match Perry's number (Madison 5-1190). Submitted by H. Mason 11/15/14
Half Over (or is it half to come??) as determined by the Episodes listing on this site, this show represent the exact mid-point of the series. Submitted by Notcom, 122115.
This is the only credited acting role for Donna Atwood, who was an accomplished ice skater...MikeM. 10/7/2016
This was the only PM appearance for Jo Summers, who was an uncredited slave girl in the movie Spartacus...MikeM. 1/13/2017
TCOT Curious Coffee Set: At 31:53 Perry has a Curious Coffee cup on his desk and David uses the Space Age Metallic Carafe to pour himself a cup as well. A third cup sits empty on the round table. Submitted by catyron 02/17/2018.

Note the chalk outline on the dirt road where the body was found when the police investigate. jfh 25Oct2018.
"Please Murder Me" (1956) was on local TV today. It stars Raymond Burr (as an attorney!) and Dick Foran (the murder victim). There's a plot twist I won't reveal here. You'll see many PM regulars, too. Quite the film noir. It's almost like a PM prequel. Kilo 1/26/2020.
Comments

Edit
Is it just me, or is Burr (Mason) reading his lines from the paper in his hand while he questions Emery Fillmore (Denver Pyle)? Submitted by gracep, 12/9/2010.
+ No, I don't think it's just you, gracep! The impression I got, however, was that just before shooting, Denver pulled a prank or told Raymond an off-color joke and Burr couldn't look him in the eye for fear of breaking out in guffaws. Maybe not, but the idea makes watching the show more fun! Submitted by GaryW, 9/27/11.
++ It could have been from last minute script changes. On DVD extras from the original Battlestar Galactica TV show a clip was shown with an actor reading his (unseen) script taped to a column because it had just been given to him. Added by H. Mason 11/15/14

When Perry says "no questions" for Osborn, the judge tells Osborn he can step down. Then Burger says "I call my next witness to the stand." This whole time, Osborn makes no move at all to actually leave the witness chair. He just sits there unmoving. Weird. I wonder if there was some last-minute editing going on. Rick P 10/14/21

On the table at that board meeting is a white globular bowl with a wavy rim. This is from a line by noted industrial designer Raymond Loewy for Continental China. I happen to own the same piece. Perry's gentle rebuke of David is a fine example of one of the reasons we enjoy this show. So often we get a clear, relatable lesson in finer points of law. DOD 12/22/22
Identifying Car (3), 1962 Plymouth Savoy. Car (3) is seen from a distance and from above but the quirky styling of that era's Chrysler Corp cars still gives several visible clues to its identity. First is the rear deck/trunk styling inherited from '61 Plymouths. Other visible features which exactly match the 1962 Plymouth Savoy 4-Door Sedan are the shapes of the C-pillar and rear window, two small taillights and the rear door shape including the flange-like ridge along the lower edge of the rear side window. 1962 Plymouths were present in California by 28 Sep 61 according to the LODI (Calif.) NEWS-SENTINEL article Plymouth For 1962 Makes Debut Today In Lodi of Sep 28, 1961 (72 days prior to airing of this episode). Added by Gary Woloski, 2/13/13.
The Battle of the Bulge (Dec. 16, 1944 -January 28, 1945) involved nearly 1 Million soldiers & resulted in 67,000 US & 100,000 German casualties [National WWII Museum website]. Ironically, the crucial battle began the Same Day Ike got his 5th Star. Mike Bedard 7.8.16.
Scientists like Werner von Braun worked on Germany's V[engeance]1 & V2 Rocket programs before working for the US Space Program. Several were suspected of being dedicated NAZIs & at least 1 was later deported. Mike Bedard 7.8.16.
+ Wikipedia says: "Several of the ... scientists were later investigated because of their links with the Nazi Party during the war. ... In 1947, Georg Rickhey ... was returned to Germany to stand trial at the Dora Trial, where he was acquitted. ... In 1951 ... Walter Schreiber was linked ... to human experiments conducted by Kurt Blome at Ravensbrück, and he emigrated to Argentina with the aid of the U.S. military. ... In 1984, Arthur Rudolph, under perceived threat of prosecution relating to his connection - as operations director for V-2 missile production - to the use of forced labor from Mittelbau-Dora at the Mittelwerk, renounced his U.S. citizenship and moved to West Germany, which granted him citizenship." submitted by catyron, 02/17/2018/
This episode sure packs a lot - two secret identities, extortion and embezzlement, a Nazi and a secret marriage.
The string music during the fight sequence is very unusual - perhaps the influence of 'Psycho' which came out the year before?
When Lt Anderson addresses the group outside the retreat, it looks like he and Perry are standing in front of a painted backdrop while the group of men are definitely on location.
+ Yes, it does appear as though that scene is done in a soundstage, since the hillside is kinda fuzzy. But, if you notice, in the next scene, where Perry is asking Merrill about the blackmail notes, the hillside visible behind Paul has that same hazy feel, and the scene is definitely shot on location. I suspect the slightly odd appearance of the previous scene is due to location lighting on the actors which is also over-illuminating the nearby backdrop of tall plants. OLEF641 4/6/21
++Perry Pry the blackmail note scene witnesses a rather egregious invasion of privacy: Perry remarks to Harlan "I have the blackmail note, I have to give this to the police." I would submit that not only does he not have to give it to the police, he actually cannot give it to them: recall how it was obtained (by David, without authorization, from Harlan's office)...in short it is not Perry's to give...to anyone. Notcom 042022.
Della wears that same dark dress with the pattern of ladies holding umbrellas that appears in "The Missing Melody". DODAY 10/12/17
Sorry, but if this had been the first Perry Mason i watched, i never would have tuned in again. Father Paul's smugly religious pop-psychology gave me the creeps. Raymond Burr cold-reading his script was bizarre. On the good side, though, both my husband and I were fascinated by how closely Donna Atwood the ice-skater resembled Barbara Hale. Submitted by catyron 02/17/2018.
Camera Work: at 11:27 mark in the video there is a short scene of Merrill driving up a winding road towards the retreat. This is the first time in the series I recall a driving scene with the camera situated inside the car giving the shot a cinéma vérité feeling. Was there an advance in camera technology allowing for a smaller rig around this time? 2/12/2021

TCOT Absent Accent I love this episode for its complexity, and for its giving Della more screen time and lines again, but it takes a huge suspension of disbelief! 15 years ago, Hennings (sorry, can't recall his German name), apparently anticipating Hitler's defeat and his own opportunity to flee to an Allied country, learned fluent English, erased his German accent, and worked up a British accent so that when he came upon a dead Allied soldier he could assume his identity and mix in with the other Allied soldiers, no questions asked. Hard to swallow! This would hold true no matter who the Nazi turned out to be. The minute Vander told Barlow he was looking for a Nazi on his staff, I knew we were in preposterous territory, as Barlow did not say, "Huh, could be X, he has a trace of a German accent...." LOL. Submitted by JazzBaby, 3/5/2019.
+ Per Perry during the last scene, Hennings/Kleinerman had previously been in England where he had spent years going to school. Someone young enough can learn to speak two or more languages like a native speaker in each language. Submitted by (lowercase, with a comma and period) masonite, 03/15/19.
+Exactly! When I lived in Japan, I knew people of English-speaking and Japanese-speaking parentage. Fluent in both. That's what puzzled me: Why didn't "Hemmings" use his British accent to help cover up his identity? Submitted by JazzBaby, 9/19/2019.
<< Brazen Bequest | Episodes | Unwelcome Bride >>