Show137
<< Renegade Refugee | Episodes | Roving River >>
#137: The Case of the
Unwelcome Bride
Original Airdate: 12/16/61
From The Perry Mason TV Show Book (Revised)
Wealthy Walter Frazer, a man who once blamed his daughter-in-law Sue Ellen for his son's failures, has a change of heart when she is charged with the son's murder. Perry proves to Frazer that Sue Ellen was nothing less than a loyal wife and his son was a weak-willed gold-digger.
Fans will recognize Alan Hale of Gilligan's Island in a devious role and DeForest Kelley from Star Trek as the hen-pecked husband of a rich woman.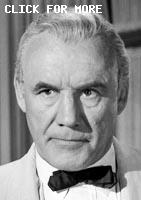 Opening
Starring Raymond Burr
in The Case of The UNWELCOME BRIDE
Based upon Characters Created by Erle Stanley Gardner
Barbara Hale, William Hopper, William Talman, Ray Collins
Trailing
Directed by Gilbert Kay
Written by Helen Nielsen
"Perry Mason"
Arthur Marks| Producer
Gail Patrick Jackson | Executive Producer
Jackson Gillis | Associate Producer
Produced by The CBS Television Network in association with Paisano Productions
Samuel Newman | Story Consultant
Raymond Burr as Perry Mason
Barbara Hale as Della Street
William Hopper as Paul Drake
Wiliam Talman as Hamilton Burger
Ray Collins as Lt. Tragg
Cast
Torin Thatcher as Walter Frazer
Gerald Mohr as Medeci
Diana Millay as Sue Ellen
De Forest Kelley as Peter Thorpe
Alan Hale as Lon Snyder
Wesley Lau as Lt. Anderson
Melora Conway as Amanda Thorpe
Bryan Grant as Gregson Frazer
Willis Bouchey as Judge
Ben Young as Cary Duncan
George E. Stone as Court Clerk
Emile Meyer as Patrolman
Uncredited Actors
Don Anderson as Plainclothes Officer (spotted by FredK 11/3/2010)
Lee Miler as Sgt. Brice (spotted by gracep 12/10/2010)
Crew
Director of Photography … Robert G. Hager
Art Direction … Lewis Creber
Assistant Director … Gordon Webb
Film Editor … John D. Faure
Casting … Harvey Clermont
Makeup … Irving Pringle
Hair Stylist … Annabell
Wardrobe Supervision … Ed McDermott, Evelyn Carruth
Set Decoration … Charles Q. Vassar
Properties … Ray Thompson
Production Sound Mixer … Herman Lewis
Script Supervision … M.E.M. Gibsone
Sound … Glen Glenn Sound Co.
Automobiles Supplied by … Ford Motor Company
Titles and Opticals … Pacific Title
Perry Mason \ A Film Presentation
A CBS Television Network Production
Sightings: The Little Old Lady in a Hat appears sitting behind Lon Snyder (Alan Hale) when Mason is questioning Medeci (Gerald Mohr) at the hearing. So does "Sasha Magaloff". [See also Continuity item, below.] Blue Collar Guy is the bartender at Medeci's night club. More about these people on the Who Is That? page. Submitted by Kenmore 9/15/10. Updated by alan_sings, 9/26/10.
+ "Sasha Magaloff" is now known to be the actor Mitchell Rhein. Submitted by catyron, November 16, 2020.
+ Additionally, Distinguished Lady #1, sporting a an updated shorter hairdo, is sitting in the back row (prosecutor's side) next to a hairline that looks like it might belong to Distinguished Gentleman #1. (Near the end, we see that it does). And Pencil Mustache Man is right next to the pianist Cary Duncan. Submitted by gracep, 12/10/2010.
Continuity: As regards to the Little Old Lady sighting above, we can see her the courtroom from the beginning, when Burger questions Tragg, but she teleports magically from one side of the courtroom to the other. Submitted by gracep, 12/10/2010.

Conituity: When Greg first sits down to "try on" his father's chair (as Amanda suggested), the knife/letter opener is plainly visible on the desk; it is no longer there in immediately subsequent shots. jfh 08Nov2019

Uncredited Actors: Don Anderson appears as a plainclothes policeman holding a notebook standing next to Diana Millay as Lt. Tragg searches the trunk of her car. Tragg gives him the order to take her downtown. Submitted by FredK, 3 Nov 2010.
+ Lee Miller as Sgt. Brice interviews (inaudibly) Lon Snyder at the Club Baroque. Submitted by gracenote, 12/10/2010.
Diana Millay and Alan Hale must have had some unsuspected chemistry in the opinion of the Mason production staff. They later appeared together in Episode #192 TCOT Bouncing Boomerang. Submitted by FredK, 3 Nov 2010.
Gerald Mohr was private detective Phillip Marlowe on radio. One of the great voices from the golden age. Submitted by Wick 12/2/2021
Character Names: The Thorpes address the patrolman as Joe. Sue Ellen's last name is of course Frazer as she is Gregson's Unwelcome Bride, and Medici's first name is Joe. To have omitted these latter two is strange when others had their full names. Submitted by gracep, 12/10/2010.
+ Although there seems to enough room to add "Joe" to Medici's credit there wasn't enough room to add "Frazer" to Sue Ellen's name without making it a two-line credit (where there was already one with DeForest Kelley's credit); not enough room on the credit page for another one. Since there was already a "Joe" in the episode (Medici) simply saying "Joe" without the "Patrolman" would have been confusing. This may also be why the Joe was omitted from the Medici credit. Remember, the presence of a credit (and how many on each "page") is due to legal reasons but the form of the credit itself is for the quick information to give the viewer in a limited time. Submitted by Wiseguy70005, 12/22/14.
+ It was revealed that Sue Ellen's real name was Sally Delaney. Added by H. Mason 11/15/14
++ Not to insult Wiseguy70005, but Joe's last name is "Medeci", not "Medici". According to Wikipedia (because I wondered if the writers intended the allegory) "The House of Medici was an Italian banking family and political dynasty that first began to gather prominence under Cosimo de' Medici in the Republic of Florence during the first half of the 15th century." jfh 26Oct2018.
+++ Things to come: this episode contains a number of plot elements that would later become very familiar to CBS viewers: a character named Sue Ellen, an unwelcome wife, a family fortune tied to oil, rival siblings (one of them a scoundrel)...Plagiarism ?? Probably not: more like given enough time two rooms of chimpanzees will eventually type the same thing. Notcom 040721.

Location: Since the show likes locations to pull Double Duty, I suspect the Tudor house 3 minutes into this episode (probably in Hancock Park) is also the Tudor 3 minutes into "TCOT Injured Innocent." Submitted by Eric Cooper, 26 May 2011.
Location Anomaly: About 25 minutes in, Paul drops Perry off at Peter and Amanda's house in a quiet neighborhood. Tragg is out in the backyard of the house with his head in a car's trunk. See photo above by title. In actuality I believe he's back at the studio. Why? (1) Most homes don't go to the trouble of having parking spot stripes painted in their backyard. (2) You can see a very large building not house next door. (3) I've seen the studio and the stucco building directly behind Tragg looks similar. Why did they do it? Remember the old joke... What I'm looking for is really over there… but the light is better here. Submitted by Eric Cooper, 26 May 2011.
Walter Frazer gives Perry Mason a call, and when the attorney answers, next to his phone is a cup and saucer from the Curious Coffee Set. Della has the same by her seat at his desk. Submitted by gracenote, 7/13/2011.
Torin Thatcher, who was the Magician in 'The 7th Voyage of Sinbad', is one of my favorite sightings. He was also the prosecutor in 'Witness for the Prosecution'. Posted by Rickapolis 05/09/12
+ TT was born in Bombay, India to British parents & studied at the Royal Academy of Dramatic Art before serving as a Royal Artillery Colonel during WW2 [IMDb]. Mike Bedard 7.8.16.
CARS. drives car and is a subject of Perry's courtroom presentation.
Plymouth/Chrysler upstaged Ford in Product Placement by getting one of its 1962 Plymouth Savoys into the immediately preceding episode #136. Added by Gary Woloski, 2/16/13.
Wrong Number: The sound effects department should have had a stock tape ready to use when a character called Perry's office. When Mr. Frazer called Perry the sounds didn't match Madison 5-1190. Submitted by H. Mason 11/15/14
There are a few instances in the courtroom where Perry's dialogue is dubbed over the action. Sometimes his lips don't exactly match (while walking towards the witness stand and Mr. Snyder and again while walking over to the judge) and others the audio abruptly cuts off between words (during the second cross-examination of Medici). Submitted by Wiseguy70005, 12/22/14.
At the end of Medici's first cross-examination the bottom slot of Mason's visual aid had not been revealed. At the start of the next courtroom scene it had been revealed. Since Mason only reveals the slots during points of his cross-examination, does this mean we missed some part of a cross-examination? Submitted by Wiseguy70005, 12/22/14.
He's dead Jim (Or more logically "He's dead Perry"): if you're tuning-in in hopes of hearing that immortal line, then don't bother: DeForest Kelly doesn't discover the body. Submitted by Notcom, 010516.
This is the first of two PM writing credits for Helen Nielsen, who worked on the design of military aircraft during World War II...MikeM. 10/10/2016
This is the only PM directing credit for Gilbert Kay, who was born in Chicago, raised in Los Angeles, married in England, and lived in South Africa...MikeM. 1/16/2017
Comments

Edit
Torin Thatcher and DeForest Kelley would be reunited on the Star Trek episode "The Return of the Archons" broadcast 2/9/67. Submitted by Wiseguy70005, 6/11/12.
+ That Star Trek episode also has a more prominent PM connection, namely Karl Held as sociologist Lidstrom (his only appearance on the series). Held's PM run as David Gideon would conclude with the next two episodes to be produced. TriviaSleuth, 8/8/19
+ During WWII, Airman Kelley was stationed at Roswell, NM before transferring to the First Motion Picture Unit, Culver City, CA where he acted alongside Captain Ronald Reagan, Army Reserve & George Reeves [New Georgia Ency. online]. Mike B. 7.8.16.
Smashed Clock: It's funny that damaged clocks and watches in murder mysteries always have the correct time and all other timepieces seem to be synchronized. Submitted by H. Mason 11/15/14
This episode (production #138) was held over for some reason for almost three months. The first actual fifth season episode shown this season (September 30) was episode #139 so this episode could have been broadcast then. Instead most of the episodes in the production range of the 140s were shown before this one was broadcast on December 16. Submitted by Wiseguy70005, 12/22/14.
+ That explains a lot, Wiseguy70005! First, Della is fully present and has lines, unlike in later episodes, where she is silenced or absent; second, George E. Stone is still with us in the courtroom; and third, the quality of the plot and dialogue is excellent. No wonder I thought, "Hey, they got back to their old quality here!" Sadly, no...this is a legacy episode from before things declined a bit. Not that the show was ever bad, but the first 4 seasons are the gold standard, in my opinion. Submitted by JazzBaby, 3/5/2019.
Who paid the $10,000 to the photographer? Submitted by WJones 2/18/16
Why is there a sign advertising Sue Ellen's appearance at Medeci's club when she supposedly stopped working there when she married? Seems unlikely someone rifling the safe wouldn't check the contents of that envelope. In keeping with the tradition of alliterative titles, this could have been "Banished Bride"
 DODay 10/16/17

<< Renegade Refugee | Episodes | Roving River >>