Show192
<< Devious Delinquent | Episodes | Badgered Brother >>
#192: The Case of the
Bouncing Boomerang
Original Airdate: 12/12/63
From The Perry Mason TV Show Book (Revised)
Rod Cameron stars as Grover Johnson, a man who managed to talk his beautiful new bride, Eula, into living with him on a barren 1,000-acre desert spread. Trouble is, Eula hates it. When a wealthy Texan (played by Alan Hale of Gilligan's Island) shows up and offers Grover four times what the property is worth, he takes the bait and signs it away. Little does he know that his lovely wife is behind an elaborate swindle, and that the Texan will soon die with his dental bridge—if not his boots—on.
The scam goes awry, however, when Eula is killed and Grover is charged with the homicide.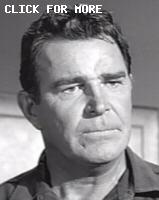 Opening
Starring Raymond Burr
in The Case of THE BOUNCING BOOMERANG
Based upon characters created by Erle Stanley Gardner
Barbara Hale, William Hopper, Ray Collins
Trailing
Directed by Jesse Hibbs
Written by Arthur Orloff
Arthur Marks | Producer
Gail Patrick Jackson | Executive Producer
Jackson Gillis | Associate Producer
Samuel Newman | Story Consultant
Raymond Burr as Perry Mason
Barbara Hale as Della Street
William Hopper as Paul Drake
Ray Collins as Lt. Tragg
Cast
Rod Cameron as Grover Johnson
Diana Millay as Eula Johnson
Paul Picerni as Walter Jefferies
Parley Baer as Willard Hupp
Berkeley Harris as Les Gilpin
Wright King as Sidney Weplo
Alan Hale as Nelson Barclift
John Pickard as Sheriff
Ed Peck as Prosecutor
Nelson Olmsted as Doctor Lewis
Frederic Downs as Judge
Ralph Moody as Mr. Morgan
Crew
"Perry Mason"
Director of Photography … Howard Schwartz, A.C.E.
Art Direction … Lewis Creber
Assistant Director … Gordon A. Webb
Film Editor … Al Clark, A.C.E
Casting … Harvey Clermont
Makeup … Irving Pringle
Hair Stylist … Annabell
Wardrobe Supervision … Ed McDermott, Evelyn Carruth
Set Decoration … Carl Biddscombe
Properties … Ray Thompson
Production Sound Mixer … Herman Lewis
Script Supervision … Marshall Schlom
Theme Composed by … Fred Steiner
Automobiles Supplied by … Ford Motor Company
Perry Mason
Produced by the CBS Television Network in association with Paisano Productions
The latter part of the opening scene of the car driving to the ranch is also used in #248, TCOT Hasty Honeymooner. See here. Submitted by Adam Kamil, 8/2/2007.
+ At one point, Eula (Diana Millay) and Willard (Parley Baer) go out to the Chevy for a ride. Eula drives. Maybe it's just me, but does she have trouble getting the car moving? Since this is a base model, it may have "three on a tree" ( 3 speed column mount manual transmission). Perhaps Diana Millay wasn't too proficient in driving standards. If you look closely at the stripped down, 1950's Fords and Chevvies used in the various episodes,(taxicabs etc), many have 3 speed manuals. Submitted by Bill-W2XOY on 08/13/2013.
++ Speaking of cars, apparently the show's producers weren't crazy about sending the nice '63 Lincoln Continental driven by that "Texas millionaire" over the cliff; in that shot, a plain, older Ford was substituted for the fiery plunge. Submitted by Francis, 8 January 2013.
+++ I'm guessing that the production budget didn't include the cost of dumping a car (albeit probably a wreck from the junkyard) over a cliff. They probably used stock footage for most, if not all, of these scenes in the show. I'm sure they at least tried to match up the footage with the type of car it was supposed to be, but had to settle at times, like in this episode. Remember, people weren't watching then with as critical an eye as we are now, so the mismatch probably wasn't noticed as much. OLEF641 6/19/21
Location: The exteriors are of Upper Iverson Ranch in Chatsworth. About 17 minutes into the episode Eula and Nelson drive up to a cabin. That is the same cabin used in Episode #88. It was also used in the movie Tennessee Partner starring Ronald Reagan. Submitted by Eric Cooper 6 July 2010. More about the cabin can be found here.
+ The story's setting seems to be in & around the fictional town of "Paige": Paige Cafe (next-door to Hupp's office), Paige Feed Co & Paige Hotel. Gary Woloski, 5/25/14.
++ Paige Courthouse too. Submitted by catyron, May 24th, 2018
When Eula (Diana Millay) checks with Barclift (Alan Hale) about having his bridgework done, Hale puts a hand to his right lower jaw near the back teeth and complains about how big it feels. Yet when Paul Drake inquires with Dr. Lewis (Nelson Ohlmstead) about the bridge, the dentist touches his upper jaw just to the left of center. In the one shot we see of the spare bridge, the tooth looks fairly large, more like one from the location Hale indicated. Submitted by FredK 4Nov2012
CARS. (1) Willard Hupp's dark-color 1955 Chevrolet 210 2-Door Sedan w/optional grill guard (between front bumperettes), Lic No FZE 664. Adam Kamil's entry above refers to this car. This ad shows all models.
Background Cars seen parked near Hupp's realty office in town:
Chrysler Corp also got its new-model-year cars on the show before the other auto makers in the 1961 & 1962 model-years (Episodes 106 & 136). Added by Gary Woloski, 5/25/14.
This is the second of two PM writing credits for Arthur Orloff. According to imdb, this was Orloff's final writing assignment for film or television. Orloff passed in Beverly Hills CA in 1994 at the age of 85...MikeM. 12/26/2016
This is the third of three PM appearances for Diana Millay, who appeared in over sixty episodes of "Dark Shadows"...MikeM. 4/3/2017
The bridge is meant to be the clincher for the identification of Alan Hale's character's body, although the word is never used on the show...Red Chief, 16/5/2017
This is the second episode where Allan Hale Jr and Diana Millay appeared together. They were also in The Case of the Unwelcome Bride where her father in law tries to buy her out of the marriage to his son. DaveH 1/11/2019
Comments

Edit
Barclift mentions adding his "John Henry" to the last document he had to sign, but he really means his "John Hancock." John Hancock was the president of the Continental Congress, and he signed the Declaration first and in the biggest hand. John Henry was a steel-drivin' man, who competed against a steam drill and won, and then (as the song goes) he laid down his hammer, and he died (Lord, Lord). Submitted by gracenote, 2/28/2011.
+ Coincidentally, Frederic Downs who Judged this episode was Delegate Samuel Huntington of CT in the musical "1776" [Uncredited: IMDb]; FD was 1 of the 23 actors who Judged Only 1 PM trial [Statistics page: 54 Actors played 278 credited Judges]. Mike Bedard 3.7.15.
++ "John Henry" was used again in Latent Lover/Episode 222 by a disgruntled investor. Mike Bedard 4.20.15
+++ The use of "John Henry" is popular in Texas, where Barclift was supposed to come from. Wikipedia says that the use of "John Henry" instead of "John Hancock" is 'cowboy slang'. It became popular in the western US about 50 years after John Hancock signed the Declaration of Independence. Lazarus0 04/03/2016

Why would a person take out a life insurance policy naming no beneficiaries and having no heirs? jfh 10Mar2023

Yes....just who was in that cabin? Did Eula kill him too, to tie up loose ends? Inquiring PM fans want to know ... Submitted by MikeReese, 6/22/2021
+ My guess, the third conspirator. (I won't say who so this won't be a spoiler, technically.) She is unlikely to have been able to push the car off the precipice by herself. OLEF641 6/23/21
Names: Another story where a character's name wasn't given. What was the "real" name of the man pretending to be Nelson Barclift? This also happened in episode 165 TCOT Polka Dot Pony. In that story the killer used an alias and a "real" name was never revealed. Submitted by H. Mason 2/7/15
+ Not to mention the case name itself ... what does this episode have to do with boomerangs, much less bouncing boomerangs? jfh 26Dec2016
++ The fake Barclift's real name is immaterial to the story, so they didn't bother with it. As for the title, the only thing I can come up with is how Eula kept running away to San Francisco, only to return to Grover (he mentions this once again in the final scene); she certainly had "bouncing" assets ;-) OLEF641 6/23/21
"Odontology is the study of teeth for the investigation of identity & crime...In the US courts, dental evidence was 1st presented in 1849 when the incinerated remains of a George Parkman were identified by a Nathan Cooley Kemp through a Partial Denture he had made for this patient. He proved identification by fitting the prosthesis onto the cast that had been used for its manufacture. The evidence led to the conviction & execution of a J. W. Webster for murder ["Odontology: Historical Cases" World of Forensic Science: 2005, encyclopedia.com]." Mike Bedard 3.10.15.
++ I just viewed (again) the episode of a COLUMBO where he takes down an arrogant, corrupt lawyer who thinks he has committed a perfect murder. Columbo puts him on the scene of the crime by finding a piece of cheese the killer bit into, thus leaving an imprint that could be cross checked by viewing his dental chart... I won't give away the name of the actor who is the killer, I'll just say that he's done this role in COLUMBO more than once, and few people can play the arrogant suspect as well as he can... Submitted by MikeReese, 2/14/2021
Why the title, "Bouncing Boomerang?" Otto Gervaert, 2/8/21
+ Is it Eula, buxom and with a habit of "bouncing back and forth" between Grover and San Francisco? OLEF641 6/23/21
++This interpretation calls to mind an old joke fom the Carol Burnett Show: "Howard Hughes' two biggest discoveries: Jane Russell." Notcom 070722.
Is it just me, or does the actor playing Sidney Weplo look an awful lot like Strother Martin? OLEF641 6/23/21
Both he and Les seem to be channeling Strother. And is Sidney wearing the Violent Vest? DOD 02/23/22

This episode really needed a more detailed summation. Just who was the phony Barclift, and how did he get involved? How were they able to duplicate the real Barclift's bridgework? Just how was this insurance/phony land sale scheme supposed to work? [unsigned entry at unknown date]
A. The phony Barclift's real identity, as well as how he got involved, is immaterial to the story, so they didn't go into it.
B. Jefferies knew about the real Barclift and his bridge from trying to locate him in regards to the revolving door case four years before.
C. Eula and Jeffries killed the fake Barclift in the staged auto accident. His accidental death policy (obviously bought from Jeffries' company as part of the planning for the scam) paid out just the right amount to cover the amount owing on the Johnson's land. Once Eula got her half of the money, she and Jefferies would scram -- I wouldn't give a plugged nickel for her living too long after that . . . OLEF641 6/23/21
<< Devious Delinquent | Episodes | Badgered Brother >>