Show193
<< Bouncing Boomerang | Episodes | Wednesday Woman >>
#193: The Case of the
Badgered Brother
Original Airdate: 12/19/63
From The Perry Mason TV Show Book
A dispute between two brothers over the ownership of a successful chain of women's clothes stores ends up with a pair of scissors sticking out of the back of one and the other charged with his murder.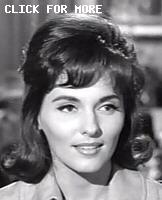 Opening
Starring Raymond Burr
in The Case of THE BADGERED BROTHER
Based upon characters created by Erle Stanley Gardner
Barbara Hale, William Hopper, William Talman, Ray Collins
Trailing
Directed by Earl Bellamy
Written by Bob and Esther Mitchell
Art Seid | Producer
Gail Patrick Jackson | Executive Producer
Jackson Gillis | Associate Producer
Samuel Newman | Story Consultant
Raymond Burr as Perry Mason
Barbara Hale as Della Street
William Hopper as Paul Drake
William Talman as Hamilton Burger
Ray Collins as Lt. Tragg
Wesley Lau as Lt. Anderson
Cast
Patrice Wymore as Jane Alder
Robert Harland as Todd Baylor
Nancy Kovack as Carla Rinaldi
Patricia Blair as Nicolai Wright
Peter Walker as Martin Baylor
Gregory Morton as Joseph Rinaldi
L. Q. Jones as Lewis
George Petrie as Orin Leslie
John Gallaudet as Judge
Arthur Peterson as Doctor McBurney
Vera Marshe as Maid
Lee Miller as Sgt. Brice
Lindsey Workman as House Man
Orville Sherman as Hotel Clerk
Pat Conway as Model
Ed Prentiss as Taped Voice
Alida Van as Model No. 1
Norma Clark as Model No. 2
Annabelle George as Model No. 3
Carol Anderson as Model No. 4
Uncredited Actors
Bess Flowers as Fashion Show Crew Member (or Attendee) Don Anderson as:
Courtroom Spectator
Fashion Show Crew Member
Crew
"Perry Mason"
Director of Photography … Robert G. Hager
Art Direction … Lewis Creber
Assistant Director … Gordon A. Webb
Film Editor … John D. Faure
Casting … Harvey Clermont
Makeup … Irving Pringle
Hair Stylist … Annabell
Wardrobe Supervision … Ed McDermott, Evelyn Carruth
Set Decoration … Sandy Grace
Properties … Ray Thompson
Production Sound Mixer … Herman Lewis
Script Supervision … Cosmo Genovese
Theme Composed by … Fred Steiner
Automobiles Supplied by … Ford Motor Company
Fashion Sequence Courtesy of … irene. Inc.
Perry Mason
Produced by the CBS Television Network in association with Paisano Productions
Nancy Kovack (pictured) makes the first of two appearances on Perry here playing Carla Rinaldi. For the past 40 years Ms. Kovack has been married to former Los Angeles Philharmonic conductor Zubin Mehta. A few years ago she re-surfaced in the news when she admitted to being bilked out of over $100K by the infamous Susan McDougal. [Note: Susan McDougal was acquitted of the embezzlement charges, and sued the Mehtas for malicious prosecution and won an undisclosed settlement from them. jfh 28May2019]. Also, she played Annie Oakley in the 1965 Three Stooges film, The Outlaws Is Coming even though she is not listed [She is now!] in the Three Stooges trivia list on this site. Submitted by PaulDrake 33, 15 September 2009.
+ "NK was a student at U Michigan at 15, a radio DJ at 16, a college graduate at 19 & the holder of 8 beauty titles by 20" (IMDb Bio). Her other Perry role was in Golfer's Gambit '66. Mike Bedard 3.9.15.
++ Lucky Vince: Nancy Kovack, who appeared in the later episode TCOT Golfer's Gambit, joined PM veteran Elaine Devry in Diary of a Madman, a dreadful 1963 horror film starring Vincent Price. JohnK, 28 January 2017.
Following in the tradition of 1040 N. Las Palmas Avenue, the address shown in the phone book for Joseph L Rinaldi, 1416 N. La Brea, is that of the La Brea Studios where the series was filmed at the time. The studios were originally the Charlie Chaplin Studios, built in 1917. They are now the Jim Henson Studios. Submitted by daveb, 4/11/2010.
Carla Rinaldi sips from a cup from the Curious Coffee Set while at a restaurant. Then Della gives Perry a cup of Java from the set. How did it end up there? Added by gracenote, 3/1/2011.
Sightings: In the courtroom gallery today, we see Quiet Old Man #1 and Little Old Lady #1. Read more about these favorite frequent faces. Submitted by gracenote, 3/1/2011.
+At the beginning of the show, we find the Distinguished Gentleman #1 dining in the restaurant. Submitted by BigBill767, 6/17/2016.
Once more, Lt. Tragg (Ray Collins) is billed but does not appear. Added by gracenote, 3/1/2011.
Uncredited Actors: It's another Don Anderson two-fer. At the fashion show, he's one of the crew busily making preparations, along with a hatted Bess Flowers. You can see him behind Carla Grinaldi (and Flowers appears right before Anderson does). Later, he appears as a courtroom spectator. Added by gracenote, 8/5/2011.
Krazy-Kwilt Los Angeles. In the opening shot, watch for the unusual geometry of the intersection (similar to a ʞ tilted 45° clockwise). The view seems to be at the boundary between two of L.A.'s many street-grids. The two grids seen here probably differ in orientation by about 36°. This 1938 map of Greater-L.A. gives an indication of the number of the city's clashing street grids (also this 1926 route map). "It's not a city that spread outward from a center as motorized transportation supplanted walking, but a series of villages that grew together" (from Thom Andersen's 2003 documentary film Los Angeles Plays Itself, script here). Further examine this 1894 bird's-eye map, this photo of Downtown LA 1932 and two more historical prints here. Here's two more air photos of these clashing grids: 1, 2. Errant streets are everywhere! Added by Gary Woloski, 5/31/14.
+ It's the intersection of Brighton, Roxbury and Wilshire in Beverly Hills (a scene that looks little different today.) Perhaps knowledgeable Angelanos can identify the specific low building in the center (presumably an upscale store of the period). Cartographed by Notcom, 052919.
++Can't identify the store dead center, but the store at the lower right is definitely the Beverly Hills Delman shoe salon. Sign is clearly visible. OldDave, 6/10/2020
Just ONE CAST CAR. There are about 50 cars in the opening overhead view of the "ʞ" intersection but they're too distant to positively identify even though most are the typical "land-yachts" of the period. Only about five are "small" cars, including a possible 1956-1960 Corvette gassing-up at the Union 76 station at lower Left. The only other car appearing is:
(1) Todd Baylor's medium-color 1963 Ford Fairlane 500 HardTop. The HardTop only came as a 2door; see models here. Todd slides across the front split-bench seat (19:30), so his car is not the similar "Sport Coupe", which had bucket seats and a center consol. I think it's only the vertical lighting that makes it look 2-tone.
It was quite deliberate that the intermediate-sized Fairlane looked like a scaled down Galaxie and that the '63 Galaxies and Fairlanes both had the popular "trademark" Thunderbird roofline: compare them in the 1963 Full-Line Ford Dealer Booklet. Added by Gary Woloski, 6/2/14.
The set used for Martin Baylor's office was the same set used for Perry's apartment. Submitted by H. Mason 3/8/15
Paul Drake: The detective said he posed as a TV repairman to gain entry into a suspect's bungalow. He used the same ruse in episode 119 TCOT Violent Vest to get into Walter Caffrey's apartment. Submitted by H. Mason 3/8/15
Bob and Esther Mitchell were husband and wife writers from Wyoming. For some reason, I don't see this episode on either of their imdb listings...MikeM. 12/27/2016
This is the only PM appearance by the beautiful Patricia Blair. You may recognize her from "The Rifleman" (as Lou Mallory) or "Daniel Boone" (as Rebecca Boone). She started her career as a teenage fashion model, which is interesting as she portrays fashion model Nicolai Wright here. Submitted by Bob61571, 2 Jan 2018
Perry and Paul in bow ties in the last scene. Joe B. 05/17/19
+ Bow ties and dinner jackets! jfh 28May2019

This is the third of five "appearances" for Ed Prentiss, the "Taped Voice" of George Baylor; three of the other four appearances were as judges. jfh 28May2019

Character Names: Lewis's first name is "Edward" and is played by L Q Jones, who appeared in two PMs. L Q Jones was born Justus Ellis McQueen Jr. on August 19, 1927 in Beaumont, Texas and starred in many Sam Peckinpaw movies. 27Jan2020.
+ L Q Jones also has a "Daniel Boone" connection in that Fess Parker was LQ`s former college roommate. jfh 09Jun2020
TCOT Substituted Subset viewers might have been confused - or perhaps amused - by repeated use of the term "breakage"; the (actual retail) term the writers were looking for is shrinkage. Notcom, 061020.
Comments

Edit
Admissible Evidence?: Perry used the dresses to get the murderer to confess. Wasn't that evidence gained illegally? Submitted by H. Mason 3/8/15
He didn't actually admit the dresses in as evidence. He just used them to get a confession.--yelocab 26APR18

Alphabetical Order: As Todd checked the phone directiory for Rinaldi's address look at the names to the right. Roy followed by Riley and other names that should have been listed earlier. Some of the phone numbers in the column being checked by Todd were also on the left side. Submitted by H. Mason 3/8/15
The first name of actor Lindsay Workman was spelled incorrectly in the credits. Submitted by H. Mason 3/8/15
That well worn staircase set appears yet again as a hotel lobby.
The workroom scene with Perry and Rinaldi is curious - not one shoot showing them both. Perhaps as a matter of expediency, they were filmed separately. DOD 02/09/21
As noted in Trivia above, Patricia Blair is very lovely, but in her scene with William Hopper her hairpins were so visible as to be distracting. It's surprising that Annabell would be so careless. jfh 27Jan2020
+ In their scene at about 30 minutes in, Paul Drake doesn't seem to be put off by the hairpins. He's unusually leery in this episode. JohnK, 24 February 2022
Everytime I see this episode, I find myself being derailed a bit by the name of the model, 'Nikolai' Wright. What an odd name ... then I saw that the woman who voiced Disney's Minnie Mouse for many years, was named 'Russi' Taylor. Hmmm ... Submitted by MikeReese, 6/27/2021
<< Bouncing Boomerang | Episodes | Wednesday Woman >>