Show88
<< Singing Skirt | Episodes | Crying Cherub >>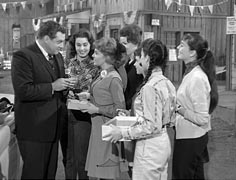 #88: The Case of the
Bashful Burro
Original Airdate: 03/26/60
From The Perry Mason TV Show Book
Gold mines and rodeos set the hard pace of life in Placer City. Perry is in town on business looking for an old prospector named Amos Catledge to subpoena for testimony. But it's Just like Perry to go on a trip and end up getting involved in a totally unrelated case. He saunters into the Gold Nugget Saloon and ends up stopping a fight. Later on, one of the antagonists is murdered and the other is accused of the crime. But when Perry goes looking for clues, all hands point to the same man he came to find originally, that old prospector.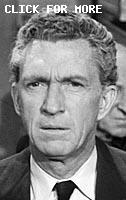 Opening
Starring Raymond Burr
in The Case of THE BASHFUL BURRO
Based upon characters created by Erle Stanley Gardner
Barbara Hale as Della Street
William Hopper as Paul Drake
William Talman as Hamilton Burger
Ray Collins as Lt. Tragg
Trailing
Directed by Robert Ellis Miller
Written by Jonathan Latimer
Herbert Hirschman | Producer
Gail Patrick Jackson | Executive Producer
Seeleg Lester | Associate Producer, Story Consultant
Produced by The CBS Television Network in association with Paisano Productions
Arthur Marks | Associate Producer
Raymond Burr as Perry Mason
Barbara Hale as Della Street
William Hopper as Paul Drake
William Talman as Hamilton Burger
Ray Collins as Lt. Tragg
Cast
Ray Stricklyn as Gerald Norton
Elisabeth Fraser as Hazel Bascombe
George Mitchell as Amos Catledge
Sue George as Sally Norton
Ben Wright as Crawford Wright
Charles Bateman as Roy Dowson
Hugh Sanders as Ken Bascombe
Wendell Holmes as District Attorney Williams
John Pickard as Sheriff Keller
Lewis Martin as Judge
Kay Kuter as Deputy
Jack Orrison as Coroner's Physician
Stephen Courtleigh as Ballistics Expert
Mike Mason as Cowboy
Joan Elliott as Button Salesgirl
Tony Michaels as Waiter
Crew
Art Seid, A.C.E. | Assistant to the Producer
Production Supervisor … Dewey Starkey
Director of Photography … Frank Redman, A.S.C.
Art Direction … Lewis Creber
Assistant Director … Morris Harmell
Film Editor … John D. Faure
Casting … Harvey Clermont
Makeup … Richard Hamilton
Hair Stylist … Annabell, S.C.H.
Wardrobe Supervision … William Zacha, Evelyn Carruth
Set Decoration … Charles Q. Vassar
Sound Effects Editor … Gene Eliot, M.P.S.E.
Music Editor … Gene Feldman
Properties … Ray Thompson
Production Sound Mixer … Herman Lewis
Script Supervision … M.E.M. Gibsone
Sound … Glen Glenn Sound Co.
Perry Mason \ A Film Presentation
A CBS Television Network Production
"In true Hollywood fashion, Perry Mason needed a saloon for 'TCOT Bashful Burro' so they used the Gunsmoke set. Perry walks into the 'Golden Nugget' but it just happens to be the Long Branch. I'd recognize any board of the set instantly." Posted by Dedra Kaye DeHart to the Della-Perry group, 12/6/2007. Some pictures here.
Kay Kuter makes his only Perry appearance in this episode. He has a short scene playing the town deputy. Kay Kuter is much better known as local farmer Newt Kiley on both Petticoat Junction and Green Acres. Submitted by PaulDrake 33, 5/1/2009.
Talman's Troubles: William Talman as Hamilton Burger does not appear in this episode, as the action takes place in Placer City. However, he is shown in the opening credits, and you had better memorize the face, because he would not be seen again on Perry for another 10 months, until the episode of 21 January 1961, TCOT Fickle Fortune. The reason for Talman's absence was that he was fired by CBS after his arrest on 13 March 1960. Submitted by PaulDrake 33, 5 January 2010.
+ Read more about the sordid business here. Submitted by gracep, 11/22/2010.
+ Episodes 94-97 (May-Sep 1960) were filmed before Talman's firing and featured Burger. Submitted by Wiseguy70005, 12/22/13.
Noted voice actor Ben Wright appears here as Crawford Wright. For some unknown reason Mr. Wright, who was born and raised in England, adopts what seems to be an East Indian accent for his character here. I can see no reason for this other than for Mr. Wright to practice his accents. Submitted by PaulDrake33, 5 January 2010.
+ Mr. Babcock identifies Wright as "the Welshman." Submitted by francis, 3/14/12.
+ Yes, this happens when Mason, just after buying the button from the girls, goes into the bar in search of Wright. The person he asks says: "Oh, you mean the Welshman!" and points Mason is his direction. Submitted by Clothears, 9th May 2021
+ Actually, Ben Wright does a pretty good imitation of a South Welsh accent. by Welshwoman 10/9/14.
Location: I believe the shack and mine entrance was located at Upper Iverson Ranch in Chatsworth. If you go to www.cowboyup.com and go to Reel Cowboys of the Santa Susanas then go to page 5 of "Then And Now" photos of Chatsworth movie locations you can see a photo of a shack that was used in the 1954 movie Tennessee's Partner. Submitted by Eric Cooper, 4 February 2010.
Note the similarities: (1) A dirt road runs along the left side of the house, (2) followed immediately by a pile of rocks (3) which are outside the entrance to a mine built into the hillside. (4) Similar log posts on a the shack's porch with (5) the same type of rock foundation and steps and (6) possibly the same black hat rack to the right of the door. This was a popular location to shoot westerns such as Gunsmoke, Roy Rogers, etc. The famous intro to the Lone Ranger is on the same property in an area called "The Garden of the Gods." Condos have been built around it but the actual Lone Ranger rock still exists and is easily accessible. Submitted by Eric Cooper, 4 February 2010. Some pictures here.
In addition to Talman (see item above), Ray Collins (Lt. Tragg) makes no appearance in this episode. Submitted by gracenote, 11/26/2011.
Sightings: As the spectators file into the Placer City Courthouse, we spy Distinguished Gentleman #1, who is very visible in the back later in the hearing. He is the only one of our favorite frequent faces to appear in this episode. Submitted by gracenote, 11/26/2011.
Frontier Pinball. When Perry enters the Gold Nugget Saloon the Frontiersmen are playing Wishing Well pinball, released by Gottlieb in 1955, advert. More pics: 1, 2, 3 from pinball-gallery.com. Submitted by Gary Woloski, 7/5/12.
CARS. (1) The Nortons' war-surplus Willys Jeep, model MB, Lic JRP 474, light color, no top.
Added by Gary Woloski, 7/6/12.
When Perry makes his entrance at 10:13, he is wearing a three-piece suit. I don't recall seeing Perry wear a vest in previous episodes. (He has the vest again the following week in TCOT Crying Cherub.) Perhaps the costume crew wanted it to seem cold in them thar hills -- or cold in the film studio, since Main Street Placer City looks very much indoors to me. Submitted by 10yearoldfan, 15 Sept 2012.
Name of the "Bashful Burro": Sheba. Submitted by H. Mason 9/29/14
+Raymond had "Zsa Zsa" in his Malibu-estate animal park; "She's really a Beautiful Burro," he said during an Oct. '58 "Person To Person" interview (50th Anniversary DVD). Mike Bedard rev. 7.28.16.

Animal testimony: Perry had a second animal appear in court to help solve the case. It also happened in episode 50 TCOT Perjured Parrot. In episode 69 TCOT Lame Canary Perry said seeing the injured bird helped him. Submitted by H. Mason 10/29/14

A "Bascom" was in "Reckless Rockhound" : this "Bascombe" is pronounced the Same way But spelled Differently. Mike Bedard 8.2.16 MeTV viewing.

Wendell Holmes died at the American Hospital in Paris, France, in 1962, apparently of a heart attack. He was only 47 years old. According to a Twilight Zone site, Holmes had French, British and American currency in his pockets at the time of his death. Wendell Holmes was interviewed in 1949. He talked about his life and how he was making more money at age six than he had since. The article shows up in a Google search. The title of the article is: "Golden-Voiced Radio Actor Earned His Top Money at Six"..MikeM. 8/2/2016
This is the only PM appearance for Sue George, not to be confused with the younger Susan George. Sue George was already acting when Susan George was born in 1950...MikeM. 11/8/2016
Freeze-Frame: In the court scene there's a reaction shot of Amos in the spectator gallery (45:15 on the DVD). Suddenly the shot freezes for 1 second. Then about 3 minutes later the same freeze-frame is used to zoom in on Amos' face. Kilo 11/20/2019.
+Good eye! Actually, the same freeze frame is used for three different reaction shots of Amos. The first is a full freeze frame, the second is the shot Kilo describes as freezing mid action and the third is what Kilo describes as a zoom. I'm guessing that the reaction shot they made of Amos had a scratch or was damaged in processing and was unusable, so they had to make do with what they had. They use the optical printer to create motion to disguise/distract from the fact that they were using a freeze frame, and the same one at that. In the first shot, they create a small, slow zoom effect. The second go around, the live action pans right, and when the frame freezes, they create the impression of a pan left. The third time around, there is a faster, tighter zoom effect. Perry and other shows -- I've seen it a bit in The Twilight Zone -- use the optical printer quite a bit when they don't have the shot they need, to create zooms and closeups, and here where they barely have a shot at all. With the high definition transfers, these tricks can be quite noticeable, but they would have flown by in low definition broadcast days. OldDave 9/15/2020
Ray Stricklyn and Elisabeth Fraser also appeared in TCOT Festive Felon. Submitted by Steve Fox, 2-5-2023
Comments

Edit
Perry gets to mention Hamilton Burger without saying his name. When the Placer City prosecutor has some kind words for Mr. Mason, Perry, smiling, thanks him and says something like "our local district attorney" does not often bestow such praise. Submitted by MikeM, 11 Jan 2013.
The US NRC website defines a Geiger-Mueller Counter as "a radiation detection & measuring instrument. It consists of a gas-filled tube containing electrodes, between which there is an electrical voltage, but No current flowing. When ionizing radiation passes from the - electrode to the + electrode, it is measured or counted. The # of pulses per second measures the Intensity of the radiation field. It was named for Hans Geiger & W. Mueller, who invented it in the 1920s. It is the most commonly used Portable radiation instrument." Mike Bedard 2.26.15.
Corpus Ridiculus, Season Three. Hugh Sanders, as Ken Bascombe, wins this season's "CR" Award, his somewhat rotund body found sprawled uncomfortably atop a somewhat larger, rounder boulder. The unintentionally humorous positioning of his body is heightened several scenes later when the Placer City sheriff is shown drawing the body's chalk outline on the boulder. Submitted by BobH, 5 November 2016.
+Even weirder, the horse has just pooped as Gerald Norton approaches from behind. The horse's tail is raised, and the poop is seen as a dark spot on the ground behind his left rear leg. As Gerald reacts with horror to the death of Ken Bascombe, the horse casually arches and then lowers his tail in a typical equine after-poopage gesture. Submitted by catyron, 11/25/17.
Life's little ironies: will history remember that on this night, while PM was starring a burro, that show called "life" was featuring a donkey and a jackass ?? Pondered by Notcom, 110816.
+ Maybe history will remember but I don't. I even asked google! So what happened on 3/26/1960 featuring a donkey and jackass? Kilo 2/15/2019.
++I suspect that Notcom is referring not to 3/26/60--the date this episode originally aired--but to the date (11/08/16) on which the entry was submitted--Presidential Election Day of 2016. Given the choice to which Notcom refers, many voters simply headed for the hills--just like a number of the characters in this episode. Submitted (with apologies to Notcom) by BobH, 16 February 2019.
+++ 'BobH' showed he has horse sense in interpreting my riddle - or maybe just a fluency in "Notcomese" - but 'Kilo' asked a legit question: just what were people reading about 032660 ?? Turns out they were reading a lot about Perry:
- TCOT Credulous Quarry had been been originally scheduled but was swapped with this after the Talman Affair;
- Not only Talman but (even) visitors had been banned from the set;
- the former was receiving a large amount of sympathetic mail - at least in the (even then) liberal Bay Area - with one wag suggesting turning life-into-art with "The Case of the Nude District Attorney" !! (One guess as to who was suggested for his counsel). Notcom 021919.
Musical Mixup: In these mining-themed episodes, the saloon scenes usually treat the viewer to public domain tunes like Camptown Ladies or Red River Valley, but in the more hep Placer City there's a piano playing a bluesy stride number -- more Willie The Lion Smith than Bob Nolan and the Sons of the Pioneers. JohnK, 29 September, 2021
<< Singing Skirt | Episodes | Crying Cherub >>